| Washington Wrap |
Tom Nides Trifecta
| June 22, 2021
What do we know about Tom Nides, the next US ambassador to Israel?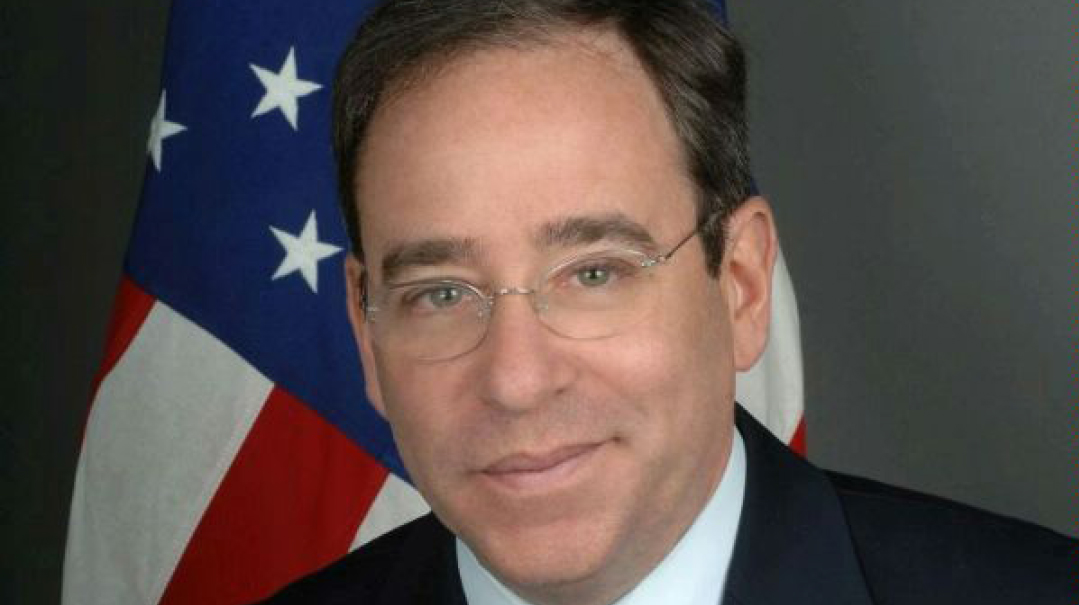 Last week President Biden nominated former deputy secretary of state Tom Nides as the next ambassador to Israel. What do we know about Tom Nides? Why does it seem that only Jews fill the post and has it always been that way?
Tom Nides was born to a Jewish family in Duluth, Minnesota. He started his career on Capitol Hill in 1986, working as an aide for House Majority Whip Tony Coelho and then in 1989 for House Speaker Tom Foley. He also served as chief of staff for US Trade Representative Mickey Kantor. In 1994, he moved to the banking sector, with stints at the Federal National Mortgage Association (Fannie Mae), Credit Suisse First Boston, and Morgan Stanley. His rise in finance caught the eye of the Obama administration, which appointed him as a deputy secretary to Hillary Clinton at the State Department.
Nides's sense of humor came up often in our conversations with colleagues who've known him over the years; he's no stodgy diplomat, they said, and he'll have an easy time connecting with Israelis.
He'll also be the third Jewish ambassador to Israel in a row, after Obama's Dan Shapiro and Trump's David Friedman. He won out over other Jewish candidates such as Robert Wexler and Amos Hochstein, and even Dan Shapiro, whose name was floated for a comeback.
It's Not Always a Jew
When we think of the US ambassador to Israel, we seem to take it for granted that he's a Jew. But it wasn't always that way. In fact, only four of America's 19 ambassadors to Israel — Martin Indyk, Dan Kurtzer, Shapiro, and Friedman — have been Jewish.
Most won their appointments for their expertise in Middle East affairs. Edward Walker (1997–1999), for instance, was a Middle East specialist who had also served in Egypt, the UAE, and Saudi Arabia. Edward Djeredjian (1993–1994) had also filled diplomatic Middle East posts, including in Syria, Jordan, and Morocco, before being stationed in Israel.
There was even a journalist. Ogden Rogers Reid, editor and publisher of the New York Herald Tribune and later director of the Panama Canal Company, was appointed ambassador to Israel in 1959, despite having no prior diplomatic experience. The New York Times reported at the time that senators questioned Reid's youth (he was 33) and inexperience. Reid had studied at Brandeis and Bar-Ilan universities, however, and won the appointment.
The first Jew to receive the post was Martin Indyk, when President Bill Clinton appointed him in 1995. But Indyk wasn't chosen just because he was a Jew; aside from volunteering at a kibbutz during the Yom Kippur War, he was considered a Middle East specialist, having completed a doctorate in international relations in his native Australia before immigrating to the United States in the 1980s and becoming deputy research director for the pro-Israel lobbying group AIPAC. Later he served on the National Security Council and was an adjunct professor at the John Hopkins School for International Studies. He was also the first to return for a second stint in the role, in the early 2000s.
Dan Kurtzer, who succeeded Martin Indyk in 2001, was also a Jew, but at the same time a high-ranking State Department official in his own right. He was stationed in Cairo in 1981, about 20 years before being appointed ambassador to Israel, and later served as deputy assistant secretary of state for Near Eastern affairs, one of the most important positions in the department. Kurtzer's appointment marked the beginning of a trend; since then, only Jews have been appointed to serve as ambassador to Israel.
One Veteran's View
It's a sort of tradition for retiring diplomats to give revelatory interviews for the benefit of the next generation of diplomats. Samuel Lewis, who served in Israel from 1977 to 1985, gave an interview after his retirement in 1998 to the Foreign Affairs Oral History Project at the Association for Diplomatic Studies and Training.
Lewis said that in his view, appointing a Jew as ambassador to Israel would be undesirable, because it could place him in a complicated position in cases of disagreement between the administration and Israel.
"I have a feeling that the Israelis also think it's wiser for a non-Jew to be there," he said. "I think if you're Jewish, it just adds one more dimension of potential conflict, emotional conflict.
"But the ambassador is in the toughest spot. The emotional spotlight of the public and the government is on you just continuously, and you are so much a public figure there, that I think the strain of being Jewish — especially if you were openly Jewish, practicing Jewish, Orthodox, or just 'religious' — subject to all of the emotional tensions that conflicts between Washington and Jerusalem inevitably produce, argues that the US shouldn't put people into that situation if you can avoid it. I'm sure some could handle it very well, but I think on balance, it's probably wiser not to."
How Are Ambassadors Appointed?
According to the Constitution, the president appoints ambassadors with the consent of the Senate. But not all ambassadors are career appointments, and some lack even the remotest connection to foreign relations. A 2016 Washington Post article quoted an American Foreign Service Association report to the effect that 30 percent of ambassadorial appointments are political in nature. That is, people who have no experience in diplomacy or the State Department.
Why would a president appoint someone with no diplomatic background? There are two main answers. Most political appointments are former donors to the president's election campaign. The Post quotes the Nixon Tapes, in which the president is heard saying: "Anyone who wants to be an ambassador must at least give $250,000." Rates have gone up since then, and those who receive political diplomatic appointments are the new president's biggest donors — that's how it's been over the past several decades.
But political appointments don't always have to do with money. Some ambassadorial positions are sensitive roles that call for total confidence between the president and the ambassador. In these cases, a confidant of the president is preferable to a career diplomat, even with limited expertise. This is good for both sides, by the way — diplomats we spoke with said that the fact that Nides is close to Biden will have significance for the Israeli government too. When the ambassador talks, the government will know that he's truly speaking in the president's name.
(Originally featured in Mishpacha, Issue 866)
Oops! We could not locate your form.
>