| Family Room |
Tips from the Pros: 12 Things Your Contractors Want You to Know
| January 20, 2021
Before you purchase a new boiler, check with your rav to make sure the option you like is not an issue on Yom Tov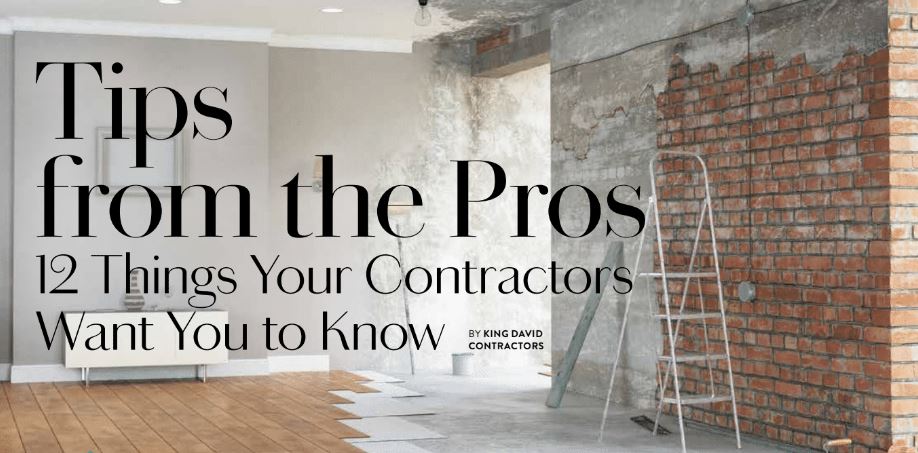 As contractors who work on projects spanning from small home updates to full brownstone restorations and ground-up builds, we love doing beautiful, high-quality work, but we're also always focused on the longevity of our work. Nothing is more important to us than making sure you feel comfortable and safe in your space (and of course, that you stay within budget).
Here are our top 12 tips that we want you to know before you build a house.
Try to envision the layout that's most important to you before going to an architect. Is it a living space? Storage? The perfect office? A larger laundry room? Whatever it may be, make sure you have a clear idea of what you want, then bring your vision to an architect and turn it into a reality.
Once they've done research and found the right architect, many homeowners go right to filing their plans. Don't do this! Call a contractor first to review your plans and see if there is any value engineering that can be done. We've saved homeowners tens of thousands of dollars by recommending different structure and finishing choices. Once the plans are filed, it's much harder to make changes.
Now that your vision for your build is on paper, take the time to plan out furniture placement. Yes, before you build! Envisioning where and how your furniture will be laid out will help you determine ideal outlet and lighting placement, as well as where closets, doors, and windows should be. Many people pick furniture last, and then end up with an outlet behind the bed or a couch blocking a window.
The outside walls of your house are part of the envelope of the home, and it's important that the envelope is well built. When choosing a house wrap to seal the outside of the home from the elements, there are many products on the market that provide superior waterproofing and protection, for example, Blueskin® VP100 or Huber ZIP sheathing. For the inside envelope, we recommend spray foam insulation instead of standard fiberglass/batt insulation. It's more expensive, but you'll save money in the long run on energy costs, since it will be more efficient to heat and cool your home.
Be aware of the kind of subflooring you'll use in your home. Some flooring, like CDX plywood, can be very susceptible to water damage. Consider that for the first few weeks of your build, your subfloor will be exposed to the elements. A cheaper subfloor can get damaged in that early stage — and that's something that will be very expensive to replace down the road! We recommend using an OSB plywood, such as AdvanTech plywood, which can handle the stress of construction better than something like CDX.
Lately, homeowners have been going on Wayfair or Houzz to buy plumbing fixtures, which is a great way to score a deal. We recommend sticking with a name brand that's recognized in the field, like Kohler or Delta, since the manufacturer will stand by its products and send replacements or fix a defective item, even if you bought it from a third party. Off brands aren't as willing to accommodate.
While your walls are still open, we recommend you plywood your kitchen and bathroom fully. That way, in case you aren't 100 percent sure where you want mirrors, vanities, or any kind of hardware, you don't need to find a stud; you can screw it in anywhere you have plywood backing.
When it comes to closing your walls, we strongly recommend using mold-resistant sheetrock in your basement, kitchen, and bathrooms, if you don't want to upgrade to using it everywhere in the house. Once your walls are done and moldings are hung, almost all houses will have some natural settling as they acclimate to the seasons. For that reason, we prefer to hold off on caulking for a few months. If you caulk right away, you will likely need some touch-up work done a few months down the road.
If you are renovating (not building from scratch), it can be a lot of work to scrape, compound, and level your walls. An easy way to make old walls feel new and to avoid that extra labor is to hang new quarter-inch sheetrock over the walls, and tape, spackle, and compound from there.
If you're updating outlets, switches, or lights, you can have some great WiFi-enabled light switch options that allow you to add light switches without running wire. This can save a lot on labor costs and can turn your home into a smart home at very little extra expense!
Before you purchase a new boiler, check with your rav to make sure the option you like is not an issue on Yom Tov. Many instant-hot boilers can be problematic.
Last but not least: Many people go big on their dream kitchen, but then go cheaper on the hardware. Don't do this! You use the hardware more than anything else in the kitchen, so make sure you get good, sturdy hardware that can withstand significant wear. Also, if you're building a kitchen that you want to last, make sure the cabinet boxes are made out of wood, not engineered products like MDF (medium density fiberboard) or Masonite, which might last only a few years. Real wood can last for a lifetime.
Once it's all said and done, the most important thing is that your home is a place you can enjoy and cherish for years and generations to come. Having a home you know is built safely and securely from the inside out goes a long way towards making that a reality.
King David Contractors is a premier construction company that specializes in luxury homes for an affordable price, as well as in commercial construction. Founders David and Samuel have over 30 years of combined experience and have built over one million square feet throughout New York in the last 10 years.

(Originally featured in Family Room, Issue 012)
Oops! We could not locate your form.
>