| Magazine Feature |
The Year Yom Kippur Came Early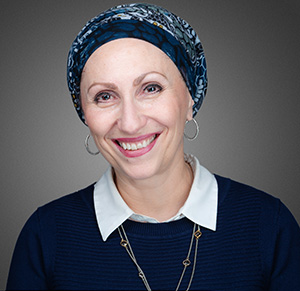 | September 9, 2021
Rabbi Sholom Ber Lipskar faces the Days of Awe in the shadow of the Surfside tragedy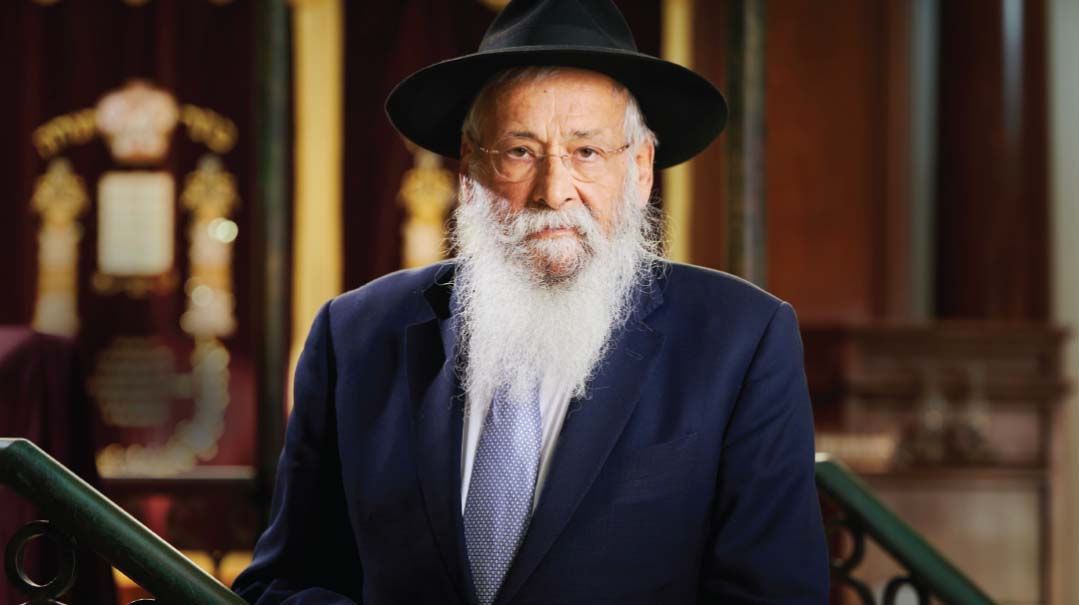 Photos: Carlos Chattah
During the days and weeks of paralyzing tragedy and inconceivable loss, Rabbi Sholom Ber Lipskar of the Bal Harbour–Surfside community saw his kehillah rise to the challenge with overwhelming responses of selfless, unconditional, ceaseless kindness and giving. It was the only answer as they faced their personal Days of Awe
The shofar is meant to serve as a wake-up call to slumbering, complacent, and sometimes sinful Jews; it's a message to arise and work to better themselves, thereby meriting inscription in the Book of Life for the coming year. This year though, Rabbi Sholom Lipskar received his wake-up call weeks before the shofar began to sound for the rest of us.
Rabbi Lipskar is best known as the rav who transformed the Miami-area Bal Harbour–Surfside community from a midbar into a thriving Jewish community and founded the Aleph Institute to help incarcerated Jews. But on the evening of the 14th of Tammuz, June 24, as he lay in bed, he was roused around 1:45 by a text from his granddaughter, who lives a few blocks from the Champlain Towers South condominium.
"Do you know what's going on?" she asked. "There are police and sirens everywhere."
Rabbi Lipskar called the police department, and after he heard that the 13-story building had collapsed, he was soon speeding over. What met his eyes as he approached was an apocalyptic scene reminiscent of 9/11. The cloud of smoke hanging over the area was so thick it was impossible to get closer than a couple of blocks from the scene. A woman had come running out earlier that night screaming that there must be a bomb or an earthquake, but no one took her seriously.
It took only four and a half inconceivable seconds for the building to fall. With it collapsed the lives, hopes, and dreams of 98 men, women and children.
"It's just unfathomable," Rabbi Lipskar says. "There are Third World countries where this doesn't happen. There are illegal Arab buildings all over Israel that never collapse. We still don't know what caused it. At first they said it was the basement, but the basement was intact."
The victims had been home, in their beds, ironically the place most of us go to feel safe and secure.
"There was no apparent logic to this, no intellectual answer to give people," Rabbi Lipskar says. "Many of the residents were educated people — doctors, lawyers, architects — yet the human mind has no bandwidth to understand a tragedy of this scale."
The collapse came on the heels of a year and a half of Covid tragedies, as well as Jewish tragedies in Meron, Karlin, Gaza, and elsewhere. The fast of the 17th of Tammuz came three days afterward, and in Surfside, never before was the mourning of the Three Weeks felt as deeply.
In the beginning, the families and friends of the Champlain Tower residents still held onto shreds of hope for finding living survivors under the tons of cement and debris, as search and rescue teams hauled off rubble and sifted through what had just hours and days ago been people's homes.
Rabbi Lipskar, who has spent the past 52 years as a shaliach of the Lubavitcher Rebbe, admits that he had never before navigated a situation like this: He was trying to give support to people suspended in a twilight zone, not knowing whether or not to mourn.
"When someone passes away, you can console them," he says. "But here, I couldn't console them. Yet neither could I take away their hope, however tenuous."

Each One a World
The days following the Surfside wake-up call allowed no one to slumber. Rescue crews began to work immediately, carting off hundreds of truckloads of debris to be sorted through at a secure location. As the days went by, it became clear that the chances of finding survivors was nearly impossible — but for a family to sit shivah, some identifiable body part or item had to be found.
"There could be anything from body parts to diamond necklaces in the rubble," Rabbi Lipskar says, noting that experts in both halachah and disaster flew in to assist.
He himself worked with the Medical Examiner's office, helping catalogue any remains that were found. The IDF's search and rescue team, initially viewed as superfluous by the American teams, would later be praised effusively by the captain of the US team for saving them months of work due to their efficient, high-tech methodology. When the Israeli team left, parading behind an Israeli flag past the shul, followed by the American team and hundreds of civilian followers, it created a very special moment of unity.
Every time a body or body part was found, all activity stopped as it was removed from the pile of rubble.
"Everybody — and we're talking hundreds of people — would stop and stand at attention, lined up on the sides of the back road," Rabbi Lipskar recalls. "You could feel the gravity and deep concern while they stood by as the body would be put in the medical examiner's ambulance and driven away. Once they found the body of a child. The entire assembly stood in such deep, respectful silence that the only thing you heard were the waves of the ocean."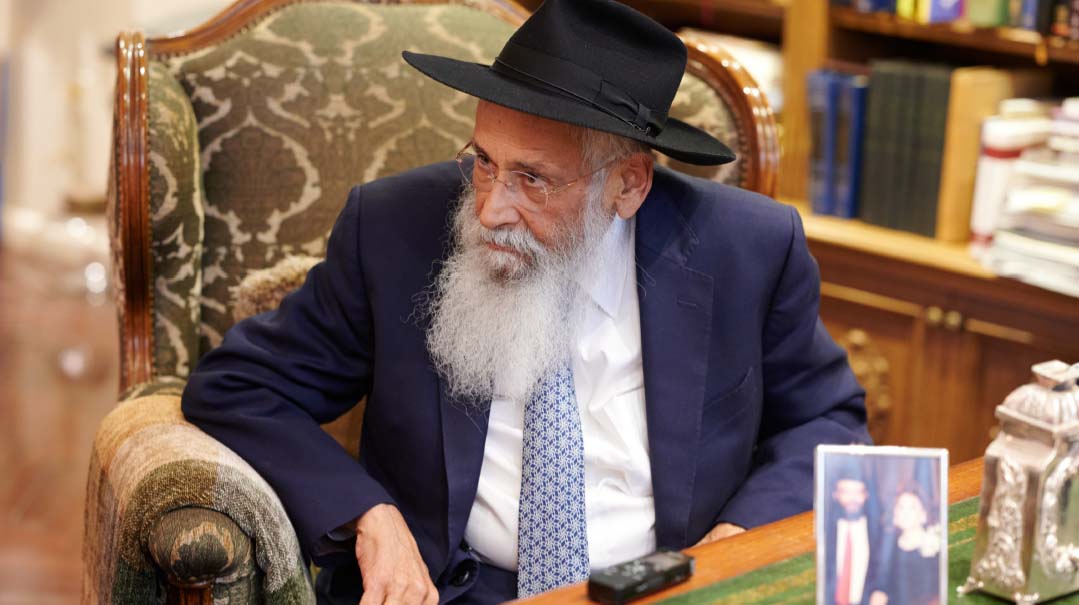 Blanket of Love
Amid a tragedy so profound it defies human comprehension and renders all empathy insufficient, Rabbi Lipskar and his community sprang into action. All the rescue workers, displaced residents, and families of victims needed to be housed, fed, and comforted.
"Our overwhelming response was an over-the-top expression of selfless, unconditional, ceaseless kindness and giving," he says. "We provided a warm blanket of the deep kindness that is part of the genetic nature of the Jew. It didn't remove the pain and anguish, but it relieved the suffering and the loneliness, and brought a sense of warmth and love."
The shul, which is located about half a mile from the Champlain Tower, became a rescue center. The entire staff, joined by hundreds of volunteers, was available 24/7, never hesitating to wake each other up in the middle of the night if necessary. Everyone wanted to help; even congregants in wheelchairs showed up asking what they could do.
"You can't even name the unsung heroes, because they were everywhere," Rabbi Lipskar says.
Meeting the simple needs of the bereaved and those who came to help —producing a pillow, a slice of pizza, a can of Coke in the summer heat — made each person feel loved and appreciated. Local families helped house the families of victims, and Yedidim, a group of mostly Israeli-American chefs, organized cooking stations that produced three to four thousand meals a day for the search and rescue workers.
"We wanted to feed them well, so they'd be able to work well," Rabbi Lipskar says.
Early on he made the decision that all meals would be glatt kosher and chalav Yisrael, so that no distinctions would be made regarding religious observance and everyone could eat together comfortably. Food was donated by local restaurants until funding came through, and was served in the community center, the shuls, and public buildings. The Israeli IDF team members joined local families for Shabbos.
Hundreds of cards from children all over the world were delivered to the shul. People came bearing boxes of diapers, drinks, clothing. Shul members who'd once been quiet and reserved suddenly became active members of the rescue effort. One mother of young children would wait for her husband to come home, then show up to help at 6 each evening, and stay till 1 a.m.
"We all surprised ourselves," says Rabbi Lipskar, who mostly slept at the shul during the early weeks. "The amount of adrenaline that coursed through our bodies was a miraculous gift from Hashem. We didn't stop going, yet we didn't feel tired. We were simply always on call."
There were moments, he admits, when he felt overwhelmed emotionally by the searing pain he had to confront, and knew he had to step away and collect himself — perhaps excusing himself for a glass of water — so that he could continue to be strong and keep it together for the bereaved.
He also did his best to show proper respect to the many government officials who came to the scene. Governor Ron DeSantis and Senator Rick Scott were "extraordinary," he says. Daniella Levine Cava, mayor of Miami-Dade County, visited as well, surprising them when she remarked, "This is the proudest moment of my life as a Jew."
Surfside mayor Charles Burkett, who was initially unreceptive to friendly Jewish overtures, told Rabbi Lipskar, "I changed my whole perspective about the community."
(The area was once so anti-Semitic that the deed to Rabbi Lipskar's house, which he bought in 1986, said it could not be sold to anyone who was more than 25 percent Jewish. He took the matter to court and won.)
It's not easy to make oneself available nonstop to others, but Rabbi Lipskar says he draws his inspiration from the Lubavitcher Rebbe, who imbued his chassidim with a sense of responsibility and mesirus nefesh for other Jews and for one's community. In fact, that sense of responsibility is so deep that it never occurred to him to lay down some boundaries between his personal family life and his public life. During the Surfside weeks, every Jew felt like a family member. People who had flown into Surfside from other communities would tell him as they left, "We have a new family now."
Rabbi Lipskar was also propelled by the knowledge that in such tragic circumstances, as good as professionals are, no one can help the mourners like someone who can offer a spiritual lifeline. "You know that Hashem made you His messenger, and if He gives you a situation, it means you can handle it."
Rays of Light
This enormous outpouring of chesed was a great inspiration to those who were on the receiving end or simply witnessed it. In fact, while you might think a tragedy of this magnitude would turn people away from religion as they question the existence of a loving G-d who would let such a thing happen, if fact the opposite occurred.
"People started taking on mitzvos," Rabbi Lipskar says. "They were touched not just by the chesed per se but by the strong familial feeling of that chesed. The community truly came together as one."
A highly placed non-Jewish woman from a foreign country, who flew in because relatives were killed in the collapse, was so impressed that she told Rabbi Lipskar, "I've always heard about Jews, but I was never around them. Now I see that this is the life I want."
A tremendous amount of kiruv and kiddush Hashem came out of the catastrophe. Rabbi Lipskar was sometimes called upon to address the rescue workers and lead a prayer. He had the 23rd Psalm printed on cards and distributed to the hundreds of workers present, and was impressed to watch the tough, burly firefighters and soldiers take the cards and put them in their hats. One of the firefighters told him, "I was raised Catholic, but I got disillusioned and left. Then I tried being a Mormon, but I left that too. I haven't had G-d in my heart for a long time, but this touched me. I'm back with G-d now."
When Rabbi Lipskar convinced one of the Surfside survivors to put on tefillin for the first time, the man felt so good he motioned to a friend to come join in.
"But I'm not Jewish," the friend protested, "although my grandmother was…" It turned out the grandmother was his mother's mother.
"He said, 'Omigosh, I'm Jewish!' " Rabbi Lipskar recounts. "He felt so good about it! In fact, he was so pleased he decided to look into getting a bris, since he'd never had one."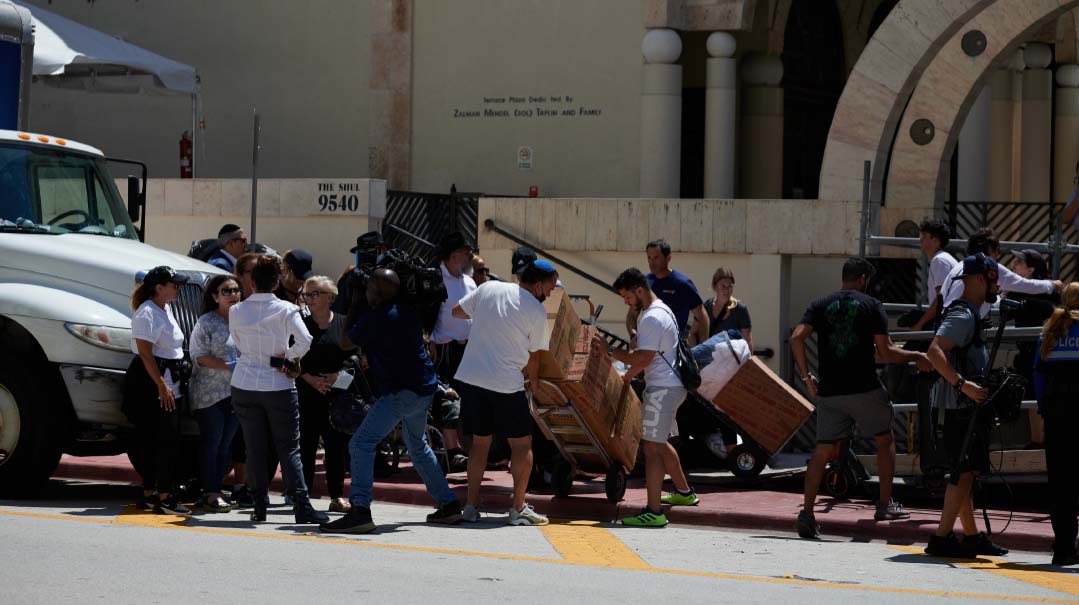 Recalibrate
Despite the warm blanket of hospitality and hope, the wounds of loss were still bleeding all summer. The shofar call, Rabbi Lipskar says, didn't stop sounding. There were still fires and movement in the building days after the collapse. Streets were closed, the police were everywhere, traffic moved through detours, the summer heat was unrelenting.
Life became one endless levayah and shivah, as one by one the deceased were discovered (the last person was recovered 30 days after the collapse). Rabbi Lipskar remembers finding himself at a levayah for four people (non-Jews) at once, in front of a large open pit. All the victims were under age 30.
"The shivah was just never-ending," he says. "Even now, grief is still in the air. There are multiple people in my shul saying Kaddish every day. The reality of the tragedy may be off the front pages of the world news outlets, but it's still on the front page of our community."
There are still people who have lost jobs, homes, cars; many still suffer from PTSD.
Today the rubble has been cleared; all that remains of the former building is a large, clean concrete floor. But residents of Surfside drive by and still see, in their mind's eye, images of crushed and mangled concrete, steel, and furniture, and hear the wake-up call.
"Each time we drive by that sacred location, which happens multiple times daily, it's like hearing the loudest blast of the shofar," Rabbi Lipskar says. "It's sounding out to call us to recalibrate, to reprioritize, to dig deeper into ourselves and those around us."
When Covid forced everyone into lockdown, he says, it drew strengths from us we didn't know we had. It caused us to re-order our priorities. We lived with less, made simple simchas, didn't travel, spent time with our families. The shofar call of Surfside is likewise telling us to keep our eyes on the right goals, be kinder to others, and appreciate every minute Hashem grants us.
This year's Yamim Noraim have a heightened intensity, in much the same way they did for New Yorkers after 9/11.
"Yizkor will be very painful. There will be so many young people there," Rabbi Lipskar says.
He doesn't plan to add any extra language to the liturgy, but he knows the tefillah will be permeated by the added dimension of mourning friends, family and neighbors, and trembling before the too-close-to-home awareness that our lives hang daily by the thinnest of threads.
In some communities, a prayer called "Achos Ketanah" is recited on the eve of Rosh Hashanah. It was composed in the 13th century and implores Hashem for "the year and its woes to end." It concludes with, "May this year and its blessings commence." On Erev Rosh Hashanah of 1975, Rabbi Lipskar relates, the Lubavitcher Rebbe commented that we should focus on this prayer as meaning, "May this year pass, with blessings from Hashem to make us able to live through its crushing challenges and overcome this most difficult period, and for blessings to help us become better people as a result." We may read the prayer's conclusion as, "May the New Year commence, with far greater blessings and no challenges."
"That has been the modus operandi for our community —to survive, help others and become better people," Rabbi Lipskar says. "After everything we've been through, now we're ready to enter a year of sweetness, goodness, and ultimately the final redemption."
(Originally featured in Mishpacha, Issue 877)
Oops! We could not locate your form.
>