| On Our Own Terms |
The White Shul 
| September 14, 2021
The White Shul is celebrating its 100th anniversary this year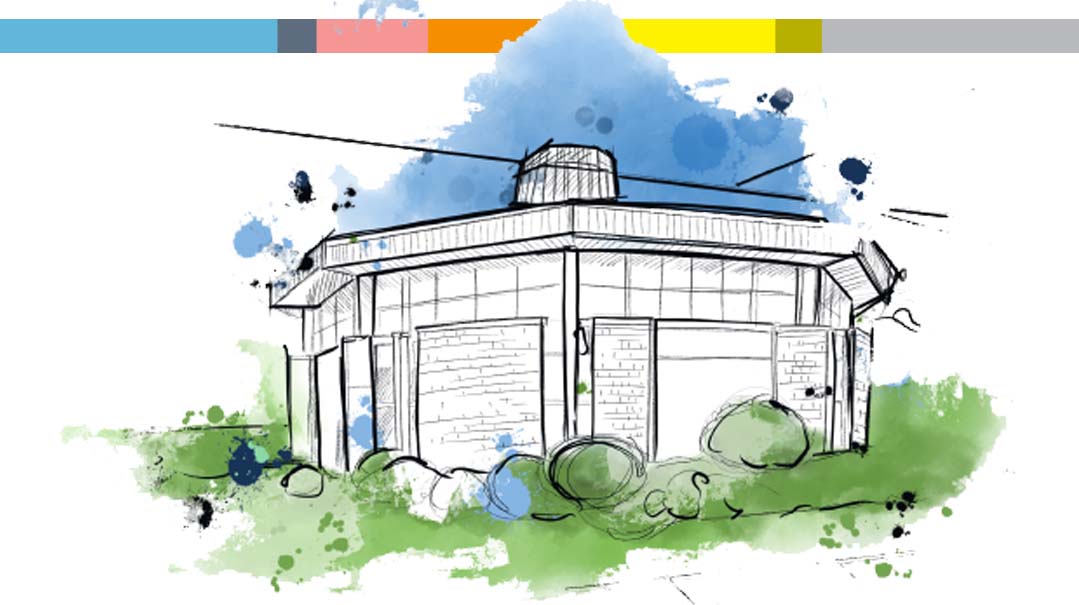 Illustrations: Marion Bellina
Named for: the color of the original building
The White Shul, Congregation Kneseth Israel, is housed in a not-so-white building in Far Rockaway, New York. Founded in 1922, the shul started out in the Far Rockaway Chamber of Commerce, a stately white building on the corner of Nameoke and Dinsmore — hence the nickname, which stuck. In 1964, Kneseth Israel moved to its present location at Empire Avenue and Sage Street.
At the helm of the White Shul in the early years was Rabbi Shimshon Zelig Fortman, a tremendous talmid chacham and the father-in-law of Rabbi Moshe Sherer. Rabbi Raphael Pelcovitz then served as rav for 40 years and rabbi emeritus for another 20, playing a pivotal role in helping to build the broader community. During Rabbi Pelcovitz's tenure, a vibrant Russian minyan was established to accommodate the burgeoning Jewish Russian community of the '70s.
Rabbi Pelcovitz was followed by Rabbi Tzvi Flaum, who served as the shul's rav for the next decade.
In 2008, Rabbi Eytan Feiner — who grew up as a member of the White Shul — became the rav. Rabbi Feiner was quick to recognize the needs of the community, whose demographic had shifted significantly, and created various minyanim and programs to serve its diverse constituents. Several years ago, Rabbi Motti Neuburger became the associate rabbi of the White Shul, giving shiurim and serving a full rabbinic role.
The White Shul has 650 member families and is one of the biggest shuls in Far Rockaway. It is known far and wide as the community shul for the area and has served a broad communal role by providing school space, medical offices, and government services during challenging times. Scores of simultaneous minyanim are held on a daily basis, including a shtibel-like minyan for younger members in the beis medrash, a hashkamah minyan, and Sephardic minyanim for Persian, Moroccan, and Turkish families.
Did you know
The White Shul boasts several fifth-generation members.  The White Shul is celebrating its 100th anniversary this year.
The first daf yomi shiur in Far Rockaway was started in the '70s in the White Shul with the help of Rabbi Chaim Davis, given by Rabbi Pinchas Kanner. It is possibly one of the longest-running daf yomi shiurim in the US. His son Rabbi Elozer Kanner is the current maggid shiur.
(Originally featured in Mishpacha, Issue 878)
Oops! We could not locate your form.
>