| On Site |
The Scent Fades, the Memories Linger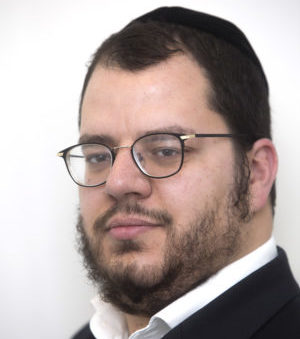 | July 3, 2019
In Jerusalem's Beis Yisrael neighborhood, the famous oven's flame burned faithfully every week, down through the generations for 126 years, sending a heavenly aroma through the streets and producing Lendner's Bakery signature specialty — challah for Shabbos. Until three weeks ago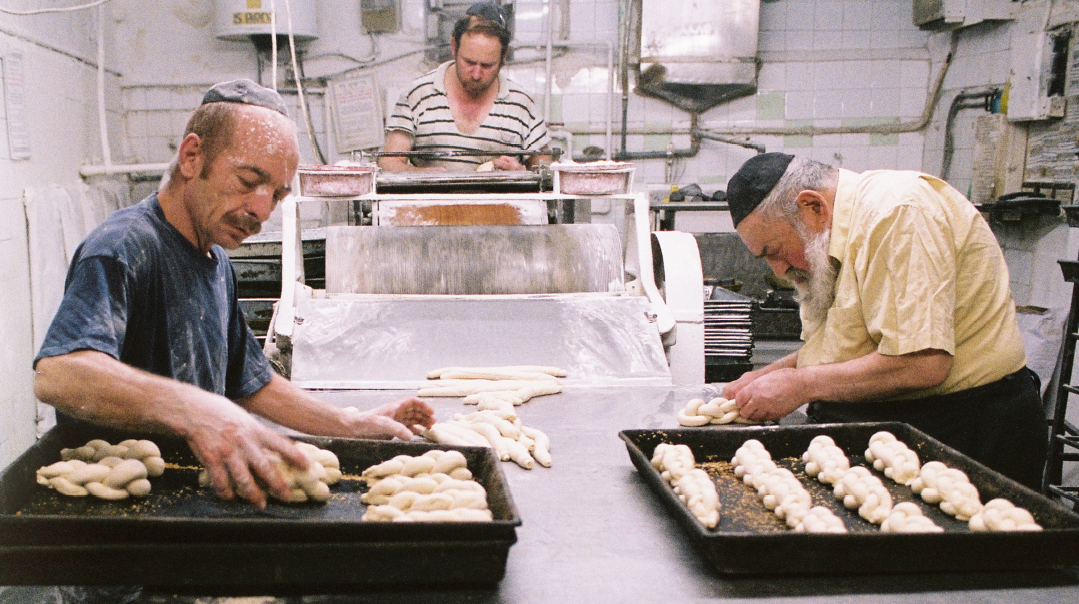 Photos: Baruch Yaari
T
he note announcing the closing of Lendner's Bakery three weeks ago, taped to the establishment's nondescript door on a narrow side street in Jerusalem's Beis Yisrael neighborhood, quoted a pasuk from Yirmiyahu (31:3): "I shall yet rebuild you and you shall be rebuilt, O Maiden of Israel; you will yet adorn yourself with drums and go forth in the dance of merrymakers."
Anyone who might have found that melodramatic or over the top ("Hello? It's just a bakery?") had obviously never tasted Lendner's challah.
The appeal of this fluffy bread with the crunchy crust was driven home to me several years ago when I had to fly to Antwerp for Shabbos. When I called ahead to arrange my accommodations, my host, a Yerushalmi expat, told me in no uncertain terms that to gain admittance to his home, I had better arrive in Belgium with fresh Lendner challos in hand.

Something in his tone told me not to take this lightly. And so, on a Thursday night, only a couple of hours before my flight was scheduled to take off from Ben-Gurion, I begged my driver to take a detour deep into the warrens of chareidi Jerusalem for what I promised would be a quick errand. I guided him through the maze of streets, retracing the route I took as a child every Erev Shabbos.
Matti Lendner a"h, the third generation to run the family business, greeted me and asked me to share a vort on the parshah with him, as I often did. I told him this time I'd have to take a rain check, as I had to catch an international flight. Mati wrapped up my aromatic package, and I raced out the door. My driver expertly navigated out of Jerusalem onto the highway, and got me to the airport barely in time to make my flight.
I pitied the customs officials at Brussels Airport. The intoxicating aroma of those Jerusalem challos had to have hit them hard. Why not confiscate one fragrant loaf for testing, just to make sure I wasn't smuggling contraband? Lucky for me, European etiquette nipped any such notions in the bud.
And as my host dipped his Lendner challah into Yerushalmi techinah at the Friday night seudah, I knew my oneg Shabbos mission had been accomplished.
Fragrant Tradition
For 126 years, up until three weeks ago, Lendner's Bakery sat on Rabbi Leib Dayan Street near the corner of Moshe Dov Lendner Street, right behind the Beis Yisrael shtiblach where the neighborhood gedolim davened, not too far away from the legendary shoemaker Rabbi Naftule Borenstein.
Many tried to imitate the famous challos, with little success. The family that ran the bakery knew a thing or two about oneg Shabbos. Moshe Dov Lendner brought the family profession with him to Jerusalem from the Romanian city of Czernowitz in 1893 — the same year the Ottomans inaugurated a railway line from Jaffa to the Holy City, reducing travel time from a day on foot to four hours.
Lendner's Bakery quickly became a local institution. On weekdays the bakery produced black bread and caraway bread, among other varieties, and on Thursdays it went into Shabbos mode. Degel HaTorah activist Reb Motke Blau reminisced last week, in the wake of the cataclysmic closing, how as a child in Beis Yisrael he saw women lugging their heavy, steaming pots to Lendner's on Fridays to keep them warm over Shabbos. The oven served as an emotional barometer for its environs. When it was functioning normally, the general mood was sunny and upbeat; when it was down for repairs, neighborhood residents wore expressions as dark as the blackened ridges on a cholent pot.
Over the decades demand grew along with the population, and in the 1950s the Lendners commissioned famed mason Moshe Rogovsky to construct a massive brick oven — five meters long and four meters wide, secured by heavy iron doors embossed with the name of its builder. The bakery finally had an oven commensurate to what the family had used back in Europe.
When Reb Moshe Dov Lendner passed away, his son Reb Zalman Lendner took over the running of the bakery. Some say Reb Zalman brought things up a notch; even the otherworldly dough was transformed. In 1930, Reb Zalman's son Mattisyahu was born. Called Mattis by family members and Matti by customers, he would be the last generation of Lendners to carry on the fragrant tradition.
Matti Lendner had the family challah secret locked away inside his mind. Whenever I tried asking him about it, all he would say was, "While we're kneading the dough and braiding the challos, we sing, 'L'kavod Shabbos Kodesh, l'kavod Shabbos Kodesh.' That's what gives the challah the special taste."
I don't know if Matti truly believed that or if he was just giving me the runaround, but there's no arguing with success.
All fired up
Thursdays at the bakery were enchanting. A tight-knit crew of G-d-fearing Jews worked with enthusiasm: Reb Zusha Gerlitz at the oven; Reb Mordechai Tzvi, who radiated the Sephardic chein of Shechunat Hateimanim; the deaf baker; and Reb Mattisyahu, the owner, who manned the old mixer as well as the cash register. When I was a kid I would go there to watch the legendary Mordechai Tzvi standing over the challos and braiding them with practiced precision just before Zusha Gerlitz, one of Chazal's nachtumei kamai ("bakers of yore"), slid them into the ancient oven.
Firing up the oven was a fascinating operation in and of itself. Several hours before baking began, a powerful gas burner was shot into the oven, whose narrow mouth and wide surface trapped a great deal of heat, allowing for many hours of baking. Tourists would come just to watch the oven at work.
Technological advancements eventually took their toll. Competitors upgraded equipment to crank out weekday bread, pitas, rugelach, and bourekas around the clock, while Lendner's insisted on sticking to the tried-and-true methods that had made it famous. But it could not keep pace. The bakery eventually scaled back from week-long operations to only firing up the oven on Thursdays and Fridays, to produce its signature specialty, challah for Shabbos.
Nevertheless, even in the later years, the crowd at Lendner's spanned all spectrums — religious, ethnic, and economic. The prices were not inexpensive, but we are assured that Shabbos and Yom Tov expenses are covered by Shamayim, beyond our annual income allotment. He who delights in Shabbos will receive a limitless inheritance. And there can be no greater Shabbos delight than slicing into Lendner's delicious challos for lechem mishneh.
That famous oven's flame burned faithfully every week. Until now.
Secret Ingredients
Thirty-one years ago, right before the Spinka Rebbe redeemed me at my pidyon haben, my parents went to Lendner's to pick up a special order: a huge Purim kolitch challah, one of the bakery's trademarks. The older folks in my acquaintance who like to remind me of my childhood antics often tell me, "I still remember that piece of Lendner kolitch I snatched at your pidyon haben."
A few days after Lendner's shut its doors, I spoke with Reb Mordechai Tzvi, the legendary challah braider, in his modest house two blocks away in Shechunat Hateimanim. Reb Mordechai Tzvi, now 92, sat with a book of liturgical poetry before him. The famed chazzan Rabbi Moshe Habusha ("A Modern Voice for Ancient Traditions," EndNote, Issue #747) is his son-in-law and pupil.
"Did you hear the bakery closed?" I asked hesitantly, hoping this would not be too much of a bombshell.
"Oy vey! I'm in shock," Reb Mordechai Tzvi exclaims. "Lendner's is the oldest bakery around. I remember how Reb Moshe Lendner, the founder, gave me my job there… I began working at Lendner's from the year before my bar mitzvah. My parents were struggling for parnassah and I was the oldest, so I went out to work from a young age. I got up early in the morning and went to bake bread for everyone who lived in the area. After my shift I'd bring home my earnings and then go learn.
"In those years," Reb Mordechai Tzvi continued, "the bakery operated all week long. It was a time of austerity, and yoy couldn't just buy whatever you wanted. I brought home a fixed salary, and that's what we lived on."
Reb Mordechai Tzvi braided the challos at Lendner's on Erev Shabbos for 50 years. You might be wondering how he kept up that routine for half a century. How did it not come to feel like drudgery?
"I'm a poet," he replies simply. "I'd compose piyutim and sing as I worked. Tzaddok and the others workers remember that to this day. I'd sing the entire book of Shirei Zimra as we worked. I knew many piyutim."
His son, standing beside him, notes that Reb Mordechai's name appears in the book Shirei Zimra composed by Rabbi Chaim Shaul Aboud.
Reb Mordechai Tzvi was able to get up at the same time every day through the help of well-tuned circadian rhythms and a little siyata d'Shmaya. "I'd wake up at 1:30 a.m., without an alarm clock. My wife couldn't bear the noise, so I mangaged without an alarm clock…. As soon as I woke up I'd go to Lendner's. After work I'd go and learn under Chacham Yaakov Mutzafi and Chacham Ovadiah ztz"l in Yeshivat Shoshanim L'David. I got to know Chacham Yitzchak Kadouri ztz"l there too. I was a student of Chacham Ovadiah."
I decided to probe him for the secret of Lendner's challah. Perhaps Matti Lendner took the secret with him to the Next World, but surely Reb Mordechai Tzvi managed to glean something in the course of 50 years?
"The challos were prepared in a spirit of kedushah, for Shabbat Kodesh," he declared. "All the workers sang Shabbat songs and other piyutim with me. That, if you ask me, is the secret. We didn't work for the money. In the morning, after our shift, with the bakery owner's permission I'd take home bread for my family. We valued austerity, and I'd bring them the older bread to eat so they'd get used to making do with little."
Beyond that, there were the zechusim that the Lendner family accrued over their years in business.
"They were good people," said Reb Mordechai. "Poor people would come take bread for free. Reb Zalman Lendner's widow, Matti and Eliezer's mother, lived right above the bakery. After Reb Zalman passed away, my daughters would sleep in her house so she wouldn't be alone. They were like family."
Reb Mordechai's family never had to bake their own bread, partaking of Lendner's all week in the years they made black bread and caraway bread, and of course the challos on Shabbos. But working at Lendner's also gave Reb Mordechai Tzvi a privileged perspective on the personae of Beis Yisrael.
"I got to know many rabbanim and gedolim from the neighborhood. The Teplicker Rav, Rav Lapidot, the Rebbe of Zvhill. I was even a ben bayit of Rav Amram Blau."
When asked his opinion on the closing of Lendner's, Reb Mordechai Tzvi sighs and waxes philosophical.
"What did Shlomo Hamelech say? 'A generation goes and a generation comes.' It's a shame that it closed, but what can you do?"
Making Dough
With the passing of Matti Lendner three years ago, the bakery, already in a precarious position, began to falter. Sadly, the fourth generation didn't feel a connection to the family business.
"When Abba passed away, there was talk among family members about closing the bakery down and capitalizing on the real estate value of the property," says Matti's son Dovi Lendner. "I could understand. There was an agreement in the family 40 years ago that the bakery would go on as long as Reb Zalman's sons operated it. Abba was the last of those sons, and he had only one sister left."
From his deathbed, Matti begged his children to press on with running the bakery as long as possible. His progeny, who had branched off into other apparently more profitable economic realms, tried at first to adhere to his will.
"Now, however," Dovi says, "we've reached the point of no return. It no longer pays to operate the bakery."
And so the fateful note was taped to the door of Lendner's Bakery three weeks ago, bringing the curtain down on 126 years of family tradition.
It was a crushing blow.
The rumor mill got to work right away, and "Rogovsky's old oven broke down" was the most popular take. But ovens, even very old ovens, can be fixed.
A somewhat less widespread take was that there was more dough to be made in the real estate value of the plant than in the time-tested, slow-baking methods the bakery employed over a century and a quarter.
When the next glamorous chareidi housing project springs up on the ruins of Lendner's Bakery, will the children playing there ever know what sweet and fragrant memories waft through the narrow streets?
(Originally featured in Mishpacha, Issue 767)
>