| Magazine Feature |
The Rest Is History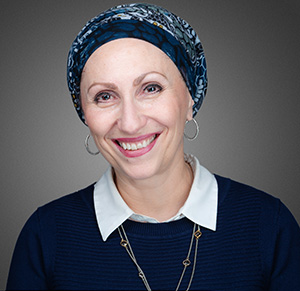 | December 14, 2021
Dr. Henry Abramson believes in putting the past back into the hands of the people most connected to it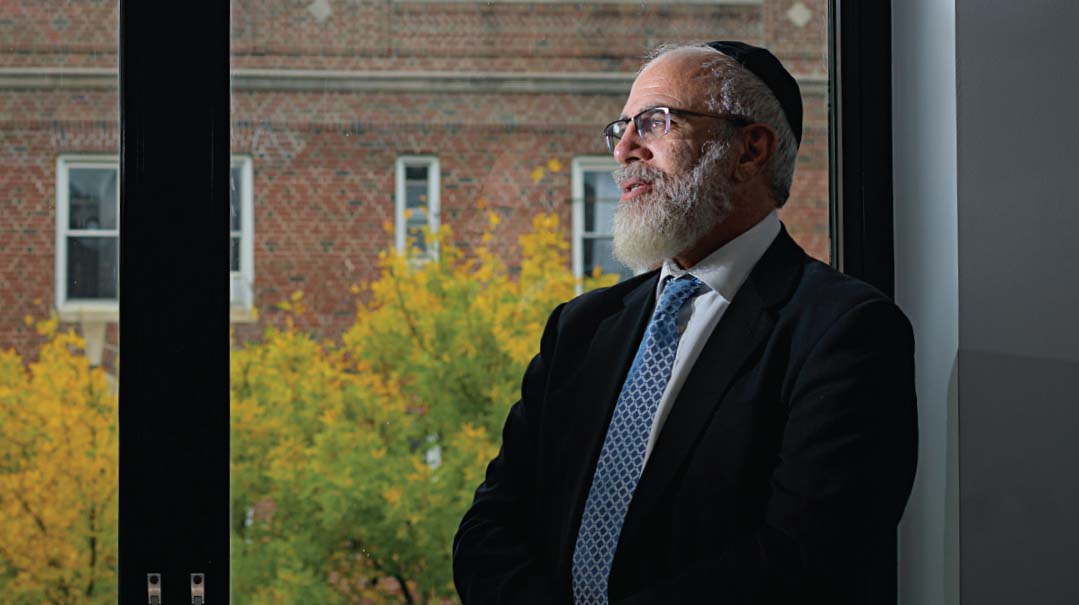 Visitors to Professor Henry (Hillel) Abramson's office may notice a small display case hanging on the wall behind his desk.
It has a glass door labeled "In Case of Emergency," and inside is a manila envelope. You don't actually have to break the glass, fire-alarm style, to access the envelope; he keeps a key in his desk. Now he jumps up to unlock it and display the contents: a transcript of his undergraduate grades.
Dr. Abramson, dean of Touro's Lander College of Arts and Sciences and Machon L'Parnasa, takes it out whenever he feels it necessary to give a little chizuk and perspective to students who come in panic-stricken about less than stellar grades. "Academically, I only really took off in graduate school," he admits, "I keep these transcripts handy to remind myself — and the occasionally dejected student upset by a C in Statistics — that one may emerge stronger, not weaker, from temporary setbacks."
Despite one E (it didn't stand for Excellence) and a few other academic blemishes, Dr. Abramson went on to earn a doctorate in history from the University of Toronto and post-doctoral fellowships at Oxford, Cornell, and Harvard Universities as well as a diploma from the Kiev State University in Ukraine. The author of seven books, he also claims the distinction of being the only author to have published books with both Harvard and Feldheim Publishers.
Mishpacha readers may recognize his name from one of his more recent people-friendly endeavors: He produces a daily two-minute segment for All Daf, the OU's daf yomi site, in which he chooses something from the day's daf — a person, a place, an animal, a form of labor — and provides the background.
I first encountered Dr. Abramson when my son recommended listening to his YouTube videos on Jewish history, which he initially began in order to raise money for Touro College scholarships. His discourses are fascinating and erudite, much in the manner of Rabbi Berel Wein, one of his mentors and role models. Who knew that the first reference to Jews in Spain dates all the way back to the early second century, or that the Jews seemed to get along well with their Visigoth rulers in the early centuries of their dominion? The jokes that accompany many of his lectures, including recurring gibes about Jewish migrations following the Chinese restaurants, make them all the more entertaining; but it's Dr. Abramson's affable, good-humored, yet thoughtfully balanced approach to his subjects that have made him so popular.
Iroquois Falls Where?
Dr. Abramson is an Orthodox Jewish historian, the author of seven books, a teacher, and a college administrator. Yet how did the only Jewish kid in a tiny northern Canadian town wind up with such a broad, colorful rèsume?
Henry Abramson grew up in the 1960s as the only son of the only Jewish family in Iroquois Falls, Ontario, a small town 450 miles north of Toronto, with a population of a little over 1,000 (today it's about 4,500). Not the ideal place for a Jewish boy to grow up, but his Lithuanian grandparents, seeking to escape conscription into the Russo-Japanese war of 1904-05, availed themselves of a Canadian call to settle the north. His grandfather, and his father after him, ran the town's dry goods store, and Henry and his Chinese best friend were the only minorities in a town otherwise divided between Protestant anglophones and Catholic francophones.
It was more than a bit isolated, but it had its upsides: Dr. Abramson remembers barefoot walks through the pines followed by swims in a secluded lake, picking wild blueberries, cross-country skiing for hours without encountering another soul. His father was an avid skier and instructor, and from an early age he was skiing, and teaching others by the time he reached his teens.
His traditional parents, who kept a kosher kitchen (with meat imported from Toronto), went to extraordinary lengths to give him a Jewish identity and basic education, ferrying him 60 miles south every Sunday to the town of Timmins, where the Jewish children of the region would gather with a melamed to learn about the holidays and to read basic Hebrew. His Jewish education, however piecemeal, came at the expense of tremendous mesirus nefesh on the part of his parents. When he was ten, his parents took an apartment in Toronto so he could attend a Talmud Torah. His mother lived with him there during the week while his father would board a night train to join them for weekends. When his father made inquiries to family in Toronto as to where to send his son, everyone told him, "Just don't send him to Eitz Chaim — they're fanatics over there."
"So of course," says Dr. Abramson, "that's where my father sent me."
During his years at Eitz Chaim, the young Henry acquired a positive view of Judaism that counterbalanced his previous conception of Judaism as "they tried to kill us, we survived, let's eat." As the only Jewish kid in his high school (after his bar mitzvah, he went back to Iroquois Falls), he was targeted by bullies, but having been inspired by tales of the Maccabees, Warsaw Ghetto rebels and other Jewish heroes, he stood up to them with the inevitable fistfights. He went back to Toronto for part of his high school years.
Dr. Abramson went on to major in philosophy at the University of Toronto, but by the time he finished, he was disenchanted. "After a while, it just seemed like a lot of arguing about things that are common sense," he says. And so he turned to his other passion, skiing. He worked as an instructor, with ambitions to ski his way around the world. He met his future wife, Ilana, also an instructor, on the slopes as he was planning to begin his world tour by spending the summer skiing in New Zealand.
But Hashem had other plans for him. He had an accident in training that burst his femoral artery, nearly killed him, and left him laid up for six months. As he recuperated, he had time to reflect and reassess. Realizing that marrying Ilana was probably incompatible with life as a ski instructor, he decided to continue his education, enrolling in a graduate program in history, since in college he was intrigued by the history of ideas.
He and Ilana (who later went on to earn a Master's Degree in Social Work and a Certificate in Jewish Communal Service from Yeshiva University) married and settled in north Toronto, where they joined a Conservative shul. Dr. Abramson felt comfortable there. "I was the big authority," he recalls. But his wife was turned off by certain practices there, and her curiosity had been piqued by the frum families she'd seen in their neighborhood strolling with their children on Shabbos. She urged him to go with her and meet Rabbi Baruch Taub of the BAYT (Beth Avraham Yoseph) shul.
Dr. Abramson was reluctant; as far as he knew, Orthodox people were extremists, fanatics. But he found himself deeply impressed by Rabbi Taub, and in addition, there was a branch of Ohr Somayach housed in the shul building, which was an opportunity for Dr. Abramson to get a first taste of authentic Torah learning.
Around this time, Dr. Abramson had entered the final stages of his doctorate, and was nominated to compete for membership in the elite Harvard Society of Fellows. It was all very prestigious and exciting, but in the end, the committee ruled that the topic he proposed to study had been covered before. It was a big disappointment, but providential in retrospect: Instead, he availed himself of a scholarship to study for a year in Jerusalem at Ohr Someyach, while finishing his thesis work at Hebrew University. Just as his skiing accident forced him to consider the wiser course of staying in Canada and marrying Ilana, the postponement of his dream of studying at Harvard (he would later accept an appointment there as a Shklar Fellow) was replaced a far greater blessing: the opportunity to study in yeshivah full-time.
The year was 1992, and yeshivah was, as he says, a "wonderfully disorienting" experience. "It demolished my sense of self every day, but I loved it. I saw how little I knew, and it was thrilling to grow, incrementally and step by step, in learning."
One of the most memorable relationships of that year was his chavrusashaft with Natan Gamezde, today an ordained rabbi and international kiruv personality who at the time was a recent convert to Judaism. Hailing from Swaziland's royal family, Gamezde had graduated Oxford University with honors and was fluent in 14 languages when he found himself drawn to Hebrew, which put him on a journey to Jerusalem and eventual conversion. (Gamezde studied at Ohr Somayach for another four years, then spent several years in Brisk, after which time he received semichah.)
The two learned several mesechtos together, with emphasis on the Rambam's commentary. On Fridays they would meet with Rosh Yeshivah Rabbi Mendel Weinbach a"h to review the material they had covered.
"The Rambam is written in fairly straightforward Hebrew and any teenager with reasonable skills can learn Mishneh Torah, so I felt certain I knew it," Dr. Abramson recalls. "We would learn the Rambam together and we were sure we had gotten it and that it was no big deal. But on Friday, Rabbi Weinbach would destroy us both, showing us how much we didn't understand. It was like a massive freight train had passed us by and we just missed it week after week after week."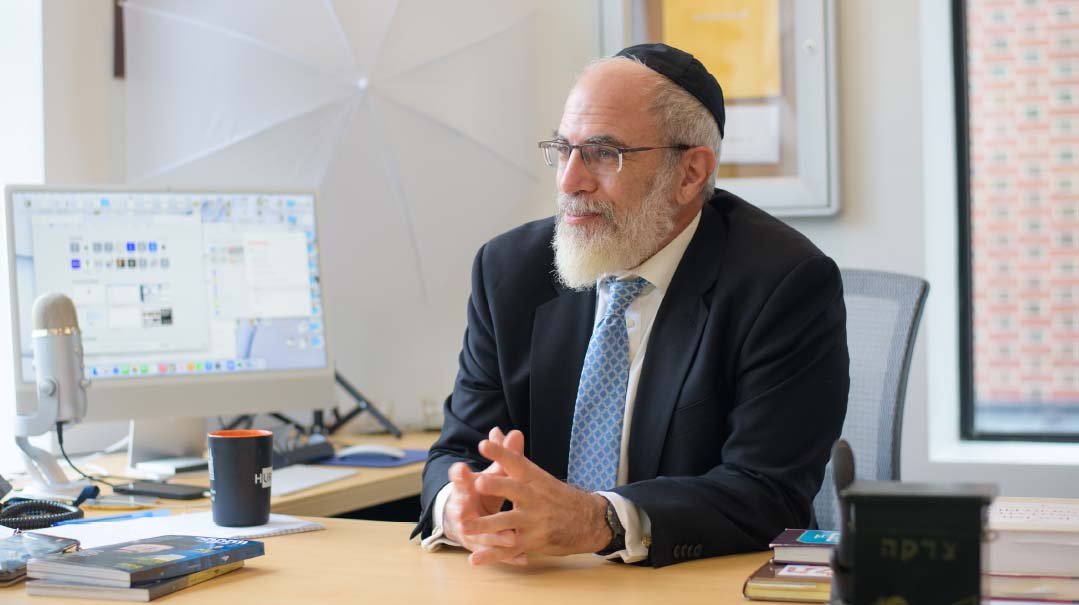 Holy Hero
After returning to Canada to receive his PhD, Dr. Abramson went on to a series of postdocs that included researching Ukrainian-Jewish relations in Kiev and later the Warsaw Ghetto, and especially one of its spiritual heroes, the Piaseczna Rebbe, Rav Kalonymus Kalman Shapiro (also known as the Aish Kodesh after the name of one of his works). Dr. Abramson became especially intrigued with this Holocaust hero, and he was not alone. Since the discovery of his buried Holocaust manuscripts in December 1950 — they were sealed in a tin milk container and uncovered by a Polish construction worker clearing rubble from the destroyed ghetto — a fascination with the Rebbe's genius and heroism has taken hold in both academic circles and communities like Rabbi Moshe Weinberger's Aish Kodesh kehillah in Woodmere.
"The Rebbe left behind no surviving children and no chassidic dynasty, yet his unusual mix of followers continues to grow by leaps and bounds," says Dr. Abramson.
Popularized as the hero in Shlomo Carlebach's iconic "The Holy Hunchback," the Piaseczna Rebbe, who would eventually find himself trapped in the Warsaw Ghetto, refused offers from the Jewish underground to spirit him to safety. Instead he insisted on remaining with his expanding group of followers, who clung to him to hear words of comfort and hope within the horrific conditions of the ghetto. After the ghetto was liquidated, the Rebbe was sent to a slave labor camp, where, in solidarity with his fellow Jews, he refused to participate in an escape attempt if it did not include all prisoners. He was murdered in Cheshvan of 1943.
Dr. Abramson began his on-site doctoral research in Kiev in 1989, while the USSR still stood and KGB agents were still following around all foreigners. He was under constant surveillance as he lived in a dorm and went about his research. His first major historical work, the basis for his doctorate, dealt with relations between Jews and Ukrainians in the period around the Russian Revolution. At that point, there was a little-known idyllic period when unprecedented cooperation occurred. Yiddish was declared an official language, a minister of Jewish affairs was appointed, and money was allocated for yeshivah education. "It fell apart during the civil wars and pogroms of 1919," Dr. Abramson says, "but it was a brief shining moment of coexistence."
Dr. Abramson was invited to come back to further his research in 1991. The Soviet Union had collapsed, and he would be one of the first to gain access to the formerly sealed Communist Party archives. It sounded like a golden opportunity, but when he finally got to Kiev, he was confronted with chaos. "Everything was in shambles, and the people who had invited me had disappeared," he said. "I didn't know anyone. All I had was a big wad of Canadian cash and a suitcase full of kosher food."
Fortunately, he remembered that on his previous trip, he had delivered insulin to a Jewish man named Evgeny Antonovsky at the behest of the Canadian Jewish Congress (in those days, even basic medications were difficult to obtain). He got into a cab and drove around housing projects until he managed to remember where he lived. The family took him in and let him sleep on their couch for the next few months, and in return, he directed the Canadian sponsors of his research to give his academic stipend to the Antonovskys rather than the Ukrainain Academy of Sciences. "For them, it was like a year's salary," he recounts, "and it gave me a glimpse of what life was like for poor Soviet Jews." Some years later the family's only daughter made aliyah, and the parents eventually followed.
Back in North America, he took a position as a professor at Florida Atlantic University in Boca Raton. While there, he became close to Rabbi Sholom Lipskar of Surfside, simultaneously affiliating with Young Israel.
In 2006, Dr. Bernard Lander a"h, the founding president of Touro College, offered him a job as dean of Touro College in Miami. After Dr. Lander's passing, the branch in Miami was closed and Dr. Abramson was promoted to serve as the academic dean of the flagship campus, Lander College of Arts and Sciences in Brooklyn, under Executive Dean Robert Goldschmidt. He and his family settled in Lawrence, which seemed a better fit for his "out of town" family than Brooklyn.
He's now been in New York for six years. These days, he's usually up by 4:30 or 5:00 a.m. to learn and attend the earliest minyan at Young Israel of Lawrence/Cedarhurst (since Covid, he davens outside in their tent). He commutes to work by train, which affords him a blissful block of undisturbed time to learn and write. At Touro, his days are a mix of administration, dealing with students, and creative scholarship, such as producing his YouTube videos (his office has a large green screen in the back). At night, as the Resident Scholar at Young Israel of Lawrence/Cedarhurst, he gives a weekly lecture on Jewish history and a shiur on Orchos Tzaddikim.
"He makes complex ideas easy to access," says Rabbi Yaakov Trump, the rav of the shul. "He's a wonderful combination of academic excellence and heimishness."
Teaching Moments
Dr. Abramson comes by his pedagogical talents honestly; he comes from a long line of teachers and principals, including a great-uncle who was considered a master educator, and, as he never officially received semichah, was affectionately known to generations of students in Vilkaviskis, Lithuania, and Montreal, Canada, as "Mar Mendelsohn." While his father didn't go further than a high school diploma, his mother earned a teaching certificate. Dr. Abramson has clearly put a lot of thought into what makes a good teacher, and how teaching adapts to the times and the students. "I believe everyone likes to learn," he says. "But we get turned off by bad teachers."
A comment made by an elderly woman at a lecture he gave in Boca Raton for seniors has always stayed with him. She told him, "Dr. Abramson, you're such a great teacher. You never make me feel stupid!"
"I realized those two statements are related," he says. "You have to understand where a student is at and then prod just a bit further. A Russian psychologist, Lev Vygotsky, spoke about the 'zone of proximal development,' the zone one step beyond. Teaching is the art of figuring out where to position the next level of learning."
His first teaching experience was not in academia, but as a ski instructor. "Many instructors believe the best way to teach is to spray students with information, increasing the intensity from sprinkler to fire hose if they don't get it. But on a ski hill, that doesn't work — no one wants to be lined up in the cold listening to an instructor. A good instructor simply says, 'Follow me,' and leads them on a route and speed carefully calibrated to develop their skills."
Those ski instructor skills were stretched when he began working on the slopes with disabled students. He needed to mimic their disabilities himself in order to teach them effectively: an above-the-knee amputation, for example, required different skills than a below-the-knee amputation. He learned to teach blind students by skiing blindfolded himself with a guide behind him, which honed his sensitivity to the sounds, smells, and feel of the snow on skis.
"I was unprepared for how much pure joy they got from skiing," he says. "In sports like swimming, you have to create the movement yourself. But with skiing, the power comes from outside of you. You just have to learn how to control that power with your body."
Over the years, he's devoted a lot of thought to how humans are hardwired to learn. Do we trap our thinking in words, or do we encode knowledge in other ways — as images, or as physical knowledge? After all, if a picture is worth a thousand words, a video must be worth even more..
The meaning of traditional education has been changed by the information highway, creating a "Gutenberg moment" like when the printing press made books widely available. Teachers were once the sources and gatekeepers of information, but students now have unlimited access to information through their phones and computers.
"I had an issue with some plumbing in my kitchen," Dr. Abramson relates to prove the point, "and before I knew it, my then-14 year old son had fixed it. When I marveled that he'd figured it out, he told me he'd watched a YouTube video.
"We used to prize information," Dr. Abramson continues. "Being a talmid chacham used to mean having a memory like a bear trap. But today, that has become overwhelmed by our phones. In Lita, the talmidim sometimes snuck Leninist tracts in between the pages of their Gemaras. Today, students just touch a button and they can see Lenin, Trotsky, Trump — there's no limit to what distracting information they can access instantaneously. Most of us struggle with how to contain that firehose of information, so that our children access the good stuff without being contaminated by the bad. You can try to erect high walls, although it's hard to build them fast enough, and you can try to put in controls so that young people aren't exposed to toxic material before they have the maturity and training to deal with it."
With information available instantly, the role of a teacher has changed from supplying information to showing students how to evaluate and synthesize it. Today's teachers need to inculcate an approach and a way of thinking, much as a rebbi teaches his talmidim how to interpret and dissect a Gemara. And nothing replaces a warm, human, teacher-student relationship that inspires students to love learning.
"We used to prize those who master massive amounts of information, a task which is made almost completely redundant by technology," he explains. "Now we have a much more difficult task: We have to prize those who master the wisdom and skill of knowing how to edit the information overload in a meaningful and relevant manner."
Dr. Abramson himself has a warm, nonjudgmental presence that puts students at ease. Mrs. Esther Braun, the director of Machon L'Parnasa, relates that he'll always go out of his way to help them. "Some of our students need immediate attention so they don't get discouraged, and he's swift to get them the help they need," she says.
It's about relationships, but it's also about presentation. "Teaching is a performance art," asserts Dr. Abramson, who also teaches a popular class in public speaking. "Your body language, the pitch and tone of your voice, come through as much as the content." The medium affects the performance; he compares live teaching versus video teaching to the difference between stage and screen performance. Onstage, actors require larger gestures, more pronounced makeup; on screen, a zoom-in of a simple raised eyebrow can convey depths of emotion.
History Notes
Today Dr. Abramson's administrative duties mean that he has less time for archival research, what he calls "the gold standard of historical research," so his focus is on doing more synthetic work and teaching. His studies obliged him to become a polyglot. He grew up with English and Canadian French; his Jewish studies added Hebrew and Aramaic, and his academic studies and research required him to have a reading knowledge of Yiddish, German, and Ukrainian.
Can secular Jewish historians truly understand the lives of religious Jews past and present? After all, a modern frum Jew reading The Memoirs of Gluckel of Hameln finds her concerns eminently recognizable in ways a secular person would not: shul politics, shidduchim for her children, celebrating Shabbos and holidays. "There are many excellent nonobservant Jewish historians," Dr. Abramson says. "They can talk about what they know, like the effect of the scientific revolution in the 16th century on Jewish thought, although they may have less understanding of the daily rituals or the dynamics of religious conflicts.
"That said," he qualifies, "to understand an event like the excommunication of Spinoza purely from the point of view of religion would be to miss the bigger historical picture of what was going on in Amsterdam then. The demographics, the social and economic climate, the position of Portuguese Jews and the earlier excommunication of Uriel da Costa all influenced that outcome."
When asked if he appreciates being able to work in a frum college rather than some Ivy League institution, Dr. Abramson makes a few jokes about having avoided tweed jackets and pipes and notes how "at Touro I can teach in the 'first person,' saying things like, 'when we established yeshivos in Baghdad,' rather than 'when the Jewish population of the Mesopotamian region developed institutions of higher learning in Baghdad.'" At Touro he doesn't stick out in his Orthodox Jewish garb, like he did in balmy Florida, where he looked oddly overdressed in his black suit (a student once asked if he was an undertaker) and was most comfortable hanging around a professor of African studies who wore a dashiki.
One time at a holiday party at Cornell for Near Eastern Studies, he found himself surrounded by discussions so full of irreverence and G-dlessness that he retired to a corner with a similarly alienated professor who happened to also be a Lutheran minister. "Are you feeling like I'm feeling?" Dr. Abramson asked. The minister nodded. "Frum knows frum," the minister replied.
Accidental Celebrity
One good thing about the Internet is that it's given Dr. Abramson a vehicle to educate far beyond the bounds of his own community. It began large-scale when he started a series of sponsored lectures to raise scholarship money for Touro students and posted them on YouTube.
"I read a book by Clay Shirky, an NYU professor, called Cognitive Surplus, that changed my thinking about the Internet," he says. "The Internet has so much potential to disseminate information. Why give an adult education class to 20 or 30 people when you can reach untold numbers?" Today his videos get 10,000 views a day from all over the world, and he freely admits, "It has changed my life."
The videos expound on personalities and events in Jewish history, and Dr. Abramson has a gift for putting all that into a larger context. For example, in a video entitled "The Secret History of Chanukah," he states, "We place a lot of emphasis on the role of the Syrian Greeks, but in reality, the Chanukah revolt was essentially a civil war, fought between traditionalist and reforming Jews with competing views for the future of our people." Discussing the Ramchal, he says, "If Rabbi Moshe Chaim Luzzatto, author of the brilliant Mesilas Yesharim, had the temerity to show up in one of our synagogues today, he would likely be shunned for his nonconformist ideas."
Beyond funding scholarships, Dr. Abramson's videos have a larger agenda: to inform Jews about their history. For the unaffiliated, history is a non-threatening, no-commitment-required introduction to Judaism. "I'm trying to put a human, optimistic face on Jewish history," he says. The response is enthusiastic; he receives dozens of emails from viewers every day. An OTD former chassid wrote, "I feel better about my Jewish identity after watching these videos." A Protestant minister from Covington, Tennessee wrote, "Thank you so much for opening my eyes to a part of history I knew nothing about."
The history clips led to the development of yet another series, when Rabbi Moshe Schwed from the OU reached out to him and proposed he create short video clips to accompany their All Daf shiurim.
"At first it sounded crazy," he says. "Create 2,711 videos, one for each daf? History has a linear format, but the Gemara is written in a more stream-of-consciousness way. How would I approach it?"
But he figured it out quickly and was soon captivated. In every daf, he's able to find some detail — a historical event, a rabbi who needs identification, a now-archaic process like manually threshing wheat, a piece of historical realia like old currency or the mole rats mentioned in Moed Katan — that he can speak about. Not only do these tidbits bring depth and life to Gemara study, they often clarify what the Gemara is discussing. Today, he says, "I could probably do ten cycles of Shas and not exhaust the material." For those learning daf yomi on All Daf, it's like the dessert after the meal.
Between the videos, teaching, administration, and learning, Dr. Abramson's days are packed. What does he do to relax? He teaches some more. Even his vacations are teaching ones: He was brought on board the Kosher Riverboat Cruises, which specialize in historical explorations via the waterways of Europe. "We go two or three times a year," he says, describing the boats as "floating shtiblach of 100 people or so." He's helped lead cruises down the Rhone and the Danube, and recently went down the Douro, between Spain and Portugal, traveling afterward with his wife to Lisbon. There they visited plazas where auto-da-fes were held, and Coimbra, a city that was home to many Jewish scholars.
The study of Jewish history has particular value because it affords a glimpse into the way Hashem has guided His people over the centuries. "I see yad Hashem in history in overwhelming ways," Dr. Abramson says. "Surely there are times of hester panim. But the tremendous ways in which Hashem ultimately watches over His people are proof that we'll never be forsaken.
(Originally featured in Mishpacha, Issue 890)
Oops! We could not locate your form.
>