| True Account |
The Miracles Keep Coming | September 16, 2020
As I fell into bed at 3:00 a.m., all I could think of was how much strength we'll need to traverse the exhausting road ahead of us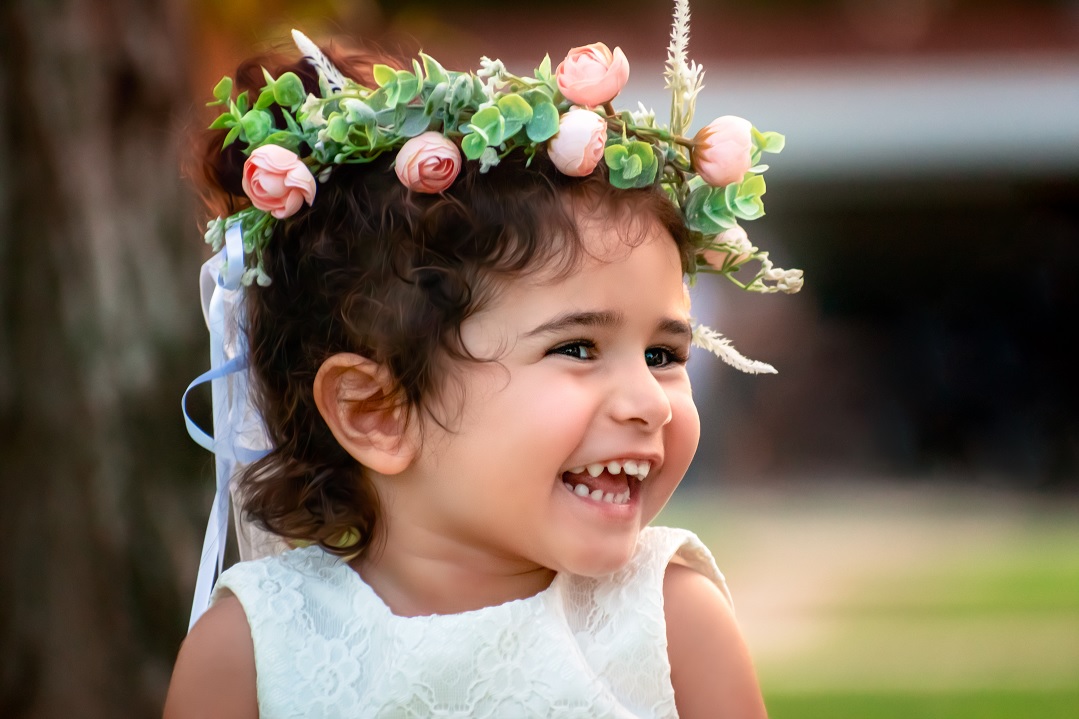 Photos: Precious Steps Photography, and Family Archives
As told to Yael Schuster by Shani Cohen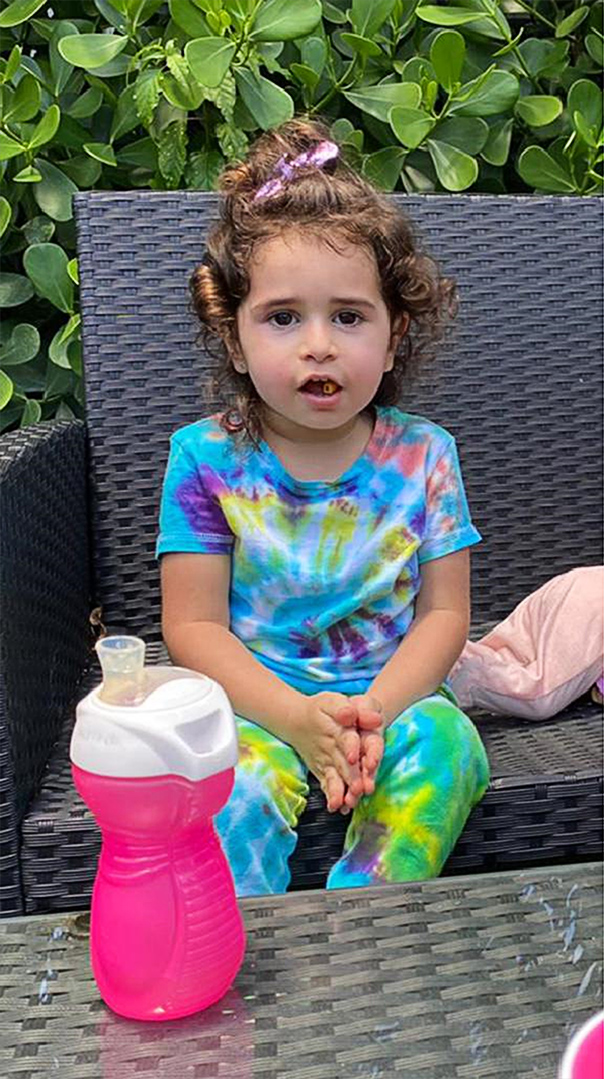 Just a year ago, in the Succos 2019 edition of Mishpacha, we featured the story of Baby Eliana, who was born with a neurodegenerative disease called Spinal Muscular Atrophy (SMA). In May 2019, the FDA approved a revolutionary gene therapy, Zolgensma, as a potential cure for children with SMA up until age two. Eliana was diagnosed in June 2019, just a few weeks short of her second birthday. By that point, her crawling had become painfully slow and sluggish, she'd lost the ability to roll, and her overall motor functioning was weakening. She was headed toward a life of total dependence. Zolgensma seemed her only hope — but the cost was staggering, and the timeframe heart-stoppingly narrow.
After failing to secure funding from their insurance company, the race was on for Ariel and Shani Cohen to raise $2.2 million, the cost of the drug, with just six days to go until she turned two. In an unprecedented display of unity and caring, the Jewish world mobilized like never before, and the entire sum was raised in just three days. The day before her second birthday, Eliana — whose name had since been changed to Chana — received the life-giving treatment.
How did she fare since then? One year later, we checked in with the Cohens for an update — and received a recap on a year of prayers, progress, tears, and stubborn hope for their miracle child.
Motzaei Shabbos, July 20, 2019
Yesterday morning, Chana received the gene-therapy treatment that can potentially give her a normal life. I should be thrilled. But to be brutally honest, instead of floating through a cloud of euphoria, I'm slogging through a fog of overwhelm.
Zolgensma has the potential to cause liver failure, so Chana needs her blood drawn daily to monitor her liver-enzyme levels. Having been a human pincushion this past year, she's developed a visceral fear of needles, and she resists them as if she's fighting for her life. After an eternity of coaxing, cajoling, and bribing, the nurse managed to draw her blood, and minutes later Chana fell asleep, utterly depleted. We were at the door, thankful to finally be on our way, when we heard the nurse say, "Mr. and Mrs. Cohen, I'm really sorry, but we need one more vial." Chana went even crazier the second time around. As I fell into bed at 3:00 a.m., all I could think of was how much strength we'll need to traverse the exhausting road ahead of us.
Sunday, July 28, 2019
It was just a typical morning as Chana played on her stomach with her toys, when suddenly… there she goes! Barely breathing, I watched as she slowly rolled onto her back, and then onto her stomach again. For a second I thought I dreamed it. "Chana, can you do it to the other side?" I prodded gently, afraid to break the momentum. And miraculously, she did. I immediately texted our neurologist and asked if the treatment could be working this quickly, with results in just over a week.
We are inching forward in the dark — the doctors themselves have no idea what to expect. Most babies who've gotten the treatment did so at younger ages, before they've regressed much. Chana is one of the oldest children to have gotten the treatment, so she's suffered a fair amount of regression, and whether that can be undone is the million-dollar question. Even if the drug just prevents her from regressing further, the doctors will consider it a huge success.
The doctor answered my text with a "G-d bless." This, from a man who just a few months ago scoffed at any reference we'd make to G-d. He's seen the miracles that brought Chana and Zolgensma together, and is now a different version of himself. His simple but hopeful text drove home that he knows no more than I do about where this is all headed.
Motzaei Shabbos,August 10, 2019
Even though it looked like the most natural thing in the world, I couldn't stop staring. Chana in her highchair, nonchalantly kicking her legs. The heavy appendages she drags behind her when crawling seem to be coming to life!
Her voice is stronger, and she's crawling faster, too — at least I think she is.
Tuesday, August 27, 2019
We've been working on having Chana bear weight on her legs for over a year, yet have gotten nowhere. Today, exactly five weeks and four days post-Zolgensma, Chana grabbed onto a rail and slowly pulled herself upright onto straight legs. For the first time, I feel in my bones that something is really, truly cooking.
Maybe this would launch another mother into a state of blessed ecstasy, but I tend to react with logic over emotion, and with each step forward, logic reminds me of just how much further Chana has to go. Who'd have imagined that long-awaited progress would leave distress in its wake?
Maybe if I had a normal life on the side — of coming and going, of schoolwork and shopping and errands and socializing — her progress would indeed leave me on a high. But Chana and I are frozen, together, in time and space. She's been in quarantine for over two months — the steroids she takes to maintain her liver-enzyme levels can cause immunocompromise so she can't be exposed to germs — and I'm with her all day, every day. "I want to go to shul," has become a constant refrain; she misses playing with the other kids there. And sometimes she even begs to go to her therapy clinic, craving any stimulation at all.
To make matters worse, the steroids have turned my gentle lamb into a moody, violent little creature. And the Zolgensma has killed her appetite, making each meal a battleground. New toys and prizes are no match for the monotony that's making both of us crazy. I'm coming to realize that the only way to get through this is to focus exclusively on today; thoughts of next year or even tomorrow can throw me into a spin.

Wednesday, September 11, 2019
Chana started school a few weeks ago. She's very social and loves every minute of it, even if she's the only one crawling around the classroom and being pushed in a stroller. Last week, she came home flying. "Ima, I can make a house like the other kids!" she gushed, referring to a gymnastics position.
I need exciting days like these after experiencing days like yesterday. "Ima, why can't I run like the kids at school?" she asked. My heart broke as I realized she's becoming more aware of her limitations, and I tried to answer with realistic optimism. "We're working hard at getting you there, Chanale," I told her.
Hashem, please give me the right words…. I pray that her disability won't slowly eat away at the lively, buoyant spirit that so defines my little girl.
Monday, September 16, 2019
Today Chana took her very first steps! In physical therapy, sidestepping, leaning on some buckets. Good enough for me! Just two months ago the sum total of her mobility was a sluggish schlep/crawl that was growing ever slower. Even for big-picture-minded, unemotional me, today was huge.
Wednesday, October 16, 2019 — Chol Hamoed Succos
After spending so many hours each day together, I thought I knew every inch of Chana's nature. But taking her to shul over Yom Tov gave me a bird's eye view — and the terrain was more expansive than I could have imagined.
The minute we walked in, the children surrounded her, excited to see her for the first time since Shavuos. As she doled out the candy we brought, I've never seen her face lit with such happiness. For a two-year-old to take such joy in giving seems extraordinary to me.
And then the questions began. "Where's your sister?" she said to one little girl. "Where's your baby?" she asked another. How does this toddler remember the details of families she hasn't seen in four months? But even more remarkable to me is her earnest interest in the people around her. I feel reassured that despite any physical limitations she might ultimately have, she'll always be surrounded by love.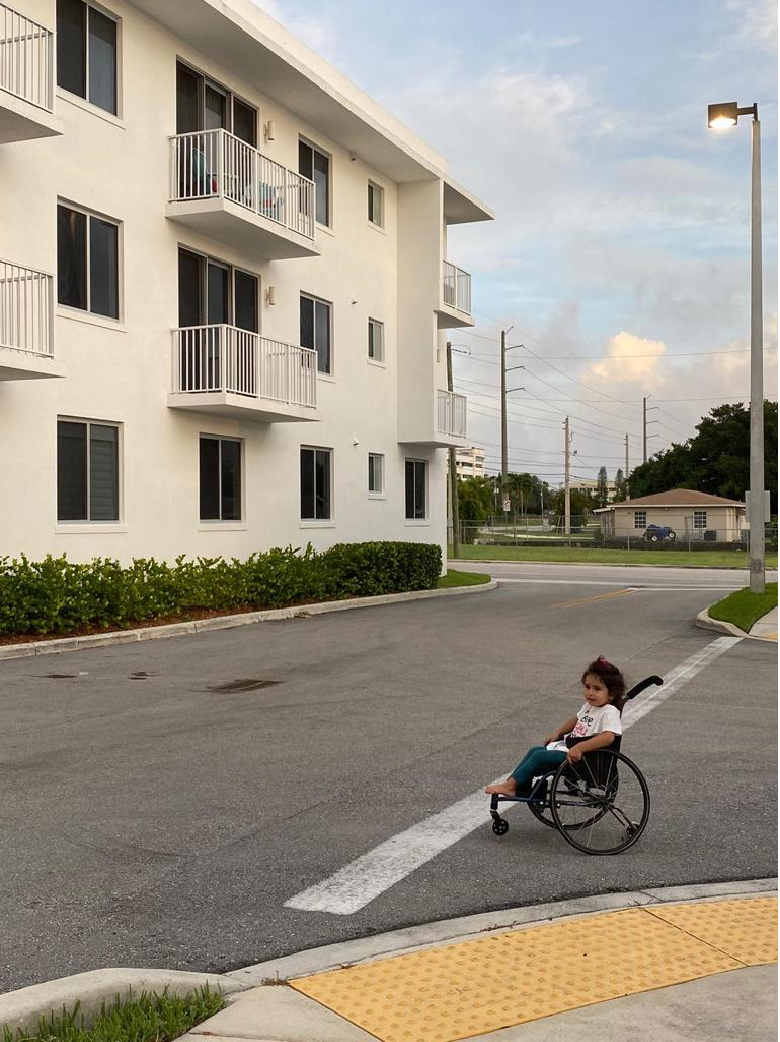 Monday, October 28, 2019
Since Chana's diagnosis, I worried that she'd never have the muscular control to be toilet trained. Not a pleasant way to go through life.
A few weeks ago, Chana came to me with an announcement: "The diaper isn't comfortable, take it off." (Yes, she's only two, I know.)
That announcement was the beginning, middle, and end of her training; the deed was done the moment she willed it, including at night. In shul over Yom Tov, mothers of untrained toddlers quite a bit older than Chana wanted to know my secret.
Clearly, worrying about things that might not come to be is a form of pointless self-torture. (I hope I'll remember that at the next opportunity.) And I learned something else as well: Never underestimate the tenacious Chana Cohen of Aventura, Florida.
Thursday, November 21, 2019
It feels wonderful for Ariel and me to help others in similar situations by sharing our knowledge and experience with them. There's a frum family in New Jersey whose fourth child was diagnosed with SMA. We put them in touch with Dr. Hoffman, one of the world's leading SMA experts, who sent them for very specific genetic testing, and they were given the fantastic news that their son is in the rare subset of patients who have certain genetic factors that minimize the expression of SMA. This alleviates so much worry for them, and it's gratifying to have been a partial shaliach in this discovery that they might never have come across without Dr. Hoffman.
Chana's story repeated itself just this morning in Israel. Two mothers of toddlers with SMA, one Jewish and one Druze, teamed up to fight so Israel's top health insurer would cover the cost of Zolgensma for both children. The Jewish mother, Mrs. Nagi, reached out to us with many questions, and we helped her as much as we were able. In an unprecedented decision, the insurer agreed to cover the combined cost of over $4 million. This morning, just weeks before his second birthday (the deadline for receiving the drug), Liam Nagi received the life-saving drug. I pray for him, and feel a little less alone.
Friday, November 22, 2019
Today my life got a thousand times easier. Chana has figured out how to get into a sitting position from crawling — no more need to stop what I'm doing and reposition her every 30 seconds. Thank you, Hashem; this one's for me!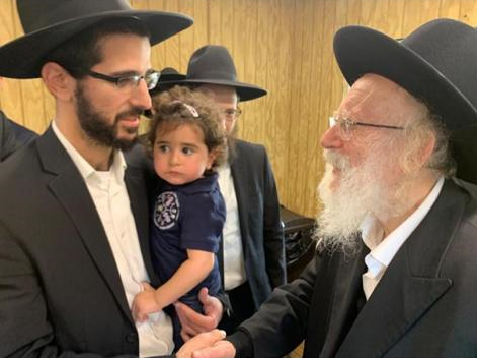 Monday, November 25, 2019
Today is a day I'll never forget. Our rav, Rabbi Yosef Galimidi, arranged for us to meet Rav Shimon Galai in the North Miami Beach Kollel. After hearing Chana's story, Rav Galai was visibly moved. He placed his hands on Chana's head and blessed us that we should raise her with much nachas, and dance with her at her wedding. And then the Rabbi raised his voice so that the entire kollel could hear him, and proclaimed, "If the value of one gene is $2.2 million, imagine the value of an entire human being. And the value of a Jew? Priceless!"
Sunday, Dec 1, 2019
Ariel was a bundle of nerves before he took the stage at the Agudah convention Thursday night to share our story and gratitude with the entire Jewish Nation. But once the microphone was in his hands, he felt Hashem feeding him the words. As he looked out in awe at the impressive audience, he expressed hakaras hatov to the Jewish Nation for having cared for Chana as if she were their own daughter and granting her the best-possible shot at a normal life.
Friday, January 10, 2020
Witnessing the way other children accept Chana so easily gives my spirit a boost.
Today Chana was Shabbos Ima in school, along with four other Imas and five Abbas. The Imas and Abbas took their positions on stage, but Chana, not yet able to stand independently, was seated on the stage's steps. And then mid-performance, each Ima and Abba on stage, one by one, spontaneously walked to the steps and sat down next to Chana, as if in solidarity with her. The entire performance shifted to those steps, centered around Chana. As she belted out her songs with perfect confidence born from acceptance, tears coursed down my cheeks; I looked around and saw emotions running high in the audience as well. If only we could bottle the moment for Chana to take with her into the adult world.
Monday, March 16, 2020
Baruch Hashem for the three hours of school a day, because without that, Chana's life would consist entirely of therapy and appointments. There are so many details to keep track of, therapy goals to work toward, things to look out for… it seems like Chana is developing scoliosis, and we're doing everything we can to strengthen her core so that she won't need a back brace. There's always something new to keep us awake, figuratively and literally, and it's all so draining.
Most of Chana's gains take place during therapy, because she needs to wear her AFOs (foot braces) in order to practice walking with an assistive device, but as much as she loves the ones she chose — pink with rainbow-colored hearts — the AFOs are too heavy for her to wear at home. So while she can walk with a gait trainer (a wheeled device used to help children learn to walk) — which is huge! — at home she's still crawling and unable to do basic things for herself such as dressing and feeding. More than anything, I want her to feel capable and successful, but for now I just need to be patient. Chana is so full of life and positivity, and as I watch her use these qualities to push through challenge after challenge — the very same traits that make all who meet her love her — I have faith she will continue to overcome.
It's fascinating to watch Chana process her life through play. I'll be in the kitchen and hear this from the living room:
"Now everyone put on your AFOs! Okay, good. Now lie on your ball and push yourself up, great! Now take out your gait trainer…" I peek in and see her dolls set up in a circle, following Therapist Chana's instructions. The script may not resemble that of other children's play, but as I watch I'm filled with gratitude for her extra-precocious mind, her advanced verbal skills, and a perception that belies her age. With the help of Hashem, the physical skills will follow.
Friday, February 7, 2020
Chana had an ultrasound of her liver today to make sure the Zolgensma hadn't caused any damage. She took one look at the woman with the scary machine, and I knew she was on the verge of a breakdown — it was just a matter of seconds. Right then Hashem dropped a memory into my brain. A while back she had seen her friend's expectant mother and surmised that the woman had a dinosaur in her stomach. From there she decided that she, too, had a dinosaur in her stomach — why not?
"Chanale, the nice lady is checking the dinosaur in your stomach!" I said now.
Her face lit up in a huge grin. "Is it a girl dinosaur or a boy dinosaur?" she wanted to know. Crisis averted. And as were leaving, she tossed out a casual, "See you tomorrow!" to the technician for good measure.
Friday, June 12, 2020
Just one dose of Zolgensma last July, and the miracles keep on coming. Chana can now walk with a cane! It's four pronged, she needs to hold on with two hands, and she needs supervision, but it's a huge advance from the bulky gait trainer. As we slowly walk side by side, the future looks brighter.
Tuesday, August 4, 2020
Chana literally hasn't gone anywhere since the coronavirus lockdown in March, because she's particularly vulnerable. It's true that we're accustomed to spending a lot of time together indoors, but the total lockdown has been extra challenging. This morning I decided: That's it, we're off to the beach.
I quickly realized that something so routine for most people is just not so realistic for us. There I was, schlepping the wheelchair in one arm, Chana in the other, slowly dragging her across the heavy sand. Finally, we made it to the edge of the water and I put Chana down in the sand, utterly spent.
As I sat and watched Chana play while massaging the muscle I just pulled, I was engulfed in crashing waves of self-pity. This is impossible, I kept thinking. Add going to the beach to the long list of things I can't do. Everything is so easy for everyone else, but so hard for me.
What was the view of us from Above, I wondered, as we made our way back to the car. We must have resembled a slow-moving caravan traversing the desert sand. No one I knew had to be locked inside with a child who struggled to walk, whose future mobility was still a question mark, who couldn't even take a simple trip to the beach without a wheelchair impossible to push through the sand.
Then we reached the parking lot and I stopped short. Heading toward us was a man pushing his daughter in a wheelchair.
I spoke to the man a while, and he shared his tips for making outings more manageable. But way more important than those practical bits of information was the realization that I'm really not alone in my struggle — there are people who really understand, and Hashem is right beside me always.
Which is really the point of our journey, I believe. The fact that a one-hour IV infusion can take a child facing a life of severe paralysis and remake her into a child with the potential for a life of independence is an awe-inspiring miracle for which we are boundlessly grateful. But the subtle way we touch others and are touched by others each day — the connections forged person-to-person and person-to-G-d — is no less miraculous.
And so I say thank you, Hashem, for my precious Chanale, who brings me infinitely closer to You than I ever thought possible.
(Originally featured in Mishpacha, Issue 828)
Oops! We could not locate your form.
>