| Magazine Feature |
The Mayor and Me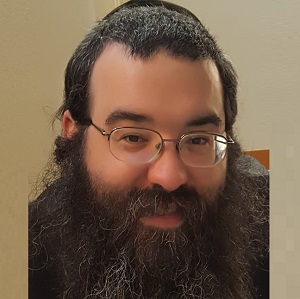 | January 4, 2022
How Boro Park chassid Pinny Ringel won the respect of de Blasio and the trust of his people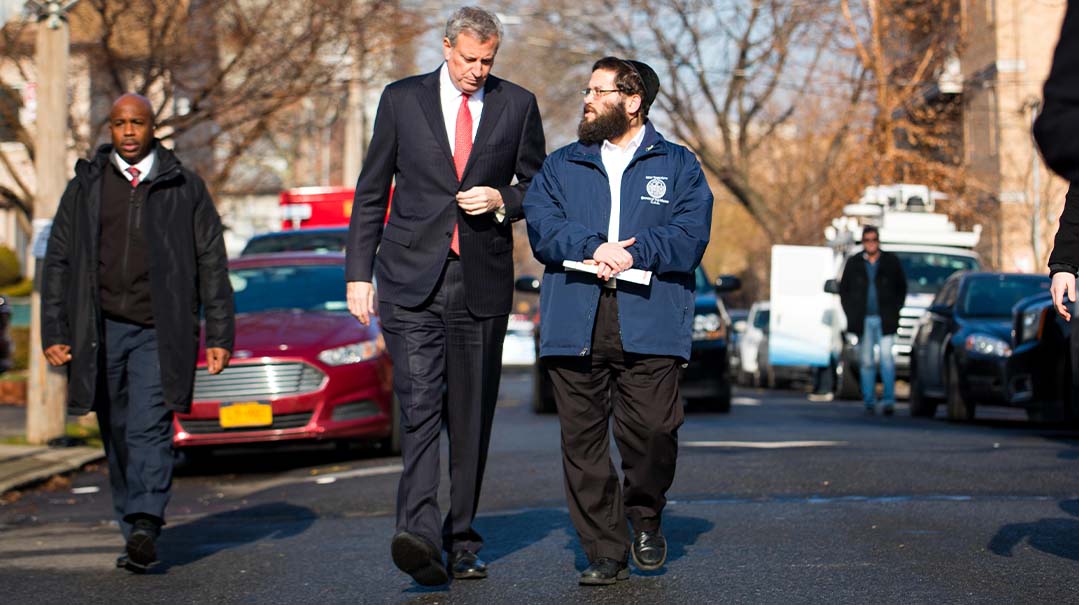 Photos: Naftoli Goldgrab, Personal archives
As mayor of New York, Bill de Blasio flummoxed the Orthodox community.At times he seemed to be an earnest friend who helped wherever he could — changing garbage pickup to nighttime hours to avoid interfering with school bus schedules, abolishing a policy that falsely framed bris milah as dangerous, and working with yeshivos after they were sued by the state for supposed inadequacies in their secular studies curriculum.
At other times, though, Orthodox Jews perceived the de Blasio administration as antagonistic. His tone-deaf policies on crime and commerce, peaking with Midtown going up in flames during the 2020 race riots — encouraged by the mayor, who even suspended Covid lockdown rules for protesters — will discourage companies from moving to the Big Apple for a long time.
In particular, the mayor will forever be remembered by the Jewish community for a single tweet that came late one evening in April 2020, during the Covid lockdown. The mayor had heard reports of a levayah going on in Williamsburg. The local community said they had coordinated with the police department, but the mayor came down personally to break it up.
"My message to the Jewish community, and all communities," went the now-famous tweet, "is this simple: the time for warnings has passed. I have instructed the NYPD to proceed immediately to summons or even arrest those who gather in large groups."
But the next day, there were no repercussions for tens of thousands of New Yorkers who gathered in Battery Park to watch an air show. Later, parks in Jewish neighborhoods were padlocked, while children in other areas had access to their playgrounds; and around the same time, De Blasio allowed for large-scale demonstrations, while shuls were still shuttered.
During all this, where was his inner circle of frum Jewish advisors, who'd been helping him establish policy since the days when he was a New York public advocate?
Bill de Blasio may have fallen short, but at least he had Pinny Ringel at his side.
In the world of Jewish liaisons, Pinny Ringel stands out. A Belzer chassid from Boro Park with an unusually warm relationship with the mayor, Ringel, whose official title was "assistant commissioner for the mayor's Community Affairs Unit," has been on the forefront of many of the friendships and feuds that have characterized the de Blasio years. In conversations with several askanim about Ringel, the term "loyal" and "results" figured prominently.
Chaskel Bennett, an Agudath Israel trustee, says that whenever a personal meeting with the mayor was needed, Ringel made it happen "without hesitation or delay."
"Always respectful, sometimes heated, everyone in the room understood that Pinny had the mayor's complete trust, and he was invariably given the authority by Mr. de Blasio to fix whatever the issue was," Bennett tells me. "Pinny earned a reputation as one who was both fiercely loyal to his community as well as to the mayor. No easy task when everyone you daven with disagrees with your boss."
My conversation with Ringel, days before he leaves office, takes place in his basement — a bare-bones room bisected by a row of pillars, with some old "Simcha Felder for State Senate" signs in a corner and a panoply of exercise equipment in the center. Off to one side is a computer — his grand office during the 2020 lockdown — and two chairs. We take seats and I listen to what must be the hardest job of all — a fulsome defense of de Blasio's policies vis-à-vis the Orthodox community.
No wonder de Blasio calls him tireless. When I ask the mayor's office for a quote about Ringel, they refer me to de Blasio's quote-tweeting a boropark24.com article about Community Board 12 honoring Ringel for 20 years of "tireless service."
" 'Tireless' is an understatement," the mayor posted. "@Pinnyringel is a champion for his community and his city. I'm proud to have worked with him these past eight years and beyond."
Ringel is one of de Blasio's longest-serving aides, having known him for more than 20 years and having worked with him for the past dozen. Now that de Blasio is out of office, so is Ringel. He is moving to a city agency and will carry a senior title, he tells me, although he's not yet ready to come out publicly with details. But he lets me know that this past Shabbos, the first day of 2022 and with a new mayor, was the most "relaxing and enjoyable" he's had in years.
Indeed, for the past eight years, Ringel was on call 24 hours a day.
"Being a Jewish liaison means that you're in a very tough spot," says Yeruchim Silber, the New York government affairs director for Agudath Israel. "On one hand, you have to advocate for the community, while on the other hand, you work for the principal — he's the one signing your paycheck, and your first loyalty has to be to your boss. It's a very tough act to balance, and many people don't do it well. Pinny was able to strike that balance, perhaps more than anybody else. He stayed loyal to the mayor, and yet was an advocate for the community."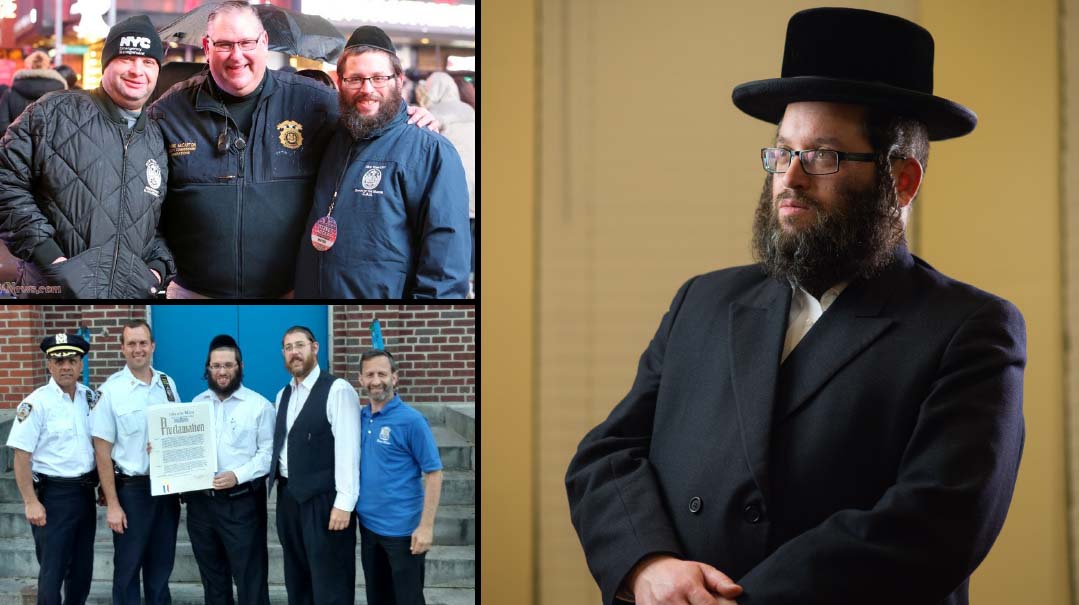 Payback Time
The path of a Belzer yungerman from Boro Park working for New York's most leftist mayor ever literally runs through 13th Avenue.
Ringel married the former Fraidy Unger in 1995 and went to work at Eagle's Electronics in Boro Park. He began attending night classes at Touro College, where he had a business management professor named Simcha Felder, who moonlighted as chief of staff to then-assemblyman Dov Hikind.
Ringel had a keen interest in politics even then. He recalls that as Felder was taking attendance during the first class, he introduced himself as Pinchos Ringel, and then asked, "By the way, aren't you the chief of staff to Dov Hikind?"
When the class ended, Felder pulled him aside and said, "Over here, I'm Simcha Felder, Professor Felder, Mr. Felder — whatever you want to call me. But here, there's no politics, no chief of staff. If you want to talk to me about my day job, we can always talk about it, but not here."
That conversation kindled a friendship between the two, the young accounting student and his professor. In 1999, Ringel left Eagle's and along with a partner opened up a store called Hi-Tech 2000 on 13th Avenue and 46th Street, in the heart of Boro Park — two blocks away from Hikind's office.
This was his first taste at retail politicking. The assemblyman would regularly bring candidates he endorsed to stores along the avenue, often stopping in Hi-Tech 2000. Felder, who was still working for Hikind, would also stop by regularly and offer his assistance.
In 2001, Felder began his campaign for city council to replace the term-limited Noach Dear a"h.
"I said to myself, now is my time to pay back all the friendship he showed me all these years," Ringel tells me. "I told him, 'I want to volunteer for your campaign, just tell me what you need from me and I'll be there for you.' "
The 2001 election was a memorable one for the city. Not only because the September 11 primary had to be postponed after the World Trade Center attacks, but also because it was the first to be held under the new term limits rule. Lawmakers with decades of service were leaving, making way for new blood. This included the 44th City Council District in Boro Park, for which Felder was running; and the adjacent 39th District, which a certain federal housing official named Bill de Blasio was vying to represent.
And 13th Avenue was the border separating the two districts.
Hikind, who endorsed both Felder and de Blasio, would take both candidates down the Avenue on the campaign trail, many times with Ringel in tow.
"The joke was," Ringel says, "if you live on this side of 13th Avenue, vote for Felder, if you live on that side, vote for de Blasio."
That was Ringel's first encounter with de Blasio, a man who would figure increasingly prominently in the following two decades of his life. But he didn't know that at the time. Following the election, he returned to his business. Felder told him he knew de Blasio was looking for a Jewish guy to join his team, but at the time Ringel had no interest.
In July 2002, Felder called up Ringel, inviting him to join his team as a part-time employee.
"I don't know why, but I said yes," Ringel recalls. "And that's how I got into this line."
Working for Felder meant frequent interactions with de Blasio — whom Ringel, throughout the interview, refers to as "the mayor," even when discussing his pre-Gracie Mansion days ("In 2010, the mayor became public advocate").
The public advocate's office is unique to New York City — a job nobody understands and few care about. But it's the third-highest citywide elected position, and a great springboard for higher office. Felder and de Blasio both left the council in 2010, de Blasio becoming the public advocate and Felder moving to the comptroller's office.
Felder had just won a new city council term, so although he was no longer a councilman, Ringel stayed on to staff the office until a special election in March was won by David Greenfield. At a Community Board 14 meeting that January, de Blasio was there to introduce himself as the new public advocate.
"As he walked out, I walked over to him and said, 'I'm a free agent.'
"He said, 'Give me your cell phone number again, and somebody will call you tomorrow.'
"The next day I got a phone call asking that I come down for an interview. I came down and they said to me, 'We'd like to hire you.' Basically, that was the entire interview."
As part of his job, Ringel was to oversee Jewish outreach as well as overall constituent services. Ringel explained to de Blasio that he had made a commitment to stay in the council until a new councilman was elected. No problem, the public advocate answered: "Starting April, you have a job with me."
"I walked into the office on April 7, the first day in the public advocate's office," Ringel says. "There was a staff meeting going on in a small conference room that nobody had told me about, so I came in the middle of the meeting. I sort of snuck in. The mayor was in the middle and was leading the whole thing. He looked up and said, 'I just saw somebody sneak into this room, and I would like to introduce him.' He then gave me this beautiful introduction, how he had known me all these years."
Ringel worked for de Blasio until 2012, when then–state senator David Storobin offered him a significant salary if he would join his reelection campaign. The offer was sticky for Ringel, both because he was working for de Blasio, and because Storobin's opponent in the race was none other than Simcha Felder, who was seeking a return to elected office. But both de Blasio and Felder encouraged him to accept the proposal, so he took a six-month leave.
Ultimately, Felder won, and Ringel returned to the public advocate's office that was now a changed place — de Blasio was running for mayor in a crowded field that included candidates with much higher name recognition. De Blasio didn't crack into the double digits in surveys until weeks before Election Day, and he spent most of the early months languishing at one or two percent in the polls.
"Everybody was telling me that I was on the wrong side," Ringel recalls. "But I knew already by March that he had a chance. Not only a solid chance, but a good chance."
To have seen that required a certain level of prophecy. I covered that race, with all its roller-coaster twists and turns; various candidates had breakout moments when they led in the polls, until the city's ferocious media corps trained its lens on them and they fell. Everyone knew that Chris Quinn would get the white liberal vote, Bill Thompson would snap up the black vote, and John Liu would get the Asians.
But de Blasio? He was seen as the same joke then as when he later ran for president, in 2016. But Ringel insists that de Blasio's team saw his potential.
"He hired a very powerful team of real experts," Ringel explains. "Their plan was, let's prepare everything we need for the campaign now. March is not the time to rock the boat. Let the others rise in the polls in March."
The incident that led him to believe his boss was a winner came while he was driving de Blasio to a campaign event with the mother-and-daughter Crown Heights powerhouse team of Una and Yvette Clarke — the mother is a former councilwoman, and the daughter is a congresswoman. They were going through a black central Brooklyn neighborhood when de Blasio received a phone call. He asked Ringel to pull over so he could get out of the car and talk privately.
"I also got out of the car," Ringel says. "This was a time when the mayor was zero in the polls. I used to joke that he was negative in the polls because no one even looked at him. It was a nice day, and there were people sitting outside, discussing de Blasio — 'Hey, look, there's Bill de Blasio, he's going to be our next mayor, we're all going to vote for him.'
"Then a mother with children comes up pushing a stroller and she starts telling her kids, 'This is our next mayor.' And she asks me, 'Are you with him?' I said yes. 'Can we take a picture with him?'
"I said, 'Sure, just wait until he gets off the phone.'"
When de Blasio got back into the car, Ringel recalls, "I mumbled under my breath, 'I thought this is Bill Thompson territory.'
"He said, 'Pinny, you saw it yourself, now you can tell it to your friends.'
"It turns out that African Americans were his secret base that no one was realizing."
Ringel's tea leaves were correct. By the time the primary rolled around in September, de Blasio racked up an impressive 40 percent, with runner-up Thompson taking 26 percent. And at the first fundraising event de Blasio attended in the Jewish community after that — a week before the general election — he pointed to Ringel and Avi Fink, who would become chief of staff for the Mayor's Office of Management and Budget, saying, "These are the faces you are going to see in my administration."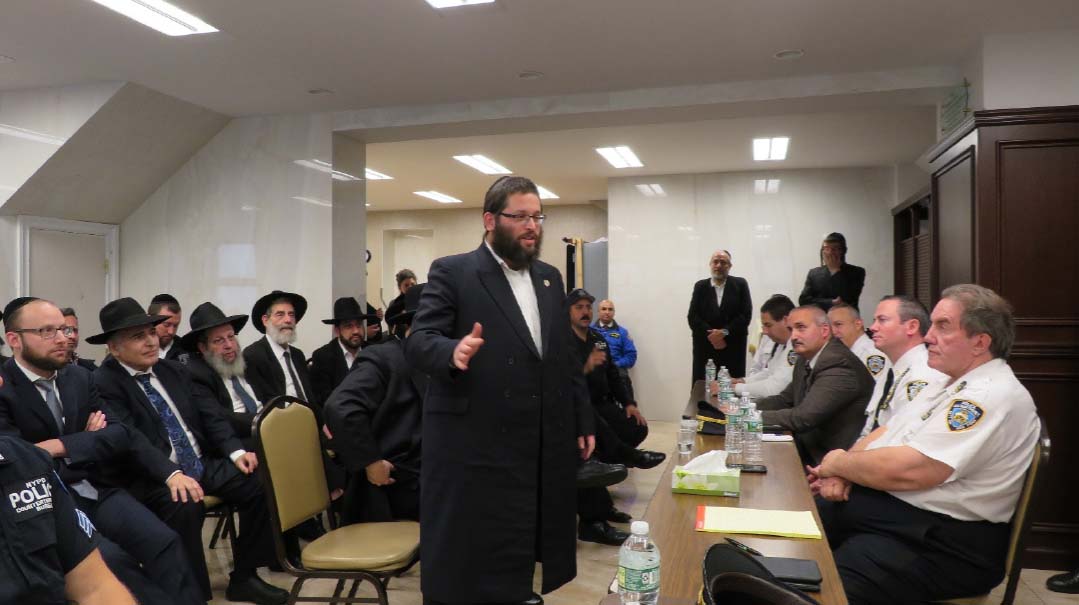 You Gotta Call Pinny
While de Blasio was on the campaign trail, the agency he was hearing the most complaints about was the Administration for Children's Services. The agency had a reputation, mostly a holdover from the 1970s, for removing children from homes about which they received questionable reports, and many Jewish families refused to cooperate with its inspectors.
The ACS is the agency that follows up on accusations of child abuse, child neglect, or a child dying in suspicious circumstances. Typically, their investigations involve going into the house and making sure there's enough food in the refrigerator and each child has a bed. But because of the agency's reputation, many frum people would not let them in, leading to a "refusal to cooperate" citation on the report, which could cascade into a legal quagmire. In addition, when ACS inspectors would investigate a suspicious death of a child, they would arrive during the shivah.
Once the new administration took over, de Blasio directed Ringel to move to ACS to improve matters.
"I took on the mission," Ringel says. "I told one of the deputy commissioners that I wanted to set up training for inspectors — the ones who actually knock on the doors — on what to expect when they go into a Jewish house, what the Yamim Tovim are about, what milchigs and fleishigs are about in a kitchen, and to train them to explain that they are not there to take away kids, but that they're there to work with the families."
Shortly afterward, Ringel got a call in the middle of the night from an ACS deputy commissioner. His inspectors had gone to a Jewish home to investigate a complaint but they were denied entry. Before they knew it, a commotion erupted on the street, with children and neighbors gathering. Could Ringel come over and help?
Ringel called the father of the family and introduced himself. The father, however, dismissed the complaint as a false accusation from a disgruntled tenant and demanded to know why he should let in the inspectors.
"I told the father, 'Why not? All they're going to do is look around and then write a report.' The father finally agreed, on condition that I was there as well. By the time I got to the house, there were two ACS employees already writing that the father was refusing to cooperate. I introduced the father to them and told them that he's willing to let them in and investigate. In the end, they wound up writing a very nice report."
While Ringel's been out of the ACS for seven years already, he received a call before this past Pesach from an ACS agent.
"Pinny," he said, "I need your help. A baby died in Brooklyn and we're sending inspectors down to the house. But I remember that you once organized a seminar to explain how inspectors should talk to Jewish families. I just need to refresh my memory because I know it's before Passover."
Ringel was happy that after seven years, his training was still changing hearts and minds.
After six months at the ACS, de Blasio recalled Ringel to the Community Affairs Unit, insisting that the Jewish community was clamoring for someone to liaise with in the mayor's office. It was in this agency that Ringel became what some communal activists call the most successful Jewish liaison in New York City history.
"I have personally had to call Pinny sometimes in the middle of the night," Assemblyman Simcha Eichenstein tells me, "and he always graciously responds. It never matters what time of day it is. If he can help, he shows up."
Eichenstein, who for a while worked together with Ringel in the mayor's office, says that "he's proven to be a true public servant and a dedicated advocate for our community."
"I interact a lot with Pinny," says Yoel Rosenfeld, the director of government affairs for the Bobover mosdos in Boro Park. "I can say that Pinny is a guy who, behind the scenes, helped countless individuals, countless mosdos, countless businesses with issues that they had."
Duvid Oberlander, the administrator of the Pupa mosdos in Williamsburg, agrees: "Whenever we needed anything, Pinny was there for us. He was close to the mayor, so he was always helpful."
For example, for the approximately 500 school buses that traverse Boro Park on a daily basis, Ringel is on a WhatsApp group the schools set up to handle crises, and he works with them in real time to solve issues. And when other matters burst into the public sphere, the level of trust de Blasio had with Ringel often helped smother flames before they got out of control.
When measles broke out in the Monsey and Williamsburg communities in 2018, the mayor was being urged to close any yeshivah that had cases. Instead, de Blasio instructed the health department to coordinate with Ringel and not make a move without first checking with him.
"It wasn't that I was trying to hide information or stop them from doing their job," Ringel says. "I just wanted to educate them, since they were coming in to deal with the community on a very sensitive issue. They were able to rely on me for the insight and the information that I have to help them do their job. Otherwise, they would have been up against a wall."
Howevere, this relationship, and trust it engendered during the measles outbreak, didn't seem to be relevant when the Covid pandemic broke out in early 2020, and the New York City frum community found itself at the epicenter.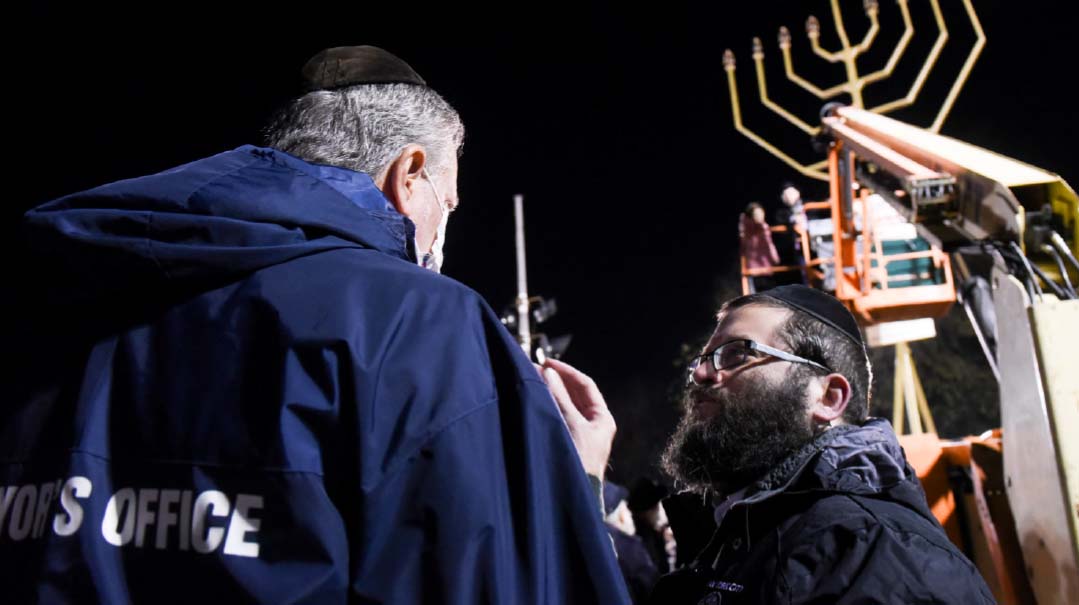 From His Heart
De Blasio, who won reelection in 2017, had established a good track record with the Jewish community, treating them with open-mindedness and fairness on many initiatives and pieces of legislation. But then the Covid pandemic hit, shuls and schools were closed, and the Jews felt like they were being singled out.
And then came the notorious "tough love" tweet in April 2020, in the wake of the funeral for Rav Chaim Mertz of Williamsburg, at which an estimated 2,500 chassidim packed together on the neighborhood streets in violation of social distancing guidelines.
The backlash was swift and brutal. Most Jews had adhered to lockdown rules and were not pleased being classified together with alleged rule-breakers. And the language in the tweet was reminiscent of darker episodes in Jewish history, they said. The mayor apologized several times for it and admitted it was the wrong reaction.
Ringel acknowledges that it took him time for the impact of the tweet to register.
"I read it while walking on the street, and I should have realized that it was a mistake," he admits. "Later that night I sat down at my computer and read the thread and I realized what was happening. I made some phone calls, because they were all, like, 'Pinny, what do we do over here?' "
Ringel says he has no firsthand knowledge of why the mayor went to Williamsburg. But based on their conversations, he thinks it was "said with love," as the mayor put it in the days afterward — "but it was tough love."
"I think the reason the mayor came down [to the levayah] was because he couldn't believe that it was really happening — he thought somebody was telling him a lie," Ringel says. "Because I remember my conversations with him the night before — he didn't tell me that he would be going down. And the New York Post story came out that the police authorized it, and there was so much confusion going on. That's why Commissioner Shea was there, and all the police chiefs were there."
If he had been asked, Ringel says, he would have advised the mayor to stay away. "He wasn't needed. We can take care of whatever needs to be taken care of."
The mayor's appearance would not have stoked such anger and fear if not for what followed — the tweet heard 'round the world.
"Yes, there was a tweet in the mayor's name on the mayor's account," Ringel says, preferring not to go on the record with who exactly was the post's author.
The simplest thing would have been for him to remove it, but they decided not to.
"There was a lot of internal conversation about taking it down that went on all night and into the morning," he says. "The advice we got was that if we took it down, it would be an even bigger scandal."
But Ringel asserts that aside from that misstep, the mayor's record with the frum community was excellent, and one day, he'll be missed.
"Until today, if somebody brings up the tweet, he'll say, 'I made a mistake.' He's honest about it. He takes the full responsibility," Ringel notes. "Let me just say this. During the twelve years that I was with the mayor, I never ever heard him say anything against the community, or say anything privately that he wouldn't say publicly."
To the contrary, Ringel adds. De Blasio had made support for Israel and the fight against anti-Semitism a central plank of his administration, despite the backlash he received from his progressive friends and allies.
"He feels — and this has zero to do with me, and zero to do with Avi Fink, this is his ideology — that if you are progressive, you cannot really be for BDS," Ringel says. "He believes that you are against the ideology of progressivism if you are pro-BDS. It's in his heart. If you want him to talk about Israel, BDS, anti-Semitism or the Holocaust, no one needs to prep him."
Ringel recalls once accompanying de Blasio to a synagogue where he spoke about the Israel boycott. He immediately dashed off an email to the mayor's speechwriter, telling her to scrap all her speeches on Israel.
"Watch the speech, and then you should take notes," he wrote to her. "He didn't even look at your remarks. He didn't even open up the book. Everything was from his heart."
Always Listening
The defining images of de Blasio's Covid leadership will undoubtedly be the smashed stores and mass looting that accompanied the George Floyd riots in June 2020. While the mayor eventually declared a curfew and gradually ended the violence, his early encouragement of protest and preventing police from cracking down on looters spooked residents.
The mayor even suspended Covid social distancing rules to allow the protests to go forward, claiming that racism was a "deep, deep American crisis" that was vastly different from the situations faced by "the aggrieved store owner or the devout religious person who wants to go back to religious services," who must continue to obey lockdown rules.
The mayor's measures effectively ended any semblance of lockdown in the frum community, which struggled to understand how a virus would not attack a certain person if they happened to be protesting racism. Even Ringel says, "I can't answer that," when questioned on the mayor's pretense.
But overall, he says the mayor's approach on criminal justice was the correct one based on what they knew at the time. The city had gone through noisy protests after Eric Garner died while resisting arrest in 2015, but there had not been any violence. Ditto for several other bouts of racial demonstrations that followed the deaths of Trayvon Martin, Michael Brown, and Freddie Gray. Even in the George Floyd protests, daytime marches were not violent, Ringel insists.
"I always hold my ear to the ground, always listen to what's going on," Ringel tells me. "You might laugh, but I always monitor WhatsApp, because all the gossip happens on the WhatsApp groups. I monitor social media, Twitter, to see what's going on."
Whenever an incident occurred in the Jewish community that showed potential to hit the headlines, he would send emails in middle of the night apprising the NYPD and other relevant agencies of the facts, so they would be prepared when they awoke.
"They all took me seriously, because they knew that if I was reaching out, I wasn't just driving them nuts, I was giving them solid stuff," he says. "And I've got to give the mayor a lot of credit when it comes to anti-Semitism. There were no ifs, ands, or buts. The mayor was, 'I want to see visibility. I want to see cops and I want to see patrols.' "
Yet the most difficult moments of the de Blasio years were the nearly nonstop assaults on Jews, principally in Crown Heights and Williamsburg. There's been a visceral fear many Jews in these neighborhoods have felt for years, and they've been requesting additional patrols.
Why, then, did de Blasio not add more cops?
"Crown Heights always had a patrol," Ringel explains. "They even have a command center in front of 770. The reason they have a lot of hate crimes is that they have a lot of crime overall. Whenever the summer started, my radar always went up for Crown Heights, because they always have a lot of incidents. Like the police always say, everybody would love to have a cop on every corner but we don't have enough cops. That's the fact."
The big surge in hate crimes, which led to the highest level of anti-Semitic attacks on record, occurred in Williamsburg and Boro Park. Ringel recalls how the mayor came down to Boro Park during a surge of hate crimes during the 2020 Gaza conflict and took a quiet tour of the neighborhood from the anonymity of his SUV.
After the nonstop emergencies, the calls in middle of the night, the eight years in the limelight, Ringel says he's moving on. But no one will be surprised if he decides to rejoin Team de Blasio, should the former mayor make a run for governor.
In fact, our conversation is interrupted several times — mostly by his kids — but when the caller ID comes up with "Bill deBlasio," it's the only call Ringel takes.
"Hello, Mayor," he says, before moving to the side to talk privately.
Something about that conversation tells me the mayor and his Jewish guy will be together again soon. .
(Originally featured in Mishpacha, Issue 893)
Oops! We could not locate your form.
>