Yosef Kleinman became a surprise witness at the Eichmann trial, sharing a little-known piece of Holocaust history with captivated international listeners and making Kleinman a celebrity of sorts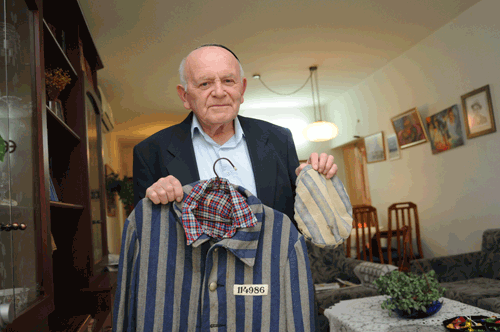 W
ednesday June 7 1961 was another tense day for the citizens of the fledgling State of Israel. Israelis had been glued to the radio for the past two months riveted to the trial proceedings of Nazi arch-murderer Adolf Eichmann yemach shemo.
Eichmann the engineer and supervisor of Hitler's "Final Solution" shared the primary responsibility for the systematic murder of six million Jews in the Holocaust. After the war he went into hiding and then made his way to Argentina where he was captured by the Mossad in 1961 and hauled off to Israel to stand trial for genocide.
The trial which publicly rehashed the horrors that the Nazis had perpetrated against the Jews elicited a torrential emotional response in Israel and around the world. Until the trial survivors often met with a conciliatory humiliating and even scornful attitude blamed for going "like sheep to the slaughter." Suddenly as the entire nation sat glued to the proceedings the survivors' stories took on a new legitimacy — and a new deference.
Repressed memories burst forth into the standing-room-only courtroom. People screamed cried and tried to lunge at Eichmann who was ensconced during the proceedings in a bulletproof glass box.
The day's live broadcast was to be the testimony of "Ka-Tzetnik 135633" the popular and somewhat controversial author who had written shocking bestsellers about the Holocaust. This time the public was told the author would testify under his real name. No one knew that Yechiel Dinur was the famed Ka-Tzetnick [Katzetnik is the Yiddish diminutive of concentration camp inmate] writing under the identity he had been given by the guards at Auschwitz.
Only the testifying witness was permitted into the air-conditioned hall in Beit Ha'Am on the corner of Betzalel Street in Jerusalem. The alternate witnesses in line to testify waited in a hot small side room. Next in line after Dinur was Reb Yosef Kleinman the youngest witness at the trial — who was just fourteen when he was deported from Hungary to Auschwitz.
Following his opening statement in which Dinur described Auschwitz as the "planet of ashes" he lost himself in the intensity of his memories. Listeners around the country were waiting for him to describe in horrifying graphic detail the hell of Auschwitz as he so vividly portrayed in his books.
But they would be disappointed.
Struggling to address the first question posed by chief prosecutor Attorney General Gideon Hausner — Dinur fainted. And so without prior warning Kleinman — the alternate anonymous witness who might not have had an opportunity to take the stand — found himself keeping an entire nation captivated with his testimony.
"Usually the testimonies were kept short" Kleinman relates. "Gideon Hausner the chief prosecutor would cut them off so the witnesses wouldn't ramble. But when I began to speak and Hausner tried to cut me short the judges asked to hear my entire story." [The three-judge panel included Moshe Landau Benjamin Halevy and Yitzchak Raveh. Justice Moshe Landau passed away last month at the age of ninety-nine.]
Since that fateful day fifty years ago Yosef Kleinman has been invited repeatedly to army camps schools yeshivos and even family reunions to relate — in his inimitable manner — his war diary.
"My story is really an unknown chapter of Holocaust history. I was one of about 3000 teenage boys who wound up together in Auschwitz in the summer of 1944. We were considered too young to work and so we spent the entire summer in our barracks waiting for the end and hoping somehow to survive."
Kleinman has managed to pass his Holocaust legacy down to his progeny in a meaningful way. The Kleinman children and grandchildren grew up with their father's Holocaust experiences playing an unusual role in their lives. "It wasn't odd for us to come home to find a host of tape recorders photography equipment camera crew and an audience who had come to listen to our father's speeches " his daughter Tova Strassberg says.
"Do you know what it feels like to come to Saba's house and find fifty people in the dining room listening to his story? You are filled with pride and say to yourself 'My grandfather is passing on the torch' says grandson Nir Strassberg.
"I'm not the type of person who bemoans what a miserable soul I was" Reb Yosef says. "While our situation was dire looking back I can still find the thread of ironic humor because I was a very curious person and all sorts of things that no one else bothered with interested me." So it's no wonder that the entire family was involved in publishing the book Chilatzta Nafshi Mimaves (You Saved My Soul From Death) which details his Holocaust experiences and multiple miraculous salvations.
To the Ghetto
Reb Yosef Kleinman was fourteen when the Nazis invaded Hungary in 1944. He was standing next to the Satmar Rebbe when the devastating news broke.
"It was 24 Adar, March 19, 1944," he recalls. "That day we learned that the Satmar Rebbe would be arriving in our village to take part in a sheva brachos. We were not Satmar chassidim, but we decided that we had to see the Rebbe. The seudah was to take place at the Satmar shtiebel, but it was so crowded there was no way we could get inside. But we were young boys, and somehow, we managed to evade those guarding the doors and were able to squeeze our way in to where the Rebbe was sitting. We stood beside the Rebbe just like his inner circle of chassidim when suddenly, even before washing his hands, someone hurried into the hall and handed the Rebbe a note while whispering something in his ear.
"The Rebbe read the note. I stood just a few feet away and saw that he was extremely agitated. He stood beside the table. Suddenly he banged on the table and announced: 'We are concluding this seudah and everyone is to go home; it is dangerous to remain here.' Chaos ensued, and then we learned the contents of the note — the Germans had taken control of Hungary."
After Pesach, the Jews were herded into the ghetto, and it didn't take long until the deportations began.
"We felt like it was Yetziyas Mitzrayim," he relates. "Just like Bnei Yisrael did not have time for their dough to rise, my mother baked bread but did not have time to bake it in the central oven. She took it out of the oven while it was still hot and not yet baked and gave it to us for the journey. Our backs burned with the heat."
"Mitzrayim is very much a part of my father's psyche," says daughter Tova Strassberg. "There is nothing like his Seder. When we were children, my father would make a grand performance for us how he went to the deportation center with the bread on his back, just like the Jews who went out of Mitzrayim. Today he's passed this on to his grandchildren."
"We didn't know where we were being taken to," Reb Yosef continues. "I remember one of the days of our journey was Shabbos Mevarchim, Parshas Bechukosai. We were eighty people crammed into a cargo train without food or drink, like animals. There weren't any first-class accommodations," Reb Yosef says as the family around him chuckles. "I climbed onto a small window and called out the names of the stations. My father heard me and said, 'Oh no, we're going to Poland.' On 29 Iyar, we arrived in Auschwitz.
"We were completely dehydrated. Suddenly the doors were flung open and the Nazis howled: 'Everyone out! Leave your things outside!' I suddenly saw it was raining," Reb Yosef says, "and I said to myself, my father is so dehydrated — he hasn't drunk in three days. I must collect some water for him. I saw a pile of personal effects taken from the passengers of the previous train that had not yet been cleared away, and there was a small cup. I took it and caught some water and brought it to my father to wet his lips. The scene was surrealistic: in the tumult of the arrival at Auschwitz, my father stood drinking water from a cup."
 Who by the Stick
Grandson Nir Kleinman sits with his cousins listening, again, to his grandfather's accounts of mesirus nefesh. "Because of this story, I am very careful about my kibud av v'eim. I'm hearing Saba retell the story for the millionth time, but it still touches a very deep place."
"There," Reb Yosef says to me, "now you heard how you pass down the legacy. Instead of saying how miserable we were and what they did to us — and we were miserable — we stress the positive, how we were strong and how we kept mitzvos like kibud av v'eim in the inferno.
"My mother disappeared," Reb Yosef continues. "I never saw her again. But I'm sure Hashem granted me a special reward: when I reached the selection platform, I saw the officer deliberating which side to send me to. I clutched my father's hand — he was barely standing up, yet the officer separated us, sending me to work — which meant life. I never saw my father again."
Five months in Auschwitz was enough time for young Yosef Kleinman to see the extent of the horror and convey it to the next generation. "I saw more than the others because I was curious by nature. Everyone was busy surviving and they had neither time nor patience to be busy with anything else. But I believed that I would survive and the day would come that I would convey what I had seen.
"I'll give you an example. We were not allowed to leave the barracks at night, and woe unto anyone who was caught. But I wanted to see Auschwitz at night. When everyone was sleeping, I skipped over the other boys' heads and tiptoed out. Everything was empty, and only the crematoria smokestacks were still working full force, belching out the black smoke. The beasts did not sleep even at night."
Over the next seven weeks, 438,000 Jews arrived in Auschwitz in 150 trains packed to capacity, in addition to the deportations from Lodz. The boys in his group were not allowed to go out, but they didn't have work either. For the first time in the history of the camp, 3,000 young boys were held hostage together.
The group was essentially shut into their barracks, but they would steal out occasionally to visit the camp of the Sonderkommando — the lifeless men who transferred the bodies from the gas chambers to the crematoria.
"Their barracks were surrounded by a wall, so there could be no contact with the other inmates. Everyone went out to work during the day, except for us and the night shift of the Sonderkommando. We sometimes went secretly, through the rear gate. They had all kinds of good things in the barracks. I succeeded in sneaking in three times, for food and prayer books…. We didn't talk to them. It was impossible to see a smile, even though they had relatively excellent conditions for the time they were kept alive.
"We knew that before the holidays, the Nazis 'thinned' the population, special 'holiday sales' if you will," Reb Yosef continues. "We were 3,000 boys who did not work and there was no 'purpose' for our lives. Therefore we were prime candidates for the crematoria. We waited for it. I had no illusions. The first selection took place on Erev Rosh HaShanah. On Friday, after roll call, Dr. Mengele, yemach shemo, and his deputy, Dr. Thilo, yemach shemo, arrived. They made us line up and ordered us to disrobe from the waist up and to put our clothes at our feet. All the skinny ones were sent to the road, including me. But I decided I was going to escape. I left the line and made a dash for my brother's barracks, and from there back to my own bunk.
"The boys who had been selected were held in a hut until Motzaei Rosh HaShanah, and then a curfew was imposed. Anyone who tried to leave the hut would be killed. The boys were loaded onto trucks — and they knew exactly where they were going to. Cries of Shema Yisrael pierced the air. We never heard this before in Auschwitz; hundreds of thousands had been taken to the gas chambers over the summer, but they didn't shout. They didn't realize where they were going. We, however, knew the rules already."
A Story Nearly Forgotten
Five months later the Kleinman brothers succeeded in smuggling themselves into a group that left Auschwitz for Kaufering slave labor camp, a subsidiary of Dachau concentration camp in Germany. "We traveled on cattle cars, but we were ebullient. Dr. Mengele would no longer be after us. We were able to work, and work was the ticket to life." While they were incarcerated in Kaufering, Europe was liberated from the Nazis and the war came to an end. Reb Yosef finally arrived in Eretz Yisrael — after a perilous sea voyage on an illegal ship, capture by the British, and incarceration in Cyprus and in Atlit.
Then his new mission began: conveying the story, the testimony of what had happened. The miracles. But people did not want to believe it.
"I experienced so many miracles; I had so much to tell," Reb Yosef recalls. "I went from one newspaper to another, but no one wanted to hear. They all said, 'We don't deal with that.' So I kept my stories to myself, and then, in 1960, I heard that Yad Vashem was interviewing survivors. I wanted to tell them about our unprecedented group, about the 3,000 boys."
At the Yad Vashem offices he encountered a young, Israeli-born secretary who seemed bored and indifferent to his story. Disappointed, he left Yad Vashem, but a few minutes later, someone came chasing after him and called him back. Apparently, the young secretary had related what she had heard to her supervisor. "Tell us," she said. "We haven't heard this story yet."
From there, it was a short step to the Eichmann trial. Eichmann had just been captured and the government was putting together its case. A journalist named Eli Rosenheim recommended Kleinman as a witness.
Stories of Strength
Meir Kleinman, Reb Yosef's son, says his father is such a sought-after speaker because his stories are laced with optimism and infused with hope.
"His are stories of strength, not of misery. We grew up with these stories. Each Shabbos he would tell stories, but in a way that we wanted to listen."
Reb Yosef adds that he prides himself on not having the typical survivor syndrome. "Well," he admits, "even though I say I don't, I think we're still more fearful. Once when my daughter Tovi went on an overnight trip with her class, my wife and I decided to wait for the bus that was to bring them home. We went together and thought we'd meet parents of the other children. But when we got there, we discovered we were the only ones who came. We realized that despite everything, we still lived with fear."
 The Book of Generations
"For Abba's seventy-fourth birthday," says Meir, "we rewrote his testimony from the Eichmann trial, the speeches he gave, his testimony to Steven Spielberg, all the stories that he told us, and presented it to our parents as an anniversary present. This developed into a book that the whole family took part in writing." Yosef edited all the stories, telling them from his perspective, one granddaughter typed the text following his comments, and another granddaughter did the graphic design. A professional editor did the final edit and the book was published.
"I remember when we were in a transit camp in Italy," says Reb Yosef. "We sat there for hours, telling stories of our miracles and our salvation. We were young boys and each one felt that Hashem saved him, and lifted him out of the inferno. That was the feeling. Hope and gratitude. That's what I've passed on.
"And I'm sure I'm not alone in this. Years ago I was in the reserves, milu'im," Reb Yosef relates. "I met someone who looked familiar. We later discovered that we had been together in Auschwitz. We both smuggled ourselves into the group that was transferred to Kaufering. He hid in a barrel that he dragged into the kitchen with another boy. Thirty years later, I met another Jew who told me about the barrel that he had dragged with another boy. 'To this day I am looking for the bochur I dragged the barrel with.' I told him I had met the man thirty years earlier."
Each of Reb Yosef's grandchildren is assigned a mission — to publicize one story and perpetuate the legacy: "I publicized the story about the orange," granddaughter Shira Strassberg relates. "After the war, Saba met a group of American soldiers who adopted him. When they asked him what he wanted from them, what he was dreaming of having, he replied … 'An orange.'
"My pockets were full of sweets and chocolates, but I wanted an orange," Saba Yosef explains. His granddaughter giggles.
"Throughout the American camp there wasn't an orange to be had," Shira continues. "But the soldiers didn't give up. They searched the whole area for an orange to satisfy their young survivor friend. In some places the war was still raging, but these soldiers were busy looking for an orange. Indeed, that evening, they found an orange and presented it to him."
"At the end of the war they wanted me to come with them to America, but I refused. I knew I wanted to go to Eretz Yisrael," Reb Yosef says.
Stolen Soup
"Saba, you forgot the story about the soup," Ro'i Strassberg reminds him, suppressing a laugh. "Saba and his brothers were very hungry. They saw a group of Gypsies stealing from the large pot of soup the Germans were about to distribute; the Gypsies were taking from the bottom of the pot, where the soup was thicker. Saba and his brother decide to copy them and steal soup from the Germans. Saba did it several times successfully, but once, he was caught. The German soldier began chasing him; Saba fell into the mud with his bowl, but he held on to it so tightly that the contents didn't spill. The Nazi saw the prisoner falling in the mud and, assuming he was dead, left him alone. When the soldier left, Saba got up and began to wipe off the mud. But when he was busy cleaning himself off, someone else came and grabbed the bowl of soup, stealing it from him …"
"Since then we know that when serving soup, the best portion is at the bottom of the pot, and all the children fight over that," Tova Strassberg says, effectively dissipating the clouded-over mood, despite the bleak humor.
"I had procured a pocketknife that I gave to one of the food distributors," Reb Yosef relates, "on condition that he give us the best part of the soup. We were all from Block 7 and we had a signal: When the food man would pass by us we would pretend to be talking to ourselves and said 'Block 7, Block 7,' and that was his sign to dig into the bottom of the pot and give us the better part of the soup."
Yet for all of his cavalier bravado, no one can really understand the trauma of a survivor. "Abba would always say that he wasted all his bravery in Auschwitz," says Tova. "As children we never went on trips because he worried about us; he didn't let us get drivers' licenses, and Meir wasn't allowed to ride a bike. Still, we feel privileged to be part of his legacy. He imbued us with rock-solid faith that Hashem can pull you out of the blackest places."
*****
Mengele Was Our "Shepherd"
 It was Session No. 68 of the Eichmann Trial, exactly fifty years ago this week — June 7, 1961. Celebrity witness Yechiel Dinur fainted before he began, and Yosef Zalman Kleinman, who providentially transmitted his testimony of hope, took the stand. Some excerpts:
Kleinman: When we were in Camp B in Hut 25, I once saw the assistant of the barracks commander walking with a rubber hose to flog one of the boys …
A sight such a this could be seen frequently in the hut, but this time something special occurred; this boy did not shout, he did not cry, did not even sigh. We stood around him and counted the blows together. We counted twenty, we counted thirty blows, and all of us were astonished. After the fortieth blow the deputy commander of the barracks turned him over on the floor and continued flogging him on his face, on his legs, on his back, and he did not utter a sound — just as if it were not he who was being hit. He finished after striking the fiftieth blow and went out, leaving him.
Several of us went up to him and helped him get up from the floor. We asked him: "What did you do? Why were you flogged?" He answered: "It was worthwhile. I brought my companions a number of prayer books that they could use for praying."
… I want to mention here that we had half a set of phylacteries in the hut, the part that is worn on the arm, and it was constantly being handed around from morning to evening …
Attorney General Gideon Hausner: Were the festivals, the Jewish holidays, days of special anxiety?
Kleinman: That's how it was, evidently is was a custom of the Germans to choose the festivals for all kinds of special operations …
Hausner: What happened on Yom Kippur?
Kleinman: There were about two thousand youths left … The day before Yom Kippur the news spread that they were going to distribute an additional ration of bread … together with additions of cheese and other items. There had never been anything like that in Auschwitz. We were very glad that we would be able to fast the next day.
Hausner: That means, you thought that you would be able to eat more on the eve of Yom Kippur in order to fast the following day?
Kleinman: Yes. All day the boys spoke about this sudden generosity. But we still did not know what was in store for us that day. During the afternoon, suddenly there was an order for a curfew … all the boys were to go to the football field … Suddenly a shudder passed over the entire ground … The "Angel of Death" appeared…
Dr. Mengele…lifted his hand so that his gaze could take in the entire field. Then his glance fell on a small boy, about fifteen years old, from the Lodz Ghetto, blond, thin and very sunburned. His face was covered in freckles. Mengele came up to him and asked him: "How old are you?" The boy was shaking and said: "I am eighteen years old." I saw immediately that Dr. Mengele was very angry and he began shouting: "I'll show you!" Then he started shouting: 'Bring me a hammer, nails and a leiste' — a sort of narrow plank …
Dr. Mengele grabbed one of the bigger boys by the shoulder and took him to one of the goal-posts. He stood him against the post and gave orders to knock this plank in at a height above the boy's head so that it formed a kind of inverted "L." And then Dr. Mengele gave orders for the first group to pass underneath this plank.
Hausner: Did he say what was going to happen to you?
Kleinman: He did not have to tell us — we already understood that the smaller ones, whose height did not reach the plank, were destined to die … All of us began stretching ourselves. I also tried to stretch myself a little but I soon gave up in despair, for I saw that even boys taller than I was, failed to reach the required height. And each one whose head did not touch this plank went to the other side of the field, together with the little ones who were doomed to die.
Hausner: Did your brother succeed in touching the plank?
Kleinman: Yes. [But before that] I stood there in total despair. I thought to myself "My life is ending here." Suddenly my brother whispered to me, "Don't you want to live? Do something!" So I began searching for a way of saving myself. Suddenly I caught sight of pebbles scattered on the ground. I bent down without being noticed and seized some handfuls of pebbles. I untied my shoelaces and began stuffing pebbles into my shoes. I gained two centimetres. I thought that, perhaps, this would be sufficient.
Meanwhile I felt that I was unable to remain standing at attention with the pebbles in my shoes. I told my brother I was going to throw the stones away. My brother said to me: "Don't throw them away, I'll give you something." He gave me his hat. I tore the hat into two pieces and I began inserting the rags into my shoes, so that it would be softer for me.
Hausner: Perhaps we could make it briefer, Mr. Kleinman. Did you pass the test?
Judge Landau: But, nevertheless, let us hear how he got through.
Kleinman: I stood for ten minutes with the stones and the rags inside my shoes. I thought that perhaps I might reach the required height. Meanwhile all the boys went on passing that spot. Two would reach the necessary height and two would not. Ultimately my brother looked at me and said: "That is not high enough." I had no chance of reaching the desired height.
So I then began looking around for a way to escape and get to the taller ones who had already passed the plank, the selection. They were drawn up in ranks of hundreds, on the opposite side, and the shorter ones who had not reached the required height were lined up on the other side of the field. The shorter ones were trying to force their way into the second group. I also stole my way into the taller group. For a short while I thought that I had already saved myself.
Dr. Mengele noticed what was happening. He began shouting at the guards and at the kapos: "What are you doing here — sabotage!?" And he gave orders for the whole group to pass once again under the plank. I again stole my way into the taller ones [who had already passed through] — nobody noticed me. Thus the selection ended. About one thousand out of the two thousand did not reach the required height.
Hausner: What happened to them?
Kleinman: They kept them locked up until two days after Yom Kippur… They were exterminated in the gas chambers … It's written in the Yom Kippur prayers, "He causes His flock to pass beneath His rod." Mengele wanted to show the Jews of Auschwitz that it was he alone who caused us to pass his rod.
(Originally featured in Mishpacha Issue 361)