| True Account |
The Great Pivot | May 25, 2021
And then came December 2019. Those of us in the travel business had heard about this novel coronavirus that started in China but had no idea what it meant for our particular industry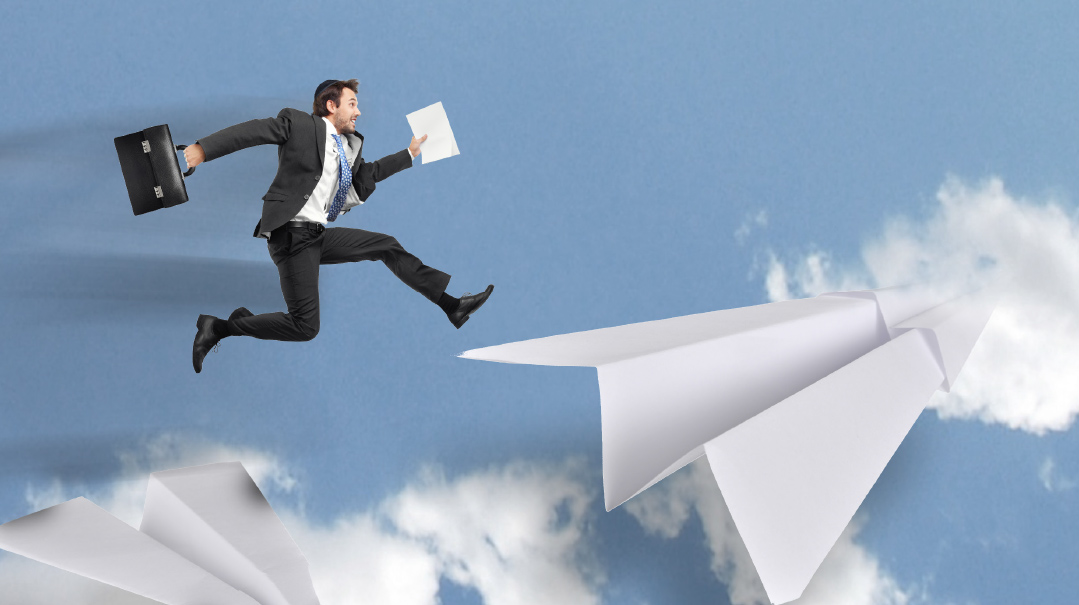 On Erev Shabbos, March 13, 2020, President Trump announced sweeping restrictions on travel from more than two dozen European countries due to the COVID-19 pandemic. In that instant my entire parnassah folded like a house of cards.
For years I bought airline and credit card points and sold plane tickets for a living. In retrospect, my career choice was pretty ironic for someone with my background; I didn't get on a plane until I was well into my beis medrash years, and didn't travel internationally until I was 20 years old and heading to the Mir. I grew up in a simple family in Baltimore — even if midwinter vacation had existed at the time, my parents weren't the type to go to Florida. The apex of my travel experience as a kid was driving Route 17 to the Catskills every summer to the bungalow colony.
But I was nudged into the travel industry after a few years of learning in kollel. Providing for our growing family was becoming difficult, and it was clearly time to look for a job. My uncle had a side hustle of buying and selling airline points and making first-class reservations for the wealthy (or "comfortable" as my mother called them). He took a chance and hired me to run his company.
We would buy up points from businesses that paid for products they needed with credit cards; we amassed millions of credit card points a year. We'd also buy points off individuals who were looking to trade them in for cash. Often those checks were made out directly to the caterer for their son's bar mitzvah. It felt good giving these families an infusion of cash at the time they needed it. Other times we'd buy points off of bochurim who "churned" (opened and closed) credit cards for their hefty introductory point offers and then sold those points to us. I'd like to think these bochurim then used that cash to buy seforim they needed for the zeman, but we may actually have unwittingly helped start the 2012 Ferragamo-shoe-and-belt trend with the cash we gave them.
We would then "upsell" the points to people traveling to Eretz Yisrael and other destinations, allowing them to fly there in business class for a 40 percent discount. We used certain metrics to understand which airline and credit card point systems were most valuable, and I became quite good at picking winners. With millions of points between all of our accounts, we received the bonus of being able to travel ourselves, a luxury I didn't have growing up. My wife and I took annual trips to Eretz Yisrael and saw some of the lesser-known parts of the world as well, places where I had to wear a baseball cap for extra safety.
After years of diligently learning the market, I parted ways with my uncle and began my own business, using my house as my home office. Capital was scarce and I started using credit cards to buy points, selling the airline tickets by the time the credit card bill was due. Things were rolling. From 2017 to 2019, I was buying and selling well over a million dollars a year. I reached out to friends and neighbors and used their credit cards to make purchases and directly paid their credit card bills on the due date. They were happy to get the credit card points, and I was happy to have a source of capital beyond my cards, which were pushed to the max each month.
I hired a few employees to advertise, take calls from families looking to travel, and negotiate with my network of individuals and businesses looking to sell their points. I received swag in the mail from every airline and dozens of daily new credit card offer letters. Our company had top elite status; status levels that were not listed on any of the airlines websites, which made traveling that much more fun. I started getting used to flying on seats that went all the way back. I could tell you the best airport lounges for a quick shower, and which airline makes the extra effort for higher-class kosher wines for their first-class passengers. But I was careful not to live an overtly ostentatious lifestyle or flaunt my success, and the entire operation was done from a modest house in a frum neighborhood with a guy in a white shirt in his thirties.
And then came December 2019. Those of us in the travel business had heard about this novel coronavirus that started in China but had no idea what it meant for our particular industry, which by now had quite a few fellow Jews relying on it for their parnassah too. January and February were a little tense as rumors began circulating, but nothing could compare to March. President Trump's announcement canceling flights from Europe, followed by the stay-at-home orders announced by many governors, decimated our industry. People who traveled for business (those same people that used to WhatsApp me at 10 p.m. asking me to book them on a 6 a.m. first-class flight to China the next morning for an important meeting) were now taking these meetings on Zoom instead, from the comfort of their own couches.
I started getting nervous. When my wife came in one night all excited about the sheitel she'd picked out for Yom Tov, I knew I had to share a bit more than I was used to about the state of our finances.
"Look, there's something you should know," I began explaining, and watched how her face morphed, the shock sending tears rolling down her cheeks. I tried to be gentle, but the truth was hard to hear.
"Honestly, I don't know how we'll make it through the next few months until travel reopens," I finished sadly.
I could see the anxiety in her eyes. She fully understood the impact — she'd seen me work so hard for years to get us to this point of being able to pay full tuition, establish a rainy-day fund, and start building up savings, without taking shortcuts. I saw her mind racing, imagining the long road toward building ourselves back up again. She took a deep breath and then responded with the words I needed to hear most.
"We're going to get through this together," she said strongly. Her conviction and her belief in us and particularly in me gave me the push I needed to go on.
But the worst was yet to come. Within days the Pesach cancellations started. I had helped families book flights for their Pesach programs in Italy, Croatia, and Greece and had already bought their non-refundable tickets, which they now wanted refunds for. It was the same story with the dozens of Eretz Yisrael itineraries. I started avoiding calls from clients, something I'd never done before. My longtime clients knew they could usually get a WhatsApp response from me within 20 minutes, 24/6, but now I could barely look down at my phone.
Mrs. Weiner, who had planned on taking her three married kids and six grandchildren to Eretz Yisrael, kept calling. I finally mustered up the courage and picked up.
"I found a program upstate that is staying open," she said in her usual down-to-business tone. "They need the payment in full, so I'll need the $30,000 back from the plane tickets today."
I felt a small jolt of surprise that they didn't have the cash reserves needed to book the program, but I had little time to dwell on that as a wave of panic washed over me. Clearing my throat, I tried to force myself to sound calm and confident.
"Unfortunately United isn't processing refunds on the Eretz Yisrael flights yet, I'm so sorry." I told her.
Technically it wasn't a lie — airlines that were working with a shell staff and worried about their own bottom line were not processing cash refunds. However, the 14 Weiner tickets had been purchased with points, which I had paid $18,000 for to a glasses store in Brooklyn, and the airline had already returned those points to my account. Would the upstate Pesach program accept 1.68 million United points instead of $30,000? Not a chance.
The weeks before Pesach left me holding millions of points that had been rendered virtually worthless and families waiting for me to produce a magic refund. I had never felt so squeezed in my entire life.
Credit card payment due dates were looming for my own credit cards and the dozens of cards of family and friends I had been using. Many of the airlines came through with refunds; however, getting my points back didn't help much. I dug deep into my cash reserves, unloaded points for cash for prices I would never have considered months before, and was able to get us through Pesach. I knew that I might be able to use my savings and profits from the previous few years to get me through paying the April and May bills, but mortgage and tuition payments would become difficult pretty soon. The bills were coming while Hatzolah sirens were heard daily transporting Covid patients to the hospital; the world had become a very dismal place. I saw no light at the end of the tunnel for the airline industry that had been my home for the past 11 years. I davened, played with the kids, and puttered around the house, trying not to go crazy, but the stress of watching my entire parnassah come crashing to a sudden halt was extremely difficult.
The Sunday after Pesach, my wife asked me to sit down at the table with her.
"We need to decide what we're going to do next," she said softly, just a hint of steely determination in her voice.
I nodded. She was right. I realized I had to pivot.
"I can use points to help people looking for RV rentals and local resort vacations…" I trailed off, the lack of enthusiasm in my voice obvious to both of us.
My wife shook her head firmly. "We need to face the facts, Moishy. The days of points are over. Everyone is either trying to cash out or holding out until travel reopens, and that could be a year from now. We need to think outside the points."
I knew she was right but I was having a hard time coming to terms with starting over from scratch.
She sighed, sensing my distress. "It's time to move on."
I agreed.
With that statement planted firmly in the foreground, I soon found myself at my parents' house in Baltimore for a socially distanced meeting to get some advice and make a pitch.
My mother had built up a small business for herself selling skin-care products on a local level. I was desperate, grasping at straws and ready to try almost anything. With all the passion I could muster, I proposed an idea.
"Right now you're working within the community. What if I come in and take the business up a notch? We can up the delivery service to the national level, tapping into frum communities nationwide."
It was clear my mother felt awful about my monetary situation, but she didn't let that cloud her sense of sound logic. She knew when an idea just didn't make sense.
"Moishy, you don't have any knowledge of the business, delivery-service models, or regulations involved with crossing state lines," she said sadly. "I just don't see this working."
She was right. I knew which Airbus plane had the most inches in economy plus, and the best routes for a derivatives trader in New York City to get to the jet I arranged for him in Teterboro. I knew which kosher food places would deliver to LAX and which made you use Uber. But I knew nothing about skin-care products.
There was one more option, but I was wary to explore it. My father had been selling on Amazon for many years, but I'd heard so many horror stories from new and even experienced sellers, I couldn't see myself getting involved in selling on Amazon. My parents had an honest, frank discussion with me. With their knowledge of the industry, they were able to outline the pros and cons, giving me a glimpse of what the profits of selling on Amazon selling could potentially be. Because of the raging pandemic, personal-care items usually bought in stores were getting snapped up online. I was a good researcher and negotiator, and while it would be quite the pivot career-wise, it seemed to make the most sense.
With a renewed sense of purpose and excitement, and encouraged by the fact that I had a road map in place, I went home. My wife saw my smile and energy and prepared an amazing supper to celebrate a brand-new start.
But it was not to be. After some research, I found out that since 2018, it's become more and more difficult to just jump on the Amazon wagon and start selling whatever you want. Over the years, as the platform grappled with new sellers who didn't always follow its rules, Amazon became stricter in allowing who can sell, what can be sold, and how. So when I contemplated selling high-end hair products in April 2020, I found all entrances sealed shut. As a new seller, I would be blocked for at least the next year from that industry. I could probably sell handbags and clothing or perhaps Judaica, but that required much more space to store items, and the margins and clientele were so much smaller. The situation seemed hopeless. I wondered how long it would take until we were relying on tzedakah money to buy Shabbos food. And as I tried to process this new obstacle to my path toward parnassah, I remembered something.
In 2014, Amazon suspended my father's account for no reason. The account was flagged for suspicious activity — had they seen a picture of him, they would have laughed. With his jovial smile, he's the least-suspicious-looking zeidy you could imagine. The Amazon internal investigation was dragging on for weeks and my father was losing sleep every night — it was every seller's nightmare. He had rows of merchandise he'd purchased sitting in his small warehouse with no way to move it or pay for it. Amazon answers to no one and has no meaningful appeals process. If they block you, you're done.
In his desperation, my father went against Amazon's rules and opened a second account during the investigation. Somehow the account was accepted and he was able to sell throughout the duration of the inquiry, thus saving him from financial ruin. Had he been caught, he would have lost his first account and been banned from selling forever. My father is so straight that it still shocks me that he went against the rules, even if he was being targeted for no reason. When the investigation finally wrapped up, Amazon cleared his original account, and he moved back to selling from the original, where his ratings were and his reputation was built on. The second account remained dormant for years. For some reason, which my father cannot articulate, he kept it active all of these years, perhaps thinking he might get investigated again.
The scary, illogical story of my father's investigation, which seemed so awful at the time, was actually the beginning of my salvation when the travel industry I knew inside out was completely devastated. Hashem planned my new start six years before COVID-19 even existed.
Blocked from selling the products I needed to in order to make a profit, I remembered my father's story and dusted off his old account. With a few clicks, it was active. Determined to get back on to my feet and not rely on Tomchei Shabbos, I worked and worked to make it work. After days of research and watching market trends and comparing the amount of sellers in each space, I decided to start by selling high-end shampoos. I spent hours learning about shipping routes and finding vendors to source the hard-to-find medicated shampoos I wanted to sell.
The timing could not have been better. I was able to get stock of highly sought-after items from small distributors desperate for cash in far-flung locations across the country. I shipped those items directly to the Amazon warehouse to hold until they were purchased and worked on listing my items. I began selling and selling, and quickly was low on stock and needed to buy more. My credit card capital system was still working and I got busy. Buying. Tracking. Posting. Selling. Shipping. Repeat.
Over the next few months I made some very wrong turns, buying an expired skid of Pureology Nanoworks Gold Shampoo that could not be sold to customers, not realizing how quickly you need to respond to complaints, and getting zapped by Amazon for not being quick enough to address the clumpy shampoo Mrs. Wagner had received. But I pushed through. By the summer, as the kids' camps were trying to reopen, I was almost making the same amount per month as I had from plane tickets in their heyday.
I saw Yad Hashem every day, both in the big stuff, the ability to use this seller's account to sell what I needed to, to the small miracles of unknowingly selling shampoo to a cancer center that was so impressed with the product and my price that it gave out our link for our Amazon "store" in their next newsletter to their entire patient list.
To say this journey was scary would be a tremendous understatement. Having tens of thousands of dollars in looming credit card debt — not only for me, but also for friends who had loaned me their cards —was terrifying. Gemachs, food stamps, bankruptcy, and Tomchei Shabbos flashed in front of me. When you're in that dark place, it's hard to see clearly the plan Hashem has in store for you. Who knew that the despair and heartache my father had a few years back that caused him to set up a second account would eventually help get me back on my feet.
The lyrics of the song "A Yid" ring so true for me. "And a Yid understands that Hashem has a plan, and that's all it takes to make it through. His Tatte loves him, that's what a Yid holds on to."
Hashem has a plan, and it sometimes starts and stops and is difficult to see. But we need to always understand that as bleak as it may look, Hashem has a plan for each and every one of us.
(Originally featured in Mishpacha, Issue 862)
Oops! We could not locate your form.
>