| Feature Articles |
The City Folk are Coming | July 1, 2015
You may call it "the country" — the idyllic place you're headed to for the summer — but for a small segment of the frum population in New York State, it's home. What's it like for them when their quiet towns become flooded with fellow Jews?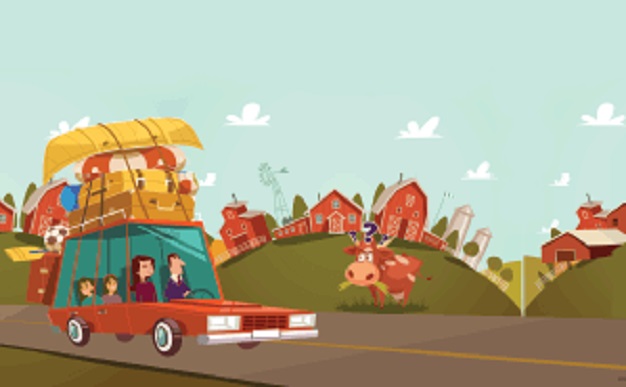 W
hat's it like to live in the small Upstate towns nestled in the Catskill Mountains — Fallsburg, Woodridge, Monticello, Ellenville, or others — places where you know everyone on your block and enjoy idyllic views from your kitchen windows all year-round, come sun or snow? How does it feel to be so immersed in nature that if you forget to secure the lid of your garbage cans, your home may be visited by a family of black bears foraging for food?
And there's also the annual mass migration of your fellow Jews to contend with when the weather warms up, their arrival dramatically altering the landscape for three months.
The Borscht Belt Reinvented
Once upon a time, the Catskills was a thriving resort area where New York City's secular Jewish families came to escape the heat. From the 1940s through the 1960s, the so-called "Borscht Belt's" hotels, bungalows, resorts, and summer camps were filled with Ashkenazic immigrant Jews who came there to get away from it all. That era ended rather abruptly when air travel became more common, and the next generation of New York Jews preferred to vacation in more exotic places.
Fast-forward several decades and the Catskill Mountains are experiencing a major renaissance as a popular vacation destination for city Yidden. But instead of slapstick comedy and late-night poker, this cohort of Jews occupy themselves with Torah study and shiurim. Along with the thousands of summer inhabitants come a network of shopping opportunities and conveniences, from kosher supermarkets and restaurants to Judaica stores and children's clothing shops. And this time around, the swimming pools have separate hours and the children in camps sing songs by Yaakov Shwekey and 8th Day.
Yet at the end of the summer, even when the last box-laden vehicle hits Route 17, all vestiges of Yiddishkeit are not gone from the countryside. A close-knit, thriving community of several hundred frum families remains in Sullivan and Ulster County, New York. And most of them say the same thing — their lives are slow-paced and very tranquil.
Every Person Counts
Rivkie, who grew up in Monsey, moved to Kiamesha Lake about 12 years ago to join the 85-family Vizhnitz community. "It's a very different type of life," she says, comparing country living to her former home. "No peer pressure like in the city and a lot more family-oriented. Here there's not so much gashmiyus and the children aren't growing up with a silver platter. It's plain, simple, old-fashioned family life. And lots of peace and quiet."
Just a short drive away, in Woodridge, New York, Leah Greenstein Thurm runs Hospitality Sweets, a bed-and-breakfast, out of her home. "I lived in the city all my life," she says, "and I'm very much a people person. I'll admit that the adjustment to living here was difficult and took me well over a year. But ultimately I learned to enjoy the quiet. This is a very peaceful and serene environment. And the majesty of nature around you is very enthralling."
"I visit my friends in other comm-unities," says Penina, who is a member of the Yeshiva of South Fallsburg Yeshiva Gedolah Zichron Moshe community, "and I see what goes on. Everyone has to do what everyone else is doing. There's a lot of pressure to buy designer clothing and shoes. That's not coming here anytime soon. It's a way more laid-back atmosphere."
The peaceful aura extends to neighborly relations. In the country, everyone helps each other out. Chaim Lomnitz, a self-proclaimed "regular balabatish guy" from Woodridge, appreciates the additional opportunities to be a contributing member of his community. "In the city," he claims, "you can get lost. You have your job and your family, but there are so many people who are capable that it's not as necessary to be involved. Here, I'm the gabbai sheini of our shul. My wife comes to shul and attends social events for the ladies. When you live in a small community like this one, you're more appreciated and needed, and there's so much more you can do."
Up in the Catskills, different segments of Klal Yisrael get thrown together in ways that would probably never happen in-town. The chassidish women of Vizhnitz enjoy a warm relationship with the ladies of the South Fallsburg yeshivah. Though different in certain ways, they do share many of the same values. "They wonder how we manage without driving cars," Rivkie says. "But they're always offering us rides to Monsey."
Once a year, all the Upstate women are invited to a community-wide Chanukah party, where the ambience is festive and the atmosphere warm and inviting. "It's held in the Hebrew Day School," says Leah, "and there's usually a comedy skit and a devar Torah. Over a hundred women attend." Weekly newsletters and "chain letters" (community announcements distributed to the schoolchildren or faxed or e-mailed to the families) keep everyone informed about community events.
Chesed opportunities abound. "The amount of chesed done in this community is incredible," says Leah. "When there's a bris in South Fallsburg, the ladies shop and cook and set up the entire simchah. When there's a chasunah, the community gets together to make sheva brachos and we do what we can to house people's guests.
"There's a bikur cholim and a driving gemach as well as a Partners in Torah class on Wednesday nights at the Hebrew Day School. There's a lot of good stuff happening here. Everybody counts and everyone tries to help."
Harsher Realities
Who doesn't like going to sleep listening to the sound of the crickets and waking up to find deer on the lawn? But there's almost always a trade-off.
Chaim Lomnitz speaks frankly. "There are two issues that prevent people from moving upstate: chinuch and parnassah," he shares.
"People will come to us for a Shabbos to try it out, and they like it here. But they'll have trouble 'pulling the trigger' because of the school issue. Or the fact that they won't be able to find a job."
When it comes to making a living, Chaim considers himself lucky. Well, sort of. He holds a good steady job in the IT industry in Manhattan, in walking distance to Grand Central Station. But he has to rise at 4:30 in the morning and drive himself to Wurtsboro. From there, he takes the Short Line Bus to Manhattan and arrives in the city by 7:30 a.m. He's gotten used to the unusual hours and is also grateful that he can work from home on Fridays.
Others struggle to find meaningful employment, he observes. Some manage to find jobs in Monsey or Northern New Jersey. Others are mechanchim, teachers, or mashgichim. "If you're in construction, or you are a plumber or electrician, you have a nice parnassah up here," he says. "But a professional like myself will likely have to drive somewhere else."
Rivkie agrees that parnassah can be difficult but, she says, it helps that life is simple and children are not clamoring for the latest gadgets or toys. Her bitachon helps her through.
"One day my friend called," she says. "She told me she was baking cookies and had walked out of the room with the oven door open so the cookies would cool. Well, when she came back, she saw that a squirrel had managed to get inside her home and eat up all the cookies!
"Twenty minutes later, my daughter tells me to come outside quickly with a camera. A baby bear was feeding itself from a neighbor's garbage can. Both of those stories happened within an hour, and I saw it as a powerful lesson. 'Ribbono shel Olam! If you can provide food for the squirrel and the bear, surely you're not going to forget about us!' "
Education opportunities are limited as well. Yeshiva of South Fallsburg runs a flourishing cheder, but it's not necessarily for everyone. Chaim's children attend the Hebrew Day School, which he says works well for them. About 70 percent of the students come from frum households, and his children have plenty of friends. Still, for those who prefer other alternatives, the choices are limited.
Currently there's no community girls' high school in the area, which forces many to send their daughters to Monsey by bus. The long drive back and forth can be exhausting. "Every time they go out with the bus, I panic a little," Rivkie admits. But she firmly believes it's still better for the girls to come home each day, rather than stay overnight in a dorm. And her daughters have plenty of company. "Thirty-two girls travel to Monsey every day from our kehillah," she says.
Population Explosion
There's one major difference between Upstate New York and any other out-of-town enclave. Just as the gentle summer breeze beckons, this pastoral environment turns into Thirteenth Avenue, Avenue J, and Central Avenue all rolled into one. Do the natives enjoy the "population explosion"?
"It's beautiful, to see so many Yidden," says Rivkie, "We go to Walmart and Home Depot and get to see Yiddish faces that we don't see all yearlong. For two months we see a whole different world."
Many country dwellers similarly welcome the change of pace and atmosphere. Suddenly, there are endless choices for shopping and conveniences which Penina of South Fallsburg says are very much appreciated. They do have to adjust their routines to compensate for the inevitable crowded roads, especially on Fridays and Sundays — they'll try to take care of their errands during weekdays or before the summer crowd comes up. "We go to Amazing Savings before the season officially starts," says Penina. And Leah Greenstein Thurm adds, "We've learned to drive along the side roads and avoid the main streets during the summer."
The city folk's driving habits, however, are a grave concern to the local community who are concerned about their safety. "Driving in the summertime is terrible, and part of the problem is that people don't realize how dangerous it is," says Penina. She cites risky driving habits such as speeding, weaving through traffic, double parking, and blocking other drivers. These practices, ill-advised in the city as well, are extremely hazardous on the winding roads where locals are accustomed to a much slower pace.
The local women are also concerned for the safety of the ladies who walk the country roads for exercise, putting themselves in peril along with the drivers who have to maneuver around them. This only intensifies during the evening hours when walkers are wearing dark colors, and drivers cannot see them. "If you must walk," Leah advises, "walk with flashlights and reflector belts. Always walk opposite traffic and as close to the curb as possible."
Then there's the uncomfortable issue of tzniyus. Some have moved Upstate specifically to shelter their families from the tzniyus issues that exist in the city. Everybody understands that different communities have different standards of dress and behavior, and nobody expects absolute conformity to another's lifestyle. Still, says one woman, "These are erliche ladies but they don't realize that there's a yeshivah here. If you're walking near a yeshivah community, you have to be sensitive to that."
When the summer crowds take over, the normally cordial relationship the country Jews have with their non-Jewish neighbors may also become threatened. The locals are left with the unenviable task of cleaning up their mess, both literally and figuratively.
Penina shares a complaint from one of her non-Jewish coworkers. "She was in the park and couldn't believe that people were throwing their garbage all over the ground. People need to be aware that the local people are not used to seeing such a mess here. They just can't tolerate it."
Many of the "summer people" may be blissfully unaware of the impression they are making, Rivkie says. "When you're on vacation, a certain sense of responsibility can be neglected and people tend to behave differently."
And Leah adds, "Everyone has to be cognizant of the fact that they're guests in an environment that exists when they're not here."
They're guests, but they're appreciated. Chaim considers the influx of the summer Jews a blessing. Living in Woodridge, he says, offers the best of both worlds. "It's like living out of town for nine months, and in town for three months every year," he explains. His home is within walking distance of the popular Center One strip mall, and he enjoys the hustle and bustle. "It's a refreshing burst of city energy," he says. "Everything is happening right around the corner from us."
He also likes that his children attend a bungalow colony day camp during the summer, which expands their social horizons with a wider variety of friends. "They get to see what city kids are all about," he points out.
Best of all, he says, he is grateful that the "summer people" help support the local frum infrastructure. "The shul would not be here without them," he says. "We simply wouldn't have the resources. I have tremendous hakaras hatov for that."
Home Peaceful Home
In the city, it's hard to contemplate the majesty of a towering tree or the beauty of a budding rosebush. But living in the country means appreciating Hashem's wondrous miracles on a regular basis. "We're surrounded by nature all day," says Rivkie. "The children play with salamanders and frogs rather than computers and iPads."
There's a sense of tranquility that simply doesn't exist in an urban environment. "We're all busy living our lives," Leah explains. "That part is normal, like everywhere else. But there's a certain chaos in the city that we don't have here. There's no background noise. The honking, the buzzing, the alarms going off — that doesn't happen. Now, when I go back to the city, I'm overwhelmed by it all. And I can't wait to go back home!"
(Originally featured in Family First Issue 448)
Oops! We could not locate your form.
>