| Washington Wrap |
Tense Times in Iowa
| February 4, 2020
Omri Nahmias works the crowds at the hotly contested Iowa caucuses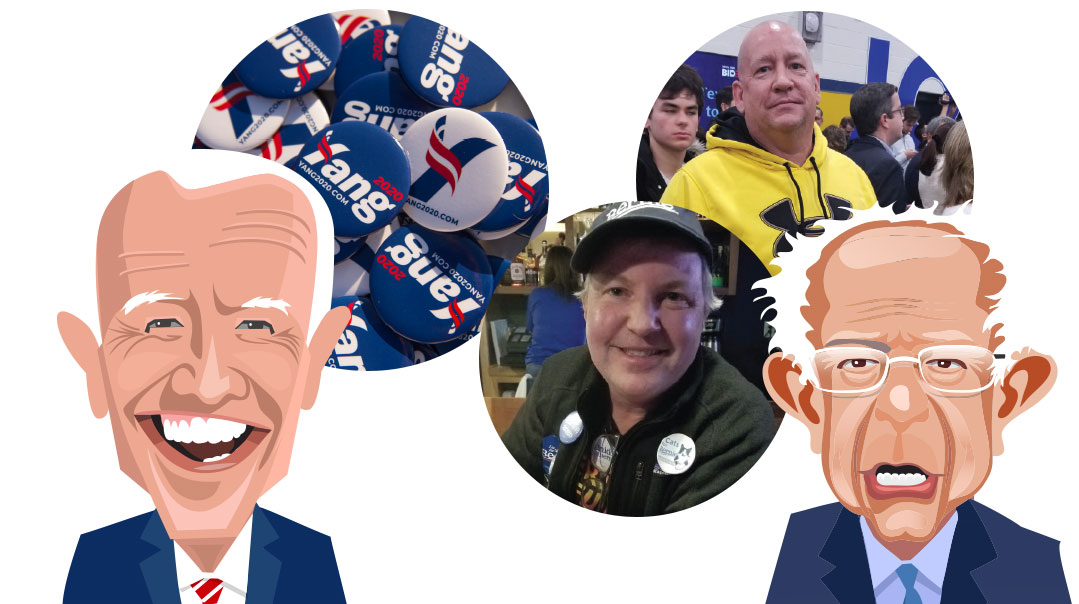 S
ince 1980, the winner of the Iowa caucuses has gone on to capture the Democratic Party nomination for president about half the time.
That would mean that one of the two Iowa frontrunners — Bernie Sanders, 78, or Joe Biden, 77 — is the most likely Democratic challenger to President Trump.
Ironically, at a time when young progressives are shaping the Democratic Party platform, it is two elder statesmen who are winning voter support. But in a contest between the former vice president and the current Vermont senator, it is Sanders, a self-identified socialist, who better matches with the zeitgeist.
On the day before the elections last week, I hopped between different campaign events, observing the candidates and talking to voters. I discovered a profound desire for change, along with a belief that any of the Democratic contenders could deliver on a better future.



Andrew Yang 
The Most Out-of-the-Box Event
Speaking of that better future, Andrew Yang, who is polling with 3.8 percent of the vote in Iowa, is offering $1,000 in cash every month to every American over 18. Yes, you heard that right: a universal basic income that would cost taxpayers $3.8 trillion annually.
I'll confess, I didn't know much about Yang, an entrepreneur and philanthropist, who is polling in sixth place nationally. He didn't make much of an impression at the debates, and hasn't garnered extensive coverage from the national media.
Despite all that, he was able to draw a crowd of 1,000 at an event hall in Des Moines this past Motzaei Shabbos. His signature policy proposal for a universal basic income seems insane at first. But as he lays out his vision, you understand he's raising a subject that really doesn't get that much attention from politicians: What happens when automation makes human jobs obsolete?
It sounds futuristic, maybe even alarmist. But Yang paints a grim picture in which more and more jobs are lost to automation — from customer service agents, to secretaries and truck drivers — and describes how the social fabric of middle-class America will disintegrate as a result.
Just think, when automated trucks come into general use, 3.5 million truck drivers will lose their jobs, and most of those men and women aren't going to learn computer programming. But it won't be just truck drivers who will lose their jobs, but also roadside restaurant owners and motel operators.
Yang is effectively proposing a "robot tax," in which giant technology companies pay more to bridge the gap between human and automated labor. His chances of winning the nomination are slim to none, but it seems he's managed to create a base of support, and we'll hear more from him yet.
Justin Spade, a 30-year-old high-tech worker from Des Moines, said he believes Yang is the right candidate for the future.
"All of the candidates out there, a lot of them are backward-facing, trying to fix the same problems with the same solutions that have never worked," he said. "Andrew has been able to correctly diagnose what's wrong with the country, what's going to be wrong in the future, and then his remedies are correct for going forward. That's why I support him."
How do you estimate his chances of being the nominee?
"I think right now they're low, just like Obama's chances were low when he started in 2008, and Trump's were low when he came here in 2015. [Yang] has a lot of support. I believe that by the time 2050 rolls around, I'll be more excited that I voted for Andrew than I did Elizabeth Warren."

Joe Biden
The Most Uninspiring Event
A thousand people, more or less, congregated on a basketball court in Des Moines to hear Joe Biden speak on Sunday. Biden enjoys a slick, well-oiled operation of supporters, donors, volunteers, and activists. He's doing everything right. Moving videos portraying Biden the family man were played in the hall, and high-caliber supporters like John Kerry were sitting in the audience. Still, something about the gathering seemed off-key and uninspired.
Biden, like Trump, speaks in the "stream of consciousness" style. He hops from subject to subject and shares his thoughts with the crowd extemporaneously. But unlike Trump, who puts on a raucous show full of attacks on his opponents and catchy one-liners, with Biden it's all just a speech. There are moments of excitement and applause, but there's also no clear overarching message. Everyone knows why Senator Bernie Sanders is in the race and what Senator Elizabeth Warren stands for. But what is Biden's passion?
Biden supporter Ted Hanson, who works in car repossession, said he believes the former vice president and senator stands for working-class values. "I would consider myself coming from a working-class neighborhood, and I think that Joe Biden represents that. Even if you aren't in a union, I think he represents the kind of people that should be in a union. They should be looking for those kinds of values."
Who do you think has the best chances to beat Trump?
"Joe Biden, Amy Klobuchar. I think it's someone who is somewhat moderate. Someone a few people on the Republican side could say, 'I could vote for him or her.' "

Bernie Sanders
The Event with the Fewest Locals
Call it the carpetbagging event. Bernie Sanders has an army of enthusiastic supporters all across America. Yet I couldn't find one Iowan at his event in central Des Moines on Sunday. The first man I spoke with was from Brooklyn. Then I talked to a couple who came from Missouri. I turned to another woman, but she was from Wisconsin. In the end, I lost hope and decided to get a quote from someone from Berkeley, California.
I don't know what this army of outsiders means going forward. It's possible that Bernie decided to swamp the state with volunteers from across the country to guarantee his success, but it was strange to be at an election rally on the eve of the caucus where most of the supporters came from elsewhere.
Casey Carpenter, who traveled from California for the caucus, said there were more than 3,000 people taking part in "Bernie journeys" to Iowa.
Why do you need so many people?
"The movement is about people, and we need people to volunteer their time to take on the… billionaires and corporations. The only way we fight that is with ordinary people — teachers, nurses, volunteers, truck drivers. Iowans have a unique opportunity to signal to everyone who is the right person to become not just the leader of America, but of the free world."

Pete Buttigieg
The Best-Managed Event
There was no essential difference between this event and others I attended on Sunday. Like the others, the candidate came to speak, at the same kind of high-school basketball court. Like the others, supporters were arrayed strategically behind him on the stage. But the overall effect at this event was better, showing that Buttigieg's team is more professional and more practiced at using television to make their candidate look presidential. Every detail, from the content of the stump speech to the way the event was orchestrated, ran like clockwork. The digital clock was set to 20:20, and the scoreboard was set to read "Pete Buttigieg."
The candidate who is struggling to gain support among minority groups? He was introduced to the audience by prominent activists from the African American community. At Biden's event, everyone was packed together in a tiny and stifling hall, but Buttigieg's people chose a hall with two levels so the hundreds of journalists (I estimate there were some 500 reporters and photographers) could get a good angle without obstructing supporters. When a candidate does two, three, or four events a day, it's important to make each one look authentic and inspiring. With Pete it works.
Jason Banao, a Des Moines resident who served in Iraq in 2005 and 2006, says he sees a lot of himself in Buttigieg, who also served in the armed forces.
Is it important for you that he's a veteran?
"I don't think it's a requirement, but I think it does help. Particularly now, when we have a lot of conflicts going on, to have a veteran who served in those conflicts. I think it does shape the way [a president might] use force because he knows what it's like to serve, to be away from family and to send other people to go do the same. I've seen just about every candidate in some fashion, but I think Pete's the most well-spoken. I think he can beat Donald Trump."

Amy Klobuchar
The Straight-Talking Event
Amy Klobuchar is not the most charismatic and appealing candidate in this race, but she has a very good case for why she should be the nominee. With her opposition to Medicare for All (it would be too expensive) and her campaign message that she's a moderate in a field full of radical progressives, the US senator from Minnesota is trying to show she's the only contender who can win back Rust Belt swing states like Ohio, Wisconsin, and Michigan. Polling fifth in Iowa, the event she held on Motzaei Shabbos — in, you guessed it, a basketball gym — didn't bring out more than 700 people. Klobuchar makes a compelling argument, but what she's saying doesn't seem to have much popular appeal.
Mike Winjum, a Klobuchar supporter, says he bought her book and read it twice. "Background checks for guns, get rid of student loan debt, have free community college — these are the reasons for me to vote for Amy."
What is it about Iowa that makes it such an important state?
"We got lucky in 1972 when we got the caucuses. We are spoiled to have a chance to speak directly with all the candidates."

In case she's not viable, who would you vote for?
"Joe Biden, and I'll be wearing my Joe Biden shirt under this one because I'm a precinct king. If she's not viable, then I'll join the Joe people."
(Originally featured in Mishpacha, Issue 797)
Oops! We could not locate your form.
>