| Real Life |
Sitting in a Church, Dreaming of a Shul | June 6, 2018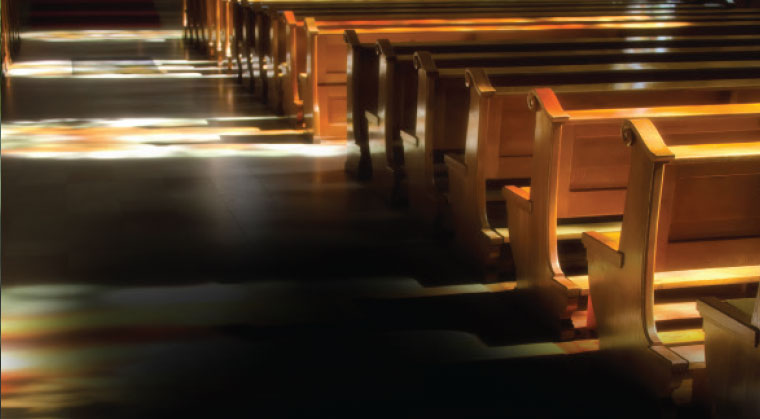 I
t's assur to sit in a church. But one winter night, when I was 14 years old, that's exactly where I found myself.
How could a Jewish girl be in a church? The answer is simple: My mother dragged me there, and I was underage and couldn't resist. My mother's father was a Christian. Not only was he a Christian, he was the son of a priest. We have a picture of my grandfather as a young boy, standing with his six siblings and his father — my great-grandfather — who wore a tall hat and huge cross across his chest. He presided over a church in Russia.
I was born in Russia and, as a young child, found myself in a church quite often. The calm and quiet, the smell of the candles, were appealing. The wooden pews with the Bibles in their racks were warm when juxtaposed with the cold Russian winters (and falls and springs…).
My mother was raised confused. Her mother was Jewish, but her father was not. They lived in Russia, where being a Jew was worse than having leprosy. Churches were everywhere and shuls were nowhere to be found. So as a young girl, my mother identified more with the church than with shul. And that's how she raised me.

When we came to America, suddenly it was okay to be a Jew. And not only to be a Jew, but to look and act like one, too. Even though we were finally free, my mother was still scared to put a mezuzah on our door. Despite her Aryan looks, she had experienced a lot of anti-Semitism, as a child and as a woman. Even when she came to a free land, the fear never left her.
My mother was a cultured woman, a violinist by profession, and she wanted me to be well rounded. I dutifully practiced my piano, painted, read all the classics, and wrote. We went to museums and concerts — and we went to churches. For my mother, going into a church was more comfortable than walking into a shul, where everybody stared at her: divorced, hair uncovered, accompanied by two very Russian-looking children. Her path for us was well trod, until the summer I turned 13 and everything changed.
Not only did I become a teenager, I wanted to look like a Jew and to act like a Jew. I begged her to put a mezuzah on the door so that I could live in a Jewish house. She acquiesced, placing a small one on the inside of the door where nobody would see it.
My mother was appalled at the changes in me. She was crushed as she saw everything she taught me to love and appreciate being thrown out the window. The museums were not tzniyus enough for me, the books full of pritzus, and the concerts overwhelmingly boring. Church was the biggest problem. But I was not a wimp. I fought tooth and nail not to step foot in that church on that cold December night. (Excerpted from Family First, Issue 595)
>