| Real Life |
Sitting in a Church, Dreaming of a Shul | June 6, 2018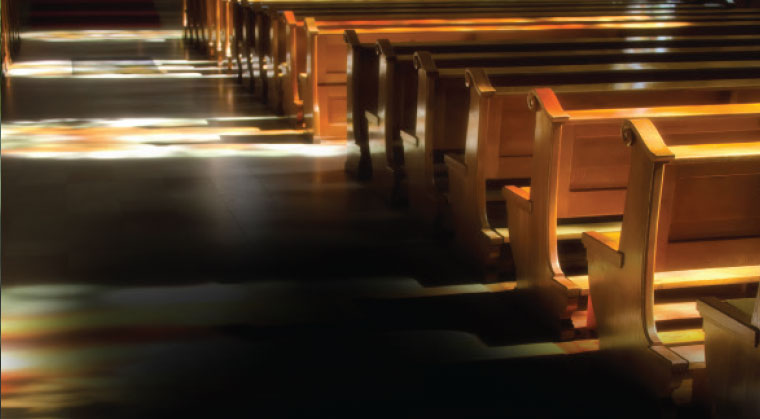 I
t's assur to sit in a church. But one winter night, when I was 14 years old, that's exactly where I found myself.
How could a Jewish girl be in a church? The answer is simple: My mother dragged me there, and I was underage and couldn't resist. My mother's father was a Christian. Not only was he a Christian, he was the son of a priest. We have a picture of my grandfather as a young boy, standing with his six siblings and his father — my great-grandfather — who wore a tall hat and huge cross across his chest. He presided over a church in Russia.
I was born in Russia and, as a young child, found myself in a church quite often. The calm and quiet, the smell of the candles, were appealing. The wooden pews with the Bibles in their racks were warm when juxtaposed with the cold Russian winters (and falls and springs…).
My mother was raised confused. Her mother was Jewish, but her father was not. They lived in Russia, where being a Jew was worse than having leprosy. Churches were everywhere and shuls were nowhere to be found. So as a young girl, my mother identified more with the church than with shul. And that's how she raised me.
When we came to America, suddenly it was okay to be a Jew. And not only to be a Jew, but to look and act like one, too. Even though we were finally free, my mother was still scared to put a mezuzah on our door. Despite her Aryan looks, she had experienced a lot of anti-Semitism, as a child and as a woman. Even when she came to a free land, the fear never left her.

My mother was a cultured woman, a violinist by profession, and she wanted me to be well rounded. I dutifully practiced my piano, painted, read all the classics, and wrote. We went to museums and concerts — and we went to churches. For my mother, going into a church was more comfortable than walking into a shul, where everybody stared at her: divorced, hair uncovered, accompanied by two very Russian-looking children. Her path for us was well trod, until the summer I turned 13 and everything changed.
Not only did I become a teenager, I wanted to look like a Jew and to act like a Jew. I begged her to put a mezuzah on the door so that I could live in a Jewish house. She acquiesced, placing a small one on the inside of the door where nobody would see it.
My mother was appalled at the changes in me. She was crushed as she saw everything she taught me to love and appreciate being thrown out the window. The museums were not tzniyus enough for me, the books full of pritzus, and the concerts overwhelmingly boring. Church was the biggest problem. But I was not a wimp. I fought tooth and nail not to step foot in that church on that cold December night.
"But they are having a free concert there tonight. We must go," my mother reasoned. Free being the word she stressed.
"I'm not going," I replied.
"Yes, you are."
"NO. I'm not."
She must have threatened me with something to the tune of not letting me go on my next shabbaton, because that evening, my legs walked into that church. As I sat in the pew, I felt alone. I felt foreign. I felt strange. I felt guilty. This was not my G-d. These were not my people. As I breathed in the scented candles and listened to the pipe organ, I plotted my escape. This experience was a small victory for my mother, but I was going to come out stronger and more determined to change my life and live as a Jew.
I walked out of that church with more fuel in my fire. It was not a phase, as my mother liked to say. It was not temporary. The years passed by, I added more mitzvos to my repertoire, and by the time I turned 18, I was totally frum and finally free. I picked myself up, I got married, and I never stepped foot in a church again. My children don't know what a church is.
When I was becoming frum, my teacher told me, "Three generations — the longest a Jew can go not being frum is three generations. After that, someone, somewhere along the line will always come back."
It was both a threat and a promise. I was destined to come back. My great-grandfather was a priest. I am an Orthodox Jewish woman. My family is living proof that a pintele Yid will always ignite into a fire. It's never extinguished.
My teacher was right. Three generations it was. My grandmother, married to my grandfather, the son of a priest, a woman too scared to be observant in Communist Russia. My mother, raised secular but cultured, didn't take too well to her newfound American freedom and didn't take advantage of being able to be openly Jewish. Her fears always stayed with her, her way of life too rigid to be changed. She was 35 years old. And me — the third generation that returned, and how!
The beautiful part is this: My grandmother Galina, Russian for Golda, was 13 years old when she left her shtetl to live in the big city, Leningrad. When she left the shtetl behind, she left her religion, too. At the exact same age, 13, I picked up where she left off.
When we moved to America, my mother sent me to a kiruv yeshivah, so scared was she of the wild, public school children, with their guns and their drugs. She was asked to please give me a Jewish name, since Stacy wouldn't go over too well. She decided to name me Golda, after my grandmother, who had passed away when I was four. I later changed it to Goldie because it was cuter, and Golda just sounded too old fashioned.
I went to a camp one summer geared toward bringing Russian Jews back to the fold, and that summer a spark was lit. The way we sang on Shabbos, the way everyone cared, the role models I met there made me the happiest I have been in all my life. All of a sudden, I mattered. I belonged. I was a part of something great. Greater than me alone and greater than the culture that I was brought up with, including those quiet churches with no answers. In camp, all my questions were answered and all my problems were solved. It was the most inspiring group of people that surrounded me and held my hand as I climbed my way up.
I wonder what my grandmother would think of all this if she were alive now. I wonder if watching me with my children would bring back memories and make her happy.
My entire family is assimilated. I don't have a single frum family member. My cousins married goyim. Walking alone was never easy, but watching the fruit of my labor — my children — makes me smile. They will never be confused about their identity or where they come from. They will have roots more solid than mine ever were. They will have a home inside a shul and they will never be forced to walk into a church. They will proudly kiss all the mezuzahs in their home, especially the one on the front door, hanging front and center for everyone to see. They will kiss it without fear, only with pride.
(Originally featured in Family First, Issue 595)
Oops! We could not locate your form.
>