| Tech Wire |
Tech Wire: Microchip Shortage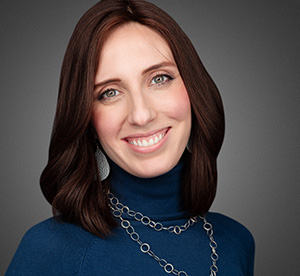 | May 4, 2021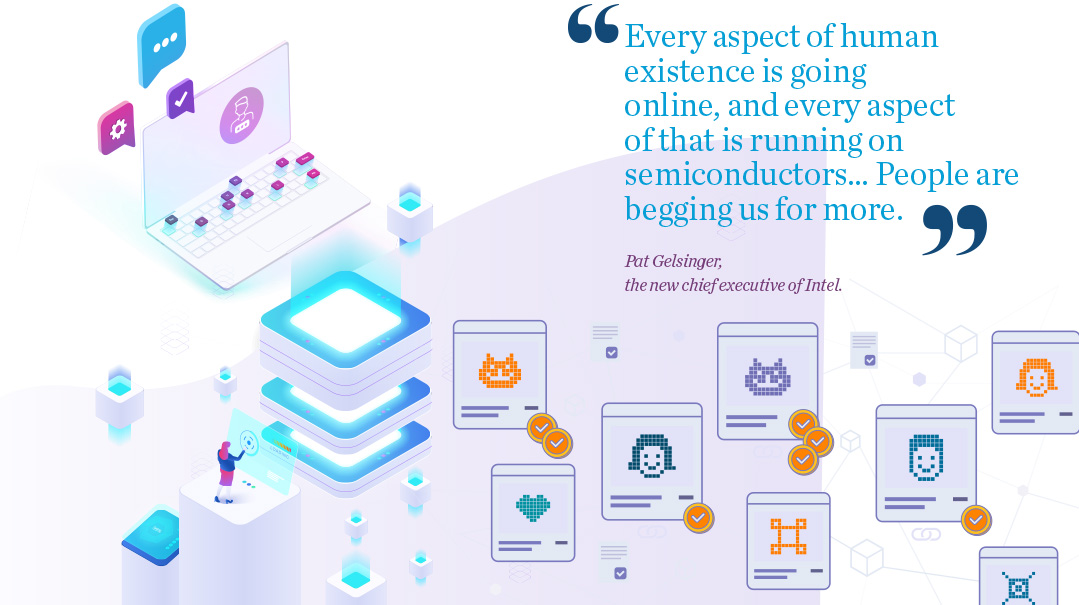 Microchip Shortage
"Every aspect of human existence is going online, and every aspect of that is running on semiconductors… People are begging us for more."
—Pat Gelsinger, the new chief executive of Intel
Gelsinger made these comments at a virtual meeting with President Biden and 18 other executives in response to a microchip shortage. Microchips are used in every type of electronic device, and the shortage has ripple effects through all industries.
The shortage is due to a few factors that disrupted the supply chain: COVID, a factory fire in Taiwan, and a cold snap in Texas that shut down manufacturing. Items that previously sold for $15 now sell for $200 due to the shortage of the chips and lack of supply in the market. Long story short: It's not a good time for businesses to upgrade electronic and communications hardware.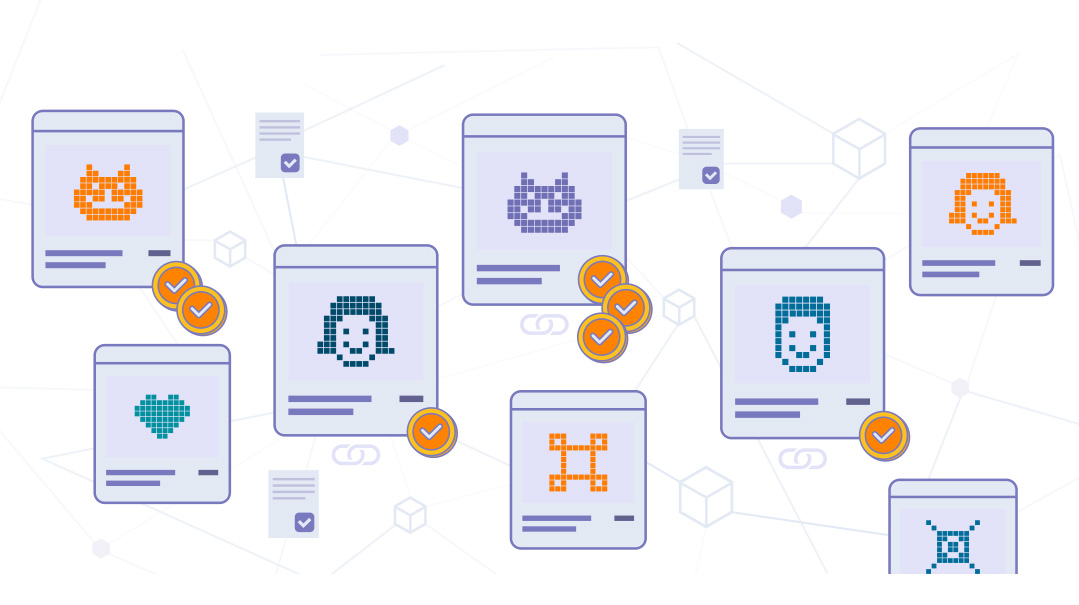 Tech Terms
NFT— Non-fungible Tokens
NFTs have becomes popular in the news suddenly, but most people have no idea what they are or how they work, only that it maybe has something to do with Bitcoin.
The only thing it has to do with Bitcoin is that it's built on the same blockchain technology that supports Bitcoin and other digital currencies. A non-fungible (not interchangeable) token is the digital version of buying an original work of art or an autograph. Other people can buy prints and screens and giclées of Van Gogh's "The Starry Night," but only MOMA has the original; same goes for NFTs.
There is an obvious difference between a physical original and a digital original: The physical one has the history, was touched by the artist, and includes the detail, texture, and life that the artist imbued it with.      An NFT is the same exact product that anyone else can view digitally; you just get to say you're the owner.
For many people, purchasing or investing in NFTs is baffling; others view it as the future. Either way, there's still money to be made — the first tweet ever sent by Twitter founder Jack Dorsey was sold at auction for $2.9 million.


Google — The Supreme Court sided with Google in the case Google v. Oracle America. The ruling said that software developers can copy APIs (basically, instructions making sure different technologies play nicely with each other). Most software applications are built on top of APIs, and if there were no APIs, it would be ridiculously hard to design software programs to be compatible with each other. Remember the days when every phone came with its own charger, and if you lost it or left it at home, you were doomed? APIs are to software what standardized chargers are to phones. A Google win would usually make most people wary, but people in software development are breathing a little easier with this ruling.

Oracle — As the makers of Java, an API, Oracle claimed that Google (and basically everyone else) was ripping off their technology, and they should be compensated for people using Java to develop programs. Had they won, they would have been entitled to a hefty payout from Google and potentially any other software developer, thereby making it much harder for small players to get into the software development market, which in turn would have stunted industry growth and innovation. So while Google is usually the bad guy these days, thank their lawyers for the decade they spent litigating the matter.
Free Tools for your Small Business
Yes, yes, your budget is small, but you don't want anyone to know that. Keep up with the big guys and look like it's no sweat with the following free services.
1) Wix – They have an easy website builder that is free. It's drag and drop to your heart's content, and you can use their templates to guide you to an impressive looking site. While it'll have Wix branding on it and in the domain name, as soon as you're ready to step up and own your domain, it's a fairly inexpensive endeavor. (My own website was created by Wix, and I'm a writer, not a designer.)
2) Endpoint Protection from Avast – Protect yourself from hackers, viruses, and malware. There's a free and premium version. The free version is more defensive and not proactive, but something is better than nothing.
3) Wave – Use their free version for your accounting needs. You won't be able to make payments directly, or integrate payroll; that you'll have to pay for. But hey, it beats making invoices in Word, saving as a PDF, and remembering where you filed them and what number you're up to.
4) Streak – Need a CRM (customer relationship management) but aren't ready to cough up the dough? Streak is a free CRM that integrates right into Gmail. Even if you don't need it, install it to keep track of your open email rates, so when Shmuel from DealsRUs says he didn't get a chance to read your email, you'll know when to call his bluff.
5) Milanote – Need a place to brainstorm digitally, or to brain dump, mind map, organize projects, or whatever? Milanotes is like a digital whiteboard. You can create notes and tasks, and add images, files, and links; you can color code or add arrows and other visuals to create flow. It's easily shareable with tagging features. Their free version is robust enough to start with.
Computer Hacks to Save You Time and Make You Feel Efficient
Control + T will open a new browser tab. No more clicking around for that little plus sign, even if it only takes a second. Keep your flow going with your hands still on the keyboard and start that new Google search.
Control + N opens a new file. Yes, it's just a few clicks, but those who get it, get it.
Recharge Your Laptop Battery in Airplane Mode for a Faster Charge When that "battery low" warning pops up, it usually makes people a little frantic: Help, I have to plug in! For how long and where? And then come the calculations — when do I have to leave, will my computer be ready… Charging while in airplane mode can shorten that time by 10-15 minutes. To switch to airplane mode in most computers, just click on the Wi-Fi signal icon on the bottom right. Your network will show up, and there will also be three tabs on the bottom — Wi-Fi, airplane mode, and mobile hotspot. Click on airplane mode and charge away.
Create Tab Groups in Chrome Right click on the tab, click "add tab to new group." You'll be prompted to create a name and choose a color. After that, you can click on other tabs and add them to the group. For those of you with a bajillion open tabs juggling your work project research, business trip planning, and comparing prices of the Betty Crocker on Amazon and Walmart, this is an efficient and easy way to make sense of it all.
(Originally featured in Mishpacha, Issue 859)
Oops! We could not locate your form.
>