| Jr. Feature |
Swiss Bliss
| January 15, 2020
The people of Saas Fee didn't want their beautiful village to change too much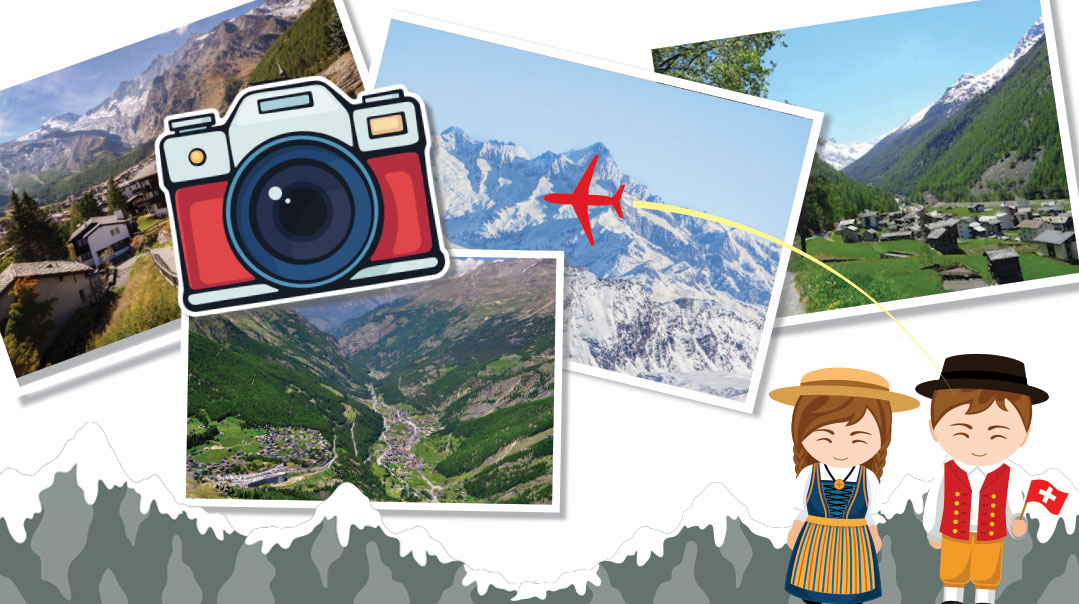 In the south of Switzerland lies a valley called Saastal. In it, a set of villages nestles among towering mountains. Welcome to the incredibly beautiful villages of Saas Balen, Saas Grund, Saas Almagell, and Saas Fee. You will have one terrific vacation!
To get to Saastal, jump on a flight to Geneva. Take a train along Lake Geneva and admire the waters of deepest blue. When you disembark in Visp, you will be in the Saas region, with the guttural sounds of the Swiss-German dialect around you. Leave the station and hop aboard a bright yellow Post Auto (bus). Choose a window seat, or even better, sit just behind the driver so you can share the beautiful panorama through his windshield.
The bus route winds through the mountains. Hold on tight, but don't worry. Your driver is used to this kind of road. You will see waterfalls cascading down them, and a fast-moving river below. Villages lie in the valleys, clusters of chalets with shutters and sloping roofs, sheltered by towering mountain ranges. The bus gives a long toot of its horn as it rounds the bends in small tunnels. Soon you will find yourself traveling through the charming villages of Saas Balen and Saas Grund. The bus fills up with hikers and continues upward to Saas Fee, the main village and the tourist capital of Saas Valley.

Frozen in Time
The Saastal, or Saas Valley, is surrounded by a ring of 18 mountains over 13,000 feet (4,000 meters) in height. It used to be hard to get there, but in 1951, a road was built to the Saas villages. This brought many more guests. The first tourists were Alpinists (mountain climbers) who loved the challenge of climbing the high mountains. Then came the skiers. By now, all kinds of sports adventures are popular in the area.
Tourists brought money and new life into the region. But the people of Saas Fee didn't want their beautiful village to change too much. So they decided that the new road could stop right there, at the entrance. Until today, you can drive down the mountain road, past Saas Balen and Saas Grund, but you will have to park your car at the entrance to Saas Fee. Leave it in the massive parking lot, and walk into a Swiss mountain village that seems to have been frozen in time. Little carts called "electros" appear every so often, riding slowly down the streets to deliver suitcases or crates of drinks. They can also be used as taxis, but pedestrians rule the streets, walking unhurriedly in the middle of the road.
Up to the Top
Wherever you go in the village, you will see beautiful mountains around you. The cable cars that move silently up and down the mountainsides from Saas Fee were only built in the 1970s. Until then, people who wanted to see the view had to hike up the mountains. Teams of engineers and builders used helicopters to bring the supplies up the mountain and lay the foundations for the stilts that support the cable car wires.

At the station, we board our own little cable car. It moves gently, steadily, upwards, so that Saas Fee looks like a toy town below. On the meadows on the mountain slopes, herds of cows graze peacefully. (Do they know how lucky they are that their field faces some of the most beautiful scenery imaginable?)
The houses and bridges and fields get smaller and smaller, and soon we are above some wispy clouds.
Picnicking high up in the mountains, sitting on protruding rocks on the grass, we see large holes in the mountainside. Out pops a large, furry creature: an Alpine marmot. We feed it some crumbs from our pita-and-American cheese sandwich, and he seems delighted. The marmots around us are grayish or white, and all seem quite tame.
When we get back into the cable car to ascend further, the mountain turns from grassy green to hard gray rock. Beneath us, intrepid climbers make their way up snaking paths. Then, with a small jolt, we're here, at the top station. The peaks around us are covered in snow. Right behind us, we admire a gigantic glacier of frozen, packed snow.

So Much to See
The views are best when the weather is clear. But one day of our visit, the clouds seem to be coming down lower and lower. In the morning, the imposing mountains have been swallowed by cloud. By afternoon, the cloud is so low that I can't see more than two houses in front of me. I feel like I'm a character in a misty scene of a mystery play, as I hesitantly move along the street, its cobblestones shining in the damp air.
We go shopping in the village center and spot the school building in the center of the village. Yes, there are families who live in Saas Fee, and the village has a small school.
It would be difficult to see everything Saas Fee has to offer. But if you want to explore a little further, the yellow Post Auto service constantly runs down the mountain roads to the other Saas villages and nearby hiking spots. The villages each have their own charm. Saas Grund is very popular with skiers as the slopes have a special view of the whole mountain range. A trip up the Kreuzboden–Hohsaas cablecar gives you the chance to feed some friendly mountain goats. Saas Almagell has a beautiful rushing stream, and a friendly village feel, with a ride in an open chairlift up to Furgstalden, where you can hike, or sled down. Saas Balen is the smallest of the villages, a peaceful hiking spot.
Summer Snow
In the winter, Saastal is a snowy wonderland of skiing, sledding, and snowboarding. Summer is for hiking, scooter runs, and fun on the adventure equipment. But on the highest mountains, such as Mittelallallin, 11,500 feet (3,500 meters) above sea level, it's snowy all summer long. Visiting in the summer, we see professional ski teams from Germany, Russia, and Spain park their vehicles in the Saas Fee parking lot and take their skis up to Mittelallalin for practice.
One day, we fill our backpacks with warm socks and sweaters and take a cable car, then another one. After these two journeys, we walk through a little station. Then we find ourselves on the Metro Alpin, the world's highest underground train. (Weird for those who are used to underground being low down!) It's starting to get freezing cold here, so I'm glad we bundled up.
When we emerge, it's like being in another country. It's cold — about 32° F (0° C). It's snowy. We breathe deeply in the cold, pure air, letting it refresh our lungs. And the view! The stunning white of the peaks faces us, cloaked in a heaven-sent blanket of soft snow.
The station has a revolving restaurant surrounded by a wooden viewing platform. Make sure to get a view of the imposing Dom, Switzerland's tallest mountain. On clear days, it is even possible to see the distant lights of the Italian city of Milan! Watching the skiers fly down the pistes on skis is fascinating. Their bright-colored clothing and ski glasses or goggles makes them seem like colorful birds, flying in graceful curves.
Saas Fee Residents
At the tourist office, I sit down to chat with Yolanda. Saas Fee has a long winter tourist season, she tells me. It officially begins on November 1, and lasts six months. Once April is over, the snow melts, leaving the village almost deserted in its only off-season month, May.
"There are 1,600 people who live in Saas Fee all year round, but in May many of them go away, taking a rest after the hard work of the winter season," Yolanda tells me. "I actually love that time. The village feels like only a few hundred people are left here, and you see animals around."
June is already the start of the summer season. Did you notice that there is officially no spring here?! Summer continues into fall, as people continue to vacation and hike well into September. October brings only a few tourists. The ski rentals, hotels, chalets, restaurants, and cable cars ready themselves for the winter.
I wonder aloud what kinds of jobs the locals do. "Tourism is the main industry of the Saas region today," Yolanda says. "Up to 85% of Saas Fee residents make a living from tourism. They work as waiters, cable car mechanics, gift shop owners, ski instructors, or rental agents."
Saas Grund, Saas Almalgell and Saas Balen also focus heavily on tourists, although they do have a few other industries, such as farming.
Historically, the men in this area were farmers and woodcarvers. A lot of buildings have strange wooden masks above the doors. Apparently, these were meant to scare away ghosts. On our way to the Saas Fee playground, we notice a garden full of carvings, and stop in to visit an elderly woodcarver at work. He was born here, in the Valais region, he tells us. The faces, birds, and animals that he carves from the local trees are his hobby, but as he is 83 and has retired from working as a cable car mechanic, he works on wood full-time.
As I look at the wood being whittled into shape under his sharp tools, I wonder if in 83 years he has ever become bored of the beauty that surrounds him here. As a lifetime resident, does he fully appreciate the beauty that Hashem Himself has carved around him? Or are we, the vacationers, better able to appreciate the stunning backdrop, the magnetic charm, the incredible peace and beauty that is Saastal?

Fun facts
Helicopters often appear in the skies above Saas Fee. Ask a guide, and he will tell you that the helicopters are bringing food supplies to hikers who stay overnight in the mountain huts. These huts (mischabelhutte) are for serious climbers only. Having climbed for many hours, they can stop overnight at a small furnished hut, and have their breakfast brought up hot and fresh by helicopter in the morning, before they climb onward to the summit. The service costs a cool 500 francs (about $516).
Different regions of Switzerland speak French, Italian, and German. Then there is the Swiss-German dialect. Since Valais was historically a little remote, they developed their own form of Swiss-German, called "Walliser Deutsch," which can be difficult for outsiders to understand. One young man tells us that this Walliser Deutsch is spoken mainly by elderly people today, and that the different villages each had a slightly different accent, and their very own local words. "I can hear if an older person comes from Brig, Visp, Zermatt, or the Saas valley," he claims. Wow!
One of the prized local mountains, named Fletschhorn, had always been listed on maps as 4,001 meters high. However, in the early 1990s, surveyors determined its height is only 3,993 meters. The Saas Valley council tried everything, even planning to build a restaurant on the peak to make it higher. The project never went through, but to this day, they hang on to Fletschhorn as one of their 4,000-meter peaks.
Dotted around the village, we can see wooden houses on high stilts. These are around 300 years old, and they were used to store the corn that grew in the area, keeping it safe and dry during winter.
(Originally featured in Mishpacha Jr., Issue 794)
Oops! We could not locate your form.
>