| This Way That Way |
Sweet Chili Sauce
| October 12, 2021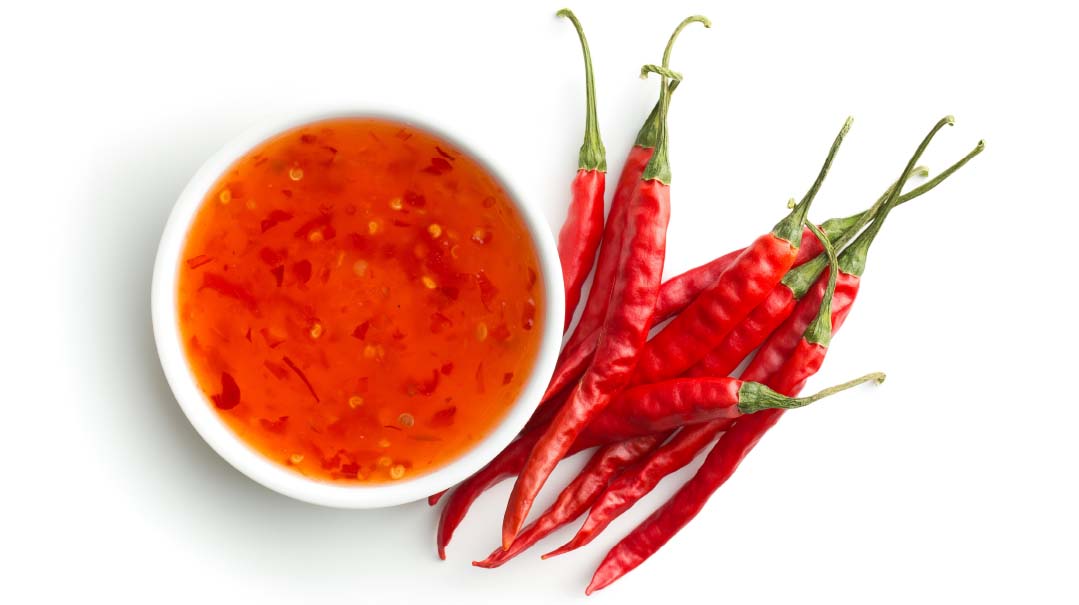 Sweet chili sauce (also known as sweet Thai chili sauce) is a popular chili sauce condiment used in Thai, Malaysian, and Western cuisine. It's commonly made with red chili peppers (often Fresno chile, Thai, or red jalapeños), rice wine vinegar, sometimes garlic, and a sweetening ingredient such as fruit or a refined sugar or honey. Here are our favorite recipes for it!
Chillin' Out
Origin
Sweet chili sauce is originally from Thailand, where it was possibly first produced for dishes served at local restaurants.
Balance
Sweet chili sauce may contain vegetables, particularly tomato, to reduce the heat of the chili and thicken the sauce.
Fiery Touch
Capsaicin, the active component responsible for the burn in chiles, activates the brain's heat receptors and tricks you into thinking you're on fire.
Quick and Easy Salmon
Recipe by Faigy Grossmann
On my challah every week, I top one side with streusel and one side with Everything But the Bagel spice. This seems to be the best way to satisfy those with sweet and those with savory preferences. This salmon appeals to the same savory lovers. The chili sauce adds a nice kick.
Brush salmon slices with sweet chili sauce. Mix equal amounts of panko crumbs and Everything But the Bagel spice and top salmon slices generously with the mixture. Bake at 400°F (200°C) for  15–17 minutes.
Sweet and Spicy Cutlets
Recipe by Rivky Kleiman
Here's a super-fast dinner that works well with either chicken or fish.
Bread chicken cutlets and bake for 25 minutes. Smear sweet chili sauce over the chicken and return to the oven for 5 more minutes. Serve warm. (If the cutlets are thin, reduce baking time to 20 minutes, then add the sweet chili sauce and bake another 5 minutes, for a total of 25 minutes baking time.)
For breaded flounder or tilapia, bake at 400°F (200°C) until golden and crispy (20–30 minutes). Add the sweet chili sauce in the last 5 minutes, as above.
Creamy Potatoes with Sweet Heat
Recipe by Estee Kafra
This recipe is inspired by my sister, who's the queen of quick and easy cooking. Cheesy, creamy potatoes with just the right amount of heat. It's my latest addition to any dairy party buffet, and there's never any left.
SERVES 6
8–10 potatoes (such as Yukon gold), peeled and cut into wedges
3–4 Tbsp canola oil
kosher salt, for sprinkling
⅔ cup sweet chili sauce
1½ cups heavy cream (or half-and-half)
8 oz (225 g) shredded mozzarella and cheddar blend
freshly shredded Parmesan cheese (optional)
Preheat oven to 350°F (175°C).
Place potato wedges in a bowl. Add oil and toss to coat. Spread onto a lined baking sheet and sprinkle with a bit of kosher salt. Bake, covered, for 1½ hours, then uncover and bake for approximately 15–20 minutes.
Allow potatoes to cool and place in a mixing bowl. Add sweet chili sauce and heavy cream. Mix well and transfer to an oven-safe serving dish. Cover with foil and bake for 30 minutes.
Raise oven temperature to 400°F (200°C). Sprinkle the mozzarella-cheddar blend all over the top and bake again, uncovered, for 10 minutes, or until cheese is just beginning to brown. If desired, sprinkle with shredded Parmesan cheese when it comes out of the oven.
Note: Like it spicy? Add more sweet chili sauce. Like less? Reduce if you don't like the heat.
(Originally featured in Family Table, Issue 763)
Oops! We could not locate your form.
>