| Hasty but Tasty |
Summer, Don't Go! | August 19, 2020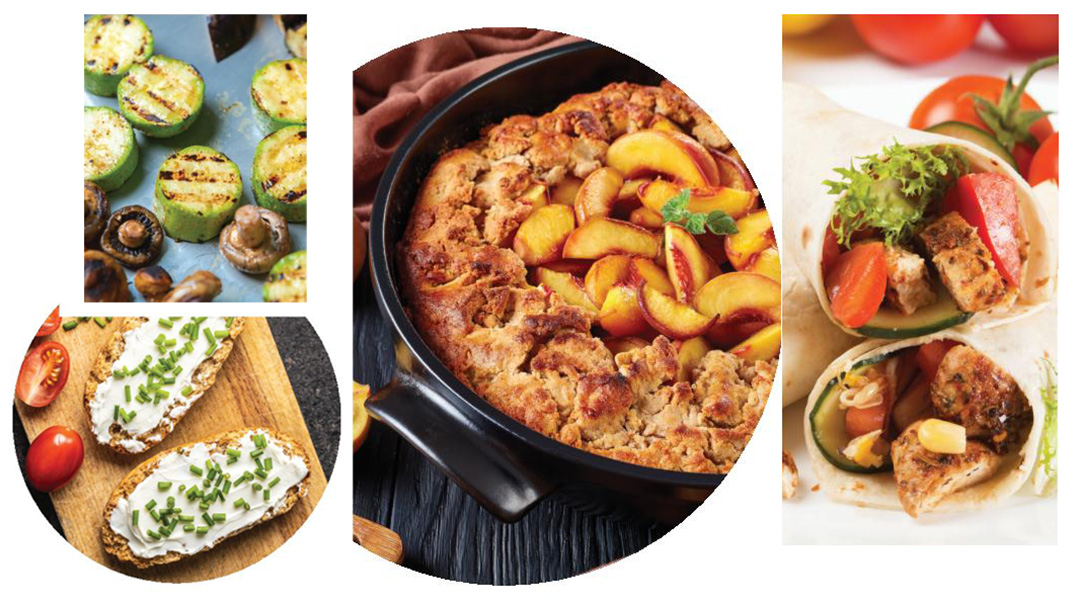 Want to give your summer a final goodbye? Here are the recipes that you need to try before closing the door on this season in the sun.
Recipes submitted by Devorah Cohen, Michal Frischman, Chanie Nayman, Rivki Rabinowitz, Hadas Stern, and Esti Vago
SNACKS
Sliced CUCUMBERS with CAESAR TAHINI and TOASTED SESAME SEEDS.
CRACKERS with TOMATOES and CHIVES.
MAINS
Finger-lickin' Simple Steak
1⁄2 Tbsp ONION SOUP MIX, 1⁄2 Tbsp KOSHER SALT, 4–5 cloves CRUSHED GARLIC.
Homemade Shawarma
Cut CHICKEN CUTLETS into bite-size pieces. Pan fry. Set aside. Heat about 1⁄4 cup OIL in the pan and add 1 Tbsp SHAWARMA SPICE, 1 tsp CURRY, and 1 tsp CUMIN. Heat up and mix in chicken.
Basil Grilled Chicken Wraps
Marinate ASSORTED VEGGIES and CHICKEN CUTLETS in OLIVE OIL, BASIL CUBES, GARLIC CUBES, and SALT. Grill. Spread dressing of choice on WRAPS. Fill with veggies and chicken.
SIDES
Real-deal Grilled Veggies
Grill ZUCCHINI and WHOLE MUSHROOMS on the grill with a little bit of OLIVE OIL, SAL, and PEPPER.
Tomato-Basil Salad
CHERRY TOMATOES, BLACK OLIVES, SCALLIONS, ROASTED MUSHROOMS, fresh BASIL (or cubes), OLIVE OIL, BALSAMIC VINEGAR, SALT, PEPPER, and GARLIC.
Veggie Salad with Lemon Vinaigrette
1 YELLOW PEPPER, 1 RED PEPPER, 1⁄2 peeled CUCUMBER, 1 unpeeled GREEN APPLE, 2 KOHLRABI, 2 WATERMELON RADISHES, and 2 STALKS CELERY.
Lemon Vinaigrette Dressing: 2 generous Tbsp freshly squeezed LEMON JUICE, 1–2 tsp SUGAR or COCONUT SUGAR, 1⁄2 tsp DIJON MUSTARD, 1⁄4 tsp fine SEA SALT (or to taste), 3 Tbsp OIL.
SWEETS
Easy Peach Cobbler
Melt 1⁄2 cup UNSALTED BUTTER in a 9*13-inch (20*30-cm) baking dish. Combine 1 cup ALL-PURPOSE FLOUR, 1 cup SUGAR, 1 Tbsp BAKING POWDER, and a pinch of SALT; add 1 cup MILK, ALMOND MILK, or SOY MILK, stirring just until dry ingredients are moistened. Pour batter over butter (do not stir). Combine remaining 1 cup SUGAR, 4 cups fresh PEACH SLICES, and 1 Tbsp LEMON JUICE in a small pan. Bring to a boil over high heat, stirring constantly; pour over batter (do not stir). Sprinkle with CINNAMON or NUTMEG, if desired. Bake at 375°F (190°C) for 40–45 minutes or until golden brown. Serve warm or cool.
Rainbow Pops Blend
1 cup FROZEN BLACKBERRIES, 1 cup FROZEN STRAWBERRIES, 3 diced KIWIS, 1 large diced MANGO separately, rinsing the blender between each fruit. Squeeze some ORANGE and LEMON into any fruit that needs a little bit of extra zing. (I did this for the blackberries and strawberries.) Add some STEVIA to the fruit that's too tart for the masses. Freeze in layers in popsicle molds.
Chocolate Mousse Pie
Beat 1 8-oz (225-g) container PAREVE WHIPPING CREAM. In a separate bowl, make 2 4-serving boxes INSTANT CHOCOLATE PUDDING MIX according to the instructions on the box (but with NONDAIRY CREAMER). Mix half the whip into the pudding and divide the mixture among 2 GRAHAM CRACKER PIE CRUSTS. Freeze for 15 minutes, then spread the other half of the whip on top of the pudding mixture. Freeze. Remove from freezer about 10 minutes before serving.
(Originally featured in Family Table, Issue 706)
Oops! We could not locate your form.
>