| Feature Articles |
Still Thriving | July 16, 2020
Entrepreneurs share their secrets for thriving through COVID-19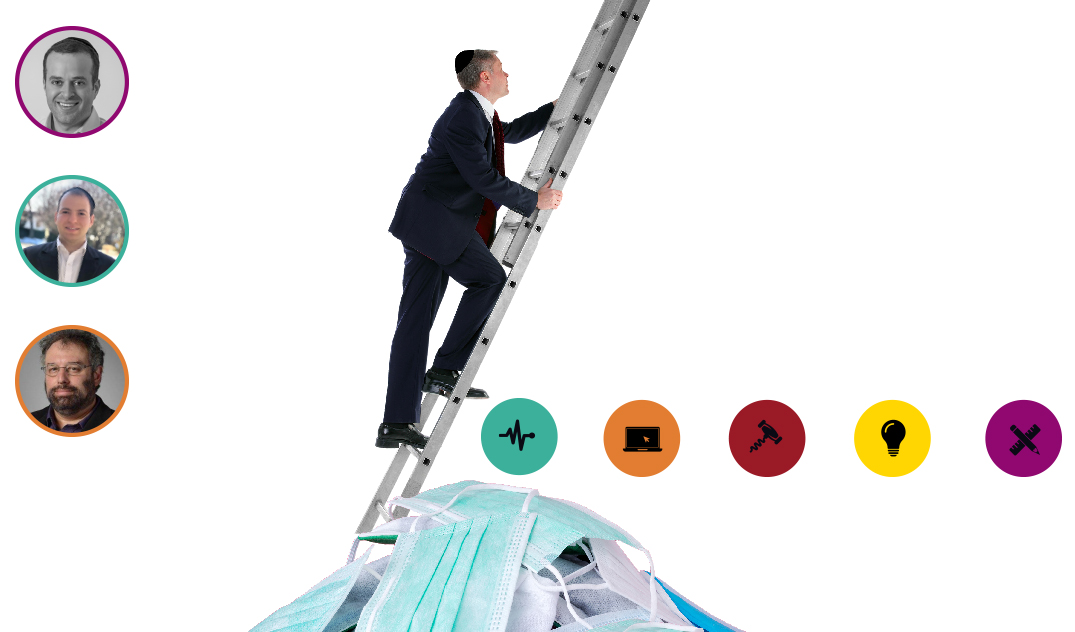 In the 1850s, Levi Strauss opened a branch of his family's dry goods business out West. As the legend goes, he and his partner looked at the miners, ranchers, cowboys, and railroad workers populating the Western states, and saw a need for more durable clothing. Blue jeans were born.
While blue jeans moments are rare, successful entrepreneurs share Strauss's understanding that it's not about the quick buck you can make today from Clorox wipes, but about anticipating the long-term needs of an ever-changing world. Nothing in recent history drives home that lesson like the coronavirus.
The pandemic that paralyzed world trade, travel, and industry has hobbled a staggering number of businesses. But the news it not all bad. With tenacity, creativity, and help from Above, many entrepreneurs succeeded in meeting the COVID challenge. Here, five individuals share their experiences — and the takeaway lessons that can help you craft your own success story.

Online Is Where It's At
Daniel Weiser
Occupation: Online Sales


Location: Boro Park
Coronavirus taught David Weiser, a 31-year-old Satmar chassid from Boro Park, that he could swim upstream.
It started in February. "Everything that could have gone wrong, did," says the online seller with four years' experience in the field.
Take his vitamins line, which he sells on Amazon. While most us were blithely unaware of the looming storm back in late January, production in China stopped for the Chinese New Year — and never reopened. The holiday bled right into the coronavirus crisis, and almost no stock left China, where Weiser's vitamin components are manufactured, for three entire months.

In March, the owner of the warehouse he was renting caught the virus and closed up shop. Truckers, fearful of getting sick, stopped coming to work, which meant that even if Weiser obtained the merchandise and found another warehouse, there was no way to transport the vitamins to the company that bottled them. The packaging company couldn't fulfill his order in any case, since they were overrun with massive orders from Walgreens. To top it all off, , there were no bottles in stock — they're made in China — and the workers at the labeling company were no-shows. It was the stuff of nightmares.
But Weiser quickly realized that the misfortune held opportunity within its cracks. "I knew that if I managed to hold onto a steady supply of stock despite the circumstances, my standing on Amazon would rise considerably, which is the ticket to success. My formula was simple: think out of the box, work as hard as humanly possible, and be willing to take monetary losses. Almost all problems can be solved with creativity and willingness to go the extra mile."
So Weiser found a new vitamin manufacturer in Israel. He leased a garage and office space to store his merchandise. He rented a 24-foot truck and taught himself how to drive it, enabling him to pick up the vitamins in New Jersey and bring them to his makeshift warehouse in Boro Park.
Now he had the product, transportation, and storage space. But how would he get the vitamins into the hands of consumers?
"My solution was to rent an unused hall and fill it with yeshivah bochurim. We bought printers, ink, labels, shipping boxes, tape…. and got to work. We had to stick labels onto the bottles, print out shipping labels, and package it all up. From there, I drove them in my truck to the post office for delivery to customers. We filled thousands of orders a day, working until we dropped, at about 2:00 or 3:00 am."
The mad enterprise bore fruit: his competitors were out of stock, while he steadily climbed up Amazon's ladder. His refusal to get stuck in old ways of thinking allowed him to reach the number one and two spots for certain vitamins, and to earn the Amazon's Choice seal. Business soared.
David Weiser also sells high-end pillows on Amazon. In March, at the height of uncertainty and fear, pillow sales dropped precipitously; who would invest in luxury items at such a time? But he did some research and saw that Home Depot was doing well, likely attributable to the fact that people quarantined at home naturally turn their attention to home improvement. In a counterintuitive move, he bought an overabundance of pillows, despite poor sales. He wanted to be ready.
"March was catastrophic, April was somewhat better, and by May, we hit an all-time high," he says. "Our pillows are the most expensive ones sold on Amazon, yet we sold the most pillows on the site, during a pandemic, no less. Learning from adjacent industries can be invaluable."
The Takeaway
The pandemic has changed e-commerce forever — Amazon alone, David says, has gained millions of new customers. Ebay has had a tremendous increase in sales as well. "Online sales is a great direction for people to go in right now."
Even if you're not a salesman, you can cash in. Know how to write? Every Amazon page needs copy, and a premium-quality write-up can earn hundreds of dollars. Love photography? Everything sold online needs its picture taken. Invest in a $100 photography studio, practice taking shots, and if you're good, the work will come, David says. Ditto for those in graphics and package design. "The demand for these talents is sky-high and continuing to grow," he says.
Finding a way in is less daunting than it sounds; WhatsApp and telegram groups connect sellers with every pool of needed talent. Keep your rates low at first, just get in the front door. The e-commerce explosion has also created greater opportunity in areas like warehousing and customer service.
As for what to sell: There is more demand than ever for every subsector in the online sales universe. But outpacing them all is anything tech-related. "Every new home office requires a computer, server, networking, a phone system, and more. These have really shot up," he says.
Don't quit your job while developing a new skill set, he advises. Learn all you can about whatever you're pursuing — everything you need to know can be found online, for free. Reach out to others in the field and ask questions, put your extra time and money into it, and with time and Hashem's help, you'll get ahead. Once your side income surpasses that of your regular job, it's time to make the switch. Just a small amount of effort to outshine your competitors results in a huge pay-off, he says.
"And above all," he cautions, "disconnect from the news. Bad projections can be depressing and discourage you from moving forward. Stay driven, stay positive, and keep on pushing."
Bringing the Doctor Home
Jonathan Shankman


Occupation:

Telehealth Executive


Location: New York
In an informal poll taken for the purpose of this article, six out of ten households have engaged in a videoconference visit with a clinician since the coronavirus hit — zero of whom have done so prior. It's hardly a scientific poll, but that's an undeniably whopping increase.
"I call it the COVID Awakening," says Jonathan Shankman, executive vice president of Research and Clinical Innovation at Advanced Monitored Caregiving (AMC Health), a New York-based telehealth company. "Health care makes up almost a fifth of the US economy, yet it's been one of the last industries to embrace the online technologies that have revolutionized retail and banking. But change is here, and there's no going back — people will become hooked on the convenience," he says.
While telemedicine (a live interaction between patient and health care provider via videoconference) will always have a role as a supplement to in-person visits, Jonathan says, it's just one part of the broader telehealth offering.
AMC Health's main focus is on remote patient monitoring (RPM), or using automation to follow patients with costly conditions in their own homes. "People live with their diseases at home, not in the doctor's office, and it's at home where they begin to deteriorate. RPM is about leveraging technology to collect health information on a patient daily, to detect the earliest signs of disease exacerbation. The aim is to prevent the smoldering wiring behind the walls from breaking out into a raging house fire," Jonathan says.
AMC's primary customers are insurance companies and hospital systems, who offer AMC's monitoring program to patients who would benefit from early detection of problems, in order to prevent costly hospitalizations. Depending on the diagnosis, biometric readings can include weight (rapid weight gain can be an indicator of swelling in patients with congestive heart failure), glucose levels, blood pressure, temperature, and blood oxygenation. Patients take their readings via medical devices provided by the company (scales, blood pressure cuffs, thermometers, etc.). These devices are paired by Bluetooth to a modem or tablet, which automatically relays the readings to the company's patient portal in the cloud. When a patient's reading is out of the acceptable range, an alert is generated. The portal is monitored by nurses, who follow up with patients each time there's a concern to determine if intervention is required.
When the coronavirus appeared, the company realized it was sitting right on the sweet spot. Suddenly, there was so much to be done.
"COVID was a monster that came out of nowhere, and we had to keep recalibrating as we learned more about this disease. For instance, once it became clear that COVID patients could be suffering from lethal oxygen deprivation without breathing difficulty (a condition called silent hypoxia), we gave all suspected COVID patients pulse oximeters," Jonathan says.
AMC also moved quickly to create a COVID screening questionnaire via interactive voice response (IVR) phone calls to catch early cases. This required chasing a moving target, as the symptom list kept evolving. But it paid off, as many of their customers use the system to monitor their patients for COVID. Those positive for the disease receive a four-week monitoring and educational curriculum.
But COVID turbocharged the company's growth for another reason: quarantine meant that chronically ill patients couldn't get to the doctor earlier in the crisis, and even now that it's been lifted, many patients still fear visiting a healthcare setting. In response, Jonathan explains, insurers are expanding the scale of their monitoring programs to help keep the sick from getting sicker. And programs that were in the works pre-COVID, such as home monitoring of women with high-risk pregnancies, suddenly hit the gas pedal as their need became urgent.
Yet just as the company's need for medical devices surged, the worldwide supply plummeted. They scrambled to find devices wherever they could. Their services were in more demand than ever, yet circumstances made it very difficult to meet that demand.
Meanwhile, while nurses all over the country were being laid off due to the steep drop in routine care, remote care companies like AMC have been hiring more nurses than ever. Their hiring of other remote-care clinicians, such as medical social workers and pharmacy technicians, has increased as well.  It's a trend worth noting.
As it rides its wave of momentum, AMC has its eye on expanding its services to other clinical arenas, such as cancer care, kidney disease, and mental health. The field has all the potential of a newborn baby.
The universe of health apps has experienced a big bang as well. Downloads of apps for meditation, mindfulness, and falling asleep have surged since the pandemic began — and the inventions that necessity has mothered capture the imagination. Elan Kvitko, a 27-year-old app developer in Manhattan Beach, Brooklyn, describes a surreal recent trip to the vet. A PA took his dog, gave him a pin code, and sent him to a huge outdoor screen that displayed the goings-on inside the clinic via an app. The app allowed him to speak directly with the vet, and then his dog's medicine slid down a chute in the wall of the building — directly into his hands.
Elan has a colleague who is creating an app that allows patients to schedule a phlebotomist to come to their house to draw blood. Results come directly to the patient's phone, and the patient can then videoconference the doctor through the app to discuss the results. All this without stepping beyond the front door.
Eli Rowe (CEO) and Moti Mitteldorf (CTO) of Wombacare, an artificial intelligence solution platform, have recently unveiled their new app, eVitals. A user simply takes a 45-second selfie video, and the app determines heart rate, respiration rate, oxygen saturation, and stress level. It does this by capturing minute changes in skin color between heartbeats, and comparing that information to a database of similar information culled from millions of people. Body mass index (BMI), weight, and blood pressure will be released to the app soon. The technology is mindboggling — and, Eli says, remarkably accurate.
"The intent of the app," he explains, "is to provide a way for healthy individuals to keep an ongoing record of their vitals, in order to establish a baseline and detect early changes in the wrong direction. When COVID hit, we released the app earlier than planned so that individuals concerned about the virus yet unable to get to the doctor could have instant access to this information."
The Takeaway
While some of these innovations, such as the vet's app, may outlive their usefulness once COVID fades, healthcare's embrace of technology is here to stay. The relationship is limited only by the bounds of technology and creativity.
"The way I see it, there is a role in the future of telehealth for every kind of health care professional, and the opportunity to work remotely is hugely attractive to some clinicians," says Jonathan Shankman of AMC Health. "While these technologies will never supplant face-to-face care, COVID has given the world a taste of how they can function as care-extenders, from medical consults to every kind of therapy and service — all except for the physical laying-on of hands."
Fill a Need
David Yudkin
Occupation: proprietor of a liquor store


Location: Brooklyn, NY
David Yudkin thought his timing was a slam dunk when he opened The Wine Tent the week before Purim 2020. He was right, in a way — his newborn business was instantly slammed and dunked.
Liquor stores were deemed an essential service and allowed to remain open during the coronavirus lockdown, but David quickly realized it would take more than a "We're Open" sign on his door to survive. Business at his store on Avenue U in Flatbush came to a complete halt.
"I've always been an ideas guy, and have run some creative businesses during my yeshivah days in Israel," David, 27, says. "It's all about seeing a need and acting on it." One of those bright ideas: A service that recruited armed IDF soldiers to escort jittery tourists from their vacation pads to the Kosel and back.
When COVID emerged, David's instincts guided him to find ways to distinguish his business from those of his competitors. He advertised that his store was open until midnight. He kept his prices low, and offered free delivery guaranteed to arrive within the hour anywhere in Brooklyn. He found a caterer making weekly deliveries to those locked down in the Catskills, Five Towns, and Manhattan, and arranged for his products to be offered as an accompaniment. Customers were given virtual tours of his shelves by videochat, with sommelier-worthy descriptions. Each of these initiatives bore fruit.
"I also realized that I was uniquely capable of giving people something they desperately needed — an escape," David says. Once a week after dark, his humble store transformed into a hip venue for a night out, perhaps the only one open for miles around. He dimmed the lights, brought in a guitarist, provided snacks and a selection of wines. Up to ten masked, socially-distanced people at a time rotated through all evening, until closing at 1 a.m. Time slots sold out fast.
But David used brawn as well as brains. He hired a crew to go door-to-door putting flyers with discounts in people's mailboxes, on cars, and more recently, in shuls. "I was surprised to discover that the old-fashioned slog work was more effective than any other measure," he relates.
With foot traffic a mere trickle on a good day, David knew that drumming up business online was a do-or-die proposition. He did massive pre-Pesach advertising of his rock-bottom prices on Instagram, and the payoff was quick in coming: calls flew in from Canada, Ohio, Florida, and elsewhere around the country. It was a swift lesson in the vast potential of online advertising. And using counterintuitive logic, he offered liquor promotions on Instagram blogs for women's accessories rather than, say, menswear, banking on the newness factor to catch his audience's attention. His instincts were spot on.
The Takeaway
For those eyeing a career in retail, now might be a propitious moment to jump in, Yudkin suggests. Everyone along the supply chain has been hard hit by COVID, and is eager to do business now that things are bouncing back to life. "Distributors are offering great deals in every area. For the same price, you can now get ten cases of merchandise instead of five. The cost of everything, down to my receipt paper and bags, is way down — even my window washer is only charging me half price," he says.
Paying attention to the mood of your clientele is key in retail, Yudkin cautions. "People are tighter with money now, so I'm increasing my variety of mid-priced wines, and focusing less on the higher-end bottles, which aren't selling as well. At the same time I'm always looking for exotic items you won't see anywhere else, which is always a draw. And if I get a request for something more than once, I do my best to track it down."
The recent lockdown will accelerate the general shift in retail toward online sales, Yudkin believes, as businesses and shoppers have been forced to turn to the net for most commerce. Adding an online component has the potential to catapult a retail business into another sphere. That being the case, a window display on Main Street is of less consequence today, and retailers who also focus on online sales can work from a side street and save significantly on rent.
For a guy in the business world all of four months, David Yudkin has been forced to grow up quickly and to think out of the box from day one. Melding ingenuity with tireless work has allowed his business to grow from the ground up amid a lockdown, despite having no customer base to start with — an impressive accomplishment. But if you ask him, it all comes down to tefillah. "I noticed an interesting pattern: Whenever I rush through Minchah to get back to the store, I run to nothing," he shares. "But when I take the time to daven properly, more people show up when I get back."
Designing the Future
Avigail Eisenstadt




Occupation: Commercial Design




Location: Inwood, NY
Halted construction projects during the heart of the pandemic meant no new contracts for the commercial design industry. Like everyone else, Avigail Eisenstadt, CEO of AE Design Group based in Inwood, NY, was just trying to hold on until construction would restart.
And then the call came from an old client: Can you design spaces at our nursing homes for residents and their families to safely meet? The toll of isolation on residents is too great to bear.
The contest was on at AE design — who would come up with the safest, most original, and most user-friendly design?
And so plans for the PlexiPod were born (it's expected to be rolled out within the next few months). The casual eye will see a sleekly designed living space enclosed in glass walls. A sheet of plexiglass bisects the room, but the design is so seamless that it's barely noticeable. The plexiglass divider keeps residents and their visitors safely apart, but physically close and with the feel of being in the same room.
But what you don't see — and that fact that you don't see it — is where it gets really cool. Each half of the room has independent ventilation, heating, and cooling systems. A voice-activated intercom system enables people on either side of the barrier to hear each other normally. Built-in mist spray sanitizes the space between each use, and the furniture includes copper and other materials with antimicrobial properties.
And the trimmings: A "hug wall" allows family to actually hug each other safely through a flexible material, and with screen-sharing technology, children can share drawings and messages with their grandparents on the other side of the wall.
Word of the PlexiPod solution spread, and the concept was soon featured in both the New York Post and Mcknight's Long Term Care News, a preeminent health care magazine. The design group has since gotten a spate of calls from both health care and commercial enterprises around the country. They also plan to make the component parts available in customizable kits for those interested in some but not all of the elements.
But designers don't need to be creating innovations like PlexiPods to expand their business, Eisenstadt says. The tragic toll of COVID in nursing homes has many facilities now scrambling to stay afloat. "I've gotten calls from nursing homes with entirely empty wings," she says. "They need to fill beds fast in order to survive. Despite their precarious situation, they're willing to spend on renovations to attract new customers."
The Takeaway
Looking ahead, Eisenstadt foresees a shift in the design industry. "I think COVID has given all of us in design a perspective adjustment. 'How can I design this space safely' will now always be part of the equation," she says. "There's growing interest in touch-free living, particularly in health care and commercial settings. An ambitious designer can approach nursing homes or office buildings and propose a safety overhaul — installing touch-free doors and faucets, and updating to furniture with antimicrobial properties and fabrics that are easy to clean."
In the broader world of design, those looking for a pivot should consider catching the home office wave — or impending tsunami. Twitter has announced that its employees can work from home forever, and many major companies are considering that model as well, after COVID has taught them that they can save significantly on costs without productivity suffering. Other companies are considering hybrid approaches, but one thing seems certain: there will be some kind of shift from the office-centric model that has reigned for decades. And that change will require new space.
"Are you locking yourself in your bedroom, sitting on your bed with papers strewn about while your kids bang on the door?" Eisenstadt asks. "Wouldn't having a proper office setup, with everything you need nearby — think coffee station, so you can avoid the kitchen — be beneficial to your productivity?"
Employees who work from home will still need to meet at times, so keep your eye on shared workspaces. The industry has had an incredible 200% growth in the five years before the pandemic, and a post-corona spike would hardly be surprising. It's a hot new market just waiting to be designed.
Even when change is unwanted, paying attention to its ripple effects often leads to opportunity.  And when that opportunity makes people's lives better, such as by encasing them in a futuristic-looking bubble of glass so they could finally visit loved ones, it's that much sweeter.
Manufacturing Success
Daniel Machlis
Occupation: lighting manufacturer


Location: Valley Stream, NY
Back in March, Daniel Machlis, president of PreciseLED, an architectural lighting manufacturing company in Valley Stream, NY, found himself in an ironic predicament. His company was subject to the manufacturing ban due to the coronavirus, but some of his biggest clients, such as La Guardia Airport — which is undergoing a massive overhaul — were charging full steam ahead. He needed to supply their orders — but how?
"It occurred to me that just as offices were shut down and work was done from home, we could do the same," the 34-year-old entrepreneur says. "Our actual factory had to close, but each technician's garage became his or her own mini factory. Each morning, the technicians would receive a delivery of parts they'd need for that day's work, and the finished products were picked up in the evening."
The company kept up a full workload, completing pre-coronavirus orders as well as new orders coming in from parts of the country that weren't in lockdown. But that doesn't mean it was a smooth ride. By the time most Americans woke up to the virus threat, companies relying on parts from China hadn't received shipments in over a month.
PreciseLED is fortunate in that ninety percent of the parts they need are stored in their warehouse, so they had those in reserve. The trouble was acquiring the other ten percent which they usually obtain from Chinese suppliers. "We found a place in Chicago that was able to do some component manufacturing for us. But certain parts couldn't be produced there, and we had no choice but to put some orders on hold," Machlis says.
If you're following trends in the lighting world, you know that Ultraviolet (UV) lighting has received much buzz recently — a Google search of the words "ultraviolet light coronavirus" turned up hundreds of articles. UV light has been proven to kill viruses and is already in use in health care facilities. "But it's the Wild West, with people jumping on it now despite the fact that so much still needs to be figured out. Does the touted germ-killing hand-held UV wand actually work? Does UV light kill healthy, necessary germs along with the bad ones? There's untapped potential here, for sure, but it needs to slow down and follow the science," Machlis says.
Even further afield, he wonders if sun tunnel lighting might soon have its moment. Unlike solar-powered lighting, which converts the sun's energy into electricity, sun tunnel lighting traps and utilizes the actual light of the sun. It's not popular because it puts constraints on the way a building can be constructed, but the pandemic has left some people feeling that man-made systems are vulnerable, and the sun might seem a safer bet.
The Takeaway
Machlis's coronavirus takeaway 101 for any and all manufacturers: diversify your suppliers as much as possible, both within and among countries. Diversifying your own operations, if possible, is also advantageous. Machlis knows of a lighting manufacturer with operations in both Long Island and Atlanta. As soon as COVID shut down New York, they operated at full capacity out of Atlanta, which hadn't been hit with the same force.
While things have since returned to almost-normal for the company, there are murmurs of change among industry insiders. "There's been talk in my industry of a suburban shift, as people may want to avoid dense urban areas," he says. "I've heard that contractors of large suburban homes have done well the past few months." If that trend holds, commercial lighting may be edged out by home office lighting, a whole different breed.
Reflecting on the five trade shows he planned to attend/exhibit at but were canceled this year, Daniel senses a void waiting to be filled. "Someone has to figure out how to do this virtually," he says. "While you do come across an occasional virtual trade show, the customer is limited by the inability to look at products three-dimensionally."
A better option, he envisions, would be mixed-reality trade shows. In this scenario, there is a physical trade show in, say, Hong Kong. Unable or unwilling to travel the distance, a participant could have a robot be his feet on the ground. The robot, whose head might feature a screen with the participant's face on live video, could walk among the stalls, circle around products to examine them from any angle, interact with vendors…all controlled by the participant back in his own home or office. This would be a fantastic application of technology that is already utilized in other settings.
But at the end of the day, Machlis understands that as much as we can try to learn from experiences to obviate future problems, there's always another unforeseeable monkey wrench, if G-d so wills it.
"I try to have extra kavanah during the brachah 'Atah chonein l'adam daas,' because I'm more aware than ever that I need His help to navigate my life," he says. "Every solution I came up with to work around coronavirus was planted in my head directly by Hashem."
(Originally featured in Mishpacha, Issue 819)
Oops! We could not locate your form.
>