| Text Messages |
Step Up and Be Counted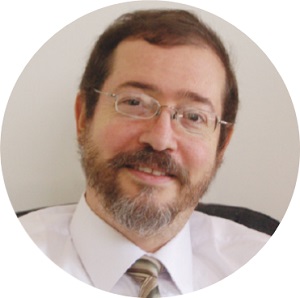 | May 18, 2021
If this survey includes people who aren't actually Jewish, it also excludes people who are
Last week, the Pew Research Center released a survey entitled "Jewish Americans in 2020," the first major study of American Jews since Pew's wide-ranging and oft-quoted 2013 survey entitled "A Portrait of Jewish Americans."
In many areas, the new survey's findings show little change in the American Jewish landscape from seven years ago: The intermarriage rate for those who've married since 2010 is at 61% (rising to 72% in population samples excluding Orthodox Jews), although it is still the case even among Reform Jews that 84% have a Jewish mother or two Jewish parents. The breakdown of religious affiliation is: Reform, 37%; Conservative, 17%; Orthodox, 9%; and unaffiliated, 32%. All these figures are nearly identical to those of seven years ago.
But there are changes, too. The new survey estimates the Jewish population at 7.5 million, or 2.4% of the US population, compared with 6.7 million, or 2.2% of Americans in the 2013 survey. Could the number of American Jews really have increased by 800,000 in just seven years? The study's authors caution that the precision of its population estimates "should not be exaggerated" and note that because "the 2013 study was conducted via random-digit-dial phone interviewing, while the 2020 study was conducted via mail and web," comparisons between the two surveys are difficult to make.
It must also be borne in mind how the survey created the definition of "Jew." They surveyed "people who say their religion is Jewish and do not profess any other religion" and "Jews of no religion… but who had at least one Jewish parent or were raised Jewish and who still consider themselves Jewish in some way…."
But if this survey includes people who aren't actually Jewish, it also excludes people who are. It does so by creating a category for people it says are not Jews but are "of Jewish background," i.e., who have Jewish lineage but either identify with another religion or have no religion and do not consider themselves Jewish in any way.
That gives rise to the following irony: Of the 5.8 million adults this survey considers Jewish, only about 4.8 million say they have a Jewish mother, while of the 2.8 million of "Jewish background," about 1.3 million say they have a Jewish mother. That means that in reality there are actually 6.1 million Jewish American adults (assuming all their mothers were really Jewish), which is 300,000 more than this survey acknowledges.
Another significant change reported by Pew is that the fastest growing two groups of Jews ages 18 to 29 are self-described atheists, agnostics, or "nothing in particular" (about 40%), and the Orthodox (at 17%).
But whether our young people under 30 comprise 17% or even just 7% of all young Jews is mostly irrelevant. Because even if we were a whopping 77% of the total, our challenge would be the same — the urgent need to rescue the other 23%, numbering hundreds of thousands of Yiddishe neshamos, from spiritual oblivion. If we mean it when we talk about the preciousness of every single Jew, then multiplying that by the number of Jews bereft of Torah means we face a challenge of overwhelming proportions.
But are we even prepared or — dare I say — interested to do so? On that score, this survey seems to deliver some not-very-good news. For instance, just 9% of Orthodox Jews say they have a lot in common with Reform Jews, and another 41% say they have some things in common. Perhaps that can be understood on some level — but it also means 50% of frum Jews say they have nothing at all in common.
Yes, it's true, the numbers reflect that Reform Jews reciprocate the alienation and then some. But we're the ones who believe in a Torah that says our neshamos were all hewn from the same place On High.
It's we who learn and observe the halachah that one Jew can be motzi another one in a mitzvah he himself has already fulfilled because until every other Jew in Klal Yisrael has performed it, he hasn't completely discharged his own obligation. Reform Jews, on the other hand, have been taught by their religious handlers there's no such thing as an obligatory mitzvah.
The numbers on Orthodox feelings of commonality with Conservative Jews are slightly more encouraging — until one reads on to find that they feel they have more in common with us than we feel we have with them. Then again, the percentage of Orthodox Jews who feel they have a lot in common with other Orthodox Jews is only at 79%. One can only hope these numbers are skewed.
The real relevance of Orthodox population growth, then, is not for us, but for whether and how the non-Orthodox establishment will adapt to that reality. In a JTA opinion piece, Edieal Pinker, deputy dean of the Yale School of Management, writes of the new Pew survey that if history is any guide,
the organized U.S. Jewish community will use these figures when allocating its investments in the Jewish future. Policymakers will call for more investment in the demographically fading populations in hopes of stemming the tide. But the Pew 2020 findings suggest the need for just the opposite: The demographically thriving parts of the population are exactly those that want and need more resources and infrastructure….
A common view, put coarsely, is that the Orthodox don't need much help: They prioritize Jewish life already and are a small population. Therefore, resources should go to serving the much larger but more loosely affiliated Jews to draw them in. In that thinking, the Orthodox are peripheral to the majority Reform/Conservative-led community.
Demographic realities are making this logic obsolete. For example, Orthodox children today are probably 30% of the total of all Jewish children and growing steadily. Supporting their education is no longer a niche activity, especially if you include the children from other branches who seek day school education in Orthodox settings.
Jews who are more engaged need to live in areas with other engaged Jews in order to have access to the Jewish infrastructure they need and desire. Their need for critical mass, greater investment in Jewish activities and growing numbers will lead the more observant Jews to have a disproportionate role in the lives of their communities…. Thus the notion of what is the core of a Jewish community will be inverted. Done right, this new core, with many religious, cultural and social institutions, will provide opportunities for Jews of all stripes to engage.
But then Pinker lets drop the other shoe:
With centrality comes responsibility. During this period of growth, Orthodox Jews, particularly the Modern Orthodox, must take a leadership role that is inclusive so that their newfound strength is a resource for the non-Orthodox as well. This requires a transition from insularity to outreach and mutual respect.
He's right that the more central we become within American Jewry, the more responsibility we must shoulder. That's true regarding financial support and leadership of key communal institutions, and it's true for the need to act as a responsible, law-abiding, engaged community of citizens who act with the best interests of the country and their fellow citizens in mind.
For Dr. Pinker, responsibility raises the coming need on the part of the Orthodox for inclusivity and outreach and mutual respect. And on the personal level, those are of course both possible and laudable. But on the institutional level, to the extent those are euphemisms for recognizing and respecting the religious standing of personalities and organizations whom a Torah Jew often cannot, rabbinic guidance will be crucial.
Originally featured in Mishpacha, Issue 861. Eytan Kobre may be contacted directly at kobre@mishpacha.com
Oops! We could not locate your form.
>