| Magazine Feature |
Stand Up and Be Counted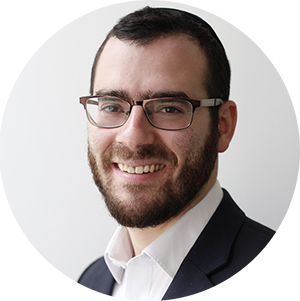 | March 3, 2021
Rabbi Paysach Freedman cuts red tape and opens doors for Anglos in Israel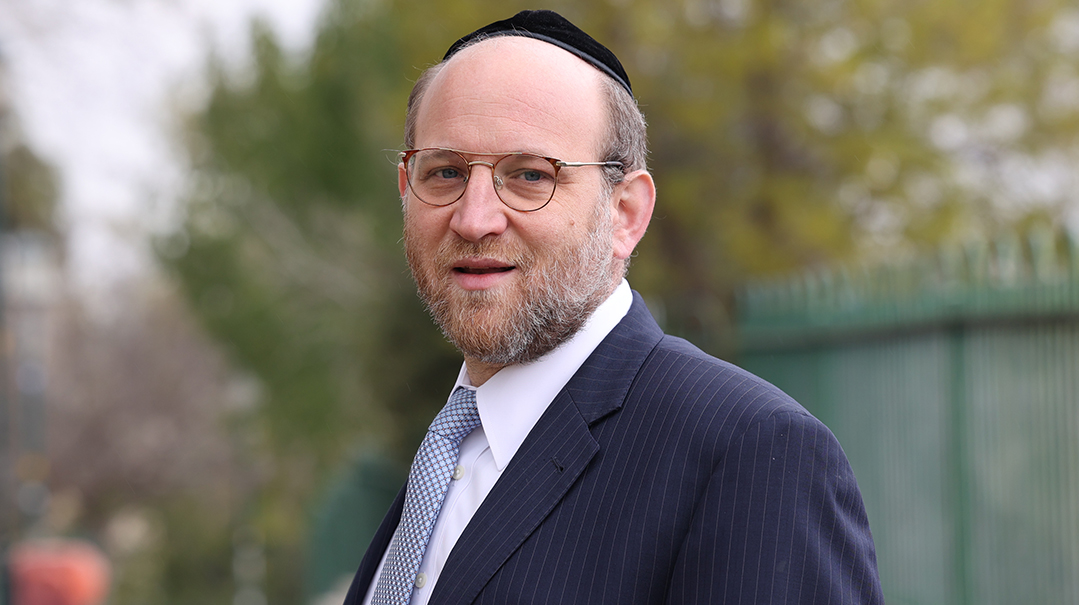 Photos: Eli Cobin
I
f there is a geographical center to Jerusalem's sprawling English-speaking yeshivah and kollel life, it's probably Givat Moshe, a neighborhood abustle with avreichim and yeshivos — a short journey to Belz one way, up the road from the Mir empire another, and just over the junction from the American strongholds of Ramat Eshkol and Maalot Dafna. Better known by its municipal map allocation as Gush Shmonim ("Bloc 80"), a more fitting moniker would be Kollel Mile.
And that's why crossing the threshold of Rabbi Paysach Freedman's office from the heimish world beyond feels a bit like a disconnect. The mahogany desk, wall-mounted flat-screen, and Rabbi Freedman's own monogrammed shirt-cuffs are not quite C-suite. But they're definitely more boardroom than Bar Ilan, the main thoroughfare down the road.
Yet that executive feel is key to understanding the man behind the neat desk and what he's achieved. Over the past five years, Paysach Freedman has turned Chaim V'Chessed, an American-style advocacy organization to help thousands of English speakers navigate Israel's labyrinthine bureaucracy, into the primary address for communal troubleshooting. Along the way, he's emerged as a key figure whose organizational clout has opened doors to local and national politicians for the large yet often-underrepresented English-speaking community.
In a country blessed with an abundance of askanim — a label he shies from — Rabbi Freedman has brought an American sense of scale to the business of advocacy. The 8,000 monthly calls fielded by the organization's 19 representatives are split between information provision, emergency assistance, and government affairs. And with representatives on the ground in Jerusalem's hospitals, Chaim V'Chessed's medical team advocates for patients where it matters, from accessing doctors to quite literally procuring an extra pillow.
But it's a year of COVID that has brought Paysach Freedman into the big leagues. Sitting at a desk dominated by two large flat-screens, wearing his call-center-style headset, the Baltimore native has played a role in some of the English-speaking community's COVID victories. He lobbied for the protocol enabling yeshivah and seminary students into the country, has reunited olim separated by travel restrictions, and has helped foreigners benefit from Israel's vaccination program. It's been an uphill struggle.
"Families who've lived here for years have been blocked from coming back into the country, or torn apart on different sides of flight bans," he says. "Peoples' visas have expired and they've lost health insurance. Corona has made 'hovering' in Israel without citizenship extremely difficult."
As Rabbi Freedman briskly processes calls about the country's ongoing travel ban and answers staff requests about medical cases, there's something intriguing about the way he juggles so many balls. With his natural talent, honed by years of communal activism, this is a man who's hit his stride.
And listening to Paysach Freedman, there's a sense of something greater in the works: The reason that he's become indispensable over the past year is because he's cracked the code of exercising influence in Israel. After months interfacing with the Knesset and government ministries solving COVID-related crises ("Name a government official," he quips, "and let's see if I can get his number within five minutes,") Rabbi Freedman's pre-COVID convictions about the need for a higher community profile have only grown stronger.
"The English-speaking community is 100,000-strong. We have our own needs, but we're used to keeping quiet and being taken for granted by politicians," he says. "It's time for us to stand up and be counted."
The Whole Picture
Israel's English-speakers' gain might have been the business world's loss. Early on, young Paysach was recognized by friends as someone likely to make his mark in the business world.
"People always thought that I would be an entrepreneur. My friends from school remind me of all types of different geshefts I set up, and thought I'd make my first million by age 30," he smiles. "But instead, I became a chesed entrepreneur, and fundraised my first million by then."
Business or otherwise, entrepreneurialism wasn't a hallmark of Paysach Freedman's upbringing. Beginning with his zeide Rabbi Hirsch Diskind — a leading talmid of Rav Yitzchak Hutner, who went on to become Rav Yaakov Kamenetsky's son-in-law — this was a chinuch family.
Rabbi Diskind became the dean of Baltimore's Bais Yaakov in 1952, a position he held for over three decades until he retired and moved to Israel in 1987. At that point, his son-in-law and Paysach's father, Rabbi Mendel Freedman, took over the reins, until his own untimely passing in 2017.
"I didn't follow the paths of becoming a gadol hador, a rosh yeshivah, or a school principal," says Paysach Freedman, who is still very much part of the yeshivah world, "but I did try to follow the example they set of taking leadership roles and being major baalei chesed. Although my father was a legendary mechanech, at his shivah the stories told were all about his public and private chesed."
One example: At the same time as Rabbi Mendel Freedman had heart surgery, one of his Bais Yaakov talmidos underwent a similar operation. "You and I are the same now," he told her, making her feel that she had a real advocate and someone who could fully understand her.
Those lessons in leadership and thinking big were important, as was the Kamenetsky family name, which helped open doors down the line, but the road to tzedakah work was long. In fact, it emerged from another direction.
"In the early 2000s, I joined a number of avreichim from Mir who were brought in to strengthen Aish HaTorah's beis medrash," Rabbi Freedman relates. "We learned under Rav Yitzchak Berkovits, and as a result of his shiurim on bein adam l'chaveiro, we started a network of night kollelim called Linas HaTzedek, learning these halachos, which are largely unknown."
At its peak, the network numbered 18 branches across Israel, and produced a series of seforim that sit today on the Chaim V'Chessed shelves. But then came the 2008 crash, and funding cuts reduced the number of branches to three.
It was at that point that a formative influence appeared in Paysach Freedman's life. While a framed photograph on one of the clutter-free office walls bear witness to his close relationship with his grandfather, Rabbi Hirsch Diskind, which deepened when Paysach joined him in Israel, the opposite wall features the man most directly responsible for the Freedman story.
"That's Rabbi Chaim Goldberg," points Freedman. "He was the gadol hador of tzedakah. He was a Chicagoan who lived around the corner from here on Rechov Elkanah, and he knew by heart the names of 30,000 people who he'd helped across Eretz Yisrael, never taking a salary despite the tremendous sums of money coming through his hands. His mind held every detail of a situation, often including names of a recipient's children, parents, and even grandparents."
Already involved in tzedakah matters when he met the legendary Rabbi Goldberg in 2008, Freedman has soon placed himself alongside the older man. "People would send major amounts of money to Rabbi Goldberg — $5–6 million a year."
In fact, Chaim V'Chessed was founded and named in 2015 as a zechus for Rav Chaim during his illness. He passed away the following year.
"What I learned from Reb Chaim Goldberg was that if you have a heart, then there's no such thing as being involved in tzedakah without chesed," Rabbi Freedman says. "If you're helping someone with money but then discover that they have medical issues, you need to get involved in so many different areas. That attitude led to becoming multidimensional, to get involved in the whole problem. When I went from running Linas Hatzedek to starting Chaim V'Chessed, I went from teaching bein adam l'chaveiro to doing it."
The final impetus for Rabbi Freedman's metamorphosis into his current role was personal experience. "When we had our seventh child, who was born with a rare syndrome that needed immediate intervention, it was like walking onto a new planet," he recalls. "Disability, or 'neichut' in Hebrew, is difficult to deal with anywhere, but in a foreign language all the more so. Bituach Leumi — Israel's national insurance institute, which provides payments for these issues — was like a maze. I said 'I wish there was an organization that helped English speakers with issues like this.' "

He's Figured It Out
Paysach Freedman knew exactly what he wanted from the fledgling organization he created — to help English-speakers like himself manage the system as well as their native-born neighbors.
"Israelis know how to finagle their way through a situation," he says, "but due to language limitations and cultural differences, Anglos are often lost.
"About 70% of the files that are opened by a phone call to the system are settled simply by our staff providing information," he explains. "We will explain even basic things like the difference between a doctor's 'hafnayah' (referral) and 'hitchayvut' (the health fund's note of coverage for treatment.)"
With Israel's repeated closure of air travel over the past year, his information bureau turned into a travel advisory as well. People from as far afield as Italy and Australia caught wind of the fact that Pesach Freedman had up-to-date travel information in a rapidly shifting environment, and so his organization took over where Israeli government websites fell short.
But information is only the first stage; many phone calls are a result of an emergency, and much of Chaim V'Chessed's traffic is at the interface of Israel's medical and social-relief authorities.
"We had a recent case of American parents who gave birth to a baby that had neurological problems, and was kept in the NICU at Hadassah Hospital," says Rabbi Freedman. "They were on a tourist health plan, which doesn't cover cases like this, so we were able to get them on Bituach Leumi, to get full health insurance, even though they didn't have a valid student visa."
But the saga continued when the anxious parents were told to transfer the baby for treatment in the US, and the embassy — operating under COVID protocol — only offered them an appointment in a month.
"The pre-Covid process was that the embassy would send someone to the hospital to identify the patient for a passport, but they'd stopped doing this. Using our relationship with the embassy, we were able to get a waiver, as well as an immediate appointment, and they flew out a few days later."
For Mrs. Naomi Tendler, who's lived in Israel for 15 years, the key to Paysach Freedman's success is his ability to build relationships for the benefit of the wider English-speaking community. "I email them all the time, whenever I don't understand how to do something. But a few months ago I had a baby who we were told would need medical attention straight after birth. As an American living in Israel, we can only get Bituach Leumi insurance when the baby has a passport. Rabbi Freedman was able to assure me that the baby would get medical insurance straight away.
"He pulls strings where necessary, but his strength is making changes to the whole system so that everyone can benefit," she says. "And despite his organization being involved in thousands of cases, he's still devoted on a personal level."
Even those who are confident in their own abilities to navigate the system sometimes need a Paysach Freedman. Project Inspire's Executive Director Yossie Friedman (no relation), a Flatbush-born Jerusalem resident.
"I'd actually recently emailed them for help for the first time ever. I consider myself pretty capable — I never needed them years ago when I was busy fighting a 17,000-shekel water bill."
That all changed when Friedman's daughter was told by her high school that she wouldn't be able to get qualified in what she was studying, because only Israeli citizens could register for the exams. The system, so it turned out, wouldn't issue an ID to a foreigner, even a long-term resident.
The school effectively shrugged, and weeks before the exam, the Friedmans were left to fend for themselves. That was until they discovered that Chaim V'Chessed was already working on similar cases. A week before the test, the coveted ID number materialized.
"People say to me, 'you would have figured it out,' " says Yossie Friedman. "But I honestly don't know. There are a lot of successful machers in Israel, but Paysach Freedman has figured out a system that helps lots of people at once, like us."
In a theme that crops up again and again in conversations about Paysach Freedman, Mrs. Rachel Klein, who'd already been living in Israel for 20 years when a family crisis struck, says that previously, "we had no support when dealing with emergencies."
When they discovered a strange protrusion in their daughter's neck, the Kleins were at a loss how to speed up the wheels of medical treatment. Doctors were unsure what the cause was, and a specialists' appointment was weeks away. That was when someone suggested calling Paysach Freedman. Within days they had an appointment, and when it turned out that treatment in America was the best option, Chaim V'Chessed was there to make arrangements overseas.

Filling In
A few miles away from Paysach Freedman's office, with its cream walls and corporate logo, Ahrele Weingarten is the organization's friendly face to those most in need.
Chill winds gust around him as he stands in front of the massive Hadassah Medical Center in Jerualem's Ein Kerem. With bunches of keys, an omnipresent phone and clear talent for multitasking, he's an example of an overarching Paysach Freedman operating principle: When in doubt, hire Israelis to deal with sabra bureaucracy.
"Even Israelis have a hard time here," says Ahrele Weingarten, "and Americans are either too shy or have a language barrier which can prevent them getting what they need."
Weingarten's modus operandi: Know everybody.
While we're speaking, an elderly couple stops to say hello, and a smiling Weingarten pauses to check how their case is progressing. A minute later, a nurse interrupts to tell him that she's moved some paperwork along. It's a small indication of what value the organization provides by being on the ground, not just consulting over the phone.
"I know the medical staff, from doctors to nurses. I've got to know the secretaries, and can direct a patient to one who will be most helpful with a certain issue," says Weingarten.
It's one of the bugs of Israel's health system that patients, once referred to hospitals, enter a self-contained system with its own internal code. "Israel's health system is made up of Kupot Cholim, or health funds, but they have no connection to the hospitals," explains Freedman. "There's a firewall between them, and so even if a doctor says that a patient needs an urgent appointment, the hospital might say that they have to wait a month. Or the hospitals might cause problems in accepting the insurance. By being on the ground, we can use our connections to expedite things."
But in a country blessed with a slew of well-known medical advisers who can get appointments with leading doctors worldwide, why does Chaim V'Chessed need to step in? "Medical askanim generally don't help with mundane matters," he says. "They're there for acute or life-threatening cases, so we fill that gap."
A distressing example of what the organization's people on the ground deal with every day comes in a phone call.
"Please help me, please help me. I don't know what to do next," comes a woman's voice over the phone from a major hospital. "My husband has cancer and major organ failure, and the hospital wants to send him home. After nine months looking after him myself, I'm worn out and need help so badly."
The desperation is audible as she lists, in striking detail, whom she's approached at which medical and social agency. Yet despite this knowledge, the caller is unable to arrange for her husband to be cared for at home.
"They absolutely should not be going home until this is arranged," says Rabbi Freedman. "We'll hook them up with a company that provides care and get Bituach Leumi to cover it."

Tough on the Outside
Often, though, it's these medical cases that provide the impetus for advocacy. "There was a girl in seminary here who developed a tumor that resulted in blindness," relates Rabbi Freedman. "There are disability grants for something like this, but then a bug in the system appeared. The welfare ministry said that as a foreign-passport holder, she wasn't eligible for a blind certificate."
In a lengthy bureaucratic battle, Rabbi Freedman lobbied for a year until the student got her rights.
"Then as often happens in these cases, as soon as we'd won that battle, Hashem sent us another two cases like it."
It's not just the language issues foreigners face when up against local bureaucracy. "Each ministry or office has a different culture, and you need to know when banging on the table helps and when it will be counterproductive," Rabbi Freedman advises. "Even Israelis need a leg-up in some of these places."
There are other cultural differences that put English-speakers at a disadvantage as well.
"Fifty percent of applications for disability allowances get rejected by Bituach Leumi on first try, and the average immigrant gets discouraged," he says. "Also, a mother's instinct is always to portray her child in the best light, but here you need to present the problem in the starkest truthful way, because otherwise the parents won't get the relief they need."
Staffing both the general inquiries and disability desks, Mrs. Gitty Garfinkel says that successful advice in these sensitive areas means feeling out in a gentle way what the caller's situation really is.
"We're not trying to pry, but there could be related issues that affect how the authorities assess a person's application. For example, if a mother can't hold down a job because of the child's condition, that should affect the outcome. The family may be eligible for discounts on their utility bills. We need to be able to tell them what to focus on in the short time slot they're given in front of the va'adah, the panel that assesses cases."
If learning the highways and byways of Israeli bureaucracy has been a journey, Rabbi Freedman has gained some heartwarming insight into Israeli officialdom. Under the tough Middle Eastern shell that coats many a sabra pen-pusher, is some warm Mediterranean sun.
"Behind the crusty mask there's a warm friendly Jew, no matter if they're religious or not," says Rabbi Freedman. "If you deal with them as people and ask for a chesed, they sometimes go back to the office after hours to print a passport for an oleh chadash in need."

Advocate-General
COVID-19 has changed many things about Israel, but the fact that yeshivah bochurim and seminary students have continued to be a fixture of Jerusalem streets this year, despite the flight bans, was a major achievement.
In the struggle to open the borders during the summer, Paysach Freedman, among others, played his part. Partnering with Rabbi Nechemiah Malinowitz of the Igud Hayeshivos, a body established to represent yeshivah and seminaries with students from overseas, he lobbied the government to draft guidelines to let foreign students in even when the skies were closed.
That widely reported success — followed by a series of other engagements with Israeli authorities to keep the pipeline open — taught Rabbi Freedman valuable lessons about how to get things done in Israel.
"At the beginning of Israel's third lockdown, when the airports were still open, the government suddenly announced that even those with entry permits wouldn't be allowed in," explains Rabbi Freedman. "We got Knesset Constitution Committee chairman Yaakov Asher of Degel HaTorah to invite us to the committee meeting to approve the law, and we raised a hue and cry. We told them, 'How can you refuse to admit people who live here?' "
The clause banning people with visas was changed for married couples, but a ban on singles returning was still in force.
"So we engaged a leading Jerusalem law firm, who wrote to the Interior and Health Ministries that enforcement of the government's decision as it stood was discriminatory," Rabbi Freedman relates. "The law doesn't differentiate between single and married people, and the interior minister would have to show compelling evidence that singles were more dangerous from a medical point of view."
A few days later, the campaign moved up a gear, when the letter was followed by stories in the media about the legality of the move. It wasn't long before the embargo was lifted and visa-holders were allowed back into the country.
COVID has taught Rabbi Freedman what tools are needed to play in the big leagues of advocacy, and strategies like using the press have proven effective in individual cases as well. "We had the case of a hearing-impaired child in Jerusalem, and the municipality is required by law to provide 'kitat shema' classroom equipment to enable the child to participate. Three months went by, and the iriyah blames the foot-dragging on the lack of a government coalition to release the funding.
"So we turned to the media. After an article appeared in a newspaper about the child's plight, the classroom was quickly outfitted."
The term "deep state," signifying an all-powerful bureaucracy with its own agenda is in vogue at the moment, but in the case of Israel, a small country, access to those civil servants is indeed crucial, as Freedman has learned.
"Meir Spiegler is CEO of Bituach Leumi, which makes him one of the most powerful people in the country. I met him briefly in the Knesset, and once he'd checked that we were a bona-fide organization representing a large constituency, he gave me his number."
Sometimes, advocacy is a matter of educating officials about the needs of English speakers. Perhaps due to a subconscious bias that says that Americans are wealthy, the website that Aryeh Deri's Welfare Ministry used to launched a 700-million-shekel poverty relief fund was in Amharic and Russian, but not English. "Any time we get into a government office we push this," says Freedman.
Hearing the American-dressed CEO talk of wielding influence through classic Israeli protektzia instead of changing the way things operate is surprising. But he's clear about the wisdom of his approach.
"People say that we have to change the system, and when I was young and dumb, I thought that I could do that," Paysach Freedman explains. "But now I see that we have to work within the systems so that chutznikim can navigate them as well as Israelis do."

Invisible No More
While COVID has doubled Paysach Freedman's workload, he's looking ahead at the bigger picture.
The Jerusalem mayoral elections of 2019 were a coming-out party of sorts for both the chareidi English-speaking community's own political clout. "Degel HaTorah attributed two of their six municipal council seats to English speakers. We helped to get out that vote," he says.
Dividends came quickly in the form of Jerusalem mayor Moshe Leon's attentiveness to the community, as well as newfound courtship by national Degel leadership, helped along by the rise of English-speaking MK Yitzchak Pindrus.
"The more contacts we have with officials, the more we can help people. And the more we're seen to represent voters, the more access we get," he says.
In a country in which a bit over 25,000 votes are a Knesset seat, Jerusalem's English-speaking population alone could be worth that, and yet unlike other immigrant groups from Russians to French Jews, Americans have been largely invisible as a group.
The end goal is to have a full-time Knesset lobbyist, he says. "Even decades after their aliyah ended, Russian speakers have a Russian-speaking party here. While we don't necessarily need our own party, we definitely need our voice to be heard in the halls of government."
While Rabbi Freedman himself denies any political ambition ("I've seen too much of it to want to do it myself,") he believes that at the next municipal elections in Jerusalem, the English-speaking community's numbers will be recognized with a seat at the council table.
Asked what he'd do with an additional $10 million budget, Rabbi Freedman responds as if it were all planned out: "I could do loads with half that amount — a representative in other big hospitals outside Jerusalem, where we currently have lots of people calling us from but no one physically there, and a Chaim V'Chessed station in the Jerusalem municipality, so that we can help people on the ground."
But while he's focused on the big picture, the long view tells Freedman that things are gradually improving. The fearsome socialist-style Israeli bureaucracy is giving way to something more customer oriented.
As he concludes a year of advocating for Israel's English speakers amid the chaos of corona, Paysach Freedman thinks his organization's biggest achievement is helping people stand on their own feet in a foreign country.
"There are many things that people thought you had to pay someone to do," he says, "but we've empowered English-speakers with information to act for themselves."
And in what's a benchmark of progress for him, officials he works with have told him that his entrepreneurial drive to create American order out of mayhem — his different style of business — is being noticed.
"You're not really an Israeli organization," Paysach Freedman was told. It's a badge he's not embarrassed to wear.
But back from the macro to the micro, the number-one question he's bombarded with as Pesach looms, and as Israel's borders are almost totally sealed is: "Will we be able to fly home?"
His answers don't provide much hope. "Foreigners can leave but may not be able to come back," he says, "and those with dual citizenship have to sign that they're planning to be away for sixty days."
But in the COVID era, he qualifies, today's information may have no bearing on tomorrow. "When I'm asked what will be next week, I tell people that I'm neither a kattan nor a shoteh."
(Originally featured in Mishpacha, Issue 851
Oops! We could not locate your form.
>