| Recipes |
Split Minute Roast with Mushroom-Wine Sauce
| September 14, 2021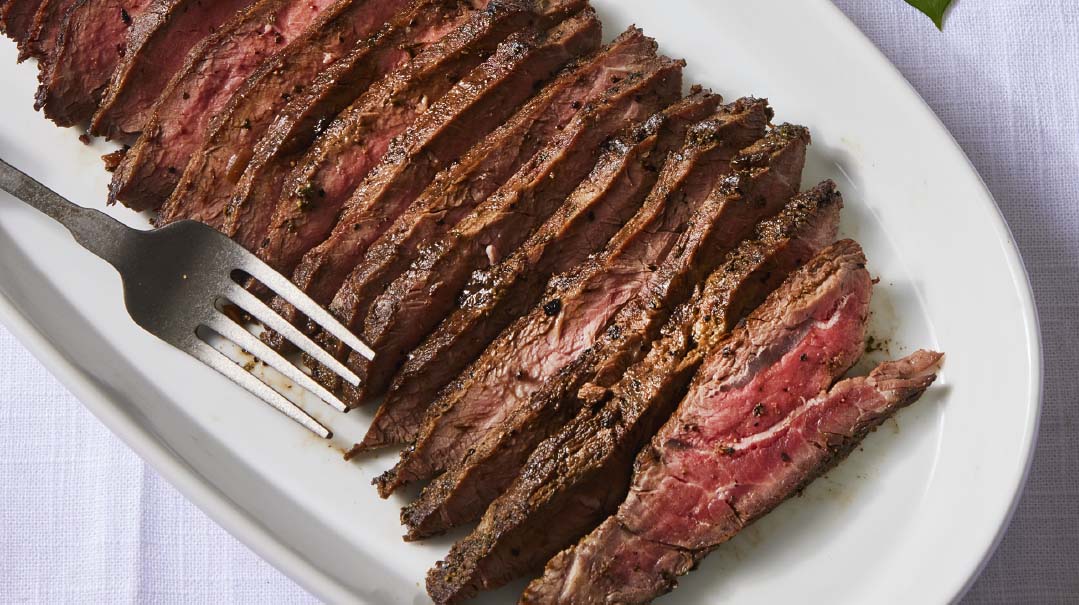 Props and Styling by Goldie Stern
Photography by Felicia Perretti
What I love about this sauce is that it refuses to rely on the meat to make it shine. The sauce gets cooked down for a while, infusing the mushrooms and onion with a rich red wine flavor. Have it in a bowl with a spoon, too. I've been there. I won't judge.
SERVES 8
1 1½–2-lb (¾–1-kg) split minute roast
olive oil, for seasoning
salt, pepper, garlic powder, and dried parsley, to taste
spicy brown mustard or Dijon mustard, for seasoning
Mushroom-Wine Sauce
4–6 shallots, sliced, or 4 red onions, diced
2 cloves garlic, sliced
oil, for sautéing
8 oz (225 g) white mushrooms, sliced
2 Tbsp honey
2 Tbsp Lieber's Balsamic Vinegar
⅓ cup dry red wine
1 cup water
1 Tbsp onion soup mix
Season the top of the split minute roast with olive oil, salt, pepper, garlic, and a squirt of spicy brown/Dijon mustard. Turn over and do the same to the bottom. Grill for 4–5 minutes on each side.
Heat oil for sautéing in a medium saucepan or frying pan. Add shallots and garlic and sauté till soft, about 7 minutes. Add mushrooms and sauté for a few more minutes. Add honey, vinegar, and wine. Mix and bring to a low boil. Add water and onion soup mix and mix again. Simmer over very low heat until very reduced, about 30–45 minutes.
Slice roast and serve with sauce spooned over the top.
(Originally featured in Family Table, Issue 760)
Oops! We could not locate your form.
>