| Recipes |
Spicy Vodka Lasagna
| May 17, 2022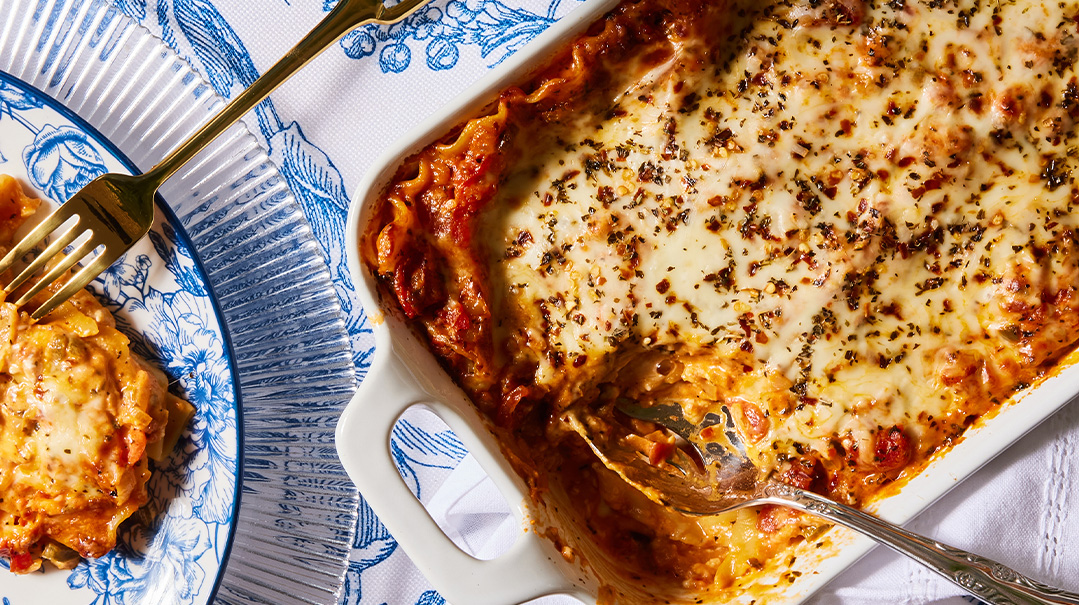 Food and Prop Styling Goldie Stern
Photography Felicia Perretti
I admit to getting a little thrill of excitement from the prospect of making noodles and cheese the star of the seudah. What was once a Motzaei Shabbos comfort food gets elevated to main dish status for one of the Shalosh Regalim!
Jokes aside, this is not your typical mac-and-cheese. The homemade spicy vodka sauce does wonders in elevating this dish from typical lasagna to Yom Tov-worthy. Enjoy!
SERVES 8
1 lb (450 g) raw lasagna noodles
1 cup Mehadrin Cottage Cheese, divided
3 cups shredded mozzarella cheese, divided
Parmesan cheese, for sprinkling (optional)
oregano, salt, and crushed red pepper, for sprinkling (optional)
4 Tbsp water, divided
Spicy Vodka Sauce
5 Tbsp butter
1 onion, diced
1 jalapeño, diced
salt, to taste
4 cubes frozen garlic
2/3 cup vodka
6 Tbsp tomato paste
2 14-oz (400-g) cans diced tomatoes
2 cups heavy cream
2 tsp salt
1 tsp oregano
1 tsp basil
pepper, to taste
Preheat oven to 375°F (190°C).
To make the sauce: Melt butter in a saucepan over medium heat. Add onion and jalape​ño and sauté until the onion is translucent. Add salt and garlic cubes and mix until fragrant.
Add tomato paste and mix well. Add vodka and let simmer for 2 minutes. Add the diced tomatoes, heavy cream, and seasonings. Bring the mixture to a simmer and cook for 5 minutes. Remove from heat.
Spread a spoonful sauce on the bottom of a 9x13-inch (23x33-cm) baking dish. Top with a layer of noodles, 1 cup of sauce, and 1⁄4–1⁄3 cup cottage cheese. Mix the sauce and cheese and then top with a layer of mozzarella. Repeat layering 2–3 more times, until sauce is finished.
If desired, add a sprinkle of Parmesan, then sprinkle with oregano, salt, and crushed red pepper.
Pour 1 Tbsp of water into each of the four corners of the pan. Cover and bake for 1 hour.
Remove pan from oven, uncover, and raise oven heat to 400°F (200°C). Bake for another 10 minutes. Turn oven to broil setting for 3–5 minutes, until the cheese is browned.
(Originally featured in Family Table, Issue 793)
Oops! We could not locate your form.
>