| Recipes |
Spectacular Honey-Mustard Salmon over Spinach and Onions | August 17, 2021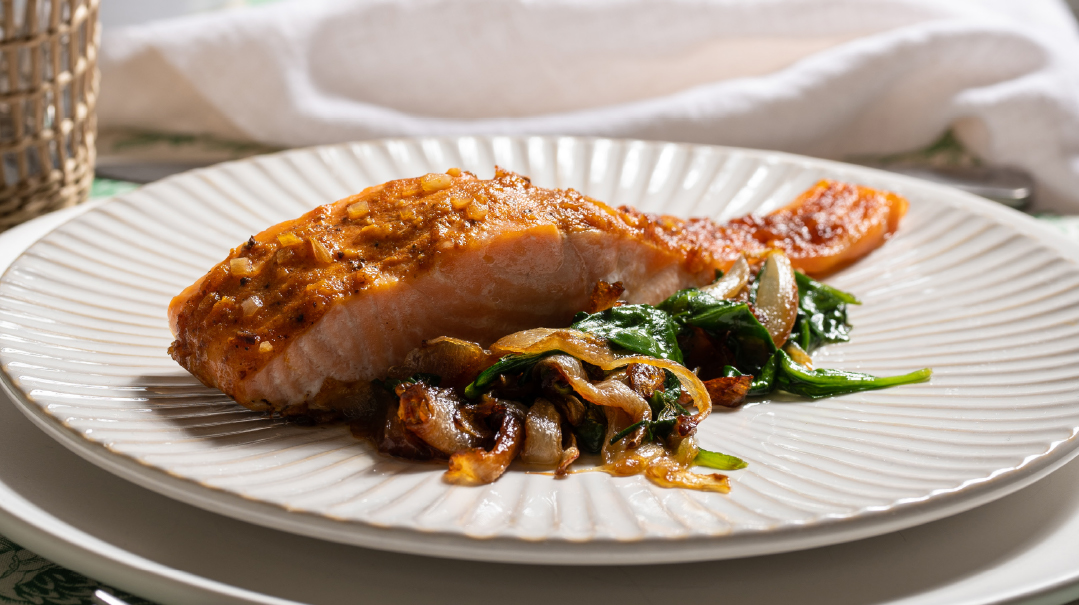 Food and prop styling Renee Muller
Photography Hudi Greenberger
Fabulous seasoning. Elegant plating. Totally Yom Tov worthy. This keeps well in the fridge, so you can make it a few days in advance. Thanks to my sister, RL, for the idea.
SERVES 10
2 lbs (1 kg) salmon, or 10 salmon fillets
1 full tsp dehydrated onions
2 Tbsp Dijon mustard
¼ tsp black pepper, or to taste
1 tsp paprika, preferably in oil
2 large Gefen garlic cubes, or 4–5 medium cloves garlic, crushed
¼ tsp cayenne pepper
½ tsp kosher salt
1½ full Tbsp honey
1½ Tbsp olive oil
Spinach-Onion Bed
olive oil, for sautéing
2 large onions, quartered and then sliced
2 handfuls fresh spinach leaves, chopped
2 Tbsp maple syrup
pinch salt
Lay salmon slices in a large pan lined with parchment paper. Combine dehydrated onions, Dijon mustard, black pepper, paprika, garlic, cayenne, salt, honey, and olive oil in a small bowl. Microwave for 20 seconds. It should form a paste. Spread over the salmon slices and let marinate in the fridge for an hour or so.
Meanwhile, heat a little olive oil in a large frying pan. Add onions and sauté over low heat for 30–45 minutes or until caramelized. Right before serving, add the spinach leaves, maple syrup, and salt and mix together gently.
Preheat oven to 400°F (200°C). Bake salmon for 15–20 minutes.
To serve: Place a spoonful or two of the fried-onion mixture on a plate and arrange a slice of salmon on top.
Note: If serving this on Yom Tov, warm the sautéed onions separately. Add the spinach, maple, and salt right before serving, so the spinach stays bright green.
(Originally featured in Family Table, Issue 756)
Oops! We could not locate your form.
>