| Profiles |
Souls Ignited
| March 18, 2020
Could a book really capture Rebbetzin Esther Jungreis's essence?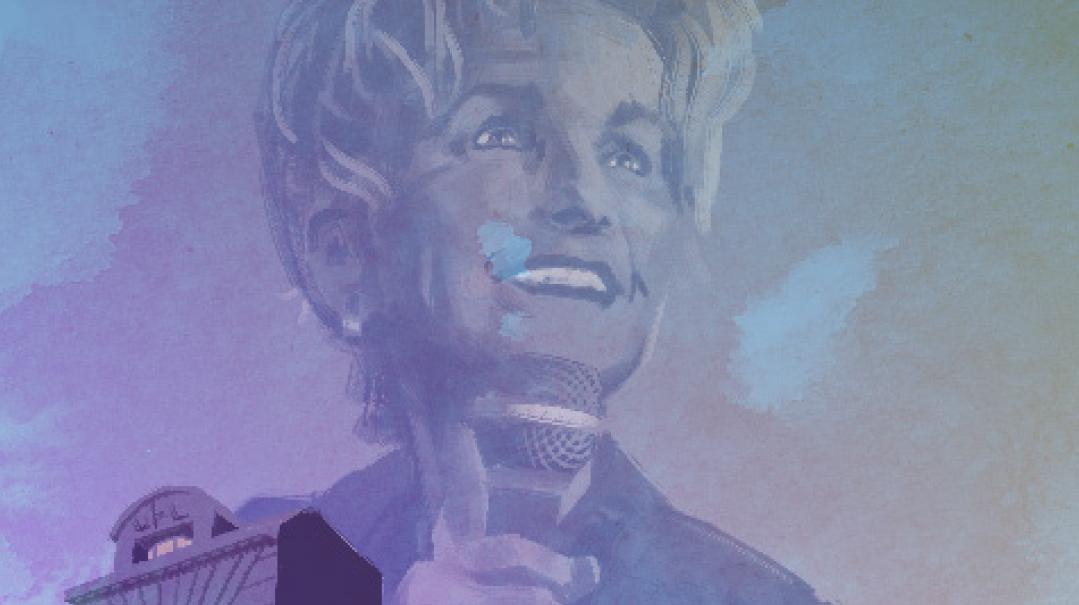 Photos: Menachem Adelman, Family archives
Illustration: Dov Ber Cohen
From her first speech to a sellout crowd at Madison Square Garden to four decades traversing the globe fanning the Jewish spark, Rebbetzin Esther Jungreis, who passed away in 2016, was larger than life. But for those who never knew the Rebbetzin, how to capture her essence? Her children turned to master storyteller Rabbi Nachman Seltzer with a mission: to paint a picture of their multi-dimensional mother in two-dimensional print
In the summer of 2009, Rebbetzin Esther Jungreis, in her 70s but still as vibrant and energetic as ever, was leading an Israel tour sponsored by her Hineni organization, and took the group to get brachos from Rebbetzin Batsheva Kanievsky. After Rebbetzin Jungreis introduced the Hineni group, Rebbetzin Kanievsky motioned to her to sit in the seat of her father-in-law, the Steipler Gaon. When the Rebbetzin demurred, saying that it was not her place to sit in the seat of the holy Steipler, Rebbetzin Kanievsky told her, "It's fine. I may be the rebbetzin of Bnei Brak, but you, Rebbetzin Jungreis, are the rebbetzin of the world."
And just like the tens of thousands whose lives she touched and often transformed — through four decades of dynamic oration, newspaper columns, and tireless outreach efforts through her Hineni international organization and beyond — Rebbetzin Esther Jungreis was herself a spiritual seeker. Torah and faith were a gift, a mesorah from her illustrious ancestors; what she was busy searching for throughout her life, all over the world, was the pintele Yid, the spark of a Jewish neshamah that she knew was hidden in every single Jew. And so often, she discovered that spark and ignited it into a glowing flame.
The Rebbetzin, who passed away at age 80 in August 2016, was a complex personality — her trademark elegance and sophistication on one hand, her unpretentiousness and hominess on the other. She was a world-renowned VIP, but nothing made her happier than preparing freshly cooked meals in her own kitchen while comforting someone in distress. She could give advice to prime ministers and presidents, yet travel across the continent to speak with an angry teenager who'd been captured by a cult. 
"To this day I don't know how my mother did it," says her daughter Slovie Jungreis-Wolff, a relationships and parenting instructor and the leader of Hineni Couples. "To make a beautiful Shabbos for us, her family, one day, and then stand in Madison Square Garden the next, proclaiming to thousands, 'You are a Jew! Come home!' I was just a little girl when she made that famous speech back in 1973, but the memory is still vivid. I remember walking into the Garden and seeing thousands of Jews, all ages, from all walks of life. Could it be that they were here for my mother? About being a Jew? I was excited and nervous at the same time. What would my mother say? Would the audience listen? 
"There was a hush when my mother began to speak. As the evening went on, you felt the electricity. I will never forget seeing the enormous crowd jump to their feet at the end of the night, applauding, crying, and giving her a standing ovation. There was an energy in the room that exploded — it was the beginning of a revolution."
Esther Jungreis played a pioneering role in the back-to-Judaism movement of the 70s and 80s, where her Hineni organization enjoyed considerable success on college campuses and beyond. And she never quit. Esther was born in Szeged, Hungary, where her father, Rav Avraham Jungreis, was her first role model in standing up to the rampant assimilation of the times. A child survivor of the Bergen-Belsen concentration camp with her family intact, she and her family made their way to Brooklyn in 1947. She married her distant cousin, Rav Meshulem HaLevi Jungreis, and together they founded the North Woodmere Jewish Center on Long Island in 1964.
After living through the physical Holocaust, seeing a spiritual holocaust all around her drove her to dedicate her life to combat assimilation and plead for Jews to explore their own heritage. Her high-profile speech in a packed Madison Square Garden, which kicked off the Hineni organization, was just the beginning. (Three decades later, she returned to that podium when she delivered the benediction at the 2004 Republican Party convention.) Even the passing of her husband and life-partner in 1996 didn't diffuse her energy, and she continued with outreach and education through her website, newspaper column, cable television programs, and international lectures. In 1998, Hineni crossed the ocean and expanded its activities to Jerusalem and other cities in Eretz Yisrael, providing Torah programming as well as social and support services to young people who were struggling with their faith and integration into Israeli society.
She also wrote four books: Jewish Soul on Fire (William Morrow); The Committed Life: Principles for Good Living from Our Timeless Past (HarperCollins); The Committed Marriage (HarperCollins); and Life Is a Test (Shaar Press).
But for those who never had a chance to know the Rebbetzin, how do you capture the essence of someone so larger-than-life? To tell the Rebbetzin's fascinating story, the Jungreis children — Chaya Sora and Rabbi Shlomo Gertzulin, Rabbi Yisrael and Rivki Jungreis, Slovie and Mendy Wolff, and Rabbi Osher and Yaffa Jungreis — all of them notable personalities in the Jewish world — turned to master storyteller Rabbi Nachman Seltzer. They would provide interviews, connections, little-known events. But would he be able to capture the Rebbetzin in two-dimensional print? The result is the book The Rebbetzin: The Story of Rebbetzin Esther Jungreis — Her Life, Her Vision, Her Legacy, published by ArtScroll  Mesorah, a 650-page biography that captures the stunning trajectory of her life, the Holocaust survivor who became "the rebbetzin of the world."
Anything for Her People
Nachman Seltzer never considers a project too daunting, but he admits writing such a biography had its share of challenges. "Keep in mind that the Rebbetzin affected thousands and thousands of people all over the world, and we had to figure out where to focus the interviewing," Rabbi Seltzer explains. "I spent a lot of time with the family both in America and Israel, and then there were the old friends and the people who knew the Rebbetzin when she was just starting out in Camp Naarah and in the Syrian community, plus her original students and those who came later. What I needed to do was find the people who had been there and saw everything up close and personal. There were some major questions I kept trying to decipher — for example, who knew about the Rebbetzin's connection with President Bush? And then one evening we were in Manhattan, and I met Barry Akrongold — he was the one who had introduced the Rebbetzin to the world of AIPAC, and he was a fount of information, able to tell me the entire story about that chapter in her life."
From his interviews with family and so many others in her orbit, Rabbi Seltzer says there's no question that the Holocaust affected her for the rest of her life and kept her company — which is why she was compelled to talk about it in virtually every speech.
"But that was just part of what drove her," he says. "The Rebbetzin came from a family of gedolim. Her parents and grandparents were all great people and Torah educators, as was her husband, and it was only natural that she, who was blessed with such an abundance of charisma and talent, would use what Hashem gave her to return Klal Yisrael to its roots. But most of all, it was that she cared so, so much about every Jew and would do anything for her people. She would travel across the world to give a speech to Yidden, because she knew the power of her words, and she devoted her life to what she believed in.
"And what was most admirable," Rabbi Seltzer continues, "is that no matter where the Rebbetzin went or who she met, she never changed who she was. When she was invited to give the invocation at the Republican National Convention, she let the White House staff know that she would not be shaking the president's hand when they met."
Her daughter Slovie Jungreis-Wolff reiterates that fearlessness. "My mother traveled the globe, but she was never afraid of anyone — only HaKadosh Baruch Hu," she says. "She lived through the physical Holocaust in Bergen-Belsen and then saw the spiritual holocaust taking place before her eyes in this country, and refused to remain silent. She did what seemed impossible, and her timeless wisdom continues to guide us. After my father was niftar, we had the zechus of having my mother move down the block from us. Our own children were molded by my mother's Leil Shabbos conversations, her brilliant divrei Torah and insights on daily life. Every Chanukah and Yom Tov get-together, every family gathering, was a reconnection to our zeides and bubbes. She taught us to revere our past, to know that we have footsteps to follow in, and that above all, derech eretz must be upheld. When I turned the last page of the book I cried. What a life — and what a loss for us all."
Nothing Just Happens 
After their mother passed away, so many people told the Jungreis children that although the Rebbetzin was herself an acclaimed author, her own story had to be told for the next generation.
"I was fortunate to host Rabbi Nachman and Aliza Seltzer when they came to the States to do interviews for the book," says Chaya Sora Gertzulin, the oldest of the Jungreis children. "During their stay, Rabbi Seltzer had many of his own visitors coming to our home. One afternoon, I opened the door to see a woman and her daughter standing there. 'Come right in,' I told them, making them comfortable in our dining room and mentioning that my mother was Rebbetzin Jungreis a"h, and that Rabbi Seltzer was writing her biography.
"'Rebbetzin Jungreis!'" the woman exclaimed, 'I don't believe it. I have to share a story with you.' The woman shared with me how my mother saved her daughter's marriage. Of course, she repeated it to Rabbi Seltzer, and it made its way into the book."
Mrs. Gertzulin remembers how when she was a young child, even before the Rebbetzin became a celebrity, people from the kehillah in North Woodmere, and others as well, would come to their home seeking advice. "This was in the '60s and early '70s, when kids were joining cults, into drugs and intermarrying. Other people came with marital issues," she relates. "While we kids would never eavesdrop on the actual conversations, what I do remember is the difference in how these people looked when they came in and when they left. They just didn't come with problems — baruch Hashem they came with news of simchas as well. But even those situations often required advice and hand-holding. And it wasn't just at our home. Ima would often be out at all hours visiting people in their own homes, in hospitals and rehab centers, and yes, even those unfortunately incarcerated in prisons
"After Hineni was founded, Ima would often call me at two or three in the morning — she would say 'Chaya Suki, I know you're still up' — telling me that she was leaving after a long night of counseling and just being there for the long lines of people from every age and background, from the non-observant to the chassidish, who sought her advice and encouragement. I remember after Ima started her column in the Jewish Press, she would sit at the kitchen table opening up stacks of letters that people had written describing every imaginable problem. At first, she would answer them by hand. With the advent of technology, when the letters started arriving by e-mail, Ima actually took a course to learn how to use e-mail. I would be amazed — at that point I wasn't computer savvy, and I was more than 20 years younger than she was."
Her husband, Rabbi Shlomo Gertzulin, executive vice president emeritus for finance and administration at Agudath Israel of America, says that after 40 years of being a part of the Jungreis and Hineni mishpachos, he thought he'd heard it all — lives transformed, neshamos brought back, shidduchim made, marriages saved, and so much more. But it was the stories he'd never heard about, the first-person interviews that are the backbone of this biography, that often shook him to the core.
"I had the zechus of being intimately involved in this project from the get-go until the book finally went to press," Rabbi Gertzulin says. "Yet, as I read and re-read the more than 60 chapters, I was continuously choking up — often in tears. Honestly, sometimes I was so overwhelmed that I had to go hide my emotions from my wife. What struck me most was the incredible hakaras hatov that people had for the Rebbetzin. It was as if those relating their interactions with the Rebbetzin felt that they were finally able to unburden themselves and send her a gift package — in some small way repaying her for what she did for them.
"And truthfully, I never witnessed the Rebbetzin think that any situation was beyond repair. That anyone was beyond hope. Parents often came over to her house crying to her, desperate because their son or daughter had gone off the derech. The Rebbetzin gave them comfort and hope. Her carefully chosen words gave them back their dignity and guided them to continue loving and reaching out to their children.
"I recall spending a Shabbos with my in-laws, when the Rebbetzin invited some Jewish cult members to join them for Shabbos. They were so uplifted that on Motzaei Shabbos they burned their missionary material. And who else but the Rebbetzin would have the guts to confront the non-Jewish girlfriend of a straying neshamah, telling her, 'Sweetheart, I want you to understand something. Just like this boy is planning to abandon his religion to marry you, one day he's going to abandon you as well.' The Rebbetzin was as soft as butter when that was the proper approach, but she was strong as steel when the situation called for it."
Yet she was also the ultimate optimist, in spite of — or perhaps because of — her own experiences during the Holocaust. "She took the best out of every situation and shared it with everyone she met," Rabbi Gertzulin continues. "That was her strength. That was her true beauty. She taught us that we don't only need to relegate our hopes to the realm of dreams — but that we actually can!"
Still Praying for Us 
The Rebbetzin, say her children, would literally not afford herself the luxury of sleep until she had fulfilled her day's self-imposed work quota. She would often step off a plane and go straight to a class or to whatever chesed project she was involved in. Sleep, they say, was often an afterthought. Where did all that fiery passion come from?
"It was an inheritance from her saintly parents and grandparents," says Rabbi Osher Jungreis, who is rav of the Hineni organization together with his brother Rabbi Yisroel, and who are the coauthors of Torah for Your Table. "They had inculcated in her an unshakeable foundation of emunah and that to truly live, not just physically but spiritually, one must be connected to Hashem and His Torah. Her zeides and bubbes had created a pathway for her, a legacy of truth for which to live her life. Her message to her brothers and sisters was that we all had zeides and bubbes, whether we knew them or not, who forged a pathway for us, a mesorah, a chain linking us back to Mount Sinai. But for her, it wasn't enough that she came from greatness. She created her own greatness. And although she always looked as though her life was smooth sailing with her warm smile and regal bearing, she of course had challenges, as we all do. When she was tested in her life, be it personally or with a loved one, she would turn to Hashem in prayer. Her tear-filled siddur and Tehillim were always at her side and were her most powerful weapon.
"She once told our son Shmuli that she would watch over him in This World and from the Next. She would always say that she's the bubbe of all her Yiddishe kinder, meaning she's davening for all of us in front of the Heavenly Throne. She said she would, and she always kept her word."
Rabbi Yisroel and Rivki Jungreis can attest to that otherworldly power of tefillah. They tell how their son Meshulem was taken for surgery for a dislocated shoulder. After consulting three orthopedic surgeons who all agreed he needed surgery, they decided the operation should be at Mount Sinai Hospital. "As Meshulem was wheeled into the operating room, we asked his bubbe to daven," says Rabbi Yisroel Jungreis, a popular Torah lecturer and rav of Hineni together with his brother. "The surgery was scheduled for 8 a.m., and the hospital gives you a pager to alert you when the surgery is completed. Just 20 minutes later, our pagers went off. You can't imagine our fear. But then Dr. Parson greeted us in his full scrubs with the amazing words: 'This is the second time in 18 years that I have taken a patient off the table. I was able to maneuver his arm, and he doesn't need surgery.' I called Ima right away with the good news. 'I knew it!' she said. 'I was up all night davening!' "
If Nachman Seltzer would have had the opportunity to interview the Rebbetzin directly, instead of building on the memories of others, what questions would he have asked her?
"I would have liked to ask her what she was thinking in the moment she walked onto the stage at the Garden in front of the sellout crowd. I would have asked her to describe her feelings when she realized that she was the most popular Jewish venue happening in the city during the early '90s. I would have had a million questions for her, but luckily she did answer many of my questions in her own books and writings. And after reading so much of what she wrote and speaking to so many people who knew her well, I kind of do know what she would have answered me, because I came to know every facet of her life, from the time she was a young child until she'd become an elderly rebbetzin. I think that by now we've come to know each other quite well, me and the Rebbetzin."
— Rachel Ginsberg contributed to this report
Do You Hear It?
One of the women who regularly attended the Rebbetzin's Chumash class, suddenly and without any warning — began losing her hearing. The situation was becoming progressively worse and the doctors all told her there was nothing to do and that it was just a matter of time until she went completely deaf. But she was unwilling to give up the fight.
One night after the shiur, she waited on line to ask the Rebbetzin for a berachah.
"You need to take upon yourself to say Shema every night," the Rebbetzin told her. "And when you do, have in mind that the word Shema means to listen and hear — and that you need to be able to listen and hear to learn Torah. Keep in mind that you are accepting the yoke of Heaven upon yourself, and Hashem is going to help those ears work"
Suddenly the Rebbetzin told her, "Bend down."
The woman bent down beside the Rebbetzin — with her ear just beside the Rebbetzin's mouth. And then the Rebbetzin began to whisper the words of Shema into her ear.
"All of a sudden," the woman later said, "I felt what I can only describe as a whoosh in my ear — and my hearing slowly started to return — eventually reverting to full capacity. If that wasn't a miracle, I don't know what is!"
(from The Rebbetzin)
The Trick and the Treat
Halloween came to North Woodmere. The streets were filled with
kids in costume, knocking on doors and making the rounds hoping for
a good candy haul. The year Yisroel was ten, Halloween fell on a Friday
night. The family was sitting down at the Friday night seudah when the
doorbell rang. …
Yisroel was just a kid but he knew how things went in their house.
That was why he wasn't surprised when his mother told him to go see
who was ringing the bell. Nobody was ever turned away from their
front door — even someone who should have known not to ring the bell
on a Friday night.
Yisroel went to see who was ringing the Rabbi's bell. He looked outside. There were a bunch of neighborhood kids standing there.
Returning to his seat at the table, he told his parents, "It's a bunch of
kids out 'Trick or Treating.' "
"Open the door," his mother said.
"For who?"
"Yisroel, these are Yiddishe kinderlach. You have to open the door. Go
get the candy."
There was always candy in the house and Yisroel went to get some
candy bars for the visitors. Opening the door, he found himself looking
at a group of kids all dressed up. There was Batman and Robin, Snow
White and other characters.
"Trick or treat!"
"Good Shabbos," the Rebbetzin called out, warmly greeting the surprised
kids.
They had no idea what was going on.
"It's Shabbos today. Do you know what that is? Are any of you
Jewish?"
Most of them answered, "I'm Jewish," except for one girl who replied,
"My mother told me I'm half-Jewish."
"I want every one of you to take a candy, and I'm going to teach you
how to make a berachah."
The kids followed her lead and recited berachos on their candies.
"Tell your parents that tonight is the Sabbath and that you came to the
Rabbi's house and the Rabbi's wife gave you yummy candy! Can you do
that? And tell them that we have a Hebrew school in our shul and they
should send you there to learn about what it means to be a Jew! Can you
give them the message?"
The kids nodded.
One of the kids actually followed through, informing his parents of
the evening's events and about the Hebrew school at the Rabbi's shul.
His parents registered him — and believe it or not, he became religious!
Rabbi Yisroel Jungreis met the man not long ago.
"I'm probably one of the only people in the world who became religious
because of Halloween," the man told Rabbi Jungreis.
(from The Rebbetzin)
— Rachel Ginsberg contributed to this report
(Originally featured in Mishpacha, Issue 803)
Oops! We could not locate your form.
>