| Job Search |
"So you're looking for a career as a… CHEF/CATERER"
| February 26, 2020
How much money can you make? What type of training will it take? And what does the job actually entail? Read on to find out whether this is the job for you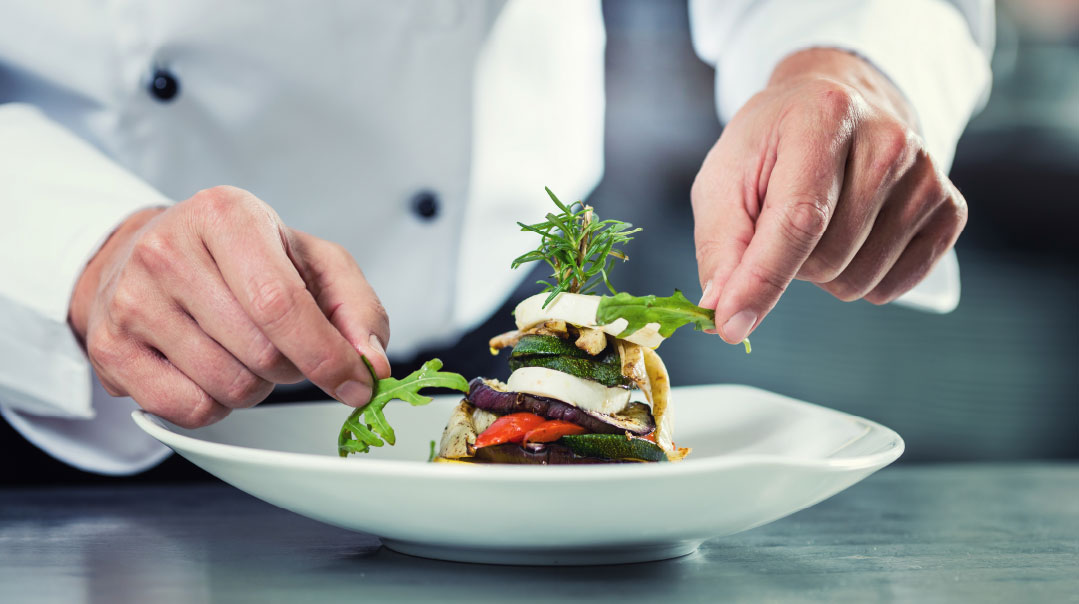 W

hat will I be doing all day?
A culinary chef prepares, cooks and presents food to diners. He may work in a restaurant or hotel, cater events like weddings, parties or organizational dinners, or prepare food for institutions like schools and camps.

What training do I need?
While no formal education is required, to become a chef it is advisable to receive training either in a culinary program or under professional chefs. In addition, all chefs must have certification in food safety and handling. In the US, a caterer must also receive special certification from his state's Alcoholic Beverage Commission for the right to serve alcohol at events.

What can I expect to earn?
Starting salaries aren't high, but there's room for growth in the industry.
Chef (restaurant, hotel): Average starting salary $10-$20 per hour
Head chef in a restaurant: Average annual salary $100,000
Caterer: Starting salary about $65,000 (an established catering business can earn $200,000 plus)

Do I have the personality for it?
Good chefs/caterers are organized, patient, detail-oriented, creative, ambitious and enthusiastic. They have very good people skills to interact with both staff and clients, and strong physical stamina to work long hours, often under intense deadline pressure.
To run a catering business, a chef must have that rare blend of creative artistry and business acumen. Some necessary skills are:
Cooking expertise. First and foremost, a caterer needs to be skilled in devising recipes and producing tasty and eye-pleasing food. This also includes careful knowledge of safe food handling guidelines.
Customer service. A caterer meets with clients as they plan out the details of an event, and will also need to ensure that all of his staff is courteous and responsible.
Menu knowledge. A caterer must be able to put together menus that incorporate the right balance of flavor and presentation.
Logistical Organization. To run an operation that produces food for hundreds of people, a caterer must have good organizational skill and logistical knowledge, such as the best place to order ingredients, how much food to prepare, how to serve it efficiently, and more.
Marketing skills. Like all small business owners, a successful caterer is not just a chef but a businessman, skilled in knowing how to market himself in order to attract clients.

TALES FROM THE TRENCHES: 

THREE CHEFS DESCRIBE THE HIGHLIGHTS AND THE CHALLENGES

Meir Meisner, Brooklyn, N.Y. 
Owner of Meisner's Catering of Flatbush
Years in field: 25

MY TYPICAL DAY AT WORK
My day starts early. At 6:30 a.m., we're already working on cooking, packing, and shipping for the various lunch programs that we send out daily. This includes several schools and Jewish senior homes. We then prepare food for our retail take-out customers and for any catering jobs we have that day. I oversee all of the stages of preparing and cooking food, from purchasing, menu planning, food preparation, and quality control, to delivering the final product. My usual day ends around nine p.m., unless I'm working at a catering job, which can typically end at 2 a.m. Toward the end of the week, we get busier with Shabbos take-out, and, of course, Yom Tov is a particularly busy time. We cater several hotel programs throughout the year — our biggest one is the Meisner Pesach program in Connecticut. We also run a Shabbos Chanukah program in New Jersey, and for Succos we provide catering in a bungalow colony.
I'VE BEEN COOKING EVER SINCE…
…I began helping my father. I grew up in this business. My father, Yossi Meisner, was a legend in the industry who opened one of the first kosher take-out and catering businesses in Brooklyn.  I started helping out 25 years ago and I basically never left.  I learned almost everything from my father, a chef for over 50 years who was considered one of the best chefs in the kosher food world. I also worked in various hotel programs and camps and learned many skills from highly-trained chefs.
THE BIGGEST CHANGE I'VE SEEN IN THE CATERING INDUSTRY 
Nowadays, I find people are more into the look of the food than the actual taste. They want color-coordinated events with beautifully plated food. Of course, they expect the food itself to be of a higher standard. What used to be an acceptable choice at a simchah — grilled chicken or stuffed chicken — now has to include fancier options.
MY PERSONAL FAVORITE DISH 
Still a good, hot piece of heimishe potato kugel, or a hot bowl of cholent — and I see this with my customers as well. Food trends have changed over the years, but there are some constants everyone still enjoys.
THE SCENE IN MY KITCHEN 
When you work in a highly time-based operation like we do, where everything has a deadline — the food for the school and senior lunch programs must be sent by 9:30 a.m., the food for catered events must arrive on time — then things in the kitchen can sometimes get stressful, but I try not to put pressure on my employees. They all know the daily schedule and work well as a team. We have ten full-time staff members in the kitchen on a regular day, plus another one manning the take-out counter. Each person has his designated area of expertise — one does the poultry, the other the meat, and so on, but they'll also go help someone else out if they have the time.
HOW I FIND MY CLIENTS 
Mostly word of mouth. Baruch Hashem, Meisner's has been around for a long time, and we have a very good name in the business. That said, the types of clients and jobs I get has changed over time. Our business used to be a lot more focused on our retail take-out store.  However, with all the new kosher supermarkets now offering take-out departments, our business in recent years has switched to focus more on the catering side — the lunch programs and event catering.
WHAT I LOVE MOST ABOUT THE FIELD
Food has always been a passion of mine. The kosher palate is ever expanding and changing, and today's consumers want to include the latest trends in the menus — which means I'm always tasting new items and acquiring new skills. I also enjoy meeting new people and take pride in the fact that I can enhance their simchahs.
One great fringe benefit to my business is that, over the years, my family and I have gotten the opportunity to travel and see the world, as I've catered programs in Spain, L.A., the Florida Keys, Arizona, New Mexico and elsewhere.
WHAT I FIND MOST CHALLENGING ABOUT the field
There are just not enough hours in the day to finish the amount of work that needs to be done. This can be especially hard in a Yom Tov hotel setting when you're serving 1,000-plus guests around the clock. Managing workers while working under deadlines can also be very stressful. One of the most important ingredients for a good chef is lots of patience.
MY ADVICE FOR PEOPLE STARTING OUT 
If you're thinking of going into this field, make sure you have a passion for it. It's very physically demanding with long hours away from family. It's also important to note that when most men are off from work (Shabbos, Yom Tov, and Sunday), that's when we're the busiest.

Yanky Roness, Lakewood, N.J.
Lead chef at Yapchik restaurant
Graduated from the Center for Kosher Culinary Arts (CKCA), 2015
Years in field: 6

MY TYPCIAL DAY AT WORK
As the lead chef at Yapchik in Lakewood, I do a lot of the day-to-day cooking and ordering as well as the creative cooking and presentations. Occasionally I'll also pick up a mop or a broom — whatever has to be done, I do. Typically, we start at about 9:30 in the morning and finish at 6:00 p.m., but when there's a simchah or an event we work until it's over. On the creative side, I present the Yapchik World Famous carving station, which consists of about twenty varieties of meats, displayed on tiles. I also specialize in heimish food. While I don't have carte blanche to do whatever I like, some of my recipes are big hits and have become weekly favorites, like Mom's Heimish French Roast with Onions.
I'VE BEEN COOKING EVER SINCE…
…I realized I have an aptitude for cooking. Growing up, my house was filled with food because my father was always cooking. After a year learning in yeshivah in Israel, when it was time for me to think of what I want to do professionally, someone told me to look at what I like and what I know, and I realized that I was like my father. But the main hurdle to becoming a chef was how to learn while avoiding non-kosher cooking environments. I found out about the Center for Kosher Culinary Arts in Brooklyn, where I enrolled while continuing to learn in yeshivah.
When it came time to look for an internship, I compiled a list of the top steakhouses (at the time, I thought grilling was everything) and went around knocking on doors and calling anyone I knew who had some kind of connection to the restaurant business. After working at Mike's Bistro for a short while, I ended up at T Fusion in Brooklyn, where I learned a ton about meat production. But, being an out-of-town guy at heart, once I finished my internship, I packed up my knives and moved back to my native Miami, where I worked at several places and learned the art of heimish cooking. After a while, though, I decided to move back up north for personal reasons, where I landed my present position.
IT'S IMPORTANT FOR A CHEF TO HAVE
Good knife skills! Cooking is similar to any other art medium, and your work of art will suffer if you don't know how to use the tools.
I'LL NEVER FORGET THE TIME WHEN…
Once, while I was working at a very popular restaurant on chol hamoed, the owner came in to the kitchen and proclaimed that we were closing down the kitchen because they couldn't keep up with the orders. And he did! They just shut down with a restaurant full of customers.
MY PERSONAL FAVORITE DISH IS
Shalom Bayis kugel: a 3-layer kugel of potato kugel, kishke and Yerushalmi kugel.
THE SCENE IN MY KITCHEN 
I've worked in several different catering companies, and one thing I've learned is that if you want your staff to respect you and do what you need them to do, you must respect them back. Schmooze with them, laugh with them, show them you care about their lives. In most kitchens, the guys like to play their music on speakers to help them work better, or they'll wear headphones. Depending on how busy they are, there might be some raised voices, but not out of anger, just to make sure that things are getting done properly and fast.
HOW I FIND MY CLIENTS
There's a big pressure to market yourself in this field. There's a lot of competition out there, and in order to get the clients, you have to advertise — whether it's by putting out flyers or giving out samples of products.
Dealing with clients is a skill on its own. There are really wonderful clients, and then sometimes you have the difficult ones. But no matter what, the client is always right, and that's something you need to be able to handle if you want to succeed in a service-related business like this one.
WHAT I LOVE MOST ABOUT THE FIELD
There's nothing more rewarding than having someone ask me if I work at Yapchik and then tell me, "That was the best potato kugel I ever had!"
WHAT I FIND MOST CHALLENGING ABOUT THE FIELD 
Getting up and out in the morning. Being a chef is hard work, and the job is often hot, frustrating and sweaty. However, usually by the time I'm dressed I've changed from sleepy morning mode to being excited to face my day and the job I love.
MY ADVICE FOR PEOPLE STARTING OUT 
In this business, you have to know when your job has dead ended. And don't take a job as a chef-mashgiach if you don't want to be exploited as either a free chef or mashgiach at their disposal. Remember that you'll be working in a high-pressure environment, which means it's important to develop a thick skin.
Avi Katz, Mevaseret Tzion
Chef for Yeshivat Shaarei Mevaseret Tzion and MMY Seminary, and private chef
Years in field: 7
MY TYPICAL DAY AT WORK
As a yeshivah chef, my day begins at 7:30 a.m., preparing breakfast for 150 boys and rebbeim.
I prepare a different hot dish each day of the week – it could be pancakes, shakshuka, french toast, or assorted muffins. We always serve eggs along with fresh salad and all the favorite cereals. If this still isn't enough, we have a sandwich station for grilled cheese, PB&J, and my signature homemade garlic-herb butter. I don't want any student to ever tell me after a meal that he's still hungry!
Breakfast is served until 9:30 a.m., and then it's on to the rush of preparing lunch for a seminary of 120 girls, and getting it ready for pickup at 11 a.m. Once our delivery is out, we work on lunch for the boys, which must be ready to serve by 12:30. Once lunch is over, we focus on finishing up dinner preparations for the boys, which we leave in warmers to be served by a different member of the staff. We're usually done with work by 3 p.m.
My responsibility is to make sure that all the meals are served on time, that each meal is balanced and healthy, and, most importantly, that it tastes great. Our kitchen manager takes care of the ordering and stock, and I'm very grateful to him for creating a system where most days I can come in and just cook, knowing all the logistics have been perfectly aligned.
Aside from my day job, I also work as a personal chef. Clients can be locals, people from abroad, or travelers looking to privately source their food needs. I meet with them to customize a meal plan and menu. People hire me for all sorts of jobs, from catering a family Shabbos to weekday breakfast buffets to seven-course private dinner parties. One way to think of it is that I bring the restaurant to you, on your time, with your interests, and your taste.
I'VE BEEN COOKING EVER SINCE…
…I was a kid. I was a really picky eater, and my mom would say, "If you don't like this, then cook it yourself." So I did.
I was 10 years old when I started a soup company, back in my hometown of Memphis, Tennessee. I used seasonal winter veggies to make hearty stocks and soups and then I sold them frozen to my friends, family, and local community to enjoy all year round. From the time I was 15 years old, I was working professionally in the restaurant industry in multiple cities in America and training by experienced chefs in specific cuisines. I then moved to Israel and joined the hotel industry — I was one of the specialty cooks at the David Citadel Hotel. There I worked on menu development for the in-house restaurants and was responsible for the charcuterie, all in-house sausages, and cured and smoked meats. At that point, I then made the switch to private chef and catering. This allows me to use my full creativity designing custom menus for clients.
MY PERSONAL FAVORITE DISH 
Asado Barbacoa in Banana Leaves. This is a Mexican inspired dish where beef rib meat is marinated in very strong aromatic flavors and slow-roasted inside banana leaves and traditionally smoked as well.
I'LL NEVER FORGET THE TIME WHEN…
…A group of kittens snuck into the yeshivah kitchen manager's office. One of my employees went in with large oven mitts to catch the kittens. I didn't know about any of this because I was busy with a giant pot of pasta for 300 people. My employee decided to be funny, and he quietly brought a kitten into the kitchen and held it up behind my head. When I turned around, I found a cat squealing in my face. I squealed even louder. The takeaway? Always be prepared when you turn around.
THE SCENE IN MY KITCHEN 
I try to maintain a very calm kitchen. I'm not a shouter and don't like when others shout either. I like to use music as a mood setter. It's important to have good communication between the staff members (there are five of us altogether — the kitchen manager, sous chef, cleaner, stock manager, and I), but there's a fine line between communicating and schmoozing. Too much schmoozing can be distracting, which can very quickly lead to burnt food.
That said, we have a great time at work. Yes, things can often get stressful, but that's part of the fun. There are lots of languages spoken in the kitchen: Hebrew, English, Ahmaric, Arabic, and sometimes more. In general, I find that keeping a friendly relationship with proper work boundaries is the key to a successful team.
HOW I FIND MY CLIENTS
I'm a real people person, which is a huge asset. Everyone likes to talk about food, and when I get into food conversations with people, I hand them my card and tell them if they ever see a unique dish online that seems way too challenging to make at home but they wish they could eat it, they can challenge me. Then I'll hand them a second business card, to pass on the next time they hear someone say they're looking for a caterer. Word of mouth is the greatest tool for expanding my client base, and I work hard at getting my name out there. One of the greatest kickstarts to my marketing was winning Jamie Geller's cooking competition. I was 19 at the time, and competed in front of all the industry leaders. This gave me great credentials.
WHAT I LOVE MOST ABOUT THE FIELD
This may sound funny, but I love the competition. Everyone cooks, everyone eats, everyone knows food. To be a top-level chef you must really hustle to be better than the average person. Most people know what tastes good and most people can cook something tasty in their home. If I want to get them to pay me to do it for them, I must really make sure my food is good. The thrill of always getting better is what never makes chopping onions old, even if I've already chopped 50,000 by hand.
WHAT I FIND MOST CHALLENGING ABOUT THE FIELD 
Not overworking myself. I love what I do — I live and breathe cooking. And especially because I live literally a one-minute walk from my job, on the campus of the yeshivah, it's a big challenge to make sure that work doesn't encroach on the more important things in life, like G-d and my family.
MY ADVICE FOR PEOPLE STARTING OUT 
Don't do it, unless you're passionate enough about the career to say, "Avi, I don't care that you're telling me not to, I'm doing it anyway!"
The best place to start out is in a restaurant, where you can get a sense of every part of the business. Before going to culinary school, it's important to get a feel for the lifestyle.
(Originally featured in Mishpacha, Issue 800)
Oops! We could not locate your form.
>