| Job Search |
So You Want to Be an Occupational Therapist
| September 23, 2020
A good OT is creative, flexible, and a problem-solver, while also being organized and analytical. He or she is also good at working one on one with people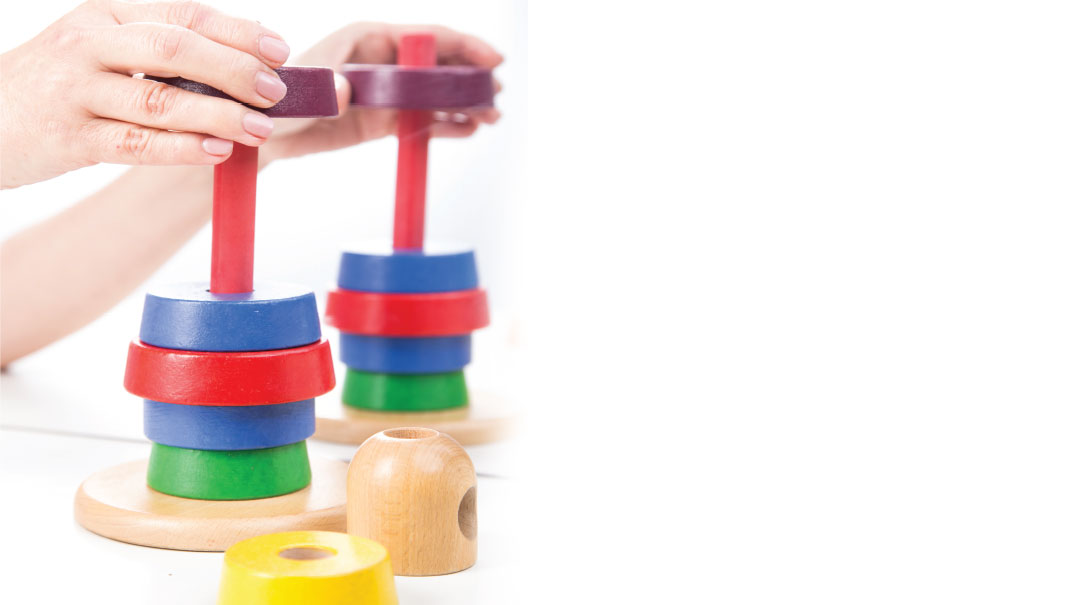 What will I be doing all day?
An occupational therapist helps people with disabilities or injuries develop, recover, or improve the skills they need for daily living or working. Depending on the setting and population, this can involve helping clients with activities ranging from dressing, cooking and eating, to doing school work, improving handwriting, throwing a ball, using a computer, and much more. OTs focus on developing fine and gross-motor skills and planning, and can also help people struggling with self-regulation and sensory processing.
An OT's responsibilities include:
- Assessing and evaluating a patient's skills and needs
- Devising and carrying out a treatment plan with specific goals
- Educating parents and/or caregivers about how to accommodate and help the client achieve his goals
- Demonstrating exercises and recommending special assistive equipment for clients
- Assessing and recording progress, for evaluative purposes, for billing, or for reporting to other medical or educational professionals
- Collaborating with other members of the client's support team — such as teachers, other therapists, or doctors



What kinds of settings can I work in?
An OT can work with a wide variety of populations, from ages 0-3 years to geriatrics; from children with developmental delays to adults with mental illness. Some work settings include:
-Hospitals
-Elementary and secondary schools
-Child development centers and clinics
-Home healthcare facilities
-Nursing care facilities
-Private practice



What kind of schooling do I need?
An occupational therapist needs to graduate from an accredited master's program, which generally takes 2-3 years to complete, and involves both coursework and at least 24 weeks of supervised clinical experience. After graduating, an OT must become licensed in their state in order to practice. Licensing requirements vary by state, but they all require the therapist to pass a licensing exam administered by the National Board for Certification in Occupational Therapy (NBCOT). After passing this exam, the therapist can use the letters OTR (Occupation Therapist, Registered) after their name.



Do I have the personality for it?
A good OT is creative, flexible and a problem-solver, while also being organized and analytical. He or she also needs to be someone who is good at working one on one with people and loves helping others, enthusiastic, motivating, and compassionate.



What can I expect to earn?
Some average salaries in the US, per work setting:
Nursing care facilities (skilled nursing facilities) - $90,830
Home healthcare services - $89,220
Offices of physical, occupational and speech therapists, and audiologists - $87,190
Hospitals: state, local, and private - $85,510
Elementary and secondary schools: state, local, and private - $74,670
(Source: https://collegegrad.com/careers/occupational-therapists)
TALES FROM THE TRENCHES
TAMAR KATZ, Ramat Beit Shemesh, Israel.
Owner of Private OT Clinic since 2008
Graduated from: Columbia Graduate School for Occupational Therapy
Years in Field: 16
MY TYPICAL DAY AT WORK
I use a very holistic approach to treating children, which means for every child (and family) it looks different. Say we're working on creating routines and schedules for the morning rush. In one home, the conversation may revolve around taking out clothing from the closet the night before, while in another home, the laundry isn't necessarily in the closet. Maybe it's in a basket of clean clothing in the hall; maybe it's not even clean yet. I work with the child who's struggling as well as the mommy who's struggling. It's super important to take the whole family into account when trying to work on a child getting to school on time, because he's dependent on the system at home.
While these days I focus primarily on my private practice, I've worked in a large variety of settings over the years, including preschools, elementary schools, Camp HASC, and child development centers. I also give workshops to teachers. Each setting requires its own style of therapy. For example, in a preschool, my day would involve playing games and strategizing how to "sneak" in certain skill training through those games, such as balance, visual perceptual skills, or cooperative play. As soon as you help a child see what skill he's tapping into while he's playing, you've morphed the game into a therapeutic process.
For example: "Shmuli, that was great how you sifted through the puzzle pieces in that pile! You got rid of all the pieces that don't fit here because they're not the right color and you focused only on the pieces you needed. You know what? You can do the same thing when you're clearing your desk. Instead of getting overwhelmed by all the stuff on your desk, try searching only for writing utensils and then putting them all in the same spot. That's called scanning, and it brings your attention to what's important."

I CHOSE OCCUPATIONAL THERAPY BECAUSE
I love kids and specifically enjoyed working with children with special needs. But I wanted to make more money than a teacher and liked the idea of one-on-one interaction rather than dealing with disciplining groups. I observed other therapists' treatment sessions, and they seemed fun — so I went for it.

HOW I CHOSE MY SPECIALTY
I always knew I wanted to work with children. It just feels like "a good investment" to set someone on the right track early on and watch them succeed for years to come. But the beauty of OT is that there's such a wide variety of specialties that there's something for everyone. Usually your heart tells you where your passion is. And the great thing is that if you find yourself getting bored after a few years, you can always try something new.

WHAT I LOVE MOST ABOUT THE FIELD
Most other fields work either on emotions or on learning physical skills; thanks to our education in both cognition and neuroscience, we combine both. Because of this, I feel that I can help people in a way that no one else can. I love building the children's confidence and self-esteem through their successes. When they can point to formerly hard skills that they now have in their pocket, it gives them confidence that they can learn other new skills as well.

WHAT I FIND MOST CHALLENGING ABOUT THE FIELD
The main challenge is that most people don't really know what occupational therapy is! Because of this, they often won't realize we're the right address for their issues.
Another challenge is that if parents are not really on board with therapy and available to be part of the process, it can be difficult to see long term change. That's frustrating when you have a child who wants to progress but he doesn't have the backing he needs to make it happen.

I'LL NEVER FORGET WHEN
Years ago, I worked with a fifth grade boy on organization and other skills. The mother was very diligent and carried through all the homework, but she was a bit "stand-offish" and not so personable. Eventually, we met our goals and I discharged the client, but I never got a sense of whether they found our work together helpful. Years later, my 16-year-old son mentioned to me one day out of the blue (smirking in that teenage boy way) that I have a very good professional reputation on the street. I asked him how he knows that. Turns out that this boy, who was now in yeshivah with my son, felt the therapy was so helpful that he still remembered it.

SOMETHING I WISH PEOPLE KNEW ABOUT OCCUPATIONAL THERAPY
It's way more than just handwriting and sensory integration. When your child isn't thriving but you can't put your finger on what the problem is, usually an OT evaluation is in order.
Another thing people don't realize is that very often parents also benefit from OT. Either because they lack the same skills their child is missing (and yes, I've had parents come for sessions to work on their issues after seeing the kind of work I do with their kids), or because they don't understand why their child is behaving the way he does. I always say, no child will be in therapy forever, but usually their weaknesses will be their "weak link." That's why the best investment is to train and educate the parents to help them.

MY ADVICE FOR PEOPLE STARTING OUT
Stay true to your profession. There are many fads and new therapy approaches that come in vogue, but while it's always good to learn new things, don't exchange that for the classic holistic therapy approach. There's no such thing as a cure-all therapy.
Don't underestimate the power of guidance. When I first started working, I was a young mother and very focused on going to work, earning my paycheck, and then running back to my family. During this time, there was a period when I hated going to work. Only later on did I realize that it was because I didn't feel like I was doing a good job. If I would have spent time and money in developing myself as a therapist, I would have felt much more satisfaction and enjoyment from the work I was doing. (And by the way, becoming a better OT also makes you a better mommy!)
TZVI SCHWARTZ, Elkins Park, PA
Occupational Therapist for the School District of Philadelphia
Graduated from: Touro School of Health Sciences, Manhattan
Years in Field: 7

MY TYPICAL DAY AT WORK
I am responsible for completing student evaluations, updating their IEPS to reflect their current capabilities, and setting forth specific goals for the following term. I'm also responsible for maintaining communication with parents, teachers and other members of the IEP team. Prior to the COVID outbreak, a typical day would have me arriving at my assigned school (sometimes I'd go to multiple schools on a given day) and providing therapy, either by pulling the child out of the classroom or treating the child in the classroom itself.
Right now, with all the chaos of the school shifting to a virtual format, we don't have a clear picture yet of what our day will look like. Eventually, I'm supposed to be using a secure digital platform to provide direct "tele-health" type services to the students.

I CHOSE OCCUPATIONAL THERAPY BECAUSE
I love the health sciences. However, medical school was not an option because I'm a Kohein. So I narrowed my options to either OT or PT. (While most OT and PT schools also use cadavers, Touro Manhattan has a Kohein-friendly, virtual cadaver lab.) I loved the fact that OT was the unsung hero of the healthcare field; everyone knew what PTs did, but few knew what an OT was, or how much they can accomplish. What helped my decision was the male to female ratio in both fields. PT was nearly an even split, but OT was about 90% female. Living in Brooklyn at the time, I realized that as a male OT, I'd be in high demand, so I decided to play the statistics to my favor.

HOW I CHOSE MY SPECIALTY
I originally worked in adult sub-acute care. However, after a difference of ethical opinion between myself and my supervisor (who requested I do something which I felt amounted to insurance fraud), I decided not only to leave that job, but to make a total change. I chose school-based pediatrics. Had you asked me when I was in graduate school, I would never have pictured myself working with children, but I'm so happy I made the switch. Whereas previously, I was working within limited insurance company timeframes to help someone reacquire a lost skill, in the school system I have an immense amount of time to teach children how to discover brand-new and, hopefully, lifelong skills.

WHAT I LOVE MOST ABOUT THE FIELD
I love the moment when the person you're working with suddenly "gets" it — the skill they've been trying to achieve finally clicks. It's equally gratifying when you get a call from the parent, exclaiming, "You'll never believe what my child did today!"

WHAT I FIND MOST CHALLENGING ABOUT THE FIELD
Getting it all done! Schedules in the school system are fluid, and you can't always see who you need to, when you need to. Trying to balance all your cases, plus all of the meetings and paperwork within the few hours a day that you have, can be very challenging.

I'LL NEVER FORGET WHEN
I once worked with an incredibly bright and endearing girl who had cerebral palsy. We worked together for several school terms. When we first met, she had extremely limited motor control throughout her extremities. I had a lot of different goals that I worked on with her, like using switch-activated toys and classroom devices, and participating in self-care tasks like getting dressed and plunging her own food through her g-tube. But there was one special goal that we were working on throughout: for her to be able to give her mother a hug. It was an incredible feeling when we accomplished that goal.

SOMETHING I WISH PEOPLE KNEW ABOUT OCCUPATIONAL THERAPY
We overlap a lot with other disciplines. We can become certified feeding or assistive technology specialists, specialize in reflex integration, work readiness, ergonomics, mental health, and so much more.

AS A MALE IN A FEMALE-DOMINATED FIELD, I FIND THAT
To be honest, this has kind of been my life's story; I grew up with only sisters! There are certainly times when it's gotten uncomfortable, especially when I was the only guy in my class in graduate school. When we needed to partner up to perform hands-on exercises, I'd either bring my own lab partner or work with the professor.
On the flip side, there are definitely benefits to being a man in a female-dominated field, especially when you're working in the religious community. Many male patients prefer using a male therapist.

MY ADVICE FOR PEOPLE STARTING OUT
Don't be ashamed to ask for help. There are resources available for new therapists to be mentored by more seasoned ones. I wish I'd known that when I graduated.
DANIELLE AMSTER, Passaic, N.J.
Owner of SensoryWellness, Rochelle Park, N.J.
Graduated from: Columbia Graduate School for Occupational Therapy
Years in Field: 20

MY TYPICAL DAY AT WORK
My private practice focuses on adults and teenagers experiencing sensory processing challenges. I evaluate clients, see individuals in one-on-one sessions throughout the day, and meet with the other therapists on our team.  Much of my time is spent educating clients as well as collaborating with other professionals, such as mental health professionals, kallah teachers, and school administrators/educators, who are working with my clients.  I'm also lucky to be able to work together with my husband, an integrative nutritionist.  Together, our goal is to get to the root of people's challenges and help them from the bottom-up.

I CHOSE OCCUPATIONAL THERAPY BECAUSE
I'll admit that as a 20-year-old making this decision, my initial thought was, "I am not going to become a therapist like everyone else!" But I knew that I enjoyed working with people, and I was fascinated by both the science and the psychology behind what makes us who we are as individuals. I also wanted to do something that would make a difference in people's lives. Despite my determination to do something "different," occupational therapy really seemed the perfect fit.

HOW I CHOSE MY SPECIALTY
After working for many years with children experiencing sensory difficulties, learning disabilities, difficulties developing friendships, and self-regulation issues, I realized no one was working on these issues with the teenagers and adults! There were so many times that I'd discover the parents of my clients struggling with similar issues as their children, and I couldn't find an appropriate therapy practice to send them to. I started treating them myself, but seeing adults in a pediatric setting was less than ideal. One adult woman insisted on coming through a back door so as not to be spotted, and another client, a teacher, had an uncomfortable moment when she ran into her student who was also coming for occupational therapy. And forget about the teenagers; I couldn't even get them to walk through the door of our "kiddie gym."
Seeing this need prompted me to open my own practice focusing specifically on adults and teens. I feel passionate about helping people who either didn't realize that they could be helped or thought that they were too old and had "missed the boat."  When I first began to work with this population, I myself was unsure of how effective it would be. After all, missing developmental milestones in childhood has far-reaching effects not only on motor development, but also on the level of complexity in thinking and emotional sophistication that one develops.  But I've come to appreciate the ability we have to make impactful changes at any age. I've actually found that adults can often implement change more quickly than children.

WHAT I LOVE MOST ABOUT THE FIELD
It's my job to put the puzzle pieces together to figure out why things are challenging for my clients, and how they can gain the skills necessary to make things easier. Understanding how the body works, how the mind thinks and feels, and how each of these things contributes to our ability to accomplish in our day-to-day lives is a powerful way to recognize the gifts that Hashem has given us.

WHAT I FIND MOST CHALLENGING ABOUT THE FIELD
Setting boundaries between my work and home. I often find myself answering calls, emails and texts at all times of the day and night. The nature of my therapy is that I'm closely involved in the daily lives of my clients, and in many respects, their journey becomes my own.

I'LL NEVER FORGET WHEN
One of my clients, Nechama, was a 32-year-old married woman with five children. She worked part time, put dinner on the table, and helped her children with their homework. She came to my office seeking help because, even though she was "managing," she frequently felt anxious and irritable, and she couldn't seem to relax no matter how hard she tried.  It was challenging for her to do more than one thing at once, and she felt like the world was too loud and chaotic. She also couldn't tolerate anyone from her family touching her.  She had seen numerous mental health professionals, and while she tried to implement all that she learned, it was not quite working.
Nechama came for sessions once a week for almost a year to address the way that her neurological system processed sensory information and the underlying ability for her body to regulate how she was feeling.  After a few months of steady progress, she resumed her work with a mental health professional and we worked together as a team to help her achieve her goals.  With her body now able to process the world more efficiently, she was finally able to implement the strategies that she'd learned earlier.  She realized how far she'd come when her children said, "Mommy, do you remember how you used to jump every time that we touched you?  Now you give the best hugs!"

SOMETHING I WISH PEOPLE KNEW ABOUT OCCUPATIONAL THERAPY
Everything we do is based in science and an understanding of the way our bodies and minds function. In my practice with adults, what appears to be a simple stretching exercise can have far reaching effects on one's balance, ability to focus their eyes, or ability to feel grounded and calm.

MY ADVICE FOR PEOPLE STARTING OUT
Don't be afraid to try new techniques; this is how you learn new skills!  Ask your colleagues why they choose specific methods and get ideas from experienced therapists.
(Originally featured in Mishpacha, Issue 829)
Oops! We could not locate your form.
>