| Job Search |
So, you want to be a PHOTOGRAPHER…
| August 19, 2020
A good photographer is artistic, creative, visual, good with people, patient, detail-oriented, and computer savvy. Business and marketing skills are also important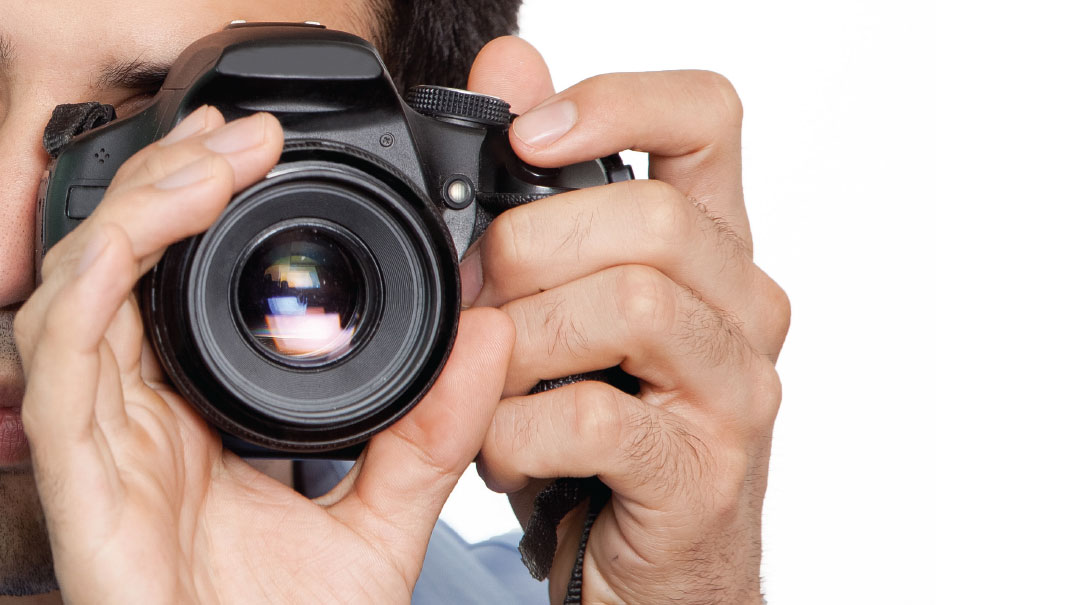 What will I be doing all day?
Photographers plan, compose, shoot, edit, and print images and scenes that record an event, tell a story, or sell a product. The job generally involves traveling to photograph people, objects, or events on location.



What kinds of settings can I work in?
Photographers work in a wide variety of settings. Some examples:
Portrait photographers take pictures of individuals or groups of people. They may work in studios or photograph events such as weddings and other celebrations.
Commercial and industrial photographers take pictures of objects such as buildings, food, products, or landscapes for the purpose of marketing or advertising.

Photojournalists take pictures of people, scenes, and events for the purpose of documenting them for newspapers, magazines, television, or online media.
Fine arts photographers use creativity and artistry to produce photographs to sell as artwork.



What kind of training do I need?
A formal post-secondary degree is not required to become a photographer; however, due to the highly technical knowledge needed for the field, many photographers take courses to learn and improve their skills. The majority of training takes place on the job, and many photographers will start out by working alongside experienced professionals to learn the trade.
That said, there are college degrees available in the field, which, depending on the photography specialty one chooses to pursue, such as photojournalism or scientific photography, can be helpful in landing a job. But more than a degree or training course, the photographer's portfolio is the most essential factor in being hired.



Do I have the personality for it?
A good photographer is someone who is artistic, creative, visual, good with people, patient, detail-oriented, and computer savvy. Because the majority of photographers are freelancers, good business and marketing skills are also important.

What can I expect to earn?
Median salary range in the US: $52,263–$74,321 (Source: Salary.com)
Successful photographers, particularly in the commercial sector, can earn 6-figure incomes.



Tales From The Trenches
HUDI GREENBERGER, Toms River, NJ
Photography specialty: Food, products, and architecture
Years in Field: 8

My Typical Day at Work
Every day is literally something new and different — which is exactly why I love what I do. My work day usually runs from 10 a.m. to 5:30 p.m., but what I do during that time varies based on what I'm shooting.
If it's a full-on food shoot, like the ones I do for Mishpacha's Family Table, the first hour will be spent getting organized, looking over the recipes, and sorting out props and food for each shot. The first shot of the day always takes the longest — getting settled into a rhythm and finding the right stylistic mood is always a bit of trial and error. Once we find it, the rest is smooth sailing. Depending on the details of the props and set, we can usually cover around fourteen fully styled shots in a day.
For restaurant shoots, a day's work can entail either 10 to 15 perfectly styled shots, or quicker work to knock out the entire menu in one day. Those shoots are extremely grueling (it's a good thing there's so much food to keep us fueled).
For product shoots, like a typical Amazon/e-commerce-style white background shoot, I'll spend the beginning of the day grouping the products in the studio based on how they need to be shot so that I don't need to change the set in between each product, and then I spend the rest of the day plowing through the shot list.
For interiors and architecture shoots, I start with a walkthrough of the space so that I can visualize my angles and lighting, and then I start shooting.
Why I Chose Photography
I used to work as a musician, playing guitar and doing sound engineering. I also gave lots of guitar lessons around Lakewood. So I figured I'd make a YouTube channel to teach Jewish-style kumzitz guitar for beginners, with a 30-second plug for my band. So, I bought my first camera and lighting kit to shoot these videos, assuming I'd never use them again.
But after seeing how much I liked it, I went on to train by watching videos online, reading books, and asking a ton of questions. And — most importantly — not being afraid of failure and shooting masses of terrible photos until I figured it out.
How I Got My Specialty
At first, my photography was just an expensive hobby. I knew I didn't want to shoot events or family portraits, so I was just having fun with it. Then, a neighbor of mine who was an Amazon seller (this was eight years ago when the Amazon marketplace was just starting to open up to resellers) asked me to shoot his products, thinking it might help his sales. I always like a good challenge, so I gave it a shot. Well, long story short, after his listing went live with my photos, one of his product lines tripled in sales overnight, and the other sold out in two weeks.
I realized that if my photos could be that effective for him, they could be for others, too. I went full-force into learning product photography, and within three months I retired from my music career, quit my day job, and went into commercial photography full-time.
How I Find My Clients
Cold calling is gold. When I first started out, I had a basic portfolio from the two or three Amazon guys I was working with. I called up every graphic designer and marketing agency in the Lakewood phone book and sent them my portfolio. That worked out really well. Today, I rely on social media and word of mouth. Baruch Hashem, I don't have to find the clients anymore — they find me.
How I Combine the Creativity of an Artist with the Marketing Skills of a Business Owner
I'm blessed with a father who is a super technical computer guy and a mother who is extremely artistic and creative. And I've seen how my creative mother can be very technical in her job as a school principal and my father can be super creative when it comes to finding solutions to problems. I grew up absorbing all of that, which has been a real blessing.
I'm also addicted to learning — audio books, print books, business blogs, podcasts. I owe my career (as well as many other parts of my life) to many of these incredible sources. However, if you find that you're just not the business type, realize that there's no shame in that. You're probably a better artist because of it. In that case, go out and hire your weakness. Find a partner or a sales person to fill that role.
What I Love Most about the Field
That every day is a new challenge. One day I'll be shooting food in my studio for packaging of a new grocery product, the next day I'll be driving to Brooklyn for an interior design shoot, and the day after I'll be on location in a factory shooting products that are heading to Amazon.
What I Find Most Challenging
The editing. Shooting all day is the fun part, but the editing can really wear me down. I've tried hiring editors, but there are some weeks that I'll have zero work for them (many shoots require very little editing) and some weeks that there aren't enough hours in the day to get it all done. Another challenge is keeping up with social media, but I'm a bit of a perfectionist when it comes to posting, so I tend not to post unless I have the energy to really come up with something great.
My Most Interesting Job
One of my standout clients is a guy who calls himself Anshie Art, who has a real sense of humor. He makes, according to his description, oddball Jewish pop culture pieces. For example, he's designed a huge, long red case with a glass front cover, containing a massive twisted shofar inside. There's a small hammer dangling off the side, and a sign on the glass that reads "In case of Mashiach, break glass."
My Advice for People Starting Out
Study and practice. Then study and practice some more. It's okay for that practice to be on a paid shoot, as long as the job gets done right. And it's very important not to become too protective about your own work. I see beginners post pictures that are awful, and they think they're so amazing that when someone tries to help them by critiquing it, the photographer will start defending the image. Chill. You're a beginner. This is how you learn and grow. (This goes for seasoned professionals as well, by the way.)



LEVI LIBEROW
, Crown Heights, Brooklyn
Photography specialty: Weddings, bar mitzvahs, and other events
Years in Field: 30



My Typical Day at Work
My days are generally spent preparing and reviewing work orders of albums and photos. This includes sitting down with clients to assist them in designing their albums. Then we head out at night to photograph our next event.
Some weddings use a single photography crew, consisting of a photographer and a lighting assistant, who helps with setup, lighting, gathering the family members, and sometimes the posing as well. Some will hire multiple crews to cover each family independently. Some even have up to four crews, so that each side will have a photojournalistic photographer to capture the small details and expressions. A wedding job typically takes around eight to nine hours, though some with larger families or a mitzvah tantz at the end can take 12 to 13 hours. Our longest wedding was 16 hours.
We also offer video services as well as livestreaming feeds of the event, especially during these COVID times.
Why I Chose Photography
I grew up in Antwerp, and I got my first camera at the age of seven. I developed a passion for nature photography, which started out as a hobby, but I eventually realized that I wanted to make it into my profession. I graduated from a photography school and continued training with professional photographers. I also attended seminars to develop my portrait style. I started out photographing bar mitzvahs, and then moved on to weddings and other events. I'd always loved capturing events and sceneries, so moving into event photography was natural for me.
How I Find My Clients
I moved to the US in 1986. In the early years, there were only a handful of photographers, and not too many frum or chassidic ones. Many studios employed non-Jewish crews, which was a concern to many frum clients, particularly from a tzniyus perspective. So it wasn't so hard to build a client base. And with my easygoing approach and organizational skills, baruch Hashem, our clients kept coming back and refer others too.
By this point in my career, nearly all our clients are referrals and repeat customers. It's a great honor and pleasure to have covered entire families for all of their simchahs. I especially enjoy photographing weddings of the next generation. We even have many clients — customers who've used us for previous events — who wait to confirm their wedding date based on our availability.
How I Combine the Creativity of an Artist with the Marketing Skills of a Business Owner
Photography is an art and definitely requires having a creative, artistic side. A photographer should be able to see things that others may not. For example, some older halls aren't as fancy, and there aren't as many obvious options for photographing in the lobby. It requires more imagination to find the beauty in a spot. Clients will often ask me after an event where a certain portrait was taken — they can't figure out where in the hall it was.
Honestly, though, I'll say that my photography skills are far better than my marketing skills.
What I Love Most about the Field
Each wedding is a new challenge, and I aim to ensure that our clients leave the event with the same smile they came in with. When you're taking portraits, you need to capture the best of that person. I constantly try to diffuse client stress by joking with them — especially with the kids. I especially love the challenge of working with those kids who are so uncooperative, their parents tell me to just give up.
What I Find Most Challenging
Getting the events to start on time. The family's preparations are often delayed, which puts added pressure on the photographer to get the pictures finished on time.
The Biggest Change I've Seen in the Industry
Many young couples today are looking for more spontaneous, candid moments in their photos. Many are more flexible and want more creative and intimate portraits. Even with group family pictures, most prefer out-of-the-box images rather than standard posing.
From a technical perspective, obviously, the switch to digital photography was the biggest change. Being the first in the Orthodox New York community to switch to digital, I was very careful to analyze the differences between digital and film — and there were many. But digital has come a long way since 2001, to the point that today, it exceeds the performance of high-end film cameras from the past.
 I'll Never Forget
A wedding that took place the night of 9/11. Despite the tragic events and all of the complications that arose as a result, the family decided to go ahead with the wedding. Even though I was hired as the photographer, my staff and I became waiters as well, since so many of the staff were unable to get there.
With the city on lockdown, a lot of photographers from outside of New York who were supposed to photograph weddings that night were unable to attend. So, as I waited for my own clients to arrive at the hall, a few other kallahs came by and I photographed them as well, so that they'd at least have portraits from their weddings.
Ironically, that same family made their next wedding during a blizzard, and the chassan, who was from Monroe, had to walk through four-foot snowdrifts from the Verrazzano Bridge to Boro Park, since the city's streets were shut down.
 My Advice for People Starting Out
Photography is both an art and a skill, and proper training is key. Some train by professional photographers, some go to photography school, and some do both. But simply owning a camera or knowing how to use Photoshop doesn't make someone a photographer.
I'm typically asked if my package includes editing and correcting the pictures. The answer is no. As a professional, you must be able to capture the images the proper way from the start and not depend on software to correct the images. Corrected photos will never look as good as those that were shot properly to begin with.



LEAH NETZER
, Montreal, Canada
Photography specialty: Family/children portrait photographer
Years in Field: 16



My Typical Day at Work
My typical workday starts out with a photo shoot in the morning. A session can take one to two hours, and during this time I move around a lot, sometimes even chasing my little subjects. I love it, but it can be exhausting, so I only take one client a day. This way, whether I'm shooting outdoors or in the studio, I can give it my all.
After the session, I sort through the pictures to find the best images. This makes the choosing process easier for the client. Each image then gets a quick edit to enhance and crop the picture. I try my best to email the client the pictures within 24 hours — I know how anxiously parents are waiting to see the pictures.
I also set aside one day a week to work on orders and printing. I used to send all my orders to different printing houses, but about ten years ago I invested in a professional inkjet printer, and now I do most prints at home. It's time consuming, but I feel like I have a lot more control over the color and quality. It's also really convenient for customers who need a rush order.
 Why I Chose Photography
I wish I could say that photography was always a passion of mine, but the truth is, I never gave it a second thought until my oldest daughter was born. My mother took us to the mall for her first photo shoot, and I was fascinated by all the equipment and taken with the pictures. It got me thinking — This doesn't seem that hard, I could totally pull this off!
That was 16 years ago, when there were very few young portrait photographers. When I told my friends about my new business venture, they thought I was crazy. I honestly didn't know the first thing about a camera. But the idea of being able to work from home, being self-employed, and making people happy with my work was really appealing, so I signed up for a course at the New York Institute of Photography. At the time digital photography had not yet taken off, and the course was geared toward film photography. I'm glad I learned on a film camera, as it made me focus much more on the technical aspects of photography.
I was living in Lakewood at the time, and I opened a small studio in our basement apartment, where I spent the first few months practicing on friends and relatives. Once I felt confident enough, I graduated to neighbors, and then to "real" customers. Looking back, those years were a great stepping stone, where I had the room for lots of trial and error before really calling myself a business. We moved to Montreal shortly after, and I've been working here ever since.
How I Chose My Specialty
I chose to become a family/children photographer because I'm a real people person, and my line of work gives me the opportunity to meet and spend time with people of all ages. I love capturing a baby's innocence, or the way toddlers show off in front of the camera. I enjoy watching proud upsheren boys point to the letters in the Alef Binah, and the way bar mitzvah boys shine in the spotlight. I've had adorable teenagers organize a family session to surprise their parents, and I've also enjoyed sessions with older generations smiling at their grandchildren and great-grandchildren.
The Studio vs. Outside
The work I most enjoy is in the spring, summer, and fall, when I'm able to shoot outdoors, which gives me the opportunity to capture families in a natural setting. The sessions feel less posed, more candid, and, in many ways, more genuine. I see my outdoor work as more of a lifestyle photography.
But Montreal gets really cold half the year, so during the winter I work out of my home-based studio, where I have many options for backdrops and props. The studio sessions are a bit more formal, but there are some clients who prefer the studio. And it's the better option for babies, toddlers, and upsheren boys.
One Thing a Photographer Needs Is
Patience. Not every child is excited to come into the studio for a photo shoot. Of course, there are those picture-perfect kinds of kids who love the spotlight and know just what to do in front of a camera, but very often the children are shy or scared of the big flashing lights. Sometimes it can take an hour for them to warm up.
I totally get that, which is why I have a big play area next to my studio, and I always encourage the children to go play. If I want my pictures to be genuine, I need the subjects to feel comfortable posing for me. I often incorporate toys, bubbles, or balloons in the picture to help the children relax. I'm also careful never to push a child — I'd rather skip the pose. And having developed this patience on the job has definitely benefited the rest of my life.
What I Love Most about the Field
Bringing people joy through my work. I have a few clients who come every year to take group shots of their growing families, and it's really nice to see my pictures throughout the years displayed in their homes.
My Advice for People Starting Out
When you work from home, it's hard to know where work ends and family life begins. When I first started working, I thought I needed to be super flexible to accommodate my clients' schedules. I worked Sundays, late afternoons, and evenings so that families with older children could take part in a photo shoot. With time, though, I learned the importance of setting clear boundaries. Now I only work when my kids are in school. Sometimes this narrows my workload, but I no longer feel pressured to accommodate everyone during the times when my kids need me.
(Originally featured in Mishpacha, Issue 824)
Oops! We could not locate your form.
>