| Job Search |
So You Want to Be a Pharmacist
| July 8, 2020
While most people think of pharmacists as the people behind the counter filling prescriptions at CVS, there is actually a wide variety of job options within the pharmacy field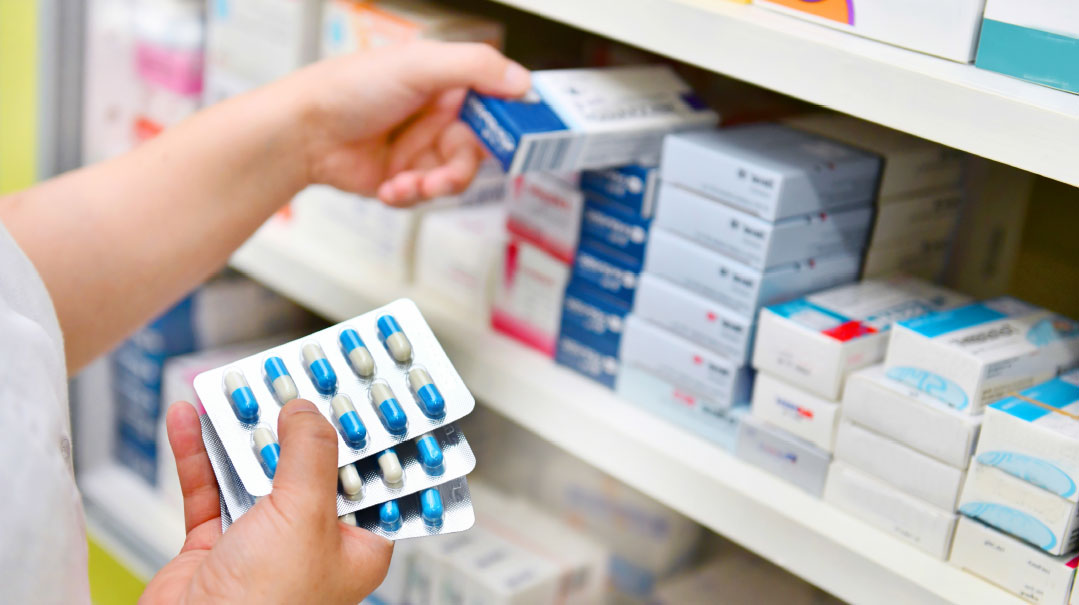 Are you stuck in a job that makes you want to dive back under the covers in the morning?
Are you ready for a career change but have no idea what else you can do, or where to begin?
Or are you just starting out, looking for a profession you hope will suit your strengths?
What are the options out there, and what's the job really like?
So, you want to be a…
pharmacist?
What will I be doing all day?
A pharmacist fills medical prescriptions, verifies that the medication and dosage entered in the computer system is correct, and ensures that it will not interact negatively with any other drugs the patient may be taking, or with a patient's medical condition.
The pharmacist also instructs patients how to take their meds and informs them about some common side effects and how to mitigate them. The job also includes educating other medical professionals about various medications and the appropriate drug therapy for their patients. In some settings, part of the job includes overseeing and training pharmacy interns.
Other job responsibilities include filing insurance forms and being in contact with insurance companies to ensure patients are covered for the appropriate medications. Pharmacists may also administer certain vaccines, such as the flu shot.
What can I expect to earn?
Some median full-time salaries:
Pharmacies and drugstores: $125,910
Hospitals: $129,740
What kinds of settings can I work in?
While most people think of pharmacists as the people who stand behind the counter filling prescriptions at the local CVS, there is actually a wide variety of job options within the pharmacy field. Some common ones include:
Community Pharmacists — They work in retail drugstores, either small, independently-owned ones or large national chains. They fill prescriptions, provide over-the-counter medications, and provide information to customers about the medicines.
Clinical Pharmacists — These pharmacists work in healthcare settings such as hospitals and clinics. They recommend medications for patients and are responsible for managing the administration of the medicines, including the dosage and timing. They counsel patients about their medications and also educate and advise the medical staff about pharmaceuticals.
Pharmaceutical Industry Pharmacists — These professionals work for pharmaceutical companies in research and development of new drugs. They may design and conduct clinical trials or write up educational materials about the drugs.
What kind of schooling do I need?
In order to become a pharmacist, one must earn a Doctor of Pharmacy (Pharm.D.) degree from an accredited post-graduate program. Most programs take four years to complete (though some have a three-year option) and require undergraduate prerequisites such as chemistry, biology, and physics. Many programs also require applicants to take the Pharmacy College Admissions Test (PCAT). After earning a Pharm.D., one must pass both a national and a state licensing exam in order to become a licensed pharmacist.
Do I have the personality for it?
A good pharmacist is someone who is detail-oriented (this is essential, as the job depends on paying attention to every detail of every medicine order), analytical, personable, and a good communicator, in both oral and written communications. You also need to be good at science and math, and to be prepared for a lot of memorization during the schooling.
TALES FROM THE TRENCHES
THREE PHARMACISTS DESCRIBE THE HIGHLIGHTS AND THE CHALLENGES
SHIRA REISMAN, Edison, NJ




Pharmacist in Long-Term Care Pharmacy, Somerset, NJ




Graduated from Rutgers University School of Pharmacy




Years in Field, 9
MY TYPICAL DAY AT WORK
I work at a large long-term care pharmacy, which is a pharmacy that exclusively services nursing homes. People can't just walk in off the street and fill prescriptions. We have contracts with several nursing homes, for whom we fill medication orders, review them for accuracy, and package and deliver them. Our delivery drivers go out three times a day.
Staff pharmacists rotate through the various pharmacy departments with different daily tasks. Some of the departments include the call center, where pharmacists answer medication inquiries from nurses and doctors, and the IV and narcotics departments, where the pharmacist checks IV and narcotic orders for the nursing home residents.
WHAT IT MEANS TO VERIFY MEDICATIONS
When we get a prescription, we first verify that the order was entered correctly in the pharmacy's computer system. Next, we check that the prescription is safe for the patient, in terms of dosage, interactions, and allergies. We do an additional verification after the medicine is packaged, to make sure that the correct medication is in the bottle, with proper warning labels.
WHAT HAPPENS WHEN MIX-UPS OCCUR
Unfortunately, every pharmacist who's been working long enough has had a mistake occur on the job where the wrong medication was given. The pharmacist contacts the patient or nursing home ASAP to prevent further doses from being administered. If necessary, a doctor will get involved in the error management to determine if further monitoring or treatment is necessary.
It's rare for a really serious error to occur because pharmacists are aware of the specific medications that carry the greatest risk, and they're very diligent about checking those orders carefully. Although I've made errors, thankfully it was nothing that caused any harm to a patient.
WHY I CHOSE THE PHARMACY PROFESSION
Science and medicine were my favorite subjects. I would have wanted to be a doctor if not for the impracticality and cost of so many years of schooling.
WHAT I LOVE MOST ABOUT THE FIELD
I love that there are always new drugs to learn about. The newer drugs, in particular, are more complex and fascinating. Most drugs are relatively small molecules that plug up a site where an enzyme binds to prevent its action or prevent it from being broken down. The most exciting new drugs are gene therapies — very large molecules (usually administered by injection) that deliver a working copy of a gene to a patient whose cells have a genetic defect. One example of this is Zolgensma, which enables babies with a specific type of muscular dystrophy to produce a protein that they are lacking for muscle survival.
There's also a relatively new class of drugs called monoclonal antibodies (MABs). There are new MABs coming out every month, for different diseases. They're especially useful to treat cancer, because they can bind to a specific cancer cell without affecting the whole body, the way chemotherapy does.
WHAT I FIND MOST CHALLENGING ABOUT THE FIELD
Many companies will measure a pharmacist's productivity by the number of medication orders verified in a given day. This is a sad reality in many pharmacy settings because the profit margins are slim, with constantly decreasing reimbursements from the insurance companies. The chain pharmacies, in particular, are notorious for monitoring pharmacists' numbers.
Where I work, it isn't quite as oppressive, but still, when I started out at my current job, I was frequently conflicted between the volume of orders that I was expected to verify, and taking the time to intervene on interactions and allergies that could affect the patient's health. I had to find a balance between patient care and satisfying the job requirements.
Another challenge is the schedule: Because most pharmacists work in settings that operate 24/7, many shifts, especially when starting out, are late nights and Sundays. My husband would come home early from yeshivah or work one or two nights a week to watch the kids, and Sundays were a patchwork of coverage between grandparents and babysitters. Thankfully, along with seniority has come a more manageable schedule. I currently work normal business hours, with only an occasional Sunday.
I'LL NEVER FORGET WHEN
A few years ago, one of the pharmacy technicians came over to me and some of the other pharmacists and said she felt sick. She was sweating and felt faint, and someone called an ambulance. While we waited for the paramedics to arrive, her breathing became labored, and she was wheezing loudly, obviously in pain. The other pharmacists and I looked at each other, and we agreed that she was probably having an allergic reaction and needed an epinephrine injection. I ran to the medication shelves, injected her with an epi-pen, and after a minute her breathing began to ease. In the hospital, she was told she'd had a severe allergic reaction and may not have survived had she waited 15 minutes for the paramedics to arrive before receiving epinephrine.
HOW WE WERE AFFECTED BY COVID-19
During the height of the pandemic in our area, there were many medications that nursing home residents needed urgently for treatment and supportive care, and our pharmacy was very busy. Other than those weeks, the work has been largely the same as usual. Some pharmacists have been able to work remotely from home answering calls and verifying medication orders, but those who have to check that the final product was packaged accurately have to work in the pharmacy.
SOMETHING I WISH PEOPLE KNEW ABOUT PHARMACISTS
People don't realize how many different settings pharmacists work in. Most people know about retail pharmacists who check medications in community pharmacies, but pharmacists also work to make clinical medication decisions in hospitals, to design medication coverage plans for insurance companies, and in drug trials and medical writing for drug manufacturers.
MY ADVICE FOR PEOPLE STARTING OUT
Most pharmacists go through school with a specific practice setting in mind, and may focus on classes relevant to that field more than others. But depending on where you live, pharmacist jobs can be difficult to find upon graduation. So keep an open mind, because you never know where that will take you. One of my good friends in pharmacy school wanted to get a job as a clinical pharmacist in a hospital, but after six months of unsuccessfully seeking a position, she accepted a job with an insurance company. She ended up being promoted to the medical writing department, and is thrilled to be where she is.
MAYER GOLDBERG, Woodmere, NY
Clinical Pharmacy Specialist Kingsbrook Jewish Medical Center (KJMC), Brooklyn, NY
Graduated from, Touro College of Pharmacy
Years in Field, 4
MY TYPICAL DAY AT WORK
As a clinical pharmacy specialist in emergency and surgical medicine, some of my responsibilities include monitoring patient adherence to therapy (for example, by monitoring how often they fill their medications to check that they're taking their meds as often as they're supposed to), providing medication information for medical professionals, monitoring patient laboratory values, and educating patients about their medications. Additionally, I play an active role in the professional development of KJMC's pharmacy residents.
I start rounding with the surgical and emergency teams every morning at 7:30 a.m. I work with the medical staff to ensure patient safety with the prescribing, dispensing, and administration of medication. I've also been playing a critical role in patient security in the emergency department. Since it can become chaotic, the ED is more prone to medication errors. I review the patients' home medications to ensure patients can safely use the medications prescribed by the ED physician. I also work in the surgical department, particularly in the pre-op and post-op stages, to ensure appropriate antibiotic use. I respond to medical emergencies such as rapid sequence intubations, cardiac arrests, and strokes to assist in the retrieval and appropriate use of high-alert medications.
WHY I CHOSE THE PHARMACY PROFESSION
I always wanted a career in healthcare — I wanted to help people recover from illness. At the same time, I wanted to have the flexibility to help patients either on the individual level, such as in hospital settings, or on a more global scale, as in pharmaceutical research. The variety of career opportunities for a pharmacist really spoke to me.
WHAT I LOVE MOST ABOUT THE FIELD
The field is rapidly changing, and even old medications are being repurposed for new diseases, in addition to the development of new medications. Since pharmacy is ever evolving, there are no two days that are alike. Every day brings up new challenges that require one to think out of the box — such as what to do when there's a shortage of a certain drug, a quite common occurrence.
WHAT I FIND MOST CHALLENGING ABOUT THE FIELD
I work at a small, 303-bed community teaching hospital. The small size often makes it challenging to acquire certain important medications that are on backorder, and then alternative medications need to be sought. The hospital is currently undergoing a merger with Interfaith and Brookdale, known as the One Brooklyn Health System. As a result, there is a larger focus than usual on saving costs, which can be quite difficult when working in the emergency department, where the fast-paced nature leads to medication waste — either by a staff member dropping the medicine, or by a patient refusing to take it.
I'LL NEVER FORGET WHEN
A 46-year-old patient with an unremarkable medical history developed an out-of-hospital cardiac arrest and was brought to our emergency department. After several rounds of CPR and epinephrine, the patient regained his pulse but still didn't regain consciousness. After a quick consultation among the medical staff, we placed the patient on targeted temperature management: the cooling of the overall body temperature to 33–36 degrees Celsius to preserve brain function. During the cooling and re-warming phases, it's imperative to monitor the patient closely for shivering and for electrolyte imbalances. This monitoring was my job. I also ensured that the physicians ordered the medication necessary to facilitate this procedure. The patient did have several electrolyte abnormalities which we were able to manage effectively, and he ultimately woke up and survived.
HOW WE WERE AFFECTED BY COVID-19
COVID-19 was extremely difficult on all healthcare professionals. Our emergency department can accommodate approximately 30 to 35 patients on a daily basis. However, during the pandemic we were averaging 80 to 85 patients daily. There is rapidly changing information about effective treatments or certain medications to avoid, and it's essential for pharmacists to keep up to date and ensure medication safety.
SOMETHING I WISH PEOPLE KNEW ABOUT PHARMACISTS
The field of pharmacy has evolved over the years; pharmacists today don't just count pills. Aside from screening patients medications for drug-drug interactions, they may also administer many essential vaccines.
MY ADVICE FOR PEOPLE STARTING OUT
Use the opportunity that pharmacy schools offer to enhance your communication skills during rotations. Many rotations offer the opportunity to interview and counsel patients about their medications, which is an invaluable skill. Challenge yourself in school to the fullest extent, because once you graduate and are working alone on the job, real people's lives are at stake.
LEORAH TAAVAR, Brooklyn, NY
Pharmacist and Owner, Modern Remedies Pharmacy, Brooklyn, NY
Graduated from, Long Island University
Years in Field, 3
MY TYPICAL DAY AT WORK
As a pharmacist in the retail setting, my responsibilities are to verify prescriptions, to make sure there are no drug interactions between any of the patients' prescriptions, to counsel patients on how to take their medications properly, and to answer any of their concerns. We also make sure that the prescriptions are the correct dose for the diagnosis.
A typical day involves me typing and verifying prescriptions, answering a lot of phone calls, making countless phone calls to doctors, patients, and insurance companies, and getting out the prescriptions in a timely manner to keep customer satisfaction. One of the advantages a private store has over big chain stores such as Walgreens and CVS is that we can work a lot more efficiently, getting our customers in and out as quickly as possible.
WHY I CHOSE THE PHARMACY PROFESSION
I'd always wanted to go into the medical field but didn't want to get into anything too physically involved with patients. Also, as a Jewish mother, pharmacy offers flexible positions and schedules, unlike many other jobs in the medical field.
HOW I CAME TO OPEN MY OWN PHARMACY
The option to open a business was always on the table but wasn't something we were thinking of doing so soon. Sometimes Hashem puts the right opportunity in front of you and you need to grab it. In my case, the father of a friend of mine had owned a pharmacy and was looking to retire. Looking back, I'm shocked that we were able to do this, but I would definitely encourage others to start their own businesses. It may be difficult at first and will involve many sacrifices, but ultimately there is an enjoyment you get going to your own business every day versus working for someone else.
Of course, running your own business requires a certain skill set apart from that of a pharmacist. For any retail business, I think the most important skill you need is to be personable and outgoing. Also, having a good finance background is a plus. Unfortunately, I don't have this, though I wish I did.
WHEN I NEED TO CHANGE THE DOCTOR'S PRESCRIBED MEDICATION
There is some leeway when it comes to recommending a different medication than the one the doctor prescribed. Obviously, the physician is the one who has the final say in a prescription, but we call doctors all the time and give recommendations. Usually it's due to insurance not covering a particular medication.
WHAT I LOVE MOST ABOUT THE FIELD
It's so gratifying to see patients get help! For our elderly patients, in particular, their lives often depend on these medications, and they literally depend on us for their daily survival. That's something you don't get working in other industries.
WHAT I FIND MOST CHALLENGING ABOUT THE FIELD
When a patient's prescription is not covered by insurance or when we cannot get through to the doctor to refill a prescription. Remember, a lot of patients feel a sense of urgency that their lives depend on the medication.
I'LL NEVER FORGET WHEN
One Friday afternoon, a friend called me frantically saying that a real danger in her state, and that she didn't want to wait until after Shabbos to get the medication. Being that all the Jewish pharmacies were closed, her doctor had sent the medication to CVS but the line in CVS was very long and there was no way they would get it before Shabbos. I told her to come to my store as soon as possible. I quickly got in my car, got the doctor on the phone to verify the strength she needed, and baruch Hashem got her the medication on time for both of us to light candles.
HOW WE WERE AFFECTED BY COVID-19
Ultimately, my job per se was not affected by COVID, but during the peak of the pandemic, we were extremely busy with panicked patients trying to stockpile enough medication for the next ten years. There were also a lot of steps to overcome in getting those 30 pills into the bottle.
SOMETHING I WISH PEOPLE KNEW ABOUT PHARMACISTS
That we're not just pouring pills from one bottle to the next! I get a lot of people asking me why it takes so long to get their medications filled. There are a lot of obstacles in the way of getting those 30 pills into the bottle!
MY ADVICE FOR PEOPLE STARTING OUT
Be prepared — the transition from student to pharmacist can be terrifying. I remember looking at every prescription a hundred times the first day and calling all my friends asking them which interactions required interventions and which didn't.
Don't get discouraged by failure, particularly if you're a business owner. As religious Jews, we should always keep in mind that we don't always see the full picture. I've wasted time, energy, and money on certain projects to market our pharmacy business which in the end looked like total failures — only to realize later on that the process was for the best.
(Originally featured in Mishpacha, Issue 818)
Oops! We could not locate your form.
>