| Job Search |
So You Want to Be a… Party Planner   
| June 7, 2022
A successful party planner must be creative, with an eye for detail and flair for design. He or she must also be very organized, patient, a good problem solver, and have excellent communication skills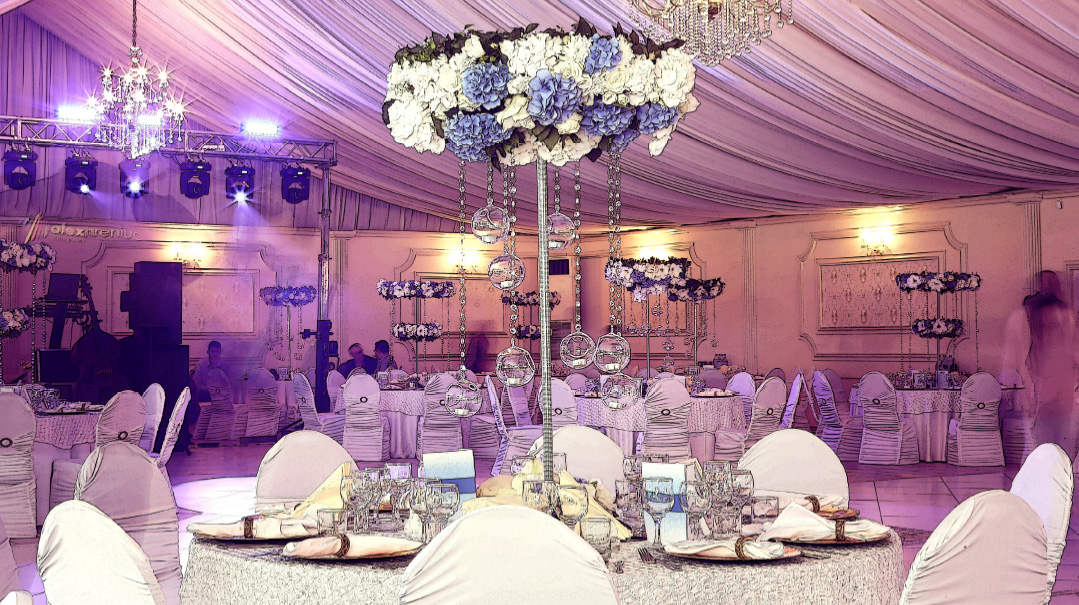 How much money can you make?
What type of training will it take?
And what does the job actually entail?
Read on to find out whether this is the job for you
What will I be doing all day?
A party planner develops, coordinates, and executes  parties, special events, and receptions. Responsibilities include developing a creative plan and concept for the party, based upon the customer's desires and budget; helping the client choose a venue and caterer and devise the menu; creating artistic décor; reaching out to and coordinating with vendors; being on-site during the event to oversee its smooth operation, and more.
What kind of career options do I have?
Party planners work in a range of venues, from small-scale kiddushes and brissim to weddings and larger community social events. Some party planners specialize in running corporate parties and events.
What kind of training do I need?
While no formal training is necessary, many party planners will start out shadowing an experienced professional to learn the skills of the trade. Some choose to study for a degree in event planning or hospitality management.
Do I have the personality for it?
A successful party planner must be creative, with an eye for detail and flair for design. He or she must also be very organized, patient, a good problem solver, and have excellent communication skills. Being able to work well under pressure is essential in this field.
What can I expect to make?
Party planners charge by event. For an average event, prices can range between $800 and $2,000. Some take a percentage of the overall event budget.
Median annual salary: $52,500
TALES FROM THE TRENCHES
CHAVI HORN, 

Flatbush, NY
Party Planner, Brooklyn
Years in Field: 20
My Typical Day at Work
On a typical day, I meet with clients, follow up on party ideas, make purchases, speak to vendors, oversee deliveries, set up an event, and more.
When I meet with a client, I start by discussing what their goals are for their party. What kind of venue are they looking for? What kind of simchah do they want? Are they envisioning something over the top, balabatish, or low-key? Artistic, modern, or heimish? I walk them through all the details. We also discuss their budget, something I take very seriously. I respect their budget and I'm very careful to stay within it, while still providing them with the gorgeous event they want.
Next, we get to work: meeting with the caterer, choosing flowers, tablecloths, décor, music, entertainment, swag, and setting the overall vibe. Some people like to be hands-on, while others are very happy to leave everything to me.
In general, I find that the most popular times people use party planners are for events like vorts, which tend to come up suddenly. Those are the times you want to be able to just make one phone call and presto, you know it's being taken care of.
How I Chose the Profession
I'd been running organizational events already for a while. It started with my volunteering for Chai Lifeline, which then became a job. (Today I do the party planning for Bike4Chai and Tour de Simcha. I also ran the Hatzalah of Flatbush Gala Auction for many years.) Then, my son turned bar mitzvah, and I went all out indulging my creativity in planning his party. Well, the next week, my friend was making a Shabbos bris, and she asked me to plan it.
"But I'm not a party planner," I said.
"Oh, yes, you are!" she told me.
What made the request extra flattering was that this friend was Raquel of Raquel Couture, a well-known designer. Well, I guess she was right, because my son is now 33 years old and I've been doing party planning ever since!
How I Chose My Specialty
While I do all types of parties and events, one of my specialties is corporate parties — planning holiday parties and other types of business events. But I'd say my real specialty is knowing where to save and where to spend, so I don't waste the customer's money.
What I Love Most about the Field
I love being creative — working with colors, doing things with my hands, and creating something from nothing. Of course, the best part is seeing the final result of all my hard work and knowing that I've given my customers something beautiful and memorable.
What I Find Most Challenging about the Field
It's a stressful job; you need to be available 24/7 and be able to deal with last-minute requests and crises, which is both challenging and also exhilarating.
A person might call you in the middle of the night: "My daughter just had a baby! Can you do the bris?"
Or you'll have someone beg you to take on a last-minute simchah, even though you're already booked. (In general, I don't take on more than two events in one day; though I do have a staff, I want to give each client my undivided personal attention.)
And then there's the challenge of having to tell a client they can't have what they want. For example, some halls have exclusive contracts with certain caterers. Your client may be set on using a specific caterer, but her chosen hall won't allow that — and you need to be the one to break the news.
I'll Never Forget When
A half hour before a Shabbos bar mitzvah, we suddenly realized that due to a miscommunication, there were no siddurim for the Shabbos minyan. So my children and I were running around minutes before Shabbos borrowing siddurim from gemachs.
Some of the Latest Party Trends I'm Seeing
Over my 20 years in the business, simchahs have gotten much bigger and more expensive, and the entire simchah industry has exploded. But recently, I've seen a new trend of people starting to scale back. Post-Covid, people are embracing minimalist classy rather than "in your face," over-the-top parties. Takanah parties are becoming more popular. Instead of throwing big bar mitzvah receptions, people are just making parties for the boys' friends.
Another current trend is personalized monogrammed items — like napkins, water bottles, and swag. Even ice cubes are being made in customized molds.
Something I Wish People Knew About Party Planners
Behind the scenes of the glitz and glamour is  a lot of hard work!
My Advice for People Starting Out
No matter what happens, maintain your cool and leave your ego at the door. Do you want to be right, or do you want to get the party done? No matter how unreasonable someone is being — and in this field, you tend to see people at both their best and their stressed-out worst — stay calm and don't burn any bridges. Not with a client, and not with a vendor. People talk, and in our communities, everyone's connected.
By the same token, treat your staff with respect. Say please and thank you and make sure to tip them well! And maintain excellent working relationships with all of your vendors. I personally invite my vendors to all of my own simchahs.
In addition, know your clientele. If you're doing several parties in the same neighborhood, make sure not to repeat a look. Plan ahead to anticipate what issues might come up. If it's the summer, make sure you have extra water and the air conditioners are working. And tell your clients not to skimp on the staff. Having enough staff is very important to ensure the party runs smoothly.
CHAVI CHASE, 

Lakewood, NJ
Party Planner and Owner, PRET-A-PARTEE
Years in Field: 13
My Typical Day at Work
My job is to plan your perfect event in a way that's as painless as possible for you.
I always tell my clients that they can be as involved or as uninvolved as they'd like in the planning. My first step when I meet a new client is to sit down and discuss their vision and ideas for the event, as well as their budget. Many times, I have to walk them through the budget part, because people really have no idea what things cost. They're often quite surprised by the expense of making a simchah until I break it down for them.
After they've settled on a budget, our next step is to come up with the plan. My typical client wants a balabatish event that's beautiful and tasteful, yet not over the top. But I've also done many fun, out-of-the-box event venues — such as events in Sky Zone, in a roller skating rink, in a spa, or on a boat.
Of course, running your own party planning business involves not just the creativity of planning and designing events, but also the practical aspects of managing a business and finding clients. Baruch Hashem, I've worked hard over the years, and my business has now reached the point where most of my clients — largely from the Lakewood, Jackson, and Toms River areas — come to me through word of mouth. I also maintain an active Instagram account, which is an important marketing tool for me.
Aside from working with my clients to plan their simchahs, I also offer a consultation service for people who are making simchahs and want some direction, but don't want to hire a party planner to run the actual event. I'll meet with them either in my home or at their  party venue, and I'll go over with them everything they need, from start to finish. I'll help them with ideas, layout, setup, theme, and more, as well as give them vendor contacts and tell them the amounts they need to order for any given item.  I literally give them my own business model, to help set them up on their own.
My job is definitely not a nine-to-five one; it starts literally as soon as I open my eyes in the morning, when I'm already checking my phone and answering WhatsApps, texts, and emails, and doesn't end until I go to sleep at night. (Actually, it's not even over then, because I often dream of my work!)
How I Chose the Profession
I've always been creative and also a high-achiever. I grew up in Flatbush, and went to both FIT and Brooklyn College at night while working in a handbag showroom on Fifth Avenue during the day. Then I got engaged and moved to Lakewood. Traveling into New York City everyday didn't work for me anymore, so I stopped working and dropped out of college. I began working at a few local retail jobs while teaching in several schools. Once my children entered school, I was always the mom who was president of the PTA and ran all the events. I also started volunteering to run chesed events for organizations like Hatzalah, SCHI, etc. After a few years of this, I decided I might as well monetize my hobby and my company, PRET-A-PARTEE, was born. The name means ready to party!
How I Chose My Specialty
I don't have a particular specialty, but I do love upsherens and bas mitzvahs. They tend to have themes, and you can really get the creative juices flowing.
What I Love Most about the Field
I love that I'm involved in people's happy occasions. And even when the occasion isn't so happy, I love that I'm helping clients mark a significant occasion in their lives in a meaningful way. For example, I recently did two different events on behalf of organizations l'illui nishmas two of the boys who were niftar in Meron last year.
I love the creativity of doing something different and unique for each event, and creating something that will reflect the uniqueness of each client — who they are, and not just what my taste is.
What I Find Most Challenging about the Field
My biggest challenge is always trying to make a nice event within budget that both the client and I can be proud of.
Another issue that comes up in this field is when family and friends ask me to plan their parties. I'm tempted to tell them I'll do it for free, but I know I'm going to be investing a lot of my time and energy, and I don't want to end up resenting it. I'm happy to lend them my props, though. (I also have a service where I rent out my props to caterers and other event planners, and to people who want to do their parties themselves.)
I'll Never Forget When
Things got particularly interesting during Covid! During the height of the pandemic, someone hired me to do Shabbos sheva brachos for her daughter in her home for a total of 12 people. Just the chassan and kallah and their immediate families. I needed to set up the meal wearing gloves and a mask, and was definitely more than six feet away from everyone while doing it. I had to do the flowers on my own as well.
Something I Wish People Knew About Party Planners
The many, many hours that go into planning and executing everything.  We party planners are conductors in an orchestra. We must coordinate between the baalei simchah (and sometimes their extended family members!) and all of our many vendors in order to pull off a beautiful event.
How I've Seen the Field Change Over the Years
In the last few years, I've seen the industry get out of control. Too many people are spending above their means because of peer pressure. And I'm very bothered by the bal tashchis that goes on. I try my best to order appropriately so there's not too much leftovers and waste. If there is a lot of leftover food, I'll donate it to an organization. I also make sure to call a local flowers gemach after every event to donate the florals to an upcoming simchah for someone who can't afford it.
My Advice for People Starting Out
Advice I always give young party planners is "don't do it yet!" If you want to go into this field, wait until your kids are older. You won't  have regular hours, and when you have a young family, you need to focus on your husband and children. This business involves many late nights, and you're out setting up events during critical family time hours.
SHIRA YOUNG, Ramat Beit Shemesh, Israel
Party Planner and Designer, Shira Young Events, Beit Shemesh
Years in Field: 2
My Typical Day at Work
Planning an event begins with meeting the baalei simchah and hearing their vision, needs, and expectations so I can create a personalized plan for their simchah. I'll then go to the venue they've chosen to get an understanding of the scale of work needed and for inspiration. I make a floor plan of the venue and a detailed design and lighting plan. I decide what lighting stand goes where, how many backdrop stands are needed and where they'll be placed, and what equipment I need to bring with me.
I'm also the intermediary between the client and the party vendors so they can enjoy the process of planning their simchah without having to deal with the nitty-gritty details. I coordinate meetings with venue management and arrange and confirm details with the other vendors.
Another part of my job is to prepare the centerpieces in my studio, based on the client's theme and color scheme. I send samples of materials to clients for their feedback at every stage of the planning process to make sure their vision is being represented in each aspect of their simchah.
The day of the event itself involves a lot of physical, technical work. I load up my car and leave for the venue as soon as the hall allows me. I work alone, carrying equipment, setting up lights, putting up backdrops, hanging fairy lights, and working nonstop to get to the finish line on time before the other vendors come and need my direction.
Some clients hire me to stay throughout the event to make sure everything goes smoothly. This is one of my top tips to clients: even if you don't hire me to stay, get someone, anyone, to oversee the vendors throughout the event, someone who can make sure the buffets are clean and food platters are full so you can just enjoy your simchah.
After the event is over, I usually come with my helper to unpack everything. We finish very late at night — on the day of an event, I usually don't see my family at all!
How I Chose the Profession
I studied architecture in school, but my creative side found expression working in graphic design and photo editing. I do find, though, that my architectural background helps me with the technical aspect of my work today. When my children were young, I decided to step back from work to focus on my family. As they grew older, I was looking to reenter the work force, and started doing local events for my shul, family, and friends.
Then Covid hit, forcing us to change our venues for simchahs. My best friend was making a bar mitzvah for her only son and was devastated that it wouldn't be the big beautiful event she had always dreamed of. She happened to have a lovely yet unfinished garden on her property. I came in and transformed it into a magical space filled with warm lighting, creative centerpieces, beautiful linens, and personal touches. It's amazing how strategically placed lights and complementary colors can make an ordinary space extraordinary. My friend was so touched by the effort I put into her simchah that she decided to share photos on social media. I wasn't at all prepared for the buzz this created! The requests for my services began rolling in. I suddenly found myself decorating back yards, parking lots, and school yards, hiring furniture, and connecting with vendors. My business just sort of happened!
How I Chose My Specialty
My specialty is providing customized lighting to bring events to the next level. I always say lighting is everything. I've noticed a lot of venues don't have inviting light — it's very bright and unflattering. I bring my own lighting solutions, and usually those are the only lights used in an event. I love how lighting can change the whole atmosphere of a room and give a warm, soft ambiance. I use warm lighting and lots of fairy lights to create a magical feel.
What I Love Most about the Field
I love taking ordinary spaces and transforming them into something magical.
What I Find Most Challenging about the Field
Time! I'm always racing against the clock, wishing I had more time to perfect the look.
I'll Never Forget When
I recently did a bar mitzvah where I was told there would be very few invited guests; the boy doesn't have many friends or family and has been very lonely since coming to Israel. Their story really moved me and I went all out to create a truly beautiful, magical space for the simchah. The party really was very slow at first, with just a few people coming in to say mazel tov, but, suddenly, this wave of people came. Apparently, someone had posted the simchah on a local WhatsApp group. People kept coming in, and dancing and singing. It was so powerful to feel the energy and witness the unity of our kehillah.
Some of the Latest Party Trends I'm Seeing
Since Covid, people are more open to making smaller, intimate events in their backyards rather than doing them in big halls, which I love. Doing an event at home makes it so special and memorable.
Something I Wish People Knew About Party Planners
How time-consuming it is!
People are often surprised by how much time I spend decorating, lighting, and getting the venue ready before the event is ready to begin, and it's quite normal for me to start the working day at ten when the event is set to start eight or nine hours later. It's all in the details.
My Advice for People Starting Out
Have a clear written agreement so there are no misunderstandings, especially now that voice messages are so popular. I write everything down and specify everything we discussed.
I also make it a point not to take on jobs when my kids have vacations. That means not working during bein hazmanim or Chol Hamoed. That is pure family time for us.
Coming up: web developers
(Originally featured in Mishpacha, Issue 914)
Oops! We could not locate your form.
>