| Sidekick |
Smoosh | December 13, 2022
Create a magical Chanukah experience with that special Perel Grossman touch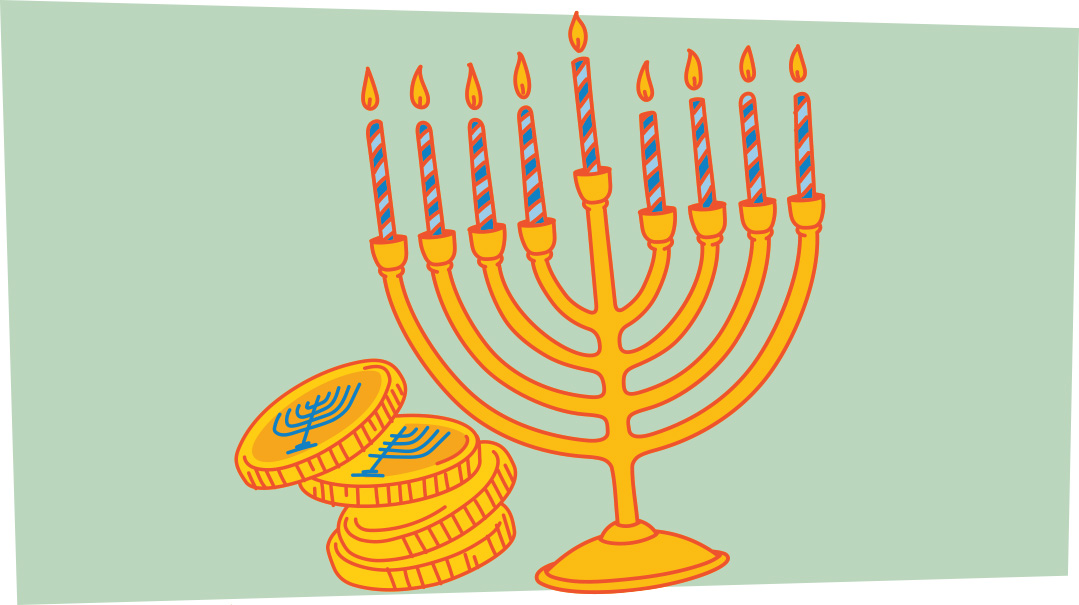 Your guide to excellence in hosting: Brought to You by the Ultimate Purveyor of Good Taste — Perel Grossman
Welcome to the special Chanukah issue of Smoosh, where you can glean the secrets to unforgettable hosting that will leave a lasting impression on your guests. Follow my easy step-by-step instructions to create a magical Chanukah experience with that special Grossman touch.
Materials you will need to recreate our brilliant Chanukah tablescape:
CHANUKAH TABLEWARE
Plates, paper — 9" and 6"
100% recyclable plastic coated, stain resistant.
Available at Amazing Savings, your favorite discount store or…
Better yet… to achieve the desired aesthetics, hunt through your giant plastic tub of paper goods. Bypass the three rose-gold plastic spoons left over from the package of flatware that you thought would exactly match your rose-gold trimmed china, but turned out to be closer to a cringe-worthy shade of salmon (although salmon is the new black!) Ignore the handful of neon-green forks and the three plastic fish plates that you can't throw out because they are much prettier than your real china, though you already used up the matching dinner plates.
No worries, your kids will ultimately throw them away, in disgust, when they clean out your house after 120…. Sigh for a moment as you come across the packs of mazel tov napkins emblazoned with tefillin that you bought for your 20-year-old son's bar mitzvah but forgot to use.
Your perseverance will pay off as you stumble across a stack of perfectly serviceable, yet garish, 6" Happy Birthday plates. Match them up as closely as possible, by hue, with 9" Happy Chanukah plates from your local discount store.
MATCHING FLAMBOYANT TABLECOVERS
2–3 packages bright-blue plastic tablecloths
Fine 100% PVC, stain-resistant
Available at Amazing Savings or your favorite discount store
Make sure the size you select will mostly cover your dining room table, but — and here's the secret — not completely, thus revealing just a couple of inches of the fingerprinted, scratched black lacquer surface that was popular in the 80s. Use the second tablecloth to hide the hideous orange color of the folding table that your husband got from his friend who sells low-end furniture. The one that spontaneously refolds itself once fully laden with food. The third package is for a backup, for when you discover your granddaughter cutting patterns out of one of the other table covers, to create clothing for her dolly.
BEVERAGEWARE
10 Sleeves Finely Decorated Paper Cups
Available at your local dollar store (where nothing costs less than $2.50)
Carefully choose cups bearing a Happy Chanukah message that only partially covers the graphics of snowmen and reindeer koshered up with yarmulkes perched between their antlers. (When did snowmen become the intellectual property of non-Jewish holidays? Didn't our bubbes and zeides build snowmen in the shtetl?)
By purchasing ten sleeves, you can ensure many more festive days of use for the Happy Chanukah beverage ware, especially for birthdays of children too young to read. Bless their little hearts.
CUTLERY
Plastic Flatware
Finely wrought utensils, 100% polypropylene or polystyrene
Amazing Savings or that bottom drawer that only gets cleaned out once a year.
These utensils are key to pulling together that special look. Aim for assorted colors such as neon-green forks, sunshine-yellow knives, crayon-red teaspoons, and basic-blue soup spoons, thus creating a sense of decorative harmony within your tablescape.
ADDITIONAL TABLESCAPE DECOR/PARTY FAVORS
Chocolate Coins
100% gitteh, mashmeena-dikhe zachin
Your local kosher grocery or your cabinet, leftover from last year
Nut-free is the responsible choice. Buyer beware: Some consumers may have an allergic reaction to the elevated cost.
The custom in our household is to ask each grandchild a question related to Chanukah and to reward correct responses with Chanukah gelt and a bag of chocolate coins. (Author's note: If I'm feeling especially passive-aggressive toward my grown children — parents of said grandkids — I will toss an excessive number of loose chocolate coins over the tablescape, creating a gorgeous, twinkling effect against the bright blue background of the tablecloth. This effect is visible for about three minutes. When the guests arrive, the coins quite mysteriously disappear, and all grandchildren vehemently deny any knowledge of the felony, through chocolate-smeared grins.)
MENU
2 gooey pizza pies
6 giant platters of flat, oily, burnt potato latkes (The Grossman latke recipe never fails to produce a warm ambience with a toasty, smoky atmosphere.)
1 tub sour cream, brought out to the chorus of "Eeeewwww" by anyone under the age of 50.
1 large jar applesauce, poured into a decorative bowl. Witness a modern Chanukah miracle at the conclusion of your party, when the untouched contents of that bowl wondrously expands and no longer fits into the jar from whence it originated.
1 bowl of limp lettuce and wrinkled grape tomatoes for those who are pretending to watch their weight, robustly smothered in a mayo-based dressing.
Hostess Attire
A truly gracious hostess dresses for the occasion. This hostess, however, is usually caught flat-footed as the guests arrive, still frying latkes, cradling her phone between her ear and shoulder, as she assures the Fire Department that everything is okay. Therefore, her dress code for this event is:
Crocs
Socks
Denim or Slinky Skirt
Sweatshirt decorated with splashes of raw, ground potatoes and canola oil.
Stretched-out snood that went out of style years ago, and for good reason.
This outfit gives you the cred to assure your guests that the latkes are the genuine, home-burned article.
A lichtigen Chanukah to all!
***The authentic recipe for Grossman latkes is firmly secured in a vault at the Coca-Cola Company and thus unavailable to the public.
(Originally featured in Family First, Issue 822)
Oops! We could not locate your form.
>