| Recipes |
Smoky and Sweet Chicken Capon Dinner | October 10, 2019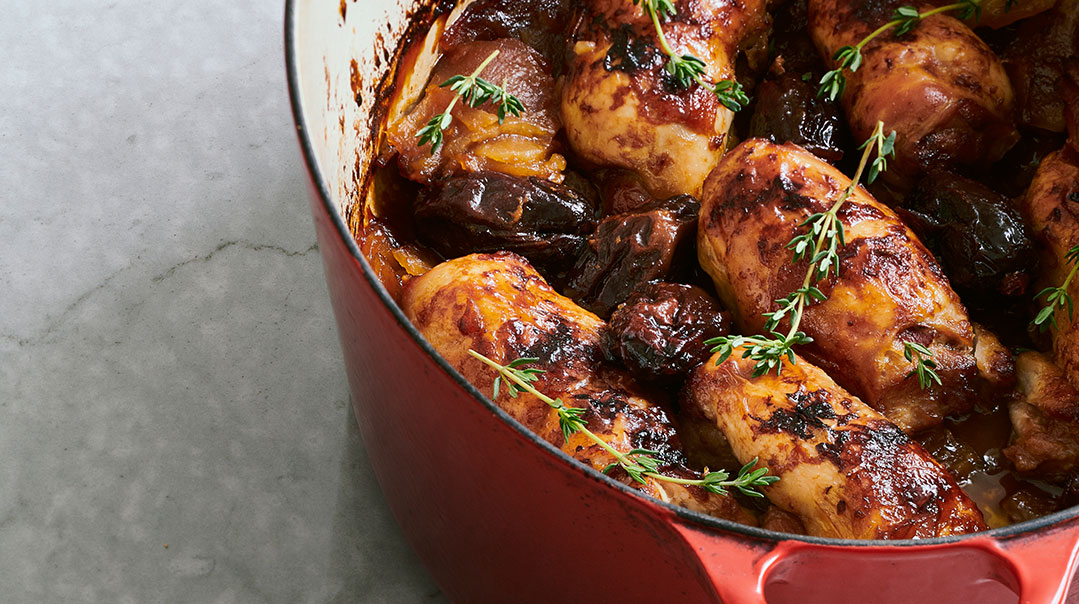 Food And Prop Styling By Renee Muller Photography By Cayla Zoharan And Moshe Wulliger 
Smoky and Sweet Chicken Capon Dinner 
For me, a Chol Hamoed dinner means prepare, pop in the oven, and leave. This fun combo of delicious flavors makes a great main dish any time of year. I like to make this in a Dutch oven, but you can do it in a disposable pan as well. 
SERVES 9 
8 chicken capons, skin on
16 slices smoked meat or beef fry
2 Tbsp oil
2 onions, finely sliced
3 Idaho potatoes, very thinlysliced
8 dates
GLAZE
½ cup Lieber's apricot jam
¼ cup soy sauce
2 Tbsp Dijon mustard
3 Tbsp maple syrup
Preheat oven to 300°F (150°C). Place 2 Tbsp of oil in the bottom of a Dutch oven. Add the potato and onion slices. Mix to lightly coat all the potatoes with oil and then lay them fl at. Lay a capon skin side down. Place 2 pieces of smoked meat across it and a date in the center. Roll up and place seam side down into the baking pan, on top of the potatoes. Repeat with the remaining capons. In a separate bowl, combine the ingredients for the glaze. Coat the chicken generously and cover, fi rst with a piece of parchment paper and then with a piece of foil. Bake for 2½ hours.
(Originally featured in FamilyTable, Issue 663)

Oops! We could not locate your form.
>