| Recipes |
Sloppy Joe Phyllo Lasagna
| October 19, 2021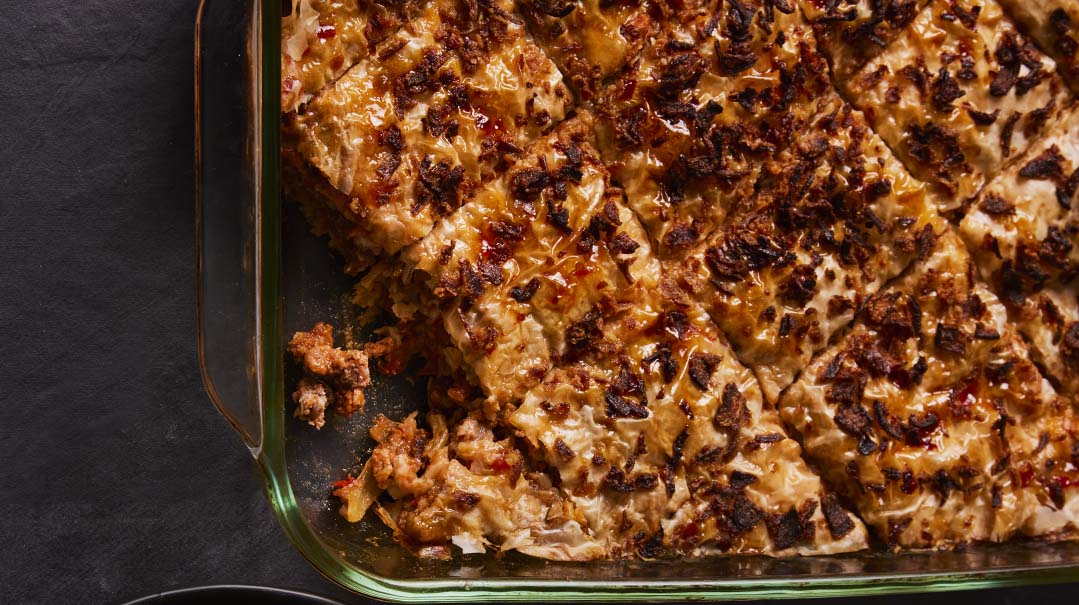 Props and styling by Goldie Stern
Photography by Felicia Perretti
I've always had this misconception that phyllo dough was hard to work with, until I actually tried it! Using cooking spray to moisten the layers rather than brushing on melted butter or margarine really simplifies the prep, and nothing else beats the crispy tenderness of this dough. When using it in this meat "lasagna" dish in place of pasta, it really comes together nicely, enhancing the sweet and tangy flavor of the delectable sauce.
SERVES 10–12
½ 16-oz

(450-g) pkg extra-fine phyllo dough, defrosted overnight in refrigerator (I used Unger's)

cooking spray

2 large vine-ripened tomatoes, diced

2 Tbsp sweet chili sauce

French-fried onions, for sprinkling
Sloppy Joe Sauce
2 Tbsp oil
1 large Spanish onion, diced
1 stalk celery, finely diced
2 lbs (910 g) ground beef (not extra lean)
1 cup ketchup
½ cup honey barbecue sauce
1 Tbsp Dijon mustard
3 Tbsp dark brown sugar
1 clove garlic, minced
½ tsp salt
freshly ground black pepper, to taste
To make the sauce: Heat oil in a large frying pan and add the onion. Sauté until soft and golden, about 15 minutes. Add diced celery and sauté until slightly softened, about an additional 10 minutes. Add ground beef to pan and cook, just until no longer pink, about 10–15 minutes. Stir meat every couple of minutes, making sure to break up any lumps with a fork. When the meat is cooked through, drain juices out of the frying pan and add the remaining sauce ingredients, stirring well to combine. Set aside to cool.
Remove dough from package and unroll. There are approximately 25–28 13x17-inch (33x43-cm) sheets in a 16-oz package of extra-fine phyllo dough. Using a sharp knife, slice the dough in half vertically, slicing through all of the dough layers at once, so you have two piles of 13x8.5-inch (33x22-cm) pieces. You may need to trim the 13-inch side down to about 12 inches to fit a 9x13-inch aluminum pan. Reroll one of the piles and place the extra sheets back in the freezer for another use.
Preheat oven to 375°F (190°C).
Spray a 9x13-inch (23x33-cm) pan with cooking spray. Place three sheets of dough on the bottom of the pan, spraying each one generously with cooking spray before placing the next layer on top of it. Sprinkle about ⅓ cup beef mixture on top of the dough, distributing it evenly, and add a handful of diced tomatoes. There won't be enough meat to fully cover the dough in each layer, but that's okay.
Add another two layers of dough, spraying each with cooking spray. Sprinkle with additional meat mixture and some more diced tomatoes. Repeat this step several more times, using two layers of dough and additional meat filling until complete. Top the last layer of meat with 4–5 layers of dough, creating the final layer of the lasagna. Spray the top layer generously with cooking spray and use a pastry brush to spread sweet chili sauce evenly over the dough. Sprinkle lightly with French-fried onions.
Using a very sharp knife, score the top layers of dough into diamond or square-shaped pieces for easier slicing when serving.
Bake for 45–50 minutes or until golden. Remove from oven and allow to rest about 5 minutes before slicing. Serve hot.
(Originally featured in Family Table, Issue 764)
Oops! We could not locate your form.
>