| Feature Articles |
Singular Solace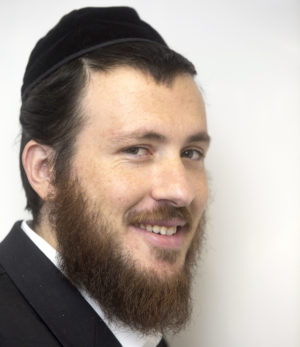 | February 14, 2018
Rav Daniel Chaim Alter finds pinpricks of light amid the loss of his wife, Rebbetzin Hinda Rachel Alter a"h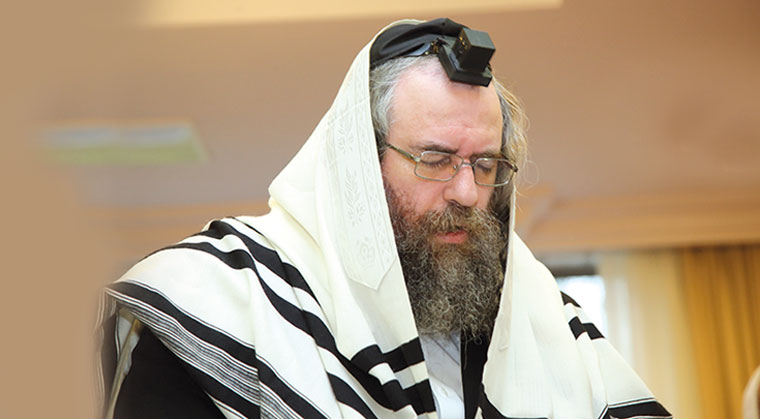 "Chesed umishpat ashirah," Rav Daniel quotes the pasuk and explains that no matter whether one is subjected to Hashem's attribute of lovingkindness or that of strict justice, he must still sing and thank Hashem (Photos: Family archives and Shlomi Trichter)
T
he Pnei Menachem's  kinder…
In Gur, and even beyond, those words are said with reverence. The children of the previous rebbe are all marked by their brilliance, dynamism, and oratorical abilities. His son Rav Daniel Chaim Alter has gone even further, bearing these gifts — the fire of Kotzk and the radiance of Gur — to an audience beyond the large beis medrash.
And it's in this most tragic of venues that we get a glimpse of Rav Daniel's full greatness.
It was just last week that we found the bereaved husband sitting on a low chair, surrounded by his children, mourning his wife, the tzadeikes Rebbetzin Hinda Rachel a"h, who had tragically succumbed to a protracted, draining illness. Rav Daniel's face is shadowed in pain, but still bears an uncanny resemblance to the face of his illustrious father, Rav Pinchas Menachem Alter of Gur. Not just the facial features; it's the mannerisms, the accent, and the way of speaking that elicit intense longing for the beloved Rebbe.
In the court of Gur, discipline and order reign supreme, even during times of mourning. It's not yet 24 hours since the burial, and already, crowds of chassidim have arrived. Watching Rav Daniel in action is a lesson in bein adam l'chaveiro. Thousands have come, and yet he remembers virtually each one by name, summoning up his celebrated memory to recall the personal details that make each comforter feel valued.
It's not easy for a man who was raised with the idea that each minute is meant to be used for Torah, to sit and answer the same questions over and over again, but this too, apparently, is Torah.
At one point, his face darkens. "Rabi Alexandri said: 'One whose wife died in his days, the world is darkened for him,' " Rav Daniel quotes Maseches Sanhedrin, then adds, "The greater the light, the thicker the ensuing darkness."
A heartbroken sigh is followed by a few minutes of tortured silence, and then he continues, his pain clearly evident: "When Heaven wants to punish a person, the blow is given in the place that hurts most, so that he'll do teshuvah sheleimah."
For every comment offered by a guest, Rav Daniel replies with a brilliant observation, gematria, or roshei teivos. At times it seems that this is not a house of mourning but a beis medrash of Gur or Peshischa, with specific references understood only by those fully conversant in the chassidus's teachings.
"Chesed umishpat ashirah," Rav Daniel quotes the pasuk and explains that no matter whether one is subjected to Hashem's attribute of lovingkindness or that of strict justice, he must still sing and thank Hashem.
"How?" I dare to ask. "How does one turn one's own personal grief into a vehicle for spiritual growth?"
A moment of silence follows, then he answers. "At a levayah, we say the pasuk, 'Hashem gave and Hashem took away — May Hashem's Name be blessed.' There is a very deep message here. When we are in the anguished state of 'Hashem took away,' we must bear in mind also that 'Hashem gave.' Now the great gift that was given to us has been taken away. It was never ours, it was always only a gift; 'nassan,' and therefore, 'lakach!'
"In our case, we saw it even more clearly, because at the very time that it seemed to us that 'Hashem took away,' we were also zocheh that 'Hashem gave.' A year and a half ago, we were zocheh to receive a Divine gift. From the minute the illness was diagnosed, it was immediately clear that the situation was very serious. But Hashem gave us such a wonderful reprieve of a year and a half, a prolonged parting — a gift during which we had so much chizuk and nachas."
(Excerpted from Mishpacha, Issue 698)
Oops! We could not locate your form.
>