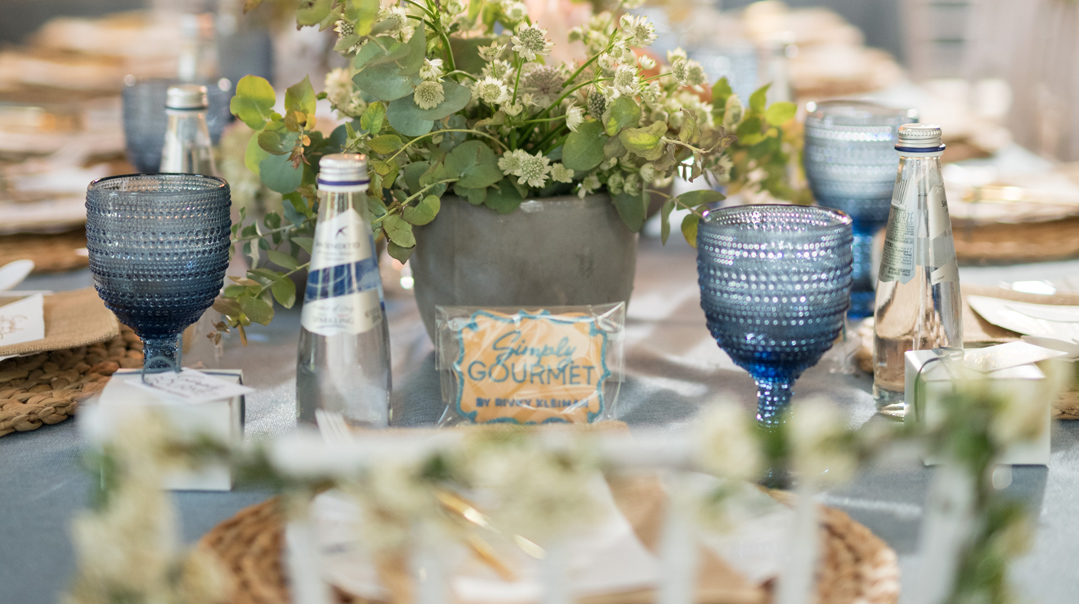 Photography By Moshe Oiknine
Simple, Meet Gourmet
When your coworkers are scattered across the world, you make the extra effort to see each other every now and then. But when those coworkers are also actually close friends, those get-togethers become a true highlight. The Family Table staff WhatsApp chat is alive and well, but when we get the opportunity to meet in person, that's something worth traveling for. To put the icing on the cake (the metaphor is particularly apropos here), we had the privilege of meeting at our beloved Rivky Kleiman's house to celebrate the launch of her brilliant debut solo cookbook, Simply Gourmet (Artscroll 2019).
My anticipation for this launch reaches a peak as I jump off a conference call early in the afternoon of the party, excited to roll up my sleeves and start cooking. I'm greeted warmly by Rivky, and then stop in my tracks, watching the magic of the preparations unfold around me. The center hall bouquet is being hung from the ceiling by Bre Designs, and Esther O.'s transforming Rivky's dining room — and I realize that it really does take a village. Time for me to join the crew!
I switch gears into apron mode and collect the ingredients I need to make my "assignment." I really like being on this side of things every once in a while. It isn't my first time being in Rivky's kitchen, but it's my first time working in Rivky's kitchen. I'm finally able to actually experience "playing" alongside Rivky and stepping into her point of view — in the place she develops new recipes, and where she creates all her tried-and-true favorites. Sefirah means no music, but we fill the space with conversation. The book is coming alive before our eyes, and I can't wait to taste it.
Front and Center
First impressions are everything, and Esther O. obviously had that in mind with her center hall setup. There is a dramatic, oversized spray of blue baby's breath suspended in midair (which was expertly hung from the chandelier with clear fishing line). That blue floral introduction promises a night of dramatic decor and good fun. The stunning floral arrangements by Bre Designs whimsically decorating the table beneath is sitting in… a set of pots. On that table is the guest of honor at tonight's event: a stack of brand-new Simply Gourmet cookbooks. The book is a work of art in and of itself — Renee Muller's classic styling and Moshe Wulliger's masterful photography really do justice to a cookbook of this caliber. And Esther O. was actually able to capture the core elements of the book, and turn them into an experience. Did I mention I'm in awe?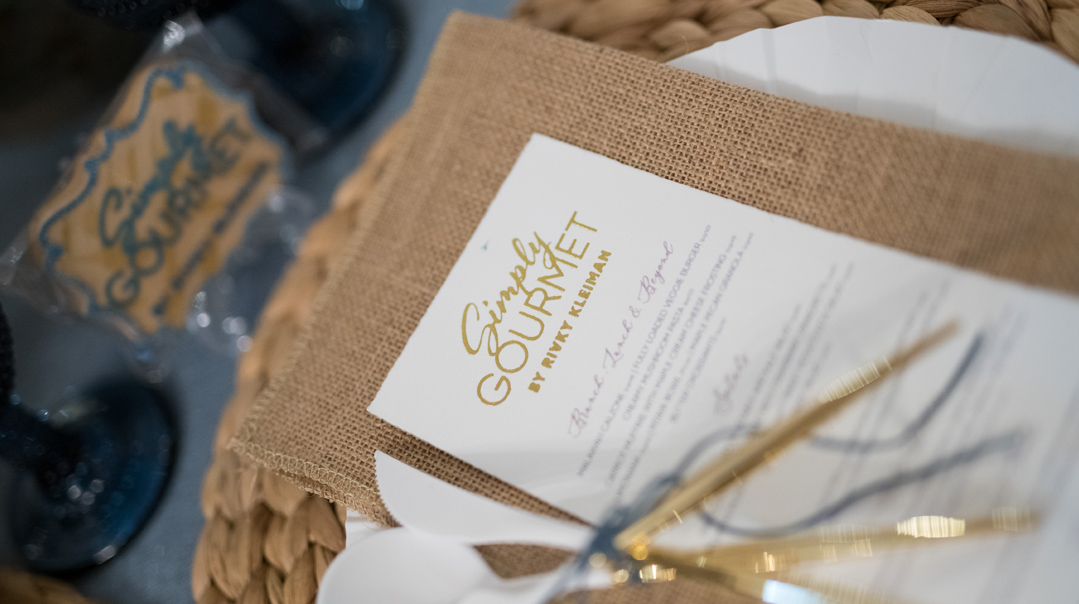 Not Blue About This
The mood board and inspiration for the color scheme for this party comes from the book itself. The tablecloths are the perfect shade of slate blue, highlighted beautifully with rattan chargers, and expertly accented with blue goblets just a shade darker than the tablecloths. Rivky has always loved this color, and when she pictured this event in her mind's eye, she knew she wanted it to be transitionally styled, as is her taste, in warm, homey tones that are both inviting and attractive. There's a place and time for stark, modern lines, and this book launch is not it. Bre Designs bouquets complete the effect, with rustic, earthy centerpieces that include a variety of flowers and greens. The dining room is arranged with one long table running through it, surrounded by round tables.
Once all the guests filled the seats, it's was a perfectly full house, but with just enough elbow room to be comfortable. The finishing touches make the event a memorable one, with custom cookies flown in from Family Table member Faigy Grossmann's Toronto bakery adding that perfect final element.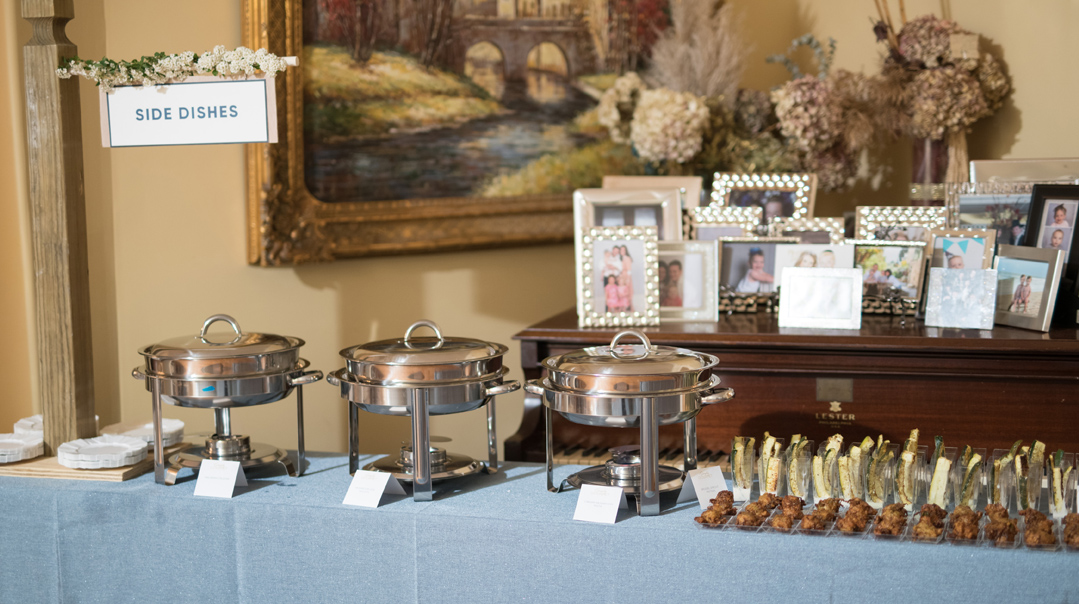 Buffet All Day
Half the room is set up with buffet stations with a hundred percent homemade food, which Rivky prepared herself (with the help of some friends and family). Esther O.'s creative touches here are remarkable; she set up charming street signs over the tables, which
have stations of foods like fish, salads, or baked goods. I see a sign that says "Brunch, Lunch, and Beyond," and I realize that the tables are cleverly laid out according to the chapters in Simply Gourmet. As we get closer to party time, the empty dishes on the tables begin filling with Simply Gourmet treats, and it really hits home: this labor of love is no longer just words on paper. It's alive, it's real, and it's a tangible connection to Rivky.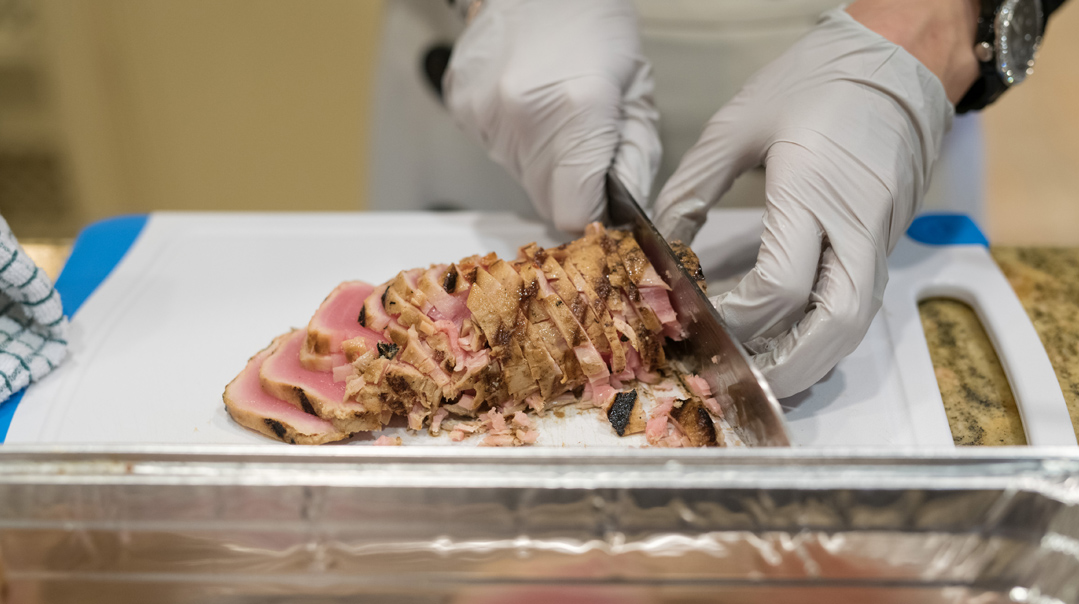 Turn Up the Heat 
I duck back into the kitchen to lend a hand and I'm struck by the energy that engulfs the room. I know it's not easy to almost single handedly cook what must have been more than 25 dishes for 50 people, but Rivky handles it with grace and aplomb. Cooking alongside her, I am reminded again why she's such a superstar. Yes, she strictly insists on top-quality ingredients, and her utensils and tools are state-of-the art, but what makes Rivky, well, Rivky, is the visible outpouring of love and attention with which she seasons every dish. Tasting and re-tasting, calling family members over for opinions and ideas, and putting in the extra work to make sure the end product is something she's proud of — that's Rivky. You can see she's passed on her best qualities to the next generation; Rivky's daughters work alongside her, directing traffic, taking charge when necessary, making sure that every dish is something their mother would be proud of.

Food for Thought
Obviously, we're here to celebrate Rivky's book, and the best way to celebrate a cookbook is to taste it. The cookbook is conveniently arranged and features beautiful food photography, but more importantly, the recipes are truly delicious. The Brussels sprout fritters and zucchini spears are the perfect hors d'oeuvres to hold and eat while mingling with the crowd. The beautiful salad station catches my eye; the grilled vegetable and kale salad is probably the first dish to be completely wiped clean by the discerning crowd (don't worry, there are another three salads to choose from). On the brunch/lunch table, the fully loaded veggie burgers are set alongside buttery croissants and other tantalizing treats, and they're getting rave reviews. The fish table is stocked as well; between tuna steaks, poached Mediterranean flounder, and Rivky's famous maple-barbeque salmon, there is truly something for everyone. To finish off the veritable feast is a table laden with desserts and baked goods: lemon blueberry loaf cakes, adorably miniaturized coffee cakes, and Rivky's truffle cheesecake, which was featured in Family Table's recent Shavuos spread. The variety of food is seriously astounding, and I'm amazed at how well Rivky pulled off such a banquet.

It All Boils Down to This
Finally, guests start arriving and it's immediately a party. Seeing how our Family Table staff traveled in to celebrate Rivky's success makes me feel like a proud family member at my own simchah. The unwavering love and support these ladies show for each other is truly heartwarming. We're all lucky to be a part of such a phenomenal team, with no competition amongst our ranks — just encouragement and appreciation. Laughter rings out as we enjoy the incredible food and even better company.
CREDITS
Bike & Blend (The Bike Smoothie)
bikenblendnj@gmail.com 732-267-9687
WE'D LIKE TO THANK THE FOLLOWING VENDORS FOR CONTRIBUTING TO THIS BOOK LAUNCH:
@estherodesign event planner
@bre_designs florist
@mehadrindairy
@gourmetglattlakewood
@decadentcookie
@bluesky_trading paper goods
Swag Bag contributors
@artscroll
@thepeppermill
@dreamcabinetry
@purefoodbyestee
@familytable_mishpacha
@betweencarpools
(Originally featured in FamilyTable, Issue 646)