| Recipes |
Simple Baked Schnitzel | May 3, 2022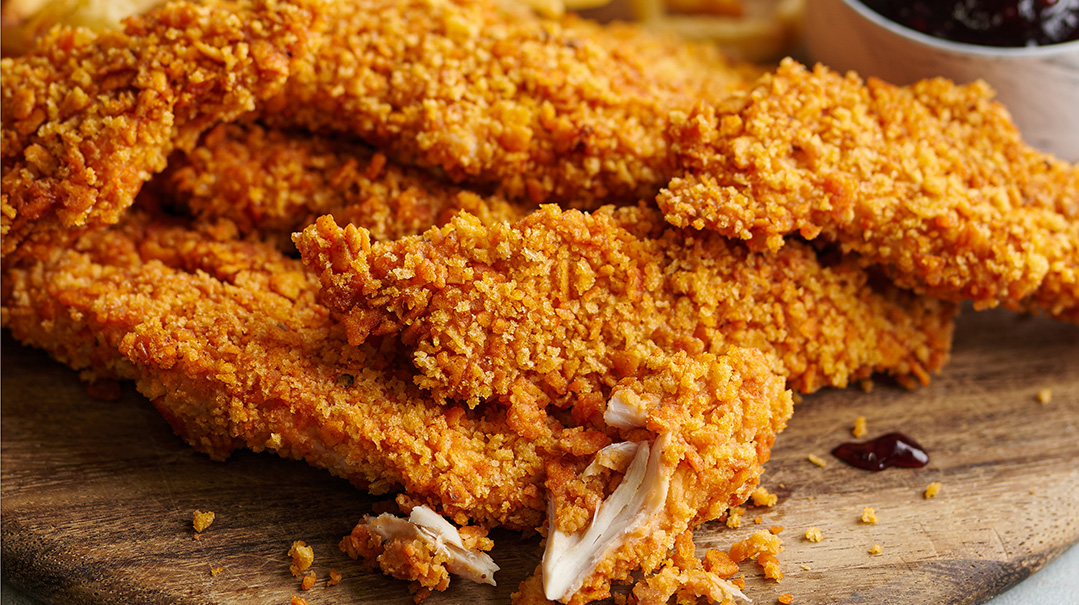 Food and Prop Styling by Chana Rivky Klein
Photography by Hudi Greenberger
We've all made different versions of this classic dish over the years. I changed up some of the ingredients and suggested some fabulous additions to the crumbs. Of course, you can fry the schnitzel, but why would you want to when they come out so soft and flavorful this way? Plus your stovetop stays clean!
P.S. Don't forget the dipping sauce. It's amazing!
SERVES 4–6
1 lb (450 g) chicken cutlets
¼ cup flour
¼ tsp sugar
2 eggs
2 tsp Dijon mustard
2 Tbsp ketchup
1½ Tbsp mayonnaise (light is fine)
1 tsp paprika, preferably in oil
1 Tbsp honey, or to taste (slightly warmed)
salt and pepper, to taste (be generous)
bread crumbs, for coating
a handful sesame seeds
1 tsp Montreal steak seasoning, or to taste (optional)
crushed Bissli or corn chips (optional)
Dipping Sauce
1 Tbsp oil
2 cloves garlic, chopped or minced
¾ cup plum jam (see note)
¼ cup water
1 Tbsp soy sauce
1 Tbsp honey (optional)
Preheat oven to 350°F (175°C). Line a large baking sheet with parchment paper and spray generously with cooking spray.
Pound cutlets thinly and set aside. Pour flour and sugar into a small plate and mix. Combine eggs, mustard, ketchup, mayonnaise, paprika, honey, and salt and pepper in a bowl. Warm in microwave for 30 seconds (it'll stick to the cutlets better).
Combine bread crumbs and sesame seeds in a large flat plate. Add Montreal steak seasoning and crushed Bissli or corn chips, if desired.
Dip each cutlet in the flour mixture, then in egg and spices, and finally roll in the crumb mixture. Place on the prepared baking sheet. Continue until all the cutlets are done. Cover loosely with a piece of parchment paper and bake for 15 minutes. Turn cutlets over and continue baking, covered, for an additional 10 minutes or until ready. Uncover during the last minute. Remove from oven. Serve with dipping sauce and French fries.
To make the dipping sauce: Heat oil in a small saucepan and add garlic. Sauté just until fragrant. Add rest of ingredients. Mix over low heat until smooth and bubbling, about 5 minutes.
Note: I used homemade plum jam made with apple juice concentrate. Since I wanted the sauce to be a tad sweeter, I included 1 Tbsp of honey. If your jam is very sweet, you can omit it. Taste and adjust if necessary.
(Originally featured in Family Table, Issue 791)
Oops! We could not locate your form.
>