| Family Living |
Shopping Secrets
| August 26, 2020
We asked the women of Mishpacha for their secrets: How do you outfit your family for Yom Tov?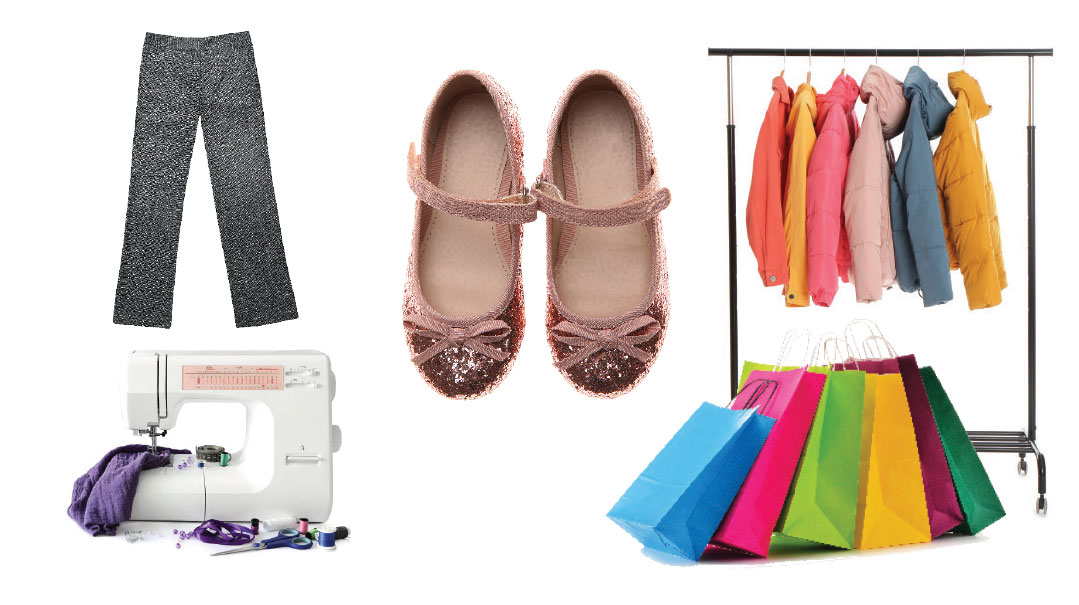 I have all boys, which makes life easy. I go to ShirtStop's website, click, click, click for white shirts and suits or pants. If I have a question about sizing, I call them; they're great. Then I press buy. The Jewish boy products are generally all around the same price — here, I don't have to leave my dining room table and I'm done in 20 minutes.
H&M has decent dress pants, which you can get on sale or with a coupon, but don't get the matching suit jacket. It doesn't fit well, it's stiff, and it looks cheap.
—Esther Kurtz
My kids are young, so first I find inexpensive "play" clothes from sites like Zara or Next for my girls, and ShirtStop for my boys. Then I go for one more-expensive option for each kid, from one of the frum stores. (I was super impressed with Sweet Things' virtual ordering system when I ordered this past spring, they texted me pictures and helped me with sizing, and shipped everything next-day delivery.) If I have the energy to get my kids all coordinating, great, but I don't put too much effort into it; I'd rather get things they love and will willingly wear. Then goes socks/tights/yarmulkes from Double Header, and last thing is shoes, which I buy in-store after one-too-many failed attempts to buy online.
—Michal Frischman
We live out of town, so we do it all online — Kidichic and ShirtStop are our main frum store sources, and H&M and Zara are also great. My sister-in-law and mother-in-law also send us clothing from sidewalk and end-of-season sales, and that's always really helpful.
—Rachel Bachrach
Since we've only been living in Israel four years, and don't have a car, I'm most familiar with the out-of-town stores in the USA. So, beginning in the summer, I try to shop from there (and find the clothing a ride in someone's suitcase!), and fill in whatever pieces we still need here.
Another option that has recently become available to us is a new daughter-in-law who's a seamstress! She can make everything to fit my exact requirements.
— Rebecca Lefkowitz
My kids are all grown up (my baby is 20!) so I buy clothing for my four grandchildren ka"h. I do a lot of shopping online at frum stores and also go into some local stores here in Flatbush. My kids trust my judgment so I don't get too many returns, but the sizing is hard. I have them measure the kids and then I see if the website posts measurements or I ask them so we can get the size right. Usually Yom Tov ends up being hot so I don't overdo it; if you wait 'til after, you can get great sales.
—Nina Feiner
I often get ahead of myself when trying on the kids' stuff for the next season (their old stuff or hand-me-downs from siblings) but this way, when the stores break out the merchandise for the next season, I know what I need and I feel I'm a step ahead. I'm lucky — I have lots of boys, which translates into easy shopping in terms of clothes! And my little princess will only acquire what her older sister approves of, so we have to do that together.
—Faigy Grossman
I try to get all the new shoes bought by the end of August. I always try the outlet centers first. They often have really nice Shabbat shoes for much cheaper.
—Naomi Nachman
Clear as Glass
Anyone who wears glasses knows the struggle…. You slip on your face mask, and the world goes foggy. The Internet is rife with tips to keep your glasses clear, but do any of them work? I tested them all to find out. Here are my results:
1) Twist the loops. When you put on your mask, twist each ear loop once.
Results? No reduced fogging on a cloth mask, and it pulled my ears forward uncomfortably.
With a paper surgical mask, I needed to shape the nose wire carefully to keep the mask in place. The fogging was reduced by a lot, though it wasn't perfect. Still, success! It also wasn't any less comfortable.
However, this hack functions by redirecting your breath to the side, which makes the mask less effective at preventing virus spread.
2) Use the wire. Slide the top of the mask under the bridge of your glasses and mold the wire as closely as possible to your nose.
This is surprisingly effective, though it does take some getting used to, since the mask rests close to your eyes. It works best with a fresh mask.
3) Tape. This was recommended by a surgical nurse — she uses medical tape to seal the entire top of her mask to her face.
With the cloth mask, fogging was reduced, but not perfectly, since the cloth still allows some air through. With a paper mask, this trick helped a lot. However, removing the mask was painful, especially since the area at the top of your nose and just beneath your eyes is really delicate. I'm going to leave this one to the professionals.
4) Use a Tissue. Slide a folded tissue under the mask at the bridge of your nose to absorb moisture from your breath.
I didn't notice any improvement in either cloth or paper masks, and if I positioned the tissue wrong, fogging actually got worse. But this does work for some people — play around with positioning and see if it helps you.
5) Wash 'em. There are two versions of this trick. Most reliable sources recommend using a non-citrus, non-lotion dish soap and rinsing it off. I found that fog faded faster when I did this, and it was slightly reduced. Eh. The second method is applying soap to glasses and then wiping it off without rinsing — just buff in that thin layer of residue until it's undetectable. And… it works. Better than anything else I tried.
(Check with your optician if you need to worry about the soap damaging any special coatings on your lenses. Honestly, I'm considering buying a cheap second pair so I don't need to worry about it.)
DIY Mask
Here's our solution for a no-sew, double-layer mask that can be worn with ear loops or tied behind the head, has a pocket for a filter if desired, can be adjusted to fit anyone, and hides any cut edges so you don't look like you're wearing a rag. It also calls for supplies most people keep in the house.
Supplies
Cotton-lycra blend tee (shells are perfect)
Grosgrain ribbon
Pen
Ruler
Printer paper
Sharp scissors
Directions: Crease one sheet of paper almost in half, leaving one side 1/2 inch longer. Unfold. On the smaller half, use a ruler to draw a line 1 1/4 inches from each short end until the crease. Cut along those lines and discard the scraps.
Unfold the paper and trace around it onto your shirt. Cut out.
Fold the fabric in half, with smaller side facing up. Then fold the edges of the larger piece inward, covering the edges of the smaller piece. This will keep the cut edges hidden without hemming.
Cut six evenly spaced slits through the flaps on the two shorter sides, about 1/2 inch from the edge. (Make sure you cut through all three layers of fabric and don't cut the folded edge.
Weave ribbon through holes on each side. To make ear loops, tie ribbons together on the same side, adjusting to fit. Or use longer pieces of ribbon and tie behind your head and at the back of your neck to spare your ears.
Thanks to Mrs. R. Krull for her design expertise.
School Supplies: Splurge or Save?
Not sure which you despise more — spending too much money on school supplies, or having those supplies fall apart before Chanukah? Here's our guide on where to spend — and where to save.
Spend
Elmer's glue and glue sticks
Crayola crayons and markers
Mechanical pencil lead (Pentel is best)
Plastic folders
Dry erase markers (Expo or Crayola)
Ticonderoga #2 pencils
Binders
Post-it Notes
Erasers
Wite-Out
Save
Scissors (Dollar Tree)
Basic Calculators (Dollar Tree)
Notebooks (Staples brand is great)
Lined paper
Rulers, Protractors,Compasses
Pens (Paper Mate or Bic)
Index cards
Highlighters
Dividers
Sharpeners (they get lost too often)
(Originally featured in Family First, Issue 707)
Oops! We could not locate your form.
>