| Pantry Makes Perfect |
Sheet-Pan Nachos
| November 29, 2022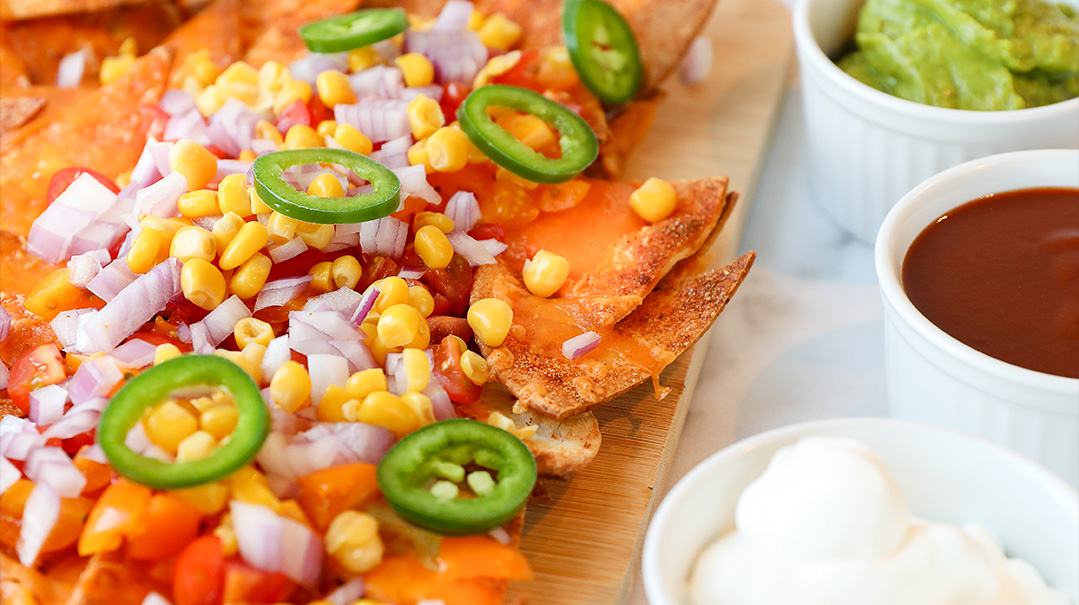 Photo Credit: Saraizel Senderovits
Well, the clock has changed, and early Motzaei Shabbos is here to stay. While I love the long nights, I can't say I love the idea that I need to prepare a meal so soon after Shabbos is out. I'm usually craving something hot and cheesy — but there's only so many times we can eat pizza.
Pulling together all the bits and pieces I found in my fridge and pantry, I managed to create these sheet-pan nachos that were tasty, fun to eat, and hit the spot. I love that they're fully customizable to suit your tastes and don't take long to prep — get everyone to join in!
I started with homemade "nacho chips" because I always keep a stash of wraps but didn't have any store-bought nachos. Feel free to sub with the store-bought variety.
SERVES 4
Nacho Chips
8 6-inch (15-cm) wraps
1 tsp salt
1 tsp garlic powder
1 tsp onion powder
1 tsp paprika
½ tsp cumin
Toppings
8 oz (225 g) cheddar cheese, hand grated (see tips)
frozen sautéed onion cubes
sliced cherry tomatoes
sliced olives
sliced jalapeño pepper
diced avocado
canned corn niblets
diced red onion
guacamole
sour cream
salsa
Preheat oven to 375°F (190°C).
Line three baking sheets with baking paper. Spray well with cooking spray.
To make the nachos: Combine all spices in a small bowl. Cut wraps into 8 wedges and lay on prepared baking sheets. Spray wraps generously with cooking spray and sprinkle with spice mix. Bake for about 7 minutes, until golden brown.
When all the chips are baked, pile them together on one baking sheet. Top with shredded cheese and sautéed onions.
Set oven to broil and broil chips for 5–6 minutes, until cheese is melted and bubbling.
Remove from oven, quickly top with your choice of toppings, and serve alongside guacamole, sour cream, and/or salsa.
Tips
It's well your worth your time to grate your own cheese. Pre-shredded cheese is treated with an anti-caking agent and won't melt as well. Nachos are all about that melted cheese!
Lay your nacho chips in a thin layer on your baking sheet so you have lots of toppings on your chips.
Measurements don't matter! Use as much or as little of the toppings as you like.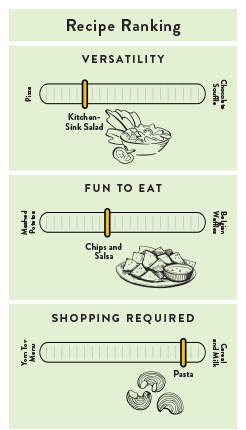 (Originally featured in Family Table, Issue 820)
Oops! We could not locate your form.
>