| tastes like shabbos |
Shabbos Is for Sharing
| November 4, 2020
My mother wasn't a natural in the kitchen, and possibly, she would have rather been elsewhere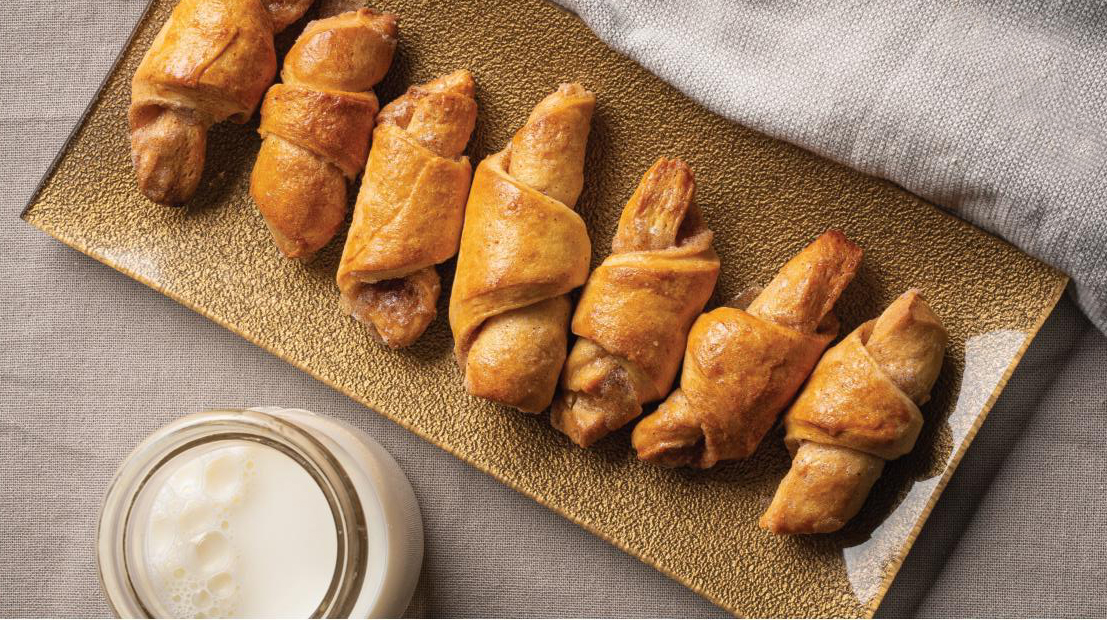 Rebbetzin Yehudis Perlow
Wife of the Novominsker Rebbe, zt"l, and daughter of Rabbi Avrohom Eichenstein, of the great Ziditchov dynasty of Chicago
My mother, Rebbetzin Perlow a"h, grew up in a home where Shabbos was to be shared. The Eichenstein home was legendary for its openness and the many guests who walked through and stayed. Some of the guests who were there for the Friday night meal didn't come Shabbos morning be-cause they went to work. There was a lot of kavod given to these people. To this day, I can sing you the zemiros that some of these men sang!
My parents had a severely mentally disabled child, and my grandmother would help my mother by sending Shabbos food each week. Each Thursday after school, my sisters and I would go pick it up. But first we made a weekly stop at the library, and then we would walk over to my grandparents' home. We would stay for supper, an elaborate tasting of some of the Shabbos foods, and then my father would pick us up on his way home from Skokie Yeshiva. We returned to our home two blocks away with a big box of challah, fish, and cake.
Although my mother was endlessly busy with the crises of the community, as wife of a rosh yeshivah and rav, therapist, and president of the Women's League, to name just a few of her many responsibilities, on Erev Shabbos she brought a sense of calm into the home. I can picture her sitting in the breakfast room with her sheitel on, dressed for Shabbos, from 11 a.m. and on, on a Friday morning. First thing Friday morning she had already attended my father's parshah shiur. This was very intentional. First, Shabbos was brought in with the ruchniyus, and then the gashmiyus followed that, priorities in that order.
The rest of the day was dedicated towards bringing in Shabbos with calm, serenity, and availability. The sun would stream in from the southern exposure in their Boro Park apartment, and a white tablecloth was on the table, with a plastic disposable on top. My mother sat there peeling her vegetables, looking over her beans. There was arbis on the counter, and she was available for anyone who wanted to speak with her. My mother didn't take clients on Friday for this reason.
And people knew that. When they would come see my mother, they would thank her for her time, and she would respond with, "It's my time, but it's your life."
When she became a therapist (a rarity in her time), she had a hard time accepting payment from her clients. She felt that she was just helping people, like her father and husband had always done. As a therapist, she didn't believe in boundaries. She was there for people no matter when they needed her and what they needed her for.
Her mantra was "People are more important than things."
That's why she wouldn't make a big deal about food. What was served was never a discussion. She planned menus for Yom Tov, but it wasn't a real enterprise. It was very clear that food was not the religion. She would say, "Cooking traditional food is not your core connection to Yiddishkeit."
One message I got from my mother is to let go. You don't have to be a slave to your stovetop. You don't have to do things the way as it was two generations back. She said, "If you didn't have time to make tzimmes, take a carrot from the soup! Don't make such a big deal about it!" She'd make kreplach using Jenny Grossinger's recipe — 1 cup flour, 1 egg, and an eggshell full of water. Food in her house was always healthy, and nothing ever required two steps.
Like her parents, my mother believed Shabbos was a gift to be shared with other people. There was always something to serve all the guests who were constantly in and out of my parents' home. My mother's good friend, Cyna Singer, would bring over two large pans of kugels each week, and on a Shabbos Mevarchim, she brought over three kugels. It was truly a lesson on friendship; she knew this was some-thing my mother can use for her guests, and my mother would rather not patchke over the food. She always made sure to have doughnuts for the resident nephews and bochurim who would come to visit. All she cared about was that there was enough to give other people.
She made sure that all the guests at the table, many of whom didn't have a Torah background, could be involved in the conversation. My father zt"l would talk about early American Torah, contemporary Jewish History, gedolim, and chassidus. The conversation was fascinating, and although my father led the table, my mother made sure to be inclusive of everyone who was there.
One year before Pesach, my mother called an older single woman to invite her for Pesach. The woman assumed my mother meant a meal, but my mother quickly reassured her that she meant for her to move in for the entire Yom Tov and found her another apartment in the building to stay in. This kind of thoughtfulness and proactivity was de rigueur for my mother.
People who needed a break from their families would come too. Once I walked into my house, and my friend from out-of-town was there! She must've had a conversation with my mother about something difficult in her home, and my mother encouraged her to come for Shabbos.
My mother's Shabbos was centered around food for the spirit, having guests, and being welcoming. She always made sure there was reading material. It was relaxed. It was a beautiful way to bring in Shabbos.
She believed the purpose of good food was for guests to relax and enjoy sitting around the table. It wasn't the end goal. It was part of fostering a welcoming environment. She created an atmosphere that people wanted to stay, and engage, with food and healthy snacks as the backdrop.
My mother wasn't a natural in the kitchen, and possibly, she would have rather been elsewhere. Cooking for the family and the many guests that joined was out of a sense of mission and responsibility. It was clear that the food she served was there to facilitate a connection to Yiddishkeit, and therefore she pursued it. But mostly, it was her warmth and dynamic personality that created the sharing that happened throughout Shabbos in her home.
My Mother's Rugelach
This was my grandmother's recipe that became the Eichenstein family comfort food, and the rugelach were a symbol of love and respect for whomever it was that received them. My mother would prepare the rugelach and send them out as care packages. She would also freeze them in advance before her siblings would come for a visit. They were a reminder of the atmosphere of welcome and warmth of her parents' home in Chicago.
My mother tried to skimp on the oil and sugar for health reasons, but she learned that it didn't pay. The rugelach just weren't as rich that way.
DOUGH
5 lbs (21⁄4 kg) flour
11⁄2 cups sugar
11⁄2 cups oil
6 eggs
1 heaping tsp salt
3 cups apple juice, diluted with water
3 Tbsp dry yeast
FILLING
1⁄2–1 cup oil
2 cups sugar
2 tsp cinnamon
Mix all the dough ingredients in a mixer until thoroughly combined. Let rise. (The dough won't rise as much as challah dough because of the amount of oil and sugar in it.) Punch it down and then divide into four parts.
Roll out each piece of dough. Smear each one with between 1⁄8 and 1⁄4 cup of oil. Combine sugar and cinnamon and sprinkle generously on top.
Cut each piece into long strips, then cut each strip into triangles. Roll up the triangles. Place near each other on a cookie sheet lined with parchment paper. Don't leave too much space between them since the rugelach will come out soft if they stick to each other during the baking.
Let rise for about a half hour. Brush with egg wash. Bake at 350°F (175°C) for about 20-30 minutes. Do not overbake. The rugelach will be soft and pillowy. You can separate them before you freeze them or freeze them stuck together.
(Originally featured in Family Table, Issue 716)
Oops! We could not locate your form.
>