| Man With a Pan |
Shabbos at the Golds
| October 28, 2020
My wife's got her hands full, and I love to take over at the stove. Here's what I do.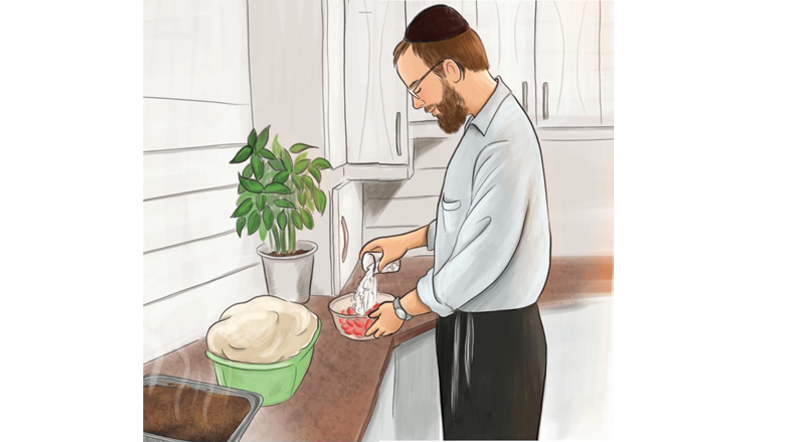 The Man
Chaim Gold, early 30s, 5 kids, rebbe
London, England
The Plan Friday Night:
Challah, Fish Salad, Strawberry Liqueur, Soup with Kneidlach, Sticky Chicken, Potato Kugel, Apple Kugel, Marinated Salad, Lemon Ice Cream with Strawberry Sauce and Crumbs
The Plan Shabbos Lunch:
Challah, Dill Dip, Salmon, Eggs and Onions, Chopped Liver, Cholent with Potato Kugel, Marinated Salad, Fudge Cookie Dough Ice Cream
Cooking comes easily to me, as does baking. I come from a family where a lot of the men cook, and do it well. I'm also artistic (not to mention perfectionist-leaning), so I enjoy patchkeh'ing and seeing the neat results. During the first years of our marriage, I watched (with some amusement) as my wife found her way around the kitchen, but as my wife has gotten busier and busier, I'm happy that I've been able to step up to the stove and help out with Shabbos. My favorite thing in the kitchen is to do the work once and get double the use from it.
Nowadays, my wife cooks most of the week, and I cook most of Shabbos. For Yom Tov, we share the fun.
Menu Planning and Advance Prep
One thing there is going to be at this Shabbos seudah is fish. I'm a Family Table reader, and I'm always surprised when food writers skip or swap this course on the Shabbos menu — not to speak of a nutrition feature at some point, which asked eight women about their Shabbos menus and not one mentioned fish (!). The Chofetz Chaim says that "it is best to eat fish at all three seudos of Shabbos, unless you don't like the taste" (Mishnah Berurah, siman 242). Yup, we do that, a delicious Jewish custom. As for my father, he eats fish at Melaveh Malkah too…

Thing is, we get bored of gefilte fish, and the kids don't usually eat it at all, which leaves us constantly looking for a fresh twist on fish. This week, I'll go for fried fish fingers on a bed of lettuce and cherry tomatoes with a lemony dressing. The kids love the fish fingers, and the lettuce makes my wife happy, kind of compensates for it being fried.
I don't make my own grape juice, but I will make a liqueur for l'chayim. Although we do buy Scotch and some liqueurs, our homemade ones taste way more real. I have a great chocolate liqueur recipe, but this being summertime, I'll go for strawberry.
Wednesday morning seems like the time to start with the things that can be made in advance. First, the challah dough. I'm using my shvigger's recipe, same as my wife always does, and because it's a hot day, the dough breaks the banks of its bowl beautifully. I punch it down, let it rise again, then call my wife to make the brachah, which will always be her thing. I braid a few challahs, then leave the rest for my wife and the kids. It's vacation, so the kids make themselves rolls for an easy supper, amazing.
While the dough is rising, I move on to the liqueur. My wife kindly examines a box of strawberries and rubs them under running water — ask your LOR if/how strawberries can be checked in your locale. I slice them thinly, then place in a bowl and cover with sugar to let the juices flow. Later in the evening, we'll strain it and add vodka and a little water to the mix to create a delicious natural strawberry liqueur.
For dessert, I mix up a big batch of plain ice cream. I divide it into two bowls. Half gets lemon juice, for the Friday night lemon ice cream — my wife does this in a more complicated way, but I think store-bought lemon juice is just fine. For the other half, I mix a few ingredients for chocolate fudge cookie dough by hand (recipe on the cocoa package) and drop mini spoonfuls of it into the ice cream container. Two desserts, ready in 15 minutes.
On with the Show
On Thursday evening things get really busy. I take out the food processor, a sign that something big is going to happen. I plan on using it for a few things and quickly washing between uses before it gets harder to wash. First, I blend some strawberries into a sauce for my lemon ice cream. I always enjoy the extra sauces and crunches that take things up a level and keep life interesting, so when I buy chocolate, it won't be a plain bar, it'll be nuts or cream-filled (in case anyone was going to send me chocolate, just letting you know).
Next, I make my famous dill dip. My sister-in-law has been asking for the recipe, so I take care to write down what I'm doing.
After supper, my wife, helped by our eight-year-old kugel fan, peels potatoes for my mother's famous potato kugel: crunchy top and the middle like a kind of pudding. I rinse the food processor bowl again and grate the potatoes. Then I make the batter and pour it into disposable pans.
Afterwards I prepare Rebbetzin Kaplan's kneidel mixture from The Bais Yaakov Cookbook. Whoops, I end up leaving it in the freezer overnight instead of a half hour! I have to wait for it to defrost before boiling.
Moving on, I chop a couple of Spanish onions (less peeling for more flesh). Some go into a pareve pan, covered with sugar and lemon juice and cooked to produce a syrup, to which I add the salmon for Shabbos morning. This was originally my sister's Pesach fish recipe, but we like it so it's on the rotation. The rest of the onions get chopped into a fleishig pan and sautéed for a long time, then mixed with liver. We're into chopped liver right now, so I blend it with hard-boiled eggs and spices.
After 11 p.m., I start cutting the fish into small nuggets, dip into flour, then egg, then bread crumbs, and fry it into fish fingers. The frying does leave a smell, but I do a double batch so I can freeze it and have the extras another week.
Before going to bed, I throw some carrots and celery into a pot along with a top of a chicken and some salt. Fill with water and put it on the flame to simmer overnight. We'll wake up in the morning to the smell of chicken soup.
Friday Finale
I chop the vegetables for a marinated salad. I love making this, because it stays delicious in the fridge for weeknight suppers too.
Although we've been gifted quite a few Crock-pots over the years, we never got into using them. Cholent here consists of a flanken on the bone, some pupiks to make my kids happy and add flavor, and the usual barley, beans, potatoes, and spices. It goes into a regular pot on the stove, then onto the hot plate. Apple kugel is always popular, and even though there are many good ones, my shvigger's signature recipe is perfect. I add some improvised crumbs on top, and then bake the rest of the crumbs to be served over my lemon ice cream with strawberry sauce. There ya go, two in one.
The kids in this house are, baruch Hashem, good eaters, and we don't go chasing them around with loaded forks. But one thing they do not love is chicken. Some weeks, they eat fish as their main protein instead; other times, we make dessert conditional on chicken going down. I go with my original recipe for Sticky Chicken, which they'll actually eat without needing to be bribed and begged. When it's ready, they're just about out of baths and ready for their pre-Shabbos seudah… Bon appetit, kiddos.
Results
Yay for the fish salad, I think we have to make this more often. With the plated salad, fried fish, and lemon dressing, there was hardly any need for loads of challah and dips.
The sticky chicken isn't such a healthy option. It means slathering the bird with brown sugar, soy, ketchup, and mustard. But the taste and crunch is great, and it always get finished, so…
The fudge cookie dough ice cream was also a real hit.
Wife's Take
The menu and food was great this Shabbos, as usual. Chaim is no novice, so this wasn't surprising. I especially enjoyed the hot potato kugel and apple kugel on Friday afternoon, which we don't always get to making when we're too busy. The fish salad is also a master stroke. Technically, you could bake those breaded fish fingers instead of frying them, but this way does taste better.
I'm fine with having the marinated vegetable salad, in place of the usual lettuce or cabbage, but I do think it would have been more appetizing a little more finely chopped, as the big pieces are kind of big.
My one objection when Chaim is serving is "Stop piling the plate! I can't eat so much!" but baruch Hashem, we have some little mouths here to help out. And we often have guests to enjoy his creations too. I've learned that we don't need to eat a lot of challah because good things are coming.
Sticky Chicken
1 chicken, cut up
1 cup apple juice
2⁄3 cup brown sugar
2 Tbsp soy sauce
2 Tbsp ketchup
1 Tbsp mustard
1 cup golden bread crumbs or cornflake crumbs
Place chicken in a baking pan. Pour apple juice into pan. Mix brown sugar, soy, ketchup, and mustard and spread over all the chicken. Sprinkle bread crumbs on top. Bake, covered, for 1 hour and 10 minutes. Then uncover and bake for another 20 minutes.
Fish Salad
5 pieces fish fillet (flounder/sole/haddock/cod), cut into fingers
1 cup flour
2 eggs
2 cups golden bread crumbs or cornflake crumbs
3⁄4 cup matzah meal
1⁄2 tsp garlic powder
1⁄2 tsp salt
oil, for frying
lettuce, red onion, cherry tomatoes, and mushrooms, for serving
DRESSING
1⁄3 cup mayonnaise
1⁄3 cup lemon juice
1⁄3 cup sugar
1 Tbsp deli mustard
Mix bread crumbs with matzah meal and spices. Dip fish into flour, then egg. Cover in golden bread crumb mixture. Fry in oil. Mix dressing ingredients separately. Serve fish over a plate of lettuce, onion, cherry tomatoes, and mushrooms, and drizzle with dressing.
Strawberry Liqueur
14 oz (400 g) fresh strawberries
13⁄4 cups sugar
1 cup vodka
3⁄4 cup water
Check the strawberries and slice very thinly. Cover generously with sugar and let sit for a few hours (it will extract a syrup). Strain the syrup. Add vodka and water to taste. You can adjust to your preferred strength.
(Originally featured in Family Table, Issue 715)
Oops! We could not locate your form.
>