| TableScapes |
Set the Bar | November 16, 2021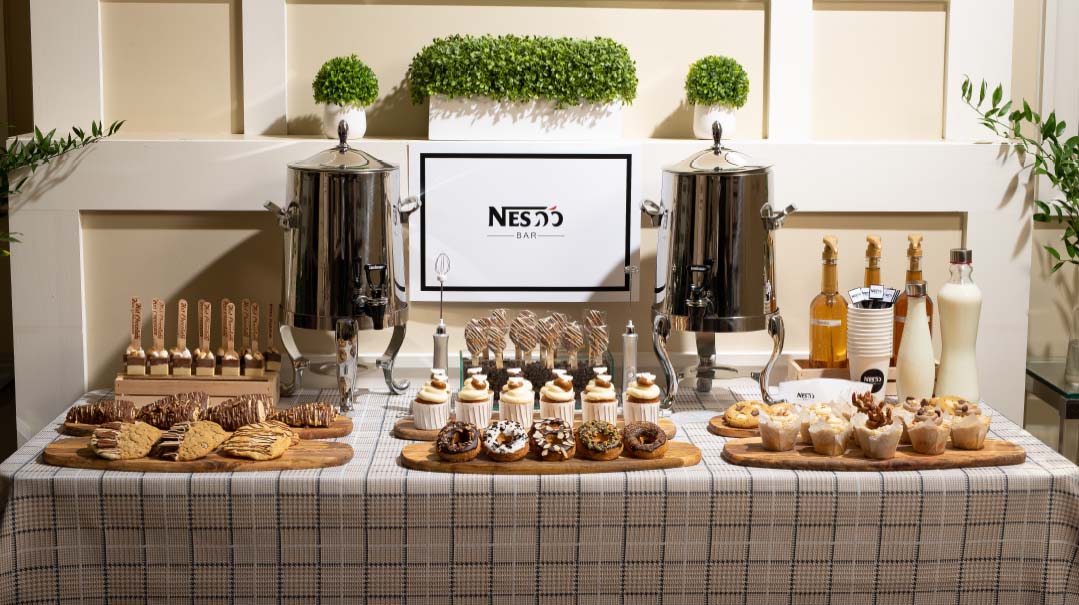 Text and Styling by Esther Ottensoser
Photography by Hudi Greenberger
These Chanukah-themed stations are sure to be a hit at your party this year. Recreate them all or just some for a delectable and priceless party experience!
Neis Kaf-Hei Bar
How cute is a Nescafé Bar to remember the neis on kaf-hei?!
I love the way the Stamp Studio pulled it all together with this great logo. They can always be counted on for that perfect design.
The Nuttery supplied us with the beautiful urns filled with decaf and regular coffee along with the flavoring. Of course, you can use water in your urn and display single-serve assorted packets of Nescafé as well.
Chocolate spoons and hot chocolate on a stick are also fun items to add to a coffee station. You'll need hot milk for the hot chocolate on a stick.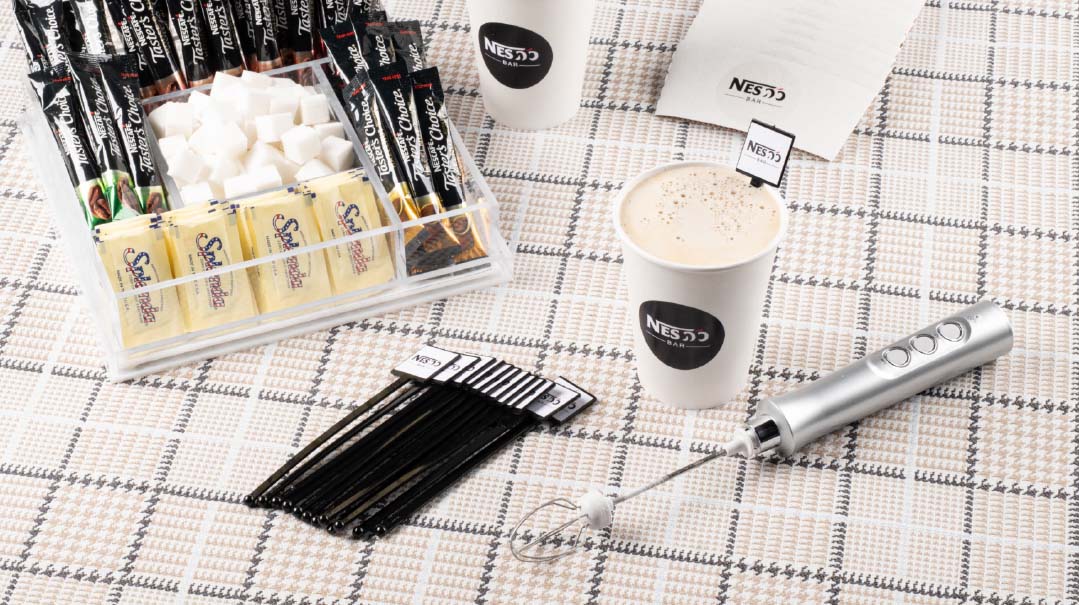 Froth-er Up
For added fun, set up milk frothers (available on Amazon) which can quickly turn your milk or cream into a smooth, frothy foam in seconds. It's a perfect foam maker for coffee, latte, cappuccino, matcha, hot chocolate…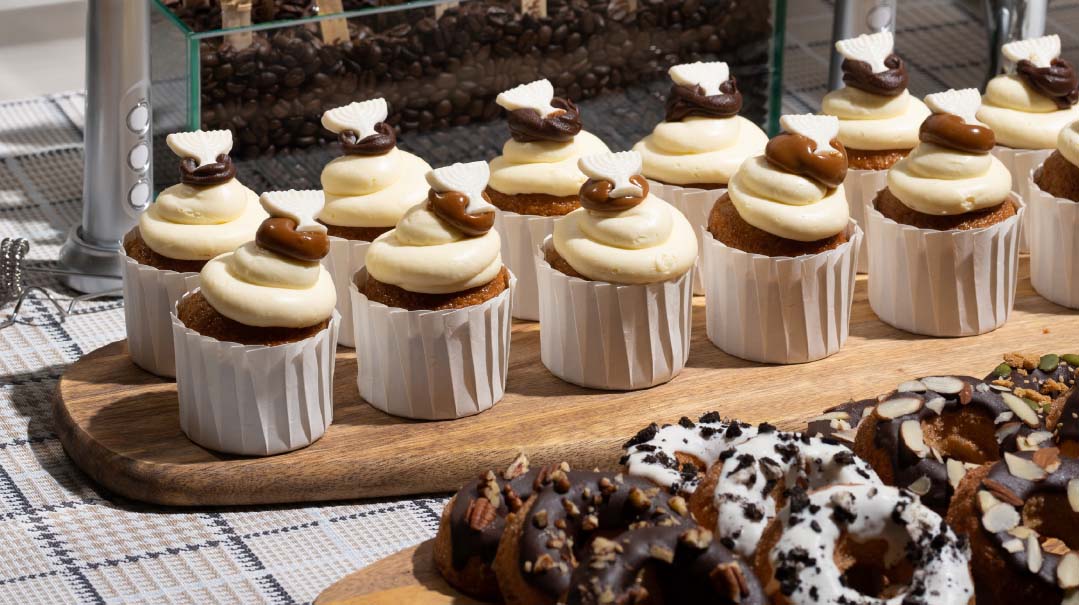 Pastry Paradise
What's a good coffee without a pastry to go along with it? It wasn't easy deciding which ones to pick, but we finally "settled" on these, also from the Nuttery.
Greek Yogurt Bar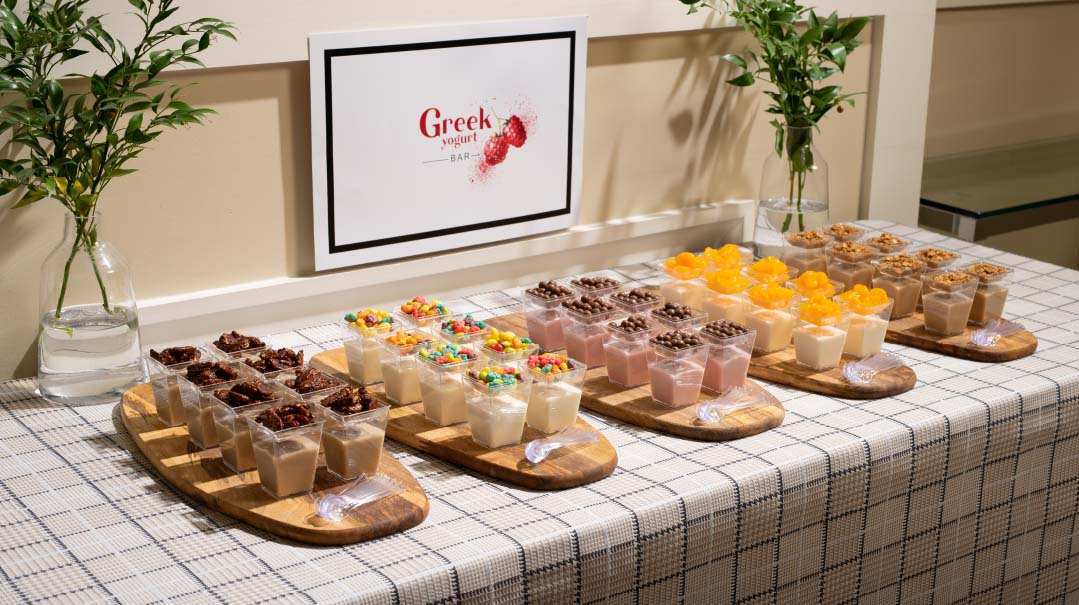 Here's an idea that's healthy, sweet, pretty, and easy — can we ask for more?
You will need:
Mehadrin Greek yogurt (coffee, vanilla, and strawberry flavors)
clear hard plastic cups with lids (available from Amazing Savings)
assorted toppings (for example, candied nuts, cereal, chocolate balls, Mandarin oranges, and granola)
mini spoons
Fill cups most of the way with yogurt, and fill the lids with assorted toppings.
Arrange the lids upside down on top of the cups.
Gelt Grams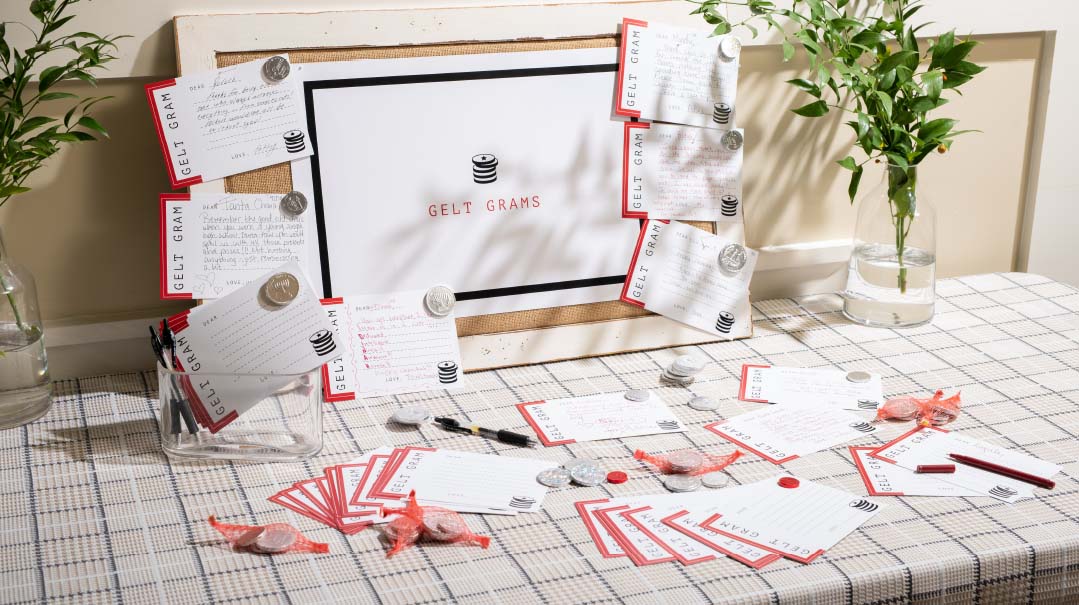 Adapted from the famous Candy Gram idea, this Gelt Gram booth is a fun idea for any Chanukah party. Here's a chance to let your sister know how much you appreciate her help, Bubby how much you love her latkes, your morah how much you enjoy her Navi class…
You will need:
Macca Pizz Bar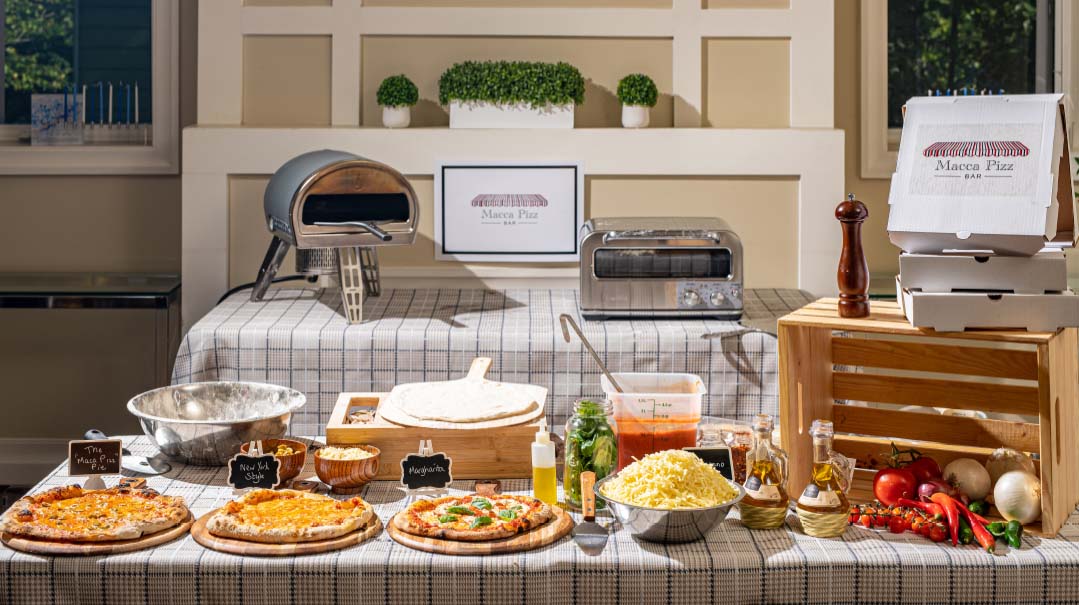 While we're well aware that the majority of our readership will not be bringing a professional pizza chef to their Chanukah parties, we wanted to hear from pizza guru Alex Medjuck of Pizza Biza, who arranged this bar for us.
Pizza Biza brings chefs, ovens, ingredients, and supplies to your party and makes fresh pizza while you wait. Medjuck takes pizza from standard to gourmet with a toppings bar to please all tastes. And each time he does an event, he tries something new. That might be pineapple with jalapeños, or a trendy new pizza item like lemon slices. Dessert pizzas are catching on too — they taste like s'mores, with marshmallows, cookies, and cream on pizza crust.
Medjuck uses only fresh dough, as well as fresh sourdough and fresh mozzarella, for the ultimate pizza experience. He can also cater to regional differences in tastes. He has found that in Deal, the Sephardim like spicy — lots of jalapeños. In contrast, Brooklyn chassidim love onions.
Since kicking off its operations in June, Pizza Biza has serviced a wide variety of events, from upsherens to corporate meetings to family get-togethers, and from small gatherings to large, from its two bases of operations in Lakewood and Miami.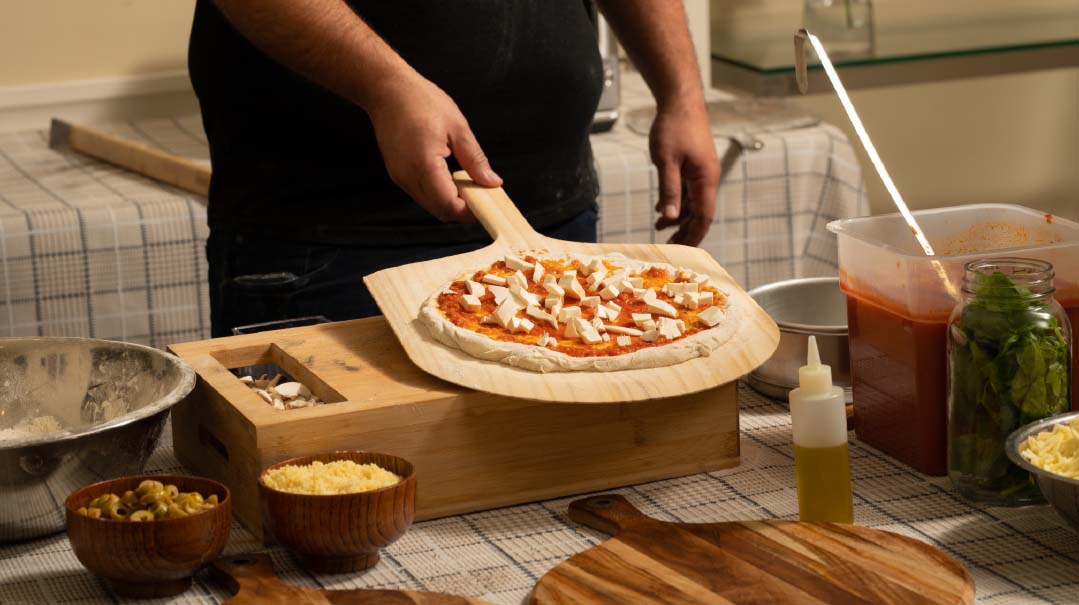 Pizza Biza
Alex was more than happy to share tips and ideas to help you create a pizza bar on any level.
You will need:
⋅Source of Heat
The most basic option is the Betty Crocker Pizza Maker (you can always ask some of your guests to bring theirs along…).
High-end options are The Smart Oven Pizzaiolo by Breville, Gozney's Roccbox, or the Ooni Koda 12 Gas-Powered Pizza Oven (this one can only be used outdoors).
⋅Pizza Dough
Alex recommends buying pizza dough at your local pizza shop, frozen pizza dough, or parbaked pizza dough available at your supermarket.
⋅Sauce
Alex's favorite is Don Pepino (mine, too!).
⋅Chart Toppers
A toppings bar with sliced fresh garden vegetables: onions, tomatoes, mushrooms, jalapeño, pineapple, olives, banana peppers, fresh basil, and colored peppers
⋅Grated Gourmet
Mozzarella, Parmesan, Muenster, and ricotta
⋅The Zest
A variety of spices, including salt, pepper, oregano, basil, garlic, and onion powder
Credits
Custom signs, coffee cups, coffee stirrers, and pizza boxes by The Stamp Studio, thestampstudio.com, design@thestampstudio.com, 732-281-7088
Pizza bar and tips by Pizza Biza, info@pizzabiza.com, 732-534-2623
Tablecloth by Stitch 'n Sew Centre, info@stitchnsew.com, 732-363-2220
Pastries, coffee urns, chocolate spoons, and hot chocolate on a stick by The Nuttery, thenutteryny.com
All the graphics featured here can be purchased from the Stamp Studio or

download them here
(Originally featured in Family Table, Issue 768)
Oops! We could not locate your form.
>