| Magazine Feature |
Seeing Triple | August 9, 2022
AJ Orbach and Maxx Blank braved failure and doubt to build Triple Whale. Now the promising startup is blowing competitors out of the water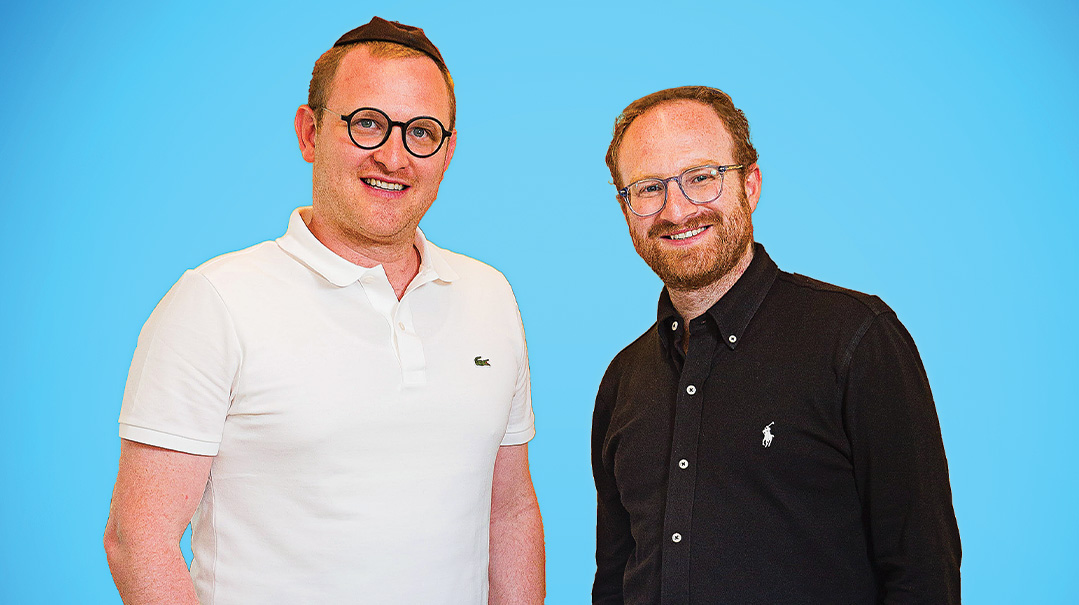 Photos: Elchanan Kotler
Question:
What do you get when you combine an Israeli yeshivah bochur with a penchant for start-ups, a young American entrepreneur who was introduced to Yiddishkeit through a frum networking event, and an oleh from Belarus who's considered one of the world's top software coders?
Answer:
Triple Whale, the start-up that provides a streamlined system of deep analytics for online businesses and that within a year, succeeded in raising $27.7 million and attracting over 5,000 customers across the globe.
IS it luck? A miracle? The natural outcome of the meeting of brilliant minds?
"Siyata d'Shmaya," reply two of the co-founders, AJ Orbach and Maxx Blank, as if on cue.
Sitting in their spacious, slick Jerusalem offices, they don't take anything for granted. Just last year, AJ, the CEO, had to sell his apartment to cover his living expenses; COO Maxx was barely scraping by; and Ivan Chernykh, the CTO and third co-founder, was subsisting on Covid stipends. Today, the three sit atop one of the fastest-growing tech start-ups, which has the potential, they believe, to become one of the five biggest companies in the world.
" 'Product-market fit' is a term frequently bandied around in the business and tech worlds," explains Moe Mernick, Mishpacha columnist and Triple Whale's head of operations for the past eight months. "What it means is that you have a product that people want, that they like, and start to use a lot. From there, it spreads organically."
Prior to opening Triple Whale, AJ and Maxx worked together in e-commerce, and it was that experience that gave them an up-close, precision view into the needs and frustrations of their fellow online merchants.
"We had a very thorough understanding of the problems, because we were the customer that we sell to now," AJ observes.
Maxx adds, "We're building the platform I wish I had when I was growing my own e-commerce brands."
In the business world, you can toot your own horn, but that's no guarantee of success, nor will it attract the massive investment that is oxygen for new start-ups. As Triple Whale's star started to rise, they received some notable votes of confidence from investors like Gigi Levy-Weiss of the NFX venture capital firm; and Andrew Hunt, founder and general partner of Boston-based VC firm Elephant and co-founder of digital eyewear giant Warby Parker. Hunt acknowledged that the Triple Whale platform "is exactly the type of solution we lacked when we started Warby Parker," and lauded it as a "rarely seen product-market fit."
If you're an online merchant running an e-commerce business, you need to purchase ads in a variety of social media and Internet venues to drive customers to your site. But how do you know which ads are working? Which ads lead to sales?
It used to be that traditional tracking methods, like third-party cookies, could give you answers — but those solutions are disappearing from view, due to consumer privacy concerns. Apple's new iOS 14.5 operating system effectively disables these tracking methods, and Google has announced it will get rid of third-party cookies by 2023.
Triple Whale has developed various tools that will track this same information for e-commerce businesses, working from their own servers — eliminating the need for the old tracking methods. Perhaps more importantly, Triple Whale streamlines the presentation of this information into an easy-to-read dashboard for business owners, giving them real-time, up-to-date information on how effectively their ad dollars are being spent.
Hashgachah pratis is the only way to explain how these three men joined forces. While AJ (Avraham Yehuda) — the son of Har Nof resident Rabbi Levi Orbach, former rosh yeshivah of Shaarei Yerushalayim, and Rebbetzin Rachel Orbach, principal of the Be'er Miram seminary — was shteiging away in Israel's top yeshivos, Maxx was studying geriatrics for long-term health care at Ohio State University in his hometown of Columbus. The product of a public school education and once-a-year shul attendance, Maxx's only exposure to Orthodox Judaism was through his elderly grandparents. But that was before he met the person who would alter his entire trajectory.
"My roommate had a friend, Binyamin, who was learning in Aish in the Old City of Jerusalem," Maxx relates. "Binyamin needed someone to market a business that offers deals [on products and services] to students on college campuses. I started learning about marketing and selling and soon realized I was pretty good at it. Within nine months, the business spread to 15 campuses across the country."
But setting aside his college major in pursuit of entrepreneurship was just the beginning. "Working intensively with Binyamin led me to start asking a lot of questions."
The turning point was Maxx's participation in a ten-day Aish program in New York City called Enterprise, where Jewish businessmen got together for learning and networking.
"I saw that you can be proudly frum and normal, have Shabbos, but also run huge organizations," shares Maxx. "That trip was a paradigm shift for me."
When the business fell apart a short time later, Maxx felt ready for a change. "Binyamin told me to take what was left from our business account and to go to Aish in Israel for the three-week Essentials program."
Maxx ended up extending and re-extending, eventually staying at Aish for two and a half years, doing a stint in the IDF and getting married. In between Torah classes at Aish, Maxx dabbled in entrepreneurship and innovation. Bizrael, a kiruv program connecting unaffiliated American youth with Israeli start-ups and Yiddishkeit, was just one of his creations from that period.
"That was my dream," he says, "to connect Israel, America, start-ups and helping people make money while actualizing their potential."
That dream has been realized in a big way at Triple Whale.
Meanwhile, back at the yeshivah, AJ, who spent his first two years at Chevron, started to feel that he wasn't fitting the mold. Rabbi Moshe Dov Harris, AJ's former rosh yeshivah at Maarava who started a yeshivah in Afula with a core group of AJ's old classmates, suggested that he would do better in a smaller forum. Rabbi Harris invited AJ, even offering to change the entire curriculum to a different masechta to accommodate him. After a year and a half in Afula, AJ joined the Yeshiva University Gruss semichah program in Jerusalem. During that period, circumstances led him away from his intensive learning schedule.
"I used to summarize all my learning in writing, filling entire notebooks with chiddushim and summaries," he recalls. "The breaking point was when I got carpal tunnel syndrome and couldn't write anymore — that made it very difficult for me to learn."
At 24, while at Gruss, AJ decided to pursue the start-up ideas that had been percolating in his mind since he was 16. While working at the Jerusalem Start-Up Hub, an office-sharing space in downtown Jerusalem, he met Maxx.
At this time, Maxx was at Aish and doing business on the side, while AJ was trying to get investors interested in his start-ups. On the strength of his vision and passion alone, AJ was able to recruit a team of seven people — Maxx and Ivan included — to work for free.
"I figured I'd be in business for a couple of years, make a bundle, retire, and then go back to learning," AJ says, summing up his expectations. "I had been good at learning. I thought working in start-ups would be the same. In practice, it wasn't that easy."
Maxx was also struggling. He'd started an online off-campus rental directory, but after that fell through, he was hired by a family of heimishe Yidden from New York to build their own Shopify branded site. He subsequently started his own brand on Shopify, which he sold. Eventually, together with his wife, he opened a Shopify business selling hair braid accessories for sheitels, called Madison Braids.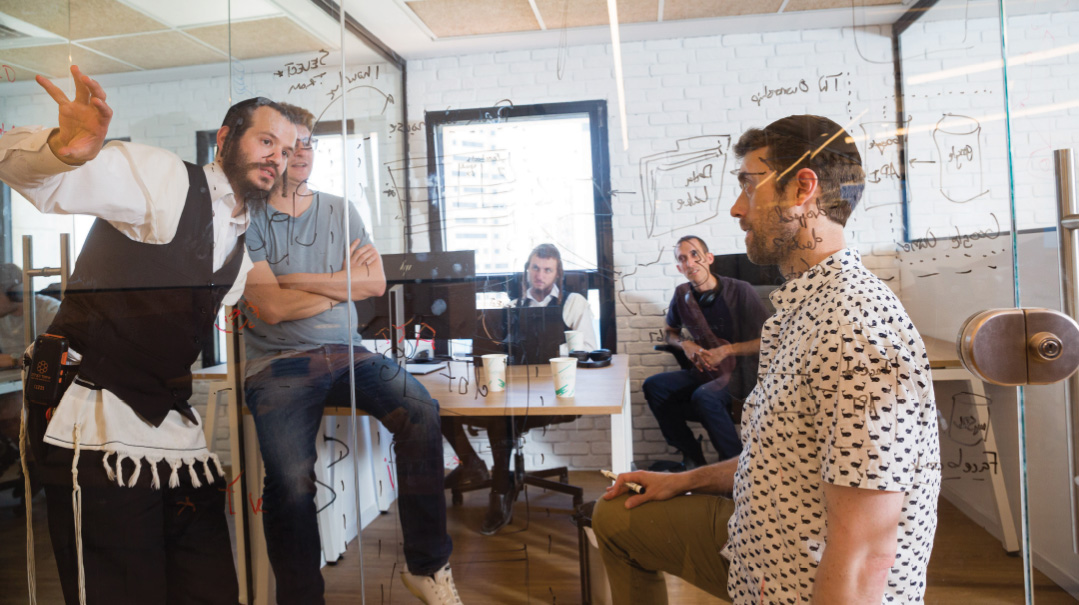 In their Jerusalem office, Triple Whale's brainstorming staff still can't believe how fast their company rocketed through the start-up funding stages
Try, Try Again
Success that comes only after repeated failures is a theme common to many, if not most, big entrepreneurs — and Triple Whale's co-founders are no exception. Ivan Chernykh describes the rocky road they traveled before hitting pay dirt.
"When I first met AJ, I was at a stage in my life when I felt ready to take on a serious project, and I think he was too," he says. "We worked well together. He had the ideas, and I had the experience in software development. So we started working on a few projects, one after the other, most of which failed. I'm convinced, though, that the lessons we learned then brought us to where we are today."
AJ paints their preliminary period together in more urgent colors. "I met Ivan around three years into my start-up. He was a fine person, sweet-tempered and extremely talented. At the time, I knew that even if my start-up were to close down — and it did — what I couldn't lose was Ivan. So when the business folded, I went around to all my friends, asking them to hire us as a team."
That was when Maxx hired AJ and Ivan to help him with his e-commerce business. At first, the store did well, but things shifted due to market changes.
"Meanwhile, I wasn't making a living, and the pressure was mounting," says AJ. "Ivan received an offer and I told him to take it, but he said, 'No, AJ. I want to stick with you.' "
Just when it seemed that things couldn't get bleaker — AJ ran out of money and Ivan was subsisting on Covid stipends — the trio launched the Triple Whale app, a tracking mechanism to provide Shopify merchants with the information needed to leverage their advertising more efficiently.
After working very hard, manually inputting data on spreadsheets, AJ had an epiphany that paved the way to where they are today.
"I realized that the vast majority of the things I was doing for Maxx on a daily basis, such as buying digital ads, doing inventory, sending emails out to customers, and other repetitive jobs that involved massive data collection, could be automated," he recounts. "Today's level of technology leaves people free to be more creative and pursue more important things, such as product vision."
Both Maxx and AJ had plenty of experience with Shopify, and as a result, they weren't only aware of the problems, they knew what solution was needed for the more than 1.7 million merchants selling through that platform. Changes imposed by Apple to its privacy policy via its App Tracking Transparency (ATT) framework had disrupted the multi-billion dollar advertisement industry, causing numerous merchants to lose clarity in the efficiency of their advertising. Using first-party attribution, Triple Whale accurately identifies the source of ad clicks to "real conversions" — biz speak for when the customer responds to the ad's call-to-action — thus illuminating the customer's entire journey, so that retailers can optimize ad spending.
"Our unique mobile app ensures critical performance data that's always in a retailer's reach, enabling them to access the information they need with a user-friendly dashboard on their cell phones," Maxx explains. "And better data leads to smarter decision-making."
From there, things moved very quickly. Large-scale investors recognized the huge potential of Triple Whale, and within a few months, they rocketed through the start-up funding stages of "pre-seed" and "seed" to an A-round investment of $27.7 million altogether.
"What catapulted us forward, in the wake of that massive investment, was the fact that we were able to get a large number of qualified workers in a very short time," says AJ. "Moshe Friedman of KamaTech was instrumental in connecting us to some extremely talented chareidi software developers and designers."
"In six weeks, we more than doubled our head count, going from 40 workers to 86," Maxx says. "The whole company feels mission-driven."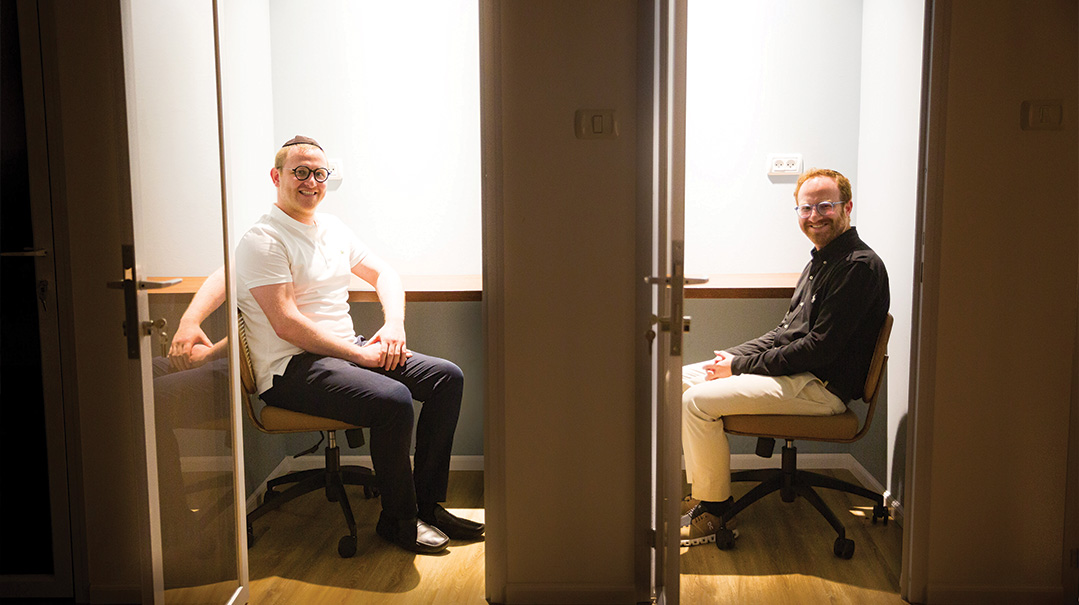 Maxx Blank (left) and AJ Orbach. "We worked well together — he had the ideas and I had the experience"
In the Heart of It All
A large part of Triple Whale's activity is headquartered in Columbus, Ohio — Maxx's hometown, and where he and AJ currently live with their growing families.
Maxx moved back with his family to the US in 2015, during the period when he was trying to build his business aimed at American college students. As noted, that business collapsed, but in the meantime, he and his wife discovered a welcoming, close-knit, out-of-town community, where rent was cheap and neighbors greeted one another on the street. Significantly, the shul had originally been founded by Maxx's grandparents.
"We met Rabbi Avi Goldstein, a Ner Israel musmach, who had a vision of building a healthy, dynamic Jewish community where you can work and learn and be very successful," says Maxx. "We felt that this was a place where we could grow, thrive, and contribute."
It didn't take long before the Orbachs followed the Blanks to Columbus.
"Maxx was already there, and during one of his visits to Israel, we met up again and started working together," AJ says. "At this time, my wife and I were living in the Jerusalem neighborhood of French Hill, but we weren't really finding our place. We were considering moving overseas for a few years to explore and find a place where we'd feel more comfortable. Maxx recommended Columbus, and my wife and I decided to try it out."
While neither Maxx, an oleh chadash, nor AJ, a child of olim, had expected or wanted to leave Eretz Yisrael, both felt clearly that this is where Hashem was leading them and their families.
The Orbachs took to the Columbus community from the get-go, but parnassah was still a challenge. It was at this nadir in his career that Ivan decided to stick with him — a decision that would have life-changing consequences for them personally, as well as for the Columbus community.
"A lot of our first hires live on the same block as us," says Maxx. "Our kids play together."
One of those first hires is Chaim Davies, head of customer success at Triple Whale, and whose son is close friends with Maxx's son. Chaim is living proof that you can leverage skills in the chinuch world for a successful career in high tech.
"I was transitioning out of a part-time job in education as a high-school rebbi," he says. "I also had experience running my own Shopify brand on Amazon. Maxx and AJ asked me if I wanted to work in sales and customer service."
Chaim, who quickly climbed the ladder to become team manager, says that his experience in education helped him to excel in connecting with customers.
"What customer success and education have in common is the desire to convey value from one person to another," he explains. "Customer success teams are the ones connecting directly with the customers and enabling them to derive value from the product."
Chaim says he has tremendous satisfaction from his job, which he sees as transformative for customers. "They are very enthusiastic about the fact that the app saves them so much time by having all the answers to their questions in one place."
Chaim extols the "spirited and collaborative environment" at Triple Whale, which he says, is still growing exponentially. His advice for new recruits: "Those who thrive at Triple Whale have a sense of purpose and are driven to achieve those goals. They are passionate about their work and are willing to give their all to their jobs, not seeing it as taking away from their personal life but enhancing it."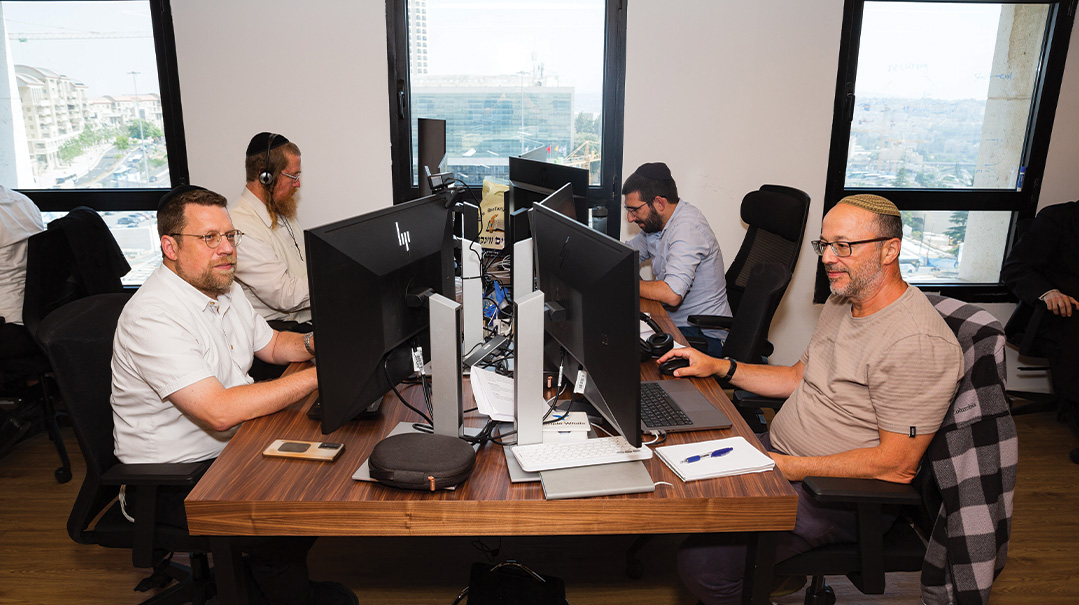 Work-Life Balance
The high-tech/start-up space is not usually where you'll find people who talk about work-life balance or who idealize about "making the world a better place." But then, these are not your typical entrepreneurs.
All three co-founders are family men who believe in the importance of "working smart instead of working around the clock" in Maxx's words.
"Balancing family life with work is part of our mission," he adds.
"I'm still trying to learn how to achieve a healthy work-life balance," says AJ. "I'm very intense. I do one thing at a time. I do it a lot and hopefully, well, with a lot of energy."
Today AJ is working toward achieving the learning-working formula that works for him, and ironically, Triple Whale is helping him achieve that goal. Alongside working to build up the company, he is striving to keep up a steady learning schedule, which currently includes a plan to get up early and learn with Maxx for a couple of hours before Shacharis.
"It's interesting how the company is pushing me toward greater ruchniyus," AJ observes.
Both the Jerusalem and Columbus offices of Triple Whale have a daily chaburah — in Chovos Halevavos, Shaar Habitachon, and Chazon Ish Emunah V'Bitachon respectively. AJ leads the Chazon Ish chaburah, which Chaim calls "a pause in the middle of a fantastically hectic work day to reconnect with what matters most."
Ivan comments that work-life balance is one of the goals that Triple Whale aims to achieve via the app.
"We believe in letting the technology do the work so that people will have more free time for themselves," he says.
Since the launch of the company, Ivan has been keeping sane work hours, noting that there are days when he is able to leave the office at five so that he has more time to spend with family — neither the norm nor a given in the world of high tech.
No Strangers Here
Another of Triple Whale's core values is humility, a quality that can be felt when speaking to the founders who are incredibly affable and down to earth, especially when explaining the most basic business concepts to a tech novice such as this writer.
Notwithstanding the frum-friendly atmosphere at the Triple Whale offices in both locations, deliberate and sensitive efforts are invested to ensure that the religious Jews don't give the impression of forming an exclusive group.
"While we have a Torah-infused mission, we work to make all our messaging as universal and relatable as possible, not only for customers, but for everyone on the team," says Chaim Davies. "We don't want to give the impression of a 'Jewish company' in the sense that the non-Jews on our team would be excluded. That's something we think about whenever we do something that has the potential to make someone feel like an 'outsider.' "
While co-founder Ivan does not self-identify as religious, he absolutely attributes his own success to when he started working with AJ — and stopped working on Shabbos.
On his relationship with the other two chareidi co-founders, Ivan says, "We're so busy focusing on what connects us, we don't have time for clashes. We're hyper-focused on our common goal — to conquer the world and change it, for the better."
Now, with Triple Whale generating over $13 million in annual recurring revenue (ARR), Maxx, AJ, and Ivan have big plans.
"In the long run, e-commerce brands outside of Shopify could also benefit from their own operating system, and as we scale and continue to develop our product, we see far-reaching potential to reach the broader e-commerce market," observes Maxx.
AJ agrees. "There's still a lot to build. We've barely scratched the surface of the vision. We really want to build one of the five biggest companies in the world, and we believe we have a chance to do that."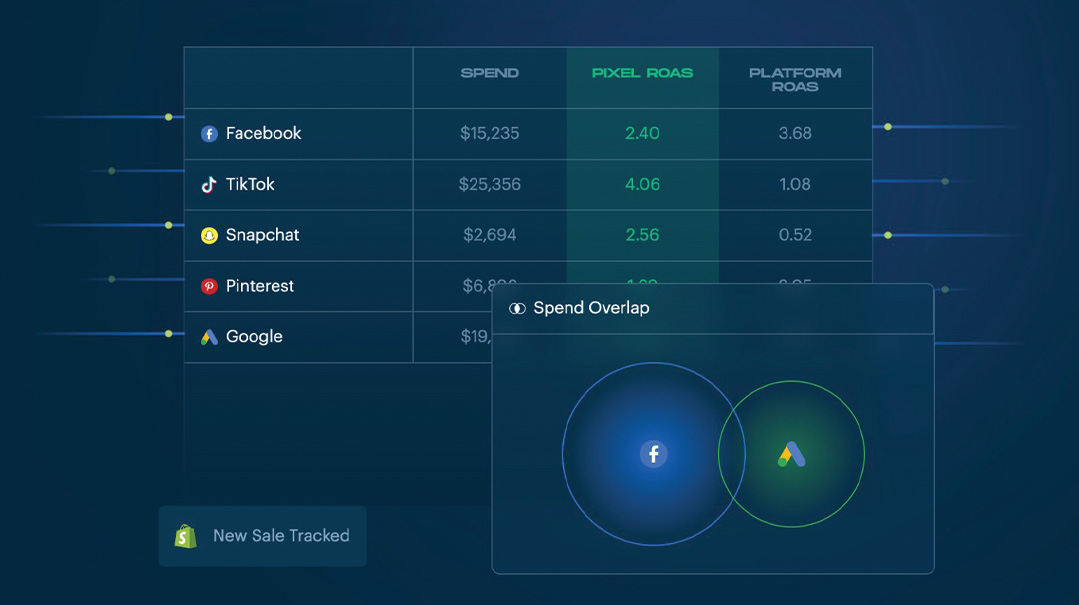 What exactly does Triple Whale do?
In layman's terms, Triple Whale provides e-commerce store owners with a dashboard of various analytic indexes, presented in a streamlined, all-in-one, user-friendly platform. This real-time information includes valuable data on profit, ROAS (return on ad spend), advertising performance, and a lot more, depending on the size of the business and the corresponding Triple Whale package chosen.
AJ gives an example of one of the app's future functions. "A smart system knows, for example, that as soon as a certain inventory is sold out, it instantly shuts off the corresponding campaign, ensuring that ad dollars are distributed to where they are most efficient."
Most significantly, the app's first-party Pixel tracks what retailers' ad platforms cannot, offering full visibility into their most profitable ads and campaigns in one centralized interface. So, if a customer clicked on an ad two weeks ago, but purchases today by clicking on an e-blast that landed in their inbox, Triple Whale can attribute that revenue directly back to the ad they originally clicked on.
Such sophisticated tracking automatically raises questions about data privacy, and whether customer data could be passed on to a third party, but according to Moe Mernick, head of operations, "Triple Whale uses customers' own first-party data to generate insights for that customer, and that empowers them to make better decisions that can help them grow their business."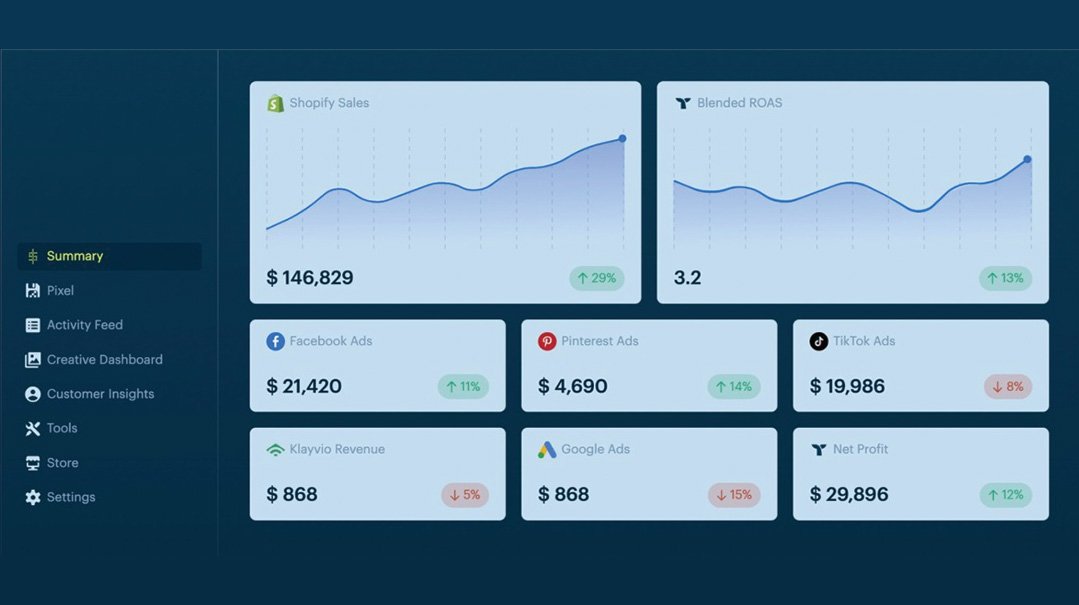 (Originally featured in Mishpacha, Issue 923)
Oops! We could not locate your form.
>