| Recipes |
Savor the Flavor | February 19, 2020

Olive-Tomato Focaccia Squares 
There are a great idea for mishloach manos, for the Purim seudah, or really for any time. They can easily be made ahead of time and frozen. 
YIELDS 16–20 
1 cup warm water
2 tsp sugar + 2 Tbsp sugar, divided
1 Tbsp dry yeast
2 Tbsp oil
2 Tbsp cornmeal
½ tsp salt
2½ cups flour
1 large onion, diced and sauteed
2 cloves garlic, crushed
½ cup sun-dried tomatoes in oil,drained and chopped
½ cup sliced green olives
1 Tbsp pesto (store-bought or homemade)
olive oil, for drizzling
sea salt, for sprinkling
In a large mixing bowl, combine water, 2 tsp sugar, and yeast. Let the mixture stand for 10 minutes. Add 2 Tbsp sugar, oil, cornmeal, salt, and flour and mix until a dough forms. Knead for 5 more minutes. In a separate bowl, combine the sauteed onion, crushed garlic, sun-dried tomatoes, olives, and pesto.
Add this mixture to the dough in the mixing bowl and knead until just combined. Place the dough into a slightly greased bowl. Cover and let rise for 30–45 minutes. Generously grease a baking sheet. Place the dough on the baking sheet and roll it out until it's about 1 inch (2½ cm) thick.
Cover gently with a slightly damp towel and let rise for another 30 minutes. Preheat oven to 375°F (190°C). Uncover the dough. Drizzle with olive oil and sprinkle with sea salt. Bake for 20 minutes or until center is fully baked. Let cool and cut into squares.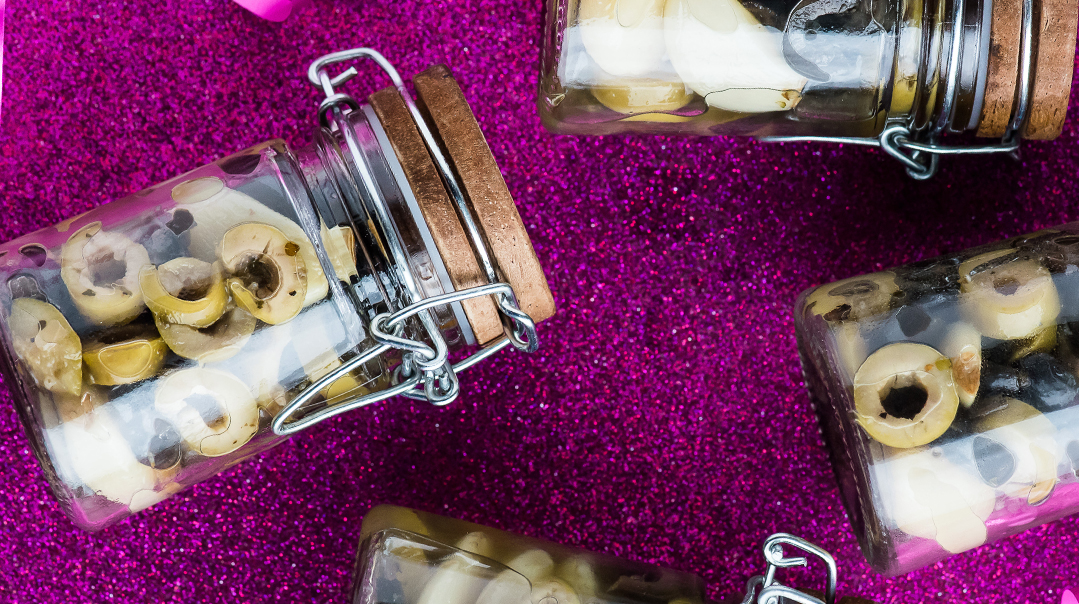 Roasted Garlic and Olive Dip 
This wonderful gourmet dip is a delicious addition to any Shabbos table. It's super simple and adds great color. 

YIELDS APPROXIMATELY 1 CUP 
20 whole cloves garlic
½ tsp oregano
½ tsp Montreal steak spice
light olive oil or canola oil
½ cup sliced green olives
½ cup sliced black olives
Preheat oven to 350°F (175°C). Place the garlic cloves, oregano, and Montreal steak spice in an oven-proof deep bowl or Pyrex dish. Add light olive oil or canola oil just to cover the garlic cloves.
Cover the dish with aluminum foil and bake for 20–25 minutes. Remove from the oven and add the olives immediately. Mix well and allow to cool. Refrigerate until ready to serve. Pair with Melba toasts, crostini, or any salty cracker. It's delicious served with the focaccia too!
(Originally featured in Family Table, Issue 681)
Oops! We could not locate your form.
>