| Recipes |
Saucy Barbecue Bourbon Meatballs
| January 17, 2023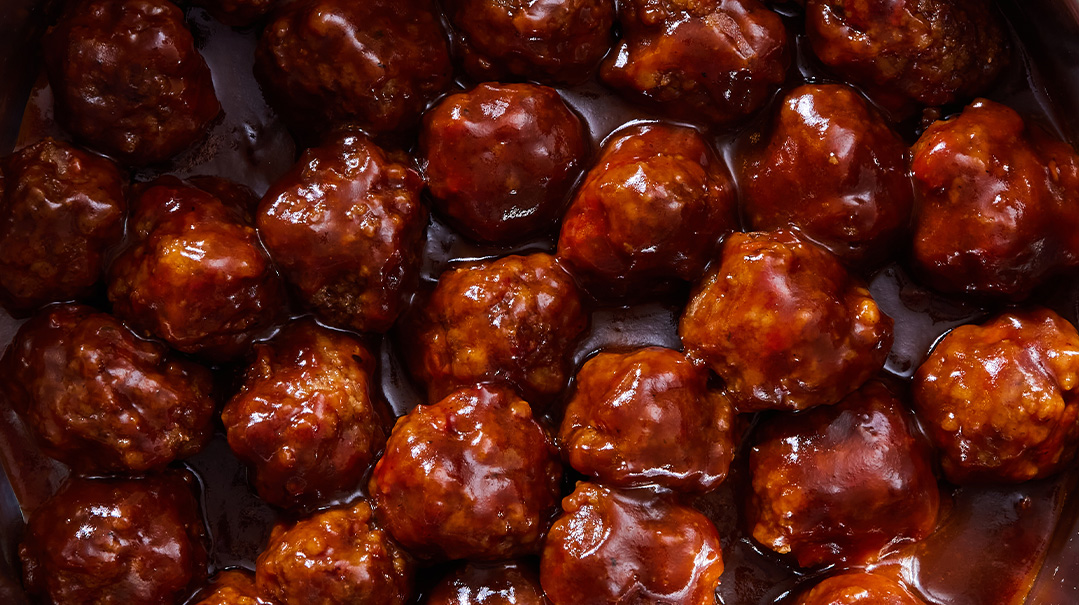 Food and Prop Styling by Shiri Feldman
Photography by Felicia Perretti
Food Prep by Chef Suzie Gornish
This piquant and flavorful meatball dish literally took minutes to prepare. The addition of pastrami adds a hint of smokiness to a conventional favorite. I enjoyed it served over rice, but feel free to go with spaghetti if that feels more familiar.
SERVES 6
1 lb (450 g) ground beef (not extra lean)
4 oz (110 g) pastrami, finely diced
1 egg, beaten
½ cup plain bread crumbs
½ tsp onion powder
½ tsp chili powder
1 tsp salt
oil, for greasing pan
1 cup barbecue sauce of your choice
½ cup water
2 Tbsp bourbon
chopped fresh parsley, for garnish (optional)
Combine ground beef, diced pastrami, egg, bread crumbs, and seasonings in a medium-sized bowl. Mix well to combine, but don't overmix. Once combined, form 24–30 mini meatballs, about 11⁄2 inches (3.8 cm) in diameter.
Grease a 12-inch (30-cm) frying pan lightly with cooking oil. Heat the oil over medium heat and add the meatballs to the frying pan. Cook meatballs for about 5–6 minutes on each side, turning halfway through cooking time.
When cooked through, remove meatballs from the pan, pour out the grease, and wipe down the pan with paper towel. Add the barbecue sauce, water, and bourbon to the pan and return to heat. Mix the sauce gently to combine and add the meatballs back into the pan, tossing to coat. Simmer for about 15–20 minutes.
Serve hot. Garnish with chopped fresh parsley, if desired.
(Originally featured in Family Table, Issue 827)
Oops! We could not locate your form.
>