| This Way That Way |
Salmon
| January 20, 2021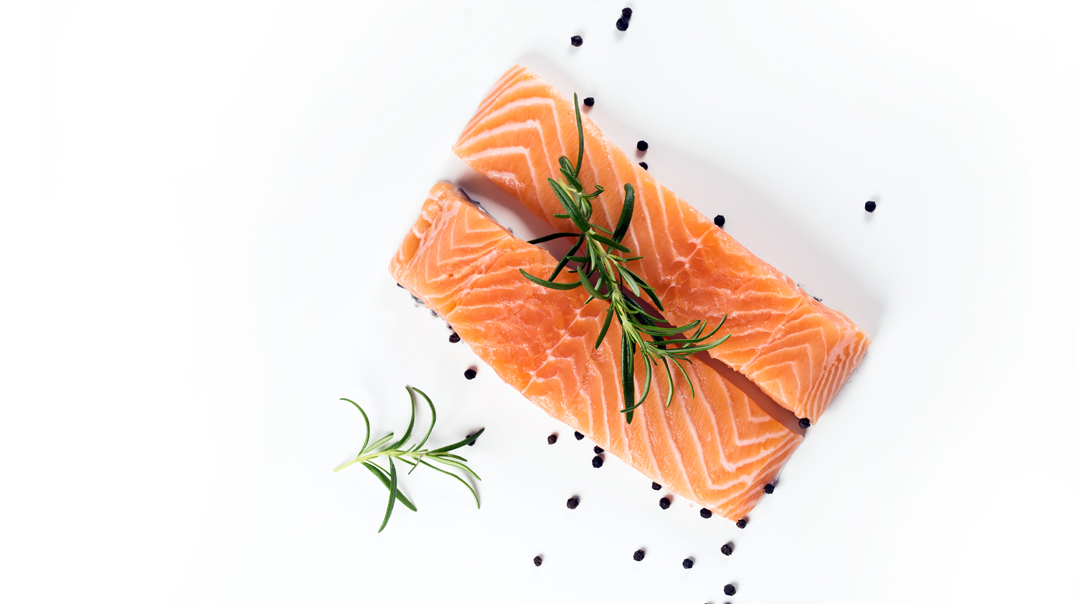 The most ubiquitous of fish, salmon is a mainstay in most of our homes. Reinvented as today's beet-cured gravlax or a classic teriyaki, salmon is an easy-to-prepare protein, exploding with nutrients and crowd-pleasing flavor. Here are the ways we love to serve it.
Wild About It
Atlantic salmon sold in the US is all farm-raised. To get wild salmon, buy Pacific salmon.
Stay Salty
Salmon are born in freshwater, migrate to saltwater, and then return to freshwater to spawn.
Hear Me Out
Salmon hear using low-frequency sound waves, which vibrate through the water to a row of sensory pores on the sides of the salmon.
Lemon Dill Salmon
Recipe by Faigy Grossmann
I generally prepare a side of salmon for a Shabbos night appetizer. While I have a few favorites I make on repeat, I was looking for something lighter, well-seasoned, without any extra crunch. This one is super simple to prepare and nailed the flavor I was looking for
Serves 10-12 as an appetizer
1 2–3-lb (1–1½-kg) side of salmon
salt and garlic powder, to taste
juice of ½ lemon
1 Tbsp Dijon mustard
3 cubes frozen dill
4 Tbsp brown sugar
Season salmon generously with salt and garlic powder.
In a small bowl, combine remaining ingredients. Drizzle over salmon and massage well into flesh. Let marinate for half an hour.
Preheat oven to 375°F (190°C).
Bake salmon for 18 minutes. Turn oven to broil and broil an additional 5–7 minutes to achieve a nice color on top.
Moroccan Salmon
Recipe by Esti Vago
My sister Pessy made this when we were at her house on Succos, and everyone loved it.
Serves 10-12
side of salmon
oil, for sautéing
a few frozen garlic cubes
1 carrot, sliced
1 red pepper, diced
1 can chickpeas, drained
onion powder, garlic powder, pepper, lots of paprika, and salt, to taste
1 Tbsp lemon juice
Heat oil in a saucepan and add the frozen garlic cubes. Let them melt a bit, then add carrot, red pepper, and chickpeas. Season with onion powder, garlic powder, pepper, lots of paprika, and salt, to taste. Add a bit more oil if necessary. Add lemon juice. Cover the pan and allow to cook over low heat for a couple of hours.
Preheat oven to 350°F (175°C). Place salmon in a 9x13-inch (20x30-cm) baking pan. Pour the sauce over it and cover the pan. Bake for 45 minutes. Serve hot.
Honey-Mustard Salmon
Recipe by Danielle Renov
Crackers and fish don't usually go together. For this recipe, though, they do! Try it and you'll see!
Serves 6
6 salmon fillets
¾ tsp kosher salt
¾ tsp coarse black pepper
1 sleeve salty crackers
2 Tbsp sesame seeds
½ cup honey mustard
Preheat oven to 400°F (200°C).
Season each fillet with ⅛ tsp kosher salt and ⅛ tsp coarse black pepper.
Crush the salty crackers in a ziplock bag. Mix the crushed crackers with sesame seeds.
Spread 2 Tbsp honey mustard on each fillet, then sprinkle with crumb mixture.
Bake uncovered for 12 minutes. Serve hot and enjoy.
(Originally featured in Family Table, Issue 727)
Oops! We could not locate your form.
>