| This Way That Way |
Salami
| March 1, 2022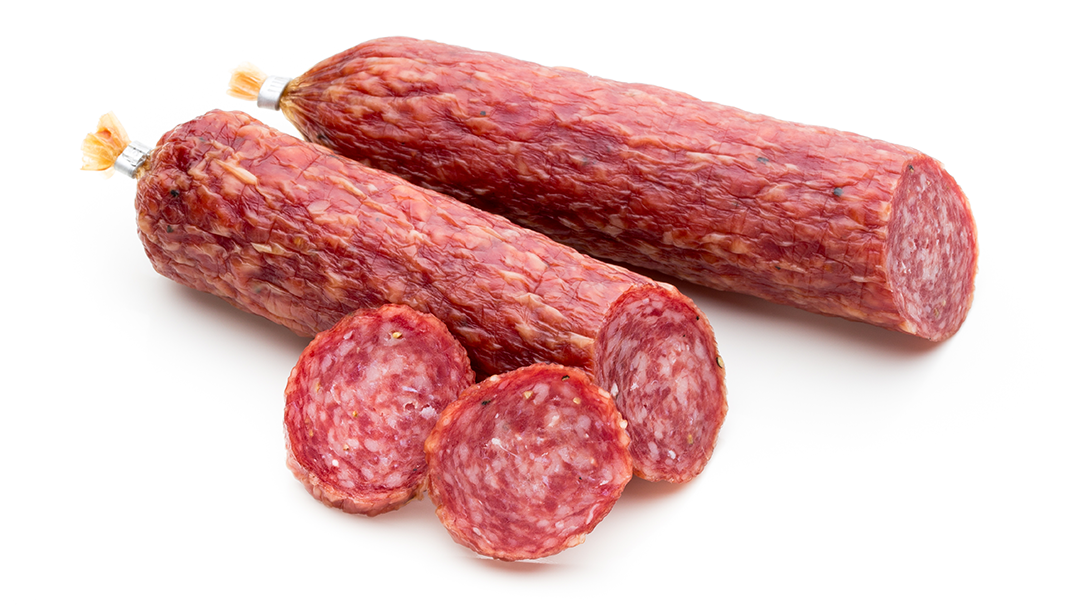 Prior to hasselback and charcuterie boards and other updated usages of it, salami was just a reliable, travel-friendly cured meat. For those who have a minhag to serve salami on Purim (because it's hung), here are our team's favorites uses for it!
Cue the Cure
Origin
Salami originated in Italy; in Italian, "salare" means to make something salty.
Process
Salami is made from ground beef mixed with garlic, salt, minced animal fat, and seasonings. This raw mixture is then stuffed into casings and cured through air-drying.
Popularity
Salami was popular in some regions of Europe due to the scarcity of fresh meat, since it can be stored at room temperature for more than 30 days.
Salad-Topped Salami Pizza
Recipe by Naomi Nachman
Originally published in Perfect Flavors and shared with permission of the copyright holders, ArtScroll/Mesorah Publications.
Meat pizzas have become popular, so when I had pizza dough and leftover salami in my fridge, I created this salami pizza.
SERVES 6
1 batch pizza dough
½ cup barbecue sauce
½ cup mayonnaise
1 14–16-oz (400–450-g) salami, sliced
½ red onion, sliced (reserve the rest for the salad, if desired)
Salad
3 cups arugula
½ pint cherry tomatoes, halved
2 Tbsp olive oil
1 Tbsp lemon juice
½ tsp mustard
½ tsp kosher salt
1 clove garlic, minced
Preheat oven to 450°F (225°C). If not using a pizza stone, line a baking sheet with parchment paper.
Roll pizza dough into a 12–15-inch (30–38-cm) circle or rectangle. Transfer to a pizza stone or prepared baking sheet.
In a small bowl, mix together barbecue sauce and mayonnaise. Spread half the mixture in a thin layer on the rolled-out dough. (Reserve the remainder for the topping.) Top pizza with slices of salami and onion, distributing both evenly. Bake for about 15 minutes, until the crust is starting to brown.
Meanwhile, prepare the salad: Place arugula and cherry tomatoes into a medium bowl. Add remaining red onion, if desired. Whisk together oil, lemon juice, mustard, salt, and garlic. Just before serving, add desired amount of dressing to bowl; toss to coat.
Spread salad over hot pizza; drizzle with reserved barbecue sauce mixture.
Salami-Tomato Sandwiches
Recipe by Danielle Renov
There's something just really satisfying about a good sandwich. These are super simple to make and are a great on-the-go sandwich if you're looking for some travel food!
YIELDS 1 SANDWICH (QUANTIFY AS NEEDED!)
4 thin slices salami (I prefer to slice my own!)
2 slices white bread (like the old-school Wonder Bread!)
2 Tbsp Hellmann's mayonnaise
2 pieces Romaine lettuce
1 thin slice of firm tomato
Heat a pan over medium-high heat. Add salami slices. Let them cook for a few minutes on each side until they begin to crisp.
While the salami is cooking, lightly toast the bread. You're looking for a light golden color. As soon as the bread is done, smear 1 Tbsp of mayonnaise on each slice. To one piece of the bread add the lettuce, then the tomato, and finally the crispy salami slices. Cover with the second piece of bread and slice the sandwich in half. Not on a diagonal, that's for PB&J. Enjoy!
Note: You can absolutely add avocados, pickles, radish, pickled onions, arugula, or whatever speaks to your heart. This sandwich is about you. And the perfectly toasted white bread. Also, the salami. Except you can swap that too for pastrami!
Savory-Sweet Japanese Noodles
Recipe by Chanie Nayman
I love that the ingredients in this recipe are so interchangeable, but the way I present it here is for sure my favorite, not to mention the most original!
SERVES 6
2 9-oz (225-g) pkgs Japanese-style noodles
1 pint mushrooms, sliced
2 Tbsp canola oil
5–6 green cabbage leaves, chopped
1 20-oz (570-g) can pineapple chunks
1 pkg frozen brussels sprouts (or broccoli), slightly defrosted and diced
8 scallions, trimmed and cleaned (reserve 2 for garnish), chopped
1 small hard salami or 2–3 Mexican chorizo sausages, sliced
Sauce
6 Tbsp soy sauce
¼ cup rice vinegar
½ cup honey
⅔ cup brown sugar
4 Tbsp chili sauce
4 cubes frozen garlic
2 cubes frozen ginger
pinch of cracked black pepper
2 tsp cornstarch, dissolved in 3 tsp water
Cook noodles according to package instructions. Drain and set aside. Sauté mushrooms in oil. Add cabbage and pineapple and sauté until cabbage is wilted. Add brussels sprouts and sauté another minute. Add all sauce ingredients and simmer until sauce is thickened.
Add salami and noodles and toss to coat. Finish off with scallions, stirring them into the hot noodles so they wilt slightly. Top with additional chopped scallions.
(Originally featured in Family Table, Issue 783)
Oops! We could not locate your form.
>