| Whats Cooking |
Salad Queens | September 14, 2021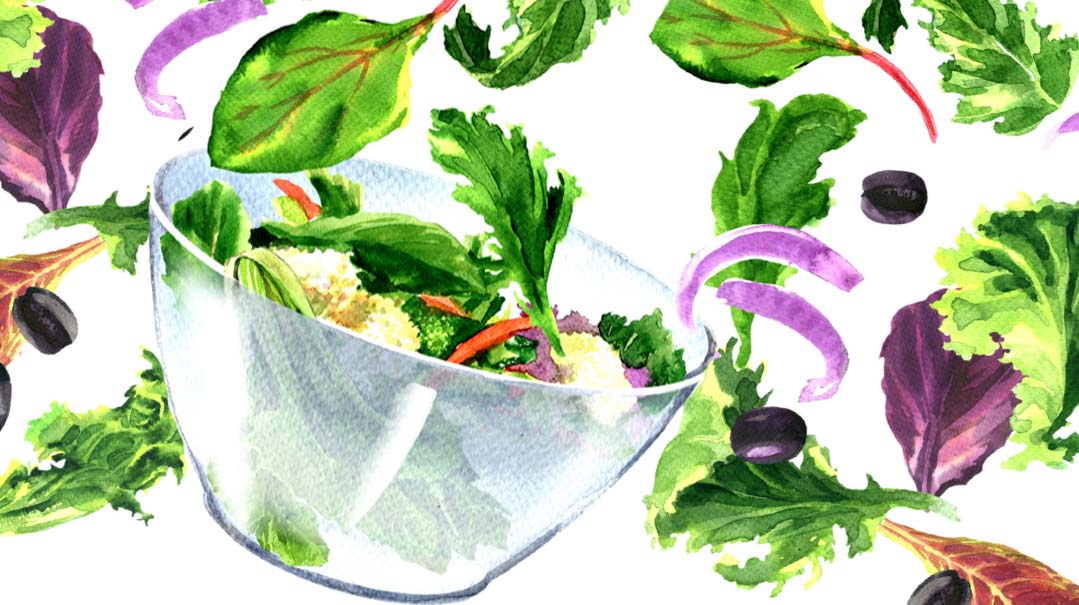 Gone are the days of flavorless iceberg and sandy tomatoes. The salads we love are colorful, robust, and downright feel-good menu items! Here are the recipes from your Family Table community. Dig in!
Fruit and Lettuce Salad
My friend Sarah Fishman makes a great fruit and lettuce salad that I've started serving a lot. It's fresh, light, easy, and delicious. The only downside is my husband maintains salads shouldn't have fruit, "because we call salads with vegetables 'salad' and fruit salad 'fruit salad,' " so he always asks me to pass the fruit salad when I serve it. (Note that he does ask for it, though — it's really good!)
The recipe is from The Bais Yaakov Cookbook, but we tweaked it a little bit because the dressing calls for poppy seeds, which we omit (teeth), and made a few small changes to the base.
Dressing
¾ cup olive oil
½ cup sugar
⅓ cup apple cider vinegar
1 tsp mustard powder
1 tsp salt
For the salad, use any kind of leafy green — lettuce, kale, arugula, etc. — combined with a mango or grapefruit cut into segments (me) or mandarin oranges (Sarah), slivers of red onion, and cubes of avocado. Top with glazed pecans.
—Rachel Bachrach, associate editor
Fill 'er Up
Salads are my favorite way to fill up a menu. They add color, texture, flavor, and of course fiber! I don't plan my salads, I just stock up on a variety of greens (pre-checked) and every vegetable imaginable. I also always make a double recipe of at least five of my favorite salad dressings, which I rotate and sometimes even combine. Then, when I'm prepping my meal, I just throw together whatever I'm in the mood of.
Leftover sides from previous meals — for example, roasted squash, grilled zucchini, or steamed green beans — make fantastic additions to today's salad. I love to combine fresh and cooked veggies, and I always try to have as much color and texture contrast as possible. Having some shredded veggies and others cut in chunks also keeps a salad fun and varied. Nuts, seeds, and roasted chickpeas are great for crunch.
Here's my latest concoction: A bed of mixed greens, shredded fennel, shredded radishes, shredded carrots, steamed green beans cut in chunks, dried chickpeas, sliced black olives, and sesame seeds with my new Shallot Lime Dressing, recently featured in FT.
—Rorie Weisberg, health columnist
Lettuce-Quinoa Salad
The colors of this delicious salad remind me of fall. There are no exact measurements, other than the dressing.
shredded lettuce or spinach leaves
cooked quinoa
roasted, cubed sweet potatoes
roasted red onions (optional)
toasted pumpkin seeds
pomegranate seeds, for garnish
Dressing
½ cup oil
6 Tbsp lemon juice
2 Tbsp Dijon mustard
3–4 Tbsp maple syrup
1½ tsp crushed garlic
salt, to taste
Blend all dressing ingredients. Drizzle over salad immediately before serving. Enjoy!
—Mati Swimmer, craft writer
DIY Roasted Nuts
This isn't a recipe, but it will take every salad, raw and cooked, to a new level.
I always throw a handful of roasted slivered almonds or roasted pecans into my salad. (If you don't use nuts until after Simchas Torah, you might have to wait on this one, but this tip works just as well with raw sunflower seeds.) As soon as I come home with my purchase of raw nuts or seeds, I put the package into a large Teflon frying pan, turn the heat to medium, and "fry" for about 5 minutes, or until it starts to smell like popcorn (make sure it doesn't burn because it goes fast). I store the roasted nuts/seeds in a ziplock bag in the freezer, and that way I always have them ready. I often throw in a handful of yellow raisins (or, of course, dried cranberries, but somehow the raisins are richer) along with the nuts. Yum.
—Rachel Ginsburg, associate editor
Summer "Kitchen Sink"
1 cup raw mushrooms, sliced
1 large raw zucchini, sliced or julienned
1 each red, orange, and yellow peppers, julienned
2 small or 1 large watermelon radish, julienned
1 medium-sized kohlrabi, julienned
1 ear corn, grilled and shaved
1 small avocado, sliced
Maple-Mustard Dressing
1 tsp mustard
2 Tbsp maple syrup
1 Tbsp lemon juice
3 Tbsp vinegar (ideally red wine vinegar)
¼ cup oil
salt, to taste
Mix together all the veggies, and add the dressing.
—Rivki Rabinowitz, editor, Family Room
Nish Nosh Salad
Easiest!! Yummiest!! Salad!! Ever!!
1 container checked spring mix
1 can hearts of palm, sliced into circles
1 red pepper, chunked
2 Kirbies, cut in half rounds
Vidalia Onion Dressing
Nish Nosh crackers
Mix all the ingredients besides crackers. Top with crackers.
—Chaia Frishman, columnist
Red Cabbage Salad
When we lived in Maalot Dafna, my neighbor Shlomit King shared this cabbage salad recipe from the Netzach Yisrael cookbook. Every time I make it, my kids eat the entire salad!
1 head red cabbage, sliced and cut into small strips
Dressing
½ cup sugar
½ cup canola oil
¼ cup white vinegar
1 Tbsp soy sauce
Topping
¼ cup sesame seeds
¼ cup sunflower seeds
½ cup fine noodles
¼ cup sliced almonds
Mix the topping ingredients together and spread out on a parchment-lined pan. Toast at 200°F (90°C) for half an hour, or until lightly browned.
Mix the dressing ingredients together in a container with a leak-proof seal and shake for 1 minute until well-blended.
To serve, layer cabbage and nuts in a large bowl and pour the dressing over the top.
Note: Make the salad just before you're ready to serve it so it stays crisp. You can double or triple the topping and store in an airtight container for months.
—Sarina Laghaei, ad design
Carrot Salad with Ginger Dressing
I tasted something similar to this in a restaurant once and liked it so much I did my best to reproduce it at home.
3–4 large carrots
2 stalks celery
3 scallions
⅓ cup chopped cilantro
Dressing
1 clove garlic
½-inch (1-cm) cube ginger
1–2 Tbsp sugar (or to taste)
salt and pepper, to taste
⅓ cup lemon juice
⅔ cup olive oil
Shred the carrots in a food processor. Place in a large bowl or container. Change to the steel blade and coarsely chop the celery and scallions. Add them to the carrots. Throw in the cilantro to mince it and add to the veggies.
Add the dressing ingredients to the food processor bowl (no need to clean it out in between), and process until smooth, tasting to adjust the seasonings. Pour over carrot mixture and serve.
—Barbara Bensoussan, columnist
Skirt Steak Salad
This is my family's favorite Yom Tov salad. I make the dressing before Yom Tov and prepare the meat right before the meal.
1 8-oz (225-g) pkg shredded romaine lettuce
2 avocados
Skirt Steak
1 Tbsp olive oil
1 lb (450 g) skirt steak
salt and pepper, to taste
Dressing
1 small shallot
2 medium plum tomatoes, halved
1½ Tbsp red wine vinegar
¼ cup olive oil
½ tsp salt
¼ tsp pepper
Prepare the dressing: In the bowl of a food processor fitted with the S blade, shred shallot. Add tomatoes and red wine vinegar. Slowly add the olive oil in a thin stream while blending. Add the salt and pepper, then chill in the refrigerator for at least two hours.
Prepare the skirt steak: Heat the olive oil in a large skillet over medium-high heat. Season the steak with salt and pepper. Add to the pan and sear until browned, about 5 minutes. Turn and sear until browned on the other side, 3–5 additional minutes. Transfer the steak to a cutting board, let rest for 5 minutes, and then slice thinly.
Divide lettuce among 6 plates. Slice avocado and fan on the side of each plate. Lay several slices of steak over the lettuce and drizzle with dressing.
—Esti Vago, production
Tropical Salad
I once had a tropical salad with no ta'am or rei'ach at a café. I decided to recreate the salad and the dressing to make it more palatable. It came out amazing, and the medley of flavors and textures is enjoyed by all.
1 pkg shredded Romaine lettuce or baby lettuce
1 mango, diced
1 green apple, unpeeled, diced
1 cucumber, seeded and cut in half lengthwise, then sliced
1 scallion, thinly sliced
generous handful sliced honeyed almonds and/or mini croutons
Dressing
3 Tbsp olive oil
¼ cup fresh orange or clementine juice
2 tsp fresh lemon juice
1 Tbsp balsamic vinegar
1 Tbsp honey
1 Tbsp brown sugar
1 rounded tsp apricot jam
1 tsp mustard
1 clove garlic, crushed
salt and pepper, to taste
Combine all salad ingredients in a large bowl. Toss with dressing right before serving. Garnish with almonds and/or mini croutons.
Put all dressing ingredients in a small glass jar. Close well and shake to mix well. Refrigerate until use. This can be made a few days in advance.
Tip: You can prepare the fruit and veggies in advance and store in small containers in the fridge. (The apple should be lightly coated with lemon juice to prevent oxidation.)
—Brynie Greisman, recipe columnist
"Everything Salad"
We love what we call "Everything Salad." We put in the basics — any leafy greens, tomatoes, cucumbers, peppers, grated carrots — then add whatever extras we have around: shredded cabbage, corn, chickpeas, dried cranberries, pickles, olives, etc. Season it with garlic powder, salt, pepper, and olive oil. For a pretty look, we'll layer the different colors in a large glass salad bowl. It's versatile and different every time.
—Faigy Peritzman, columnist
Cauliflower Salad
I got this recipe from my friend Pessy Stern, who got it from her sister-in-law Bailarena Stern. It's a nice change of the typical potato salad, and it's low carb too!
½ bag frozen cauliflower
olive oil, for drizzling
salt and pepper, to taste
1 can beets, sliced
3 Persian cucumbers, sliced
½ red onion, sliced
Dressing
½ cup mayonnaise
½ cup sugar
2 Tbsp vinegar
salt and pepper, to taste
Drizzle cauliflower with olive oil and season with salt and pepper to taste. Roast at 400°F (200°C) for 20 minutes. Transfer to a bowl and add the rest of the vegetables. Combine dressing ingredients and mix together.
—Chaya Perel Nojovitz, graphics
Basics Plus Hacks
I usually throw my salads together right before the meal, so I don't often follow an exact recipe. I try to make sure I have enough components in the fridge to throw something together, which usually looks something like this:
Bases like spinach, arugula, bok choy, or cabbage and romaine to start.
Sometimes I'll add basic vegetables like peppers, cucumbers, avocados, and tomatoes. Other times I'll use a crunchy mix like julienned carrots, beets, radish.
Then I usually add some fruit — citrus, mango, and pomegranate seeds.
I wish I had a little elf to fill my fridge with a fabulous variety of dressings. I'm not a huge fan of store bought, but I don't mind the Salad Mate Caesar dressing, so my most exciting hack is that for salads that need a sweeter dressing, I'll mix some maple syrup into the prepared Caesar, and it's great!
—Faigy Grossmann, columnist
Simple and Delicious Beet Salad
Beets are super healthy, but often taste bland. This quick salad is very flavorful.
6–7 beets, peeled
1 small onion, diced
⅓ cup cider vinegar
2 tsp mustard
2 Tbsp sugar
2 tsp salt
1 tsp garlic powder
Cut the beets into big chunks. Cover with water and bring to a boil, then lower to a simmer and cook until fork-soft, around 20–30 minutes.
Remove beets from water, reserving ½–¾ cup of the cooking liquid. Add the remaining ingredients to the pot, along with the reserved liquid. Bring to a boil and allow to boil for several minutes.
Cube the cooked beets and put into a bowl. Pour the liquid mixture over them. Allow to marinate overnight before serving.
—Bassi Gruen, managing editor
Deli Salad
I got this recipe from my daughter, who got it from a friend, and I haven't stopped making it since! It's yummy and versatile and the dressing lasts for a couple of weeks in the fridge. You can use any veggies of choice, but we use lettuce, hearts of palm, baby corn, grape tomatoes, and tricolored mini peppers. Add sweet chili pretzels or PopCorners for a crunch and use any combo of deli cubes.
Dressing
½ cup oil
¼ cup sugar
2 Tbsp vinegar
2 tsp mustard
2 tsp soy sauce
1 tsp garlic powder
And that's it!
—Daniela Thaler, editor, TeenPages
Dill Corn Salad
This is an awesome and beyond dumb corn salad recipe. I got it from my mother's friend Batsheva Marlowe when I crashed at her house while on vacation in Florida way back when I was single and didn't know the first thing about cooking. I asked for the recipe 'cuz it was THAT good.
1 can corn, drained
1 dash salt
2 tsp lemon juice
dollop of mayonnaise
lots of dried dill
Mix and serve.
Note: This needs to be seasoned fresh. It dies in the fridge.
—Esther Kurtz, copy editor
Corn Salad
I found this recipe in The Bais Yaakov Cookbook and tweaked it just a bit. My mother thinks I should bottle it and sell it, but hey, I have a day job already…. Thank you, Bais Yaakov Cookbook, for the inspo. You might want to double it since it's so good! This is usually finished Friday night.
1 8-oz (225-g) can white corn, drained
1 8 oz (225-g) can yellow corn, drained
1 red pepper, diced
½ red onion, diced, or 1 scallion, sliced (whichever you have on hand)
1 cup thawed frozen green peas or shelled edamame (whichever you prefer)
Dressing
½ cup vegetable or canola oil
¼ cup white vinegar
⅓ cup sugar
2 cubes frozen garlic
2 tsp salt
½ tsp black pepper
Whisk the dressing ingredients and pour over the vegetables. Toss to coat. Can be prepared in advance.
—Nina Feiner, sales manager
Crunchy Carrot Salad
I adapted this recipe from Simply Delicious, by Rebbetzin Sara Finkel a"h. It's not too sweet, like carrot salads sometimes are. I serve it with the fish course and it lasts for days in the fridge, so it's great for Shabbos and Yom Tov.
4 large carrots, shredded
3 stalks celery, diced
3 scallions, sliced
1 red pepper, diced
1 yellow pepper, diced
Dressing
¼ cup vinegar, scant
¼ cup sugar
¼ cup oil
1 tsp salt
½ cup mayonnaise
Toss together all the veggies in a large salad bowl. Mix together dressing ingredients in a separate bowl. Combine and serve slightly chilled.
—Chaya Baila Lieber, copy editor
(Originally featured in Family Table, Issue 760)
Oops! We could not locate your form.
>