| Pinpoint |
Safe Haven
| September 29, 2020
Stick a pin in the phonebook. See where it lands. Make the call. Does everyone have a story? Five writers find out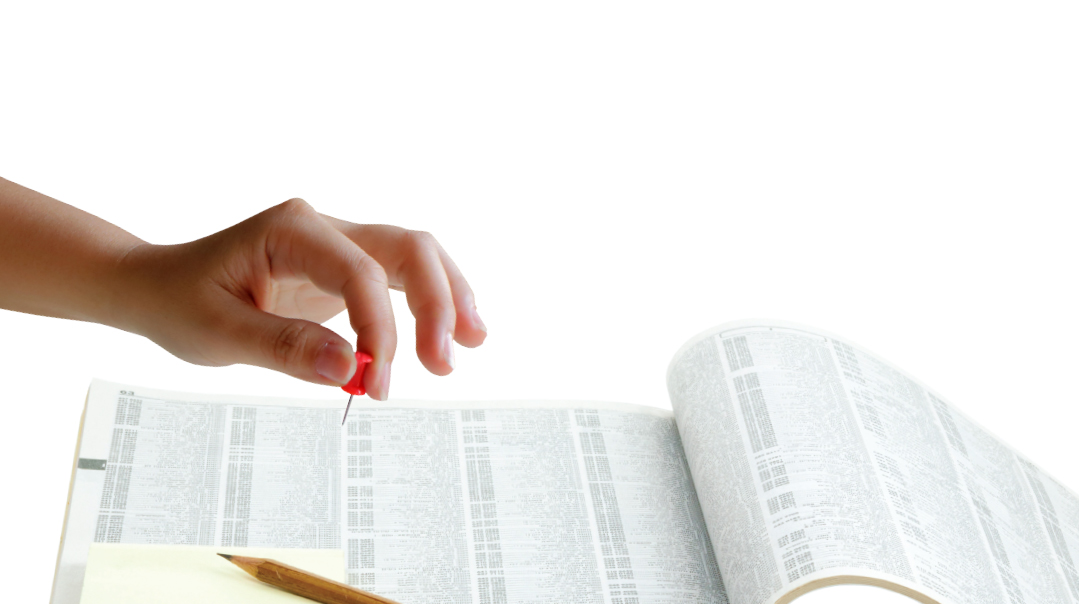 When I first read the email, I suspected it was a personality quiz in disguise.
"We want to run a project where you'll randomly call some stranger from the local phonebook and ask her to meet you for coffee and share her life story for publication. You up for this?"
My response:
NO. I am an introvert.
NO. I don't handle rejection well. Especially when the other person is yelling at me over the phone and threatening to call the cops.
NO. I have children who are almost in shidduchim.
I sat there for a few moments, puzzling over whether my introversion, cowardliness, or social conformity was my more dominant trait. But a few more emails back and forth finally convinced me: Um, I think this is for real. And somehow, I found myself choosing option d:
YES. I'm a glutton for punishment always up for an adventure.
(Okay, no, I'm not. I was the kid who sat on the bench at the amusement park when everyone else went on the roller coaster. But I am a total sucker for flattery. All she had to do was tell me that they need really strong writers for this project, and she had me in the bag.)
Truth be told, I was totally captivated by the premise. Each of us is a world of our own, with our own unique story. I loved the idea of teasing out that story from a random woman, of proving that greatness lies inside any name that you happen to stick a pin through in your local phone directory.
I was about to prove it, or prick my finger in the attempt.
I wanted to make sure I ended up with an English speaker, so I used the Newcomer's Guide, a phonebook of Anglo olim in Israel, rather than my local Beit Shemesh phonebook.
After discovering that it's not as easy as it seems to stick a sheitel pin through multiple pages of a phone book, I hit upon a different scientifically random procedure: I flipped through pages until my kids said stop. Then I ran my finger down the page until they said stop again. And from there I moved downward until I came to a name in Ramat Beit Shemesh Alef. Voilà! I had a name. I had a number.
I had a sudden urge to organize my closets.
But I knew there was an entire Mishpacha readership counting on me to overcome my phone-a-stranger phobia. (Whereas I'm sure none of you could care less if my closets have been disorganized since 2013. Take that, inner critic.)
I took a deep breath, shooed my giggling children out of the room, and called.
And now for the results of my sociological survey of the typical frum Anglo woman in RBS who gets an out-of-the-blue phone call from someone claiming to be a magazine writer who wants to know if she has a life story to share with the public:
100% of women are tickled pink by the idea .
66% believe they have a story to share.
66% are too busy to meet with a writer for coffee in the weeks leading up to Rosh Hashanah.
100% speak with British accents.
Granted, my survey consisted of three people in total, but I'm confident it was a fairly representative sample.
After two rejections, you can imagine my ecstasy when I call lady number three and hear, "Yes! I have a story! And I'd love to get together!"
Reena Palmer and I meet the following afternoon at a local Holy Bagels, where I spend a thoroughly enjoyable hour chatting with her. Reena is just as warm and upbeat as she sounded on the phone.
After laughing over the randomness of my having gotten to her, and playing a bit of Jewish Geography (she's from London, I'm from New York, so it's a long shot, but we do, it turns out, have many local friends in common), she leans forward and begins.
"The story of my life is my daughter, Aliza."
Reena takes out her phone to show me two pictures of her daughter: one as a gorgeous, blue-eyed toddler, and the other as the beautiful 15-year-old she is today.
"Aliza was my miracle baby. She was born at 25 weeks, weighing less than a kilo — after ten years of marriage."
She pauses, and I try to absorb the story contained in this single sentence: to be finally expecting after so many years, the shock of going into labor so early, the sheer terror of losing the baby.
But then Reena pulls away from this thread. "We all have multiple stories, don't we? For example, when I came to Israel for my seminary year, I was extremely homesick. I was even considering going back home. But no one was doing that, so I stuck it out, and ended up becoming very close to my roommate. I even flew to Monsey for her wedding a few years later.
"She ended up making aliyah, while I got married and settled in London. Then, a few years after our marriage, my husband and I also decided to make aliyah, to Ramat Beit Shemesh. This was 20 years ago, when the neighborhood was in its very beginning stages. The only person I knew in Beit Shemesh was — my roommate!"
Hashem had sent her the same person to once again help her adjust to life in Israel. What's more, this friend, who at the time was in charge of arranging volunteers for the local library, suggested that Reena volunteer. This eventually led to a paid librarian position, a job Reena still finds extremely fulfilling 20 years later.
"Back then, it was important for me to have something to do to fill my time." Realizing she's come back to her daughter, she muses, "I don't know, there are so many different stories in our lives…." After considering the library thread for another moment, she concludes, "But I guess my real story is Aliza."
She had three miscarriages in the nearly ten years before Aliza was born. The last of them was particularly traumatic; she lost the baby at 19 weeks of pregnancy.
"It was like sitting shivah," she recalls. "The whole community had been so excited for us, and then they mourned together with us. They were incredibly supportive."
Nevertheless, with this painful experience still fresh in their minds, when Reena discovered she was expecting several years later, she and her husband Yoni decided they were going to keep the information secret for as long as possible. Of course, they assumed that at a certain point their news would become obvious.
Except that Reena went into labor at 25 weeks.
"We'd only just told our families two weeks earlier. No one else knew a thing." She laughs. "My husband called our next-door neighbor, whom we were really close with, and said, 'Hello, I just want to let you know that we had a baby yesterday.'
"He was like, 'Whaaat?' Everyone was in total shock."
Reena will never forget what it felt like rushing to the hospital, terrified that once again she might lose her desperately longed-for baby. "I kept thinking, 'Hashem, You can't do this to us again!' "
But even in the midst of the panic, the couple received a beautiful sign that Hashem was watching over them. The ambulance took them to Shaare Zedek, a hospital that the Palmers have a longstanding relationship with. Their families had long been donors to the Jerusalem hospital, and, as a young couple, Reena and Yoni decided to follow in the family tradition.
Both of their fathers had passed away at a young age, Reena's shortly before their wedding and Yoni's soon after. They felt it appropriate to make a donation to Shaare Zedek in their fathers' memories, and after several annual donations, the hospital asked if they were interested in purchasing a plaque with their fathers' names. They decided to do so.
They made aliyah a year or two later, and over the ensuing years, they visited Shaare Zedek many times for fertility treatments. But try as they might, they could not locate their plaque. It wasn't where all the other memorial plaques were found. While they kept meaning to ask the hospital about this, they never got around to it.
And now here they were, their tiny 25-week preemie daughter just born and being whisked away to the NICU. While Reena recovered post-delivery, Yoni followed his daughter as they raced through the hospital. As they approached the NICU, they passed a sign that read, "Parents and Grandparents Only Beyond This Point." And on the wall next to the sign were several memorial plaques.
That's when Yoni saw it: their plaque, with their fathers' names engraved on it. It was then that he understood that Hashem had arranged for the plaque to be placed right outside the NICU for just this moment, so they could feel their deceased fathers watching over them at a time when they needed it most.
The next three months were tough. The new parents went through an emotional roller coaster as their tiny daughter fought for her life. But knowing that their fathers were standing sentinel over their granddaughter, praying for her survival from above — just as their entire community was davening below — gave them the strength to get through this time.
"No one, none of the doctors or nurses, could promise us that she'd survive." Reena recalls the harrowing time. She pauses for a moment, then muses, "You know, I was almost 25 when I got married. Every single girl worries about the what if: What if I never get married? And at 24, I was thinking, 'What if I'm the one it actually happens to?' Nobody could guarantee me that it wouldn't, because there's no such thing as promises in life. All you can do is keep davening and keep hoping."
Fifteen years later, Aliza is still an only child. And Reena has used her own life challenge to give back to others going through similar struggles. She tells me how the opportunity fell in her lap.
"Three and a half years ago, we moved to Neve Michael, a moshav about a six-minute drive from RBS. We were building a house, and our contractor asked us if we wanted to finish our basement while we were at it. But we're only three people, and we didn't need such a big space."
That's when a friend of hers, Chana Falk, mentioned an idea she'd been toying with for some time. Like the Palmers, Chana and Shmuli Falk had gone through their own fertility journey. Now, Chana had a dream to do something to help other struggling couples. She wanted to build a tzimmer, a luxurious vacation apartment, where couples could take time out of their stressful treatments to relax and recharge. Reena and Yoni immediately offered their basement.
Three years later, this guest apartment has been in constant use — until coronavirus hit. Reena describes how the Falks spared no expense to design the perfect vacation spot, from music piped into the bathrooms to a beautiful private garden. The Falks operate and fund the tzimmer with extreme dedication, and have set up an organization, Keren Ohr, for this purpose. Their hope is to eventually expand this to other locations as well.
But for now, it's just the one, in the Palmers' basement. It's the perfect private getaway spot, and Reena adds in her characteristic upbeat way that they're the perfect family to host it, since they have no little children running around to remind these couples of what they're lacking. Sometimes the couples will come up and chat with the Palmers, and Reena will use the opportunity to give them chizuk.
"I feel so blessed to be able to give back, to give hope and encouragement to other people going through the same struggle we did," she says.
It's not often that a life story is wrapped up so neatly: challenge, yeshuah, and using that growth to give back to others. But perhaps, if we look carefully enough, we can all discover a similar pattern in our own lives.
This is brought home to both of us when I ask Reena, toward the end of our conversation, how she met Chana Falk.
"Oh, through the library. She used to come in the evenings, and I'd often give her a ride home. She didn't have children at the time, and we got to talking about our shared experiences."
And then we both realize it. The library really was part of her Aliza story after all.
Which shouldn't come as a surprise at all, when we appreciate that all of our lives our plotted out by a Master Designer.
(Originally featured in Family First, Issue 712)
Oops! We could not locate your form.
>