| Magazine Feature |
Run for the Money | May 3, 2022
  Oligarch at risk: 

Roman Abramovich's slide from power player to poisoning target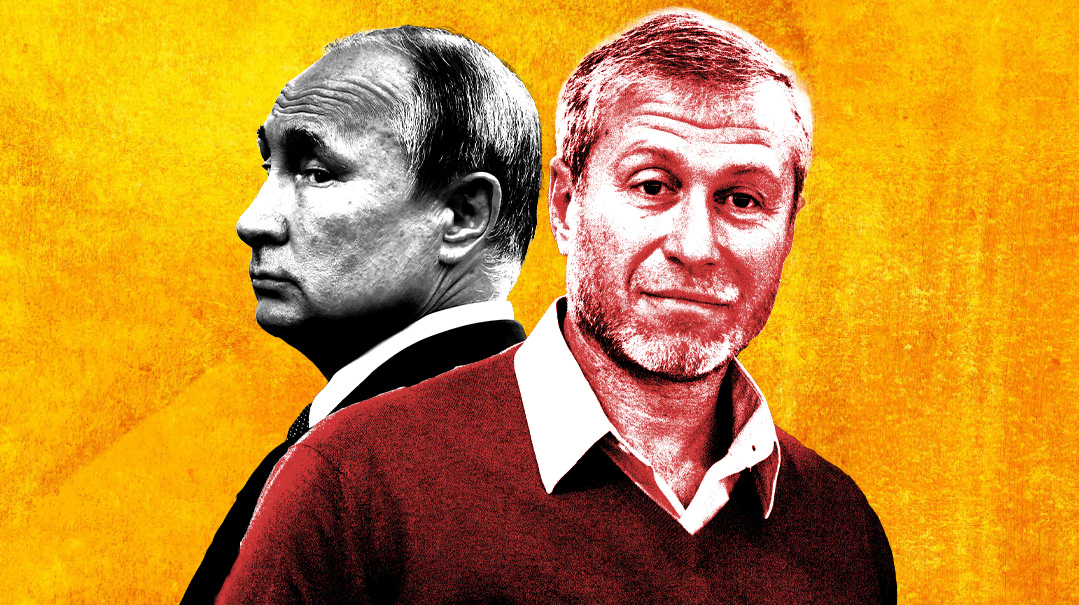 Weeks after a suspected poisoning attempt as he interceded to end a war that Vladimir Putin seems determined to continue, Roman Abramovich — the Russian-Jewish oligarch with strong backroom ties to the Russian president — has apparently disappeared off the grid.
Early in March, Abramovich suffered from symptoms of what appeared to be poisoning, including losing his eyesight for several hours, after meeting with Ukrainians in Kyiv in an effort to mediate peace. Two Ukrainians with whom he met suffered similar symptoms.
Russian is notorious for its efforts to poison its opponents, but Abramovich is known to be close to Putin, and is even currently the target of heavy sanctions by the European Union and Britain because of these close ties. How is it possible that he was the victim of such a mysterious attack, with the apparent warning fingerprints of the Russians?
While media outlets, and later confidants of Abramovich, claimed that the Kremlin did not like the fact that he was trying to make peace with Ukraine, Moscow, of course, denied any attempts to poison him. In fact, it's thought that Putin was the one who unofficially sent him in the first place.
According to Russian insiders, after a secret private meeting with several oligarchs at the start of the war, Putin gave his personal blessing for Abramovich to act as a mediator in peace talks, even though Putin has referred to elite Russians who sympathize with the West as "scum and traitors."
While UK and EU sanctions forced Abramovich to put his Chelsea soccer club up for sale, race two super yachts across open seas to refuge in Turkey, and transfer control of investments and assets, it seems that at the same time, he'd been conducting his own back-channel, shuttle diplomacy. Throughout the month of March, he jetted between Moscow, Israel, and Turkey, helping to broker the talks, and even went to Kyiv on at least two occasions to meet Ukraine's President Volodymyr Zelensky, at Zelensky's invitation — where he survived the poisoning attempt.
And during talks between Russia and Ukraine in Istanbul, Abramovich sat with the Russian delegation and chatted with Turkish President Recep Tayyip Erdogan — a public recognition of his formal role in the negotiations. In the process, Abramovich, without much choice, flipped the script that he'd carefully written that played down suggestions of his being a close confidant of Putin. Last month, Putin had become an embroiled Abramovich's trump card, the source of his leverage as an unlikely peacemaker at most, securing humanitarian measures such as humanitarian corridors in the combat areas of Ukraine at least.
But those talks never panned out. And so, with international sanctions against him, people are asking: Where is Roman Abramovich today? Moscow? Dubai? While the Russian billionaire's current whereabouts aren't publicly known, he was spotted (together with several other oligarchs) house hunting on Dubai's Palm Jumeirah, the man-made, palm-shaped island dotted with luxury residences. Several weeks ago, specialist aviation sites identified Abramovich's jet coming to the city, and while the UK and European Union have placed sanctions on him, the UAE hasn't imposed any.
But the current crisis notwithstanding, the 55-year old Russian oligarch with an estimated wealth of $8.3 billion has always preferred to stay in the shadows, often sending unknown spokespeople to respond in his name. Most of the things publicized about him go without any response. "I have never given a public statement," he once boasted. Now, though, he has more people guessing than ever.

While he always played down his connection to Putin, an embroiled Roman Abramovich decided to use his leverage as an unlikely peacemaker – and then dropped out of sight
THE ORPHAN
"I Was Never a Good Student"
Roman Arkadyevich Abramovich was born in October 1966, in the city of Saratova, on the banks of the Volga River. His mother, Irina, and grandmother originally came to this city as they fled the Nazis, while his paternal grandfather, Nachman Leibowitz, was separated from his wife, Mrs. Toiba Abramovich (apparently the children carried her surname, as was very common among Jews of that time), and from his three children: Leib, Avraham, and Aharon. Nachman was sent by the Soviets to a Siberian camp and passed away there two years later. Aharon grew up and married Roman's mother, Irina, who had become a music teacher.
The couple lived in Syktyvkar, the capital of the Komi Republic, in the northern part of Russia. Not long after, their son Roman was born. But the family's joy was short lived: When he was just one and a half years old, Irina passed away. His father, who worked in the Economic Council of the Komi Republic, continued raising young Roman on his own. But that, too, was not to be for long: When the child was just four, Aharon also passed away.
Roman was then raised by his family members. First, it was his uncle Leib, who lived in Ukhta, an important industrial city in the Komi Republic, where young Roman was sent to school. Later, it was decided that he would be sent to Moscow, where his uncle Avraham lived, and with whom he then stayed. He finished high school at age 16, and began his higher learning in a local college; he was drafted to the army before he finished his studies.
Roman served for two years in an aerial defense unit. He spent at least part of his time on a missile base in Kirzhach, about 90 kilometers northeast of Moscow. He then attended the Ukhta Technical Institute, learning in the forestry department, but he never completed those studies. Later, after making his initial fortune, he also attended the Gubkin Russian State University of Oil and Gas in Moscow, and there, too, he did not finish the course of study.
"I never insisted that I was a good student," he remarked during a British court testimony in which he shared his life story.
THE DEALER
Keeping Everyone Happy
Roman may never have completed his study of forestry sciences, but he certainly did excel at life sciences. According to various reports, already during his army service, his business acumen became apparent. Those were the days of perestroika, when the Soviet Union was opening to the West, while the Communist infrastructure was already crumbling. Various business opportunities, some more legal than others, arose. Abramovich turned out to be a team player who knew how to share his success with everyone, while at the same time, serving as a director with ideas and initiative who knew how to take advantage of the situation to rise through the economic ranks. To quote his self-description, his fortune was made "with hard work and with taking risks that are necessary when doing business in Russia."
Tatyana Yumasheva (Dyachenko), daughter of Russia's first president, Boris Yelstin, who with her husband are longtime friends of Abramovich, once related a story that she heard from him many years ago.
"He told me a funny story from his military past. After two years of service, he was supposed to be discharged to civilian life. But there's an unspoken rule in the army that before a soldier is discharged, he must do something beneficial for his unit. And so, together with the group of friends who were all finishing their service, Roman received an order to clear an area in the forest for a future road. The work was to take a few months, but they wanted to go home. So what did he do?
"He divided the forest they were supposed to clear into equal-sized plots, and then went to the nearby village. The villagers lived in homes heated by wood-burning ovens, and they all had problems obtaining firewood. He told me how he sold the right to cut down the trees in the forest in the area he had been instructed to clear, and he sold every one of the plots that he'd marked. All the residents of the village hurried to cut down the trees they had bought. Two days later, the whole area was cleared, and on the third day, Roman Abramovich went home, parting from his unit forever. I asked him, 'What did you do with the money?' and he said he divided it into three. One part was for the remaining officers, the second for his friends who remained in service, and the third was divided among the group that was supposed to carry out the forest clearing.
"There was a lot of money," she concluded, "So that's the short answer to the question of how businessman Roman Abramovich was born in the Soviet Union era."
NEWSru, a Russian media outlet that analyzed Yumsheva's story, noted that the Abramovich's idea probably involved a few transgressions of the law, things like deception and a "fraud conducted on a large scale by an organized group."
Nevertheless, NEWSru admitted, Abramovich's ability to work together played a role in what today is called in marketing language a "win-win." Everyone emerged a winner: The residents of the village got their firewood, the military unit got its clearing in the forest, the soldiers got money, and Abramovich got his discharge from the army. Beyond that is the fact that the Soviet Union hadn't existed for 18 years at the time the story was publicized (and 23 years had passed from when it had actually happened), which means the alleged crime against the state in any case expired under a statute of limitations.
What emerges from this story of the future oligarch, though, is that "he is intelligent, talented, brilliant, fair, and very faithful," Yumasheva said. "Roma [his nickname] is one of those rare business people who is not afraid to delegate authority to his team. I think that this is why he was so successful in business."
It turns out that Abramovich had already been doing small-scale peddling during his army days, according to Nikolai Panteleymonov, a soldier who served with Abramovich in the rocket unit in Kirzhach.
"Roma was only 20 at the time, but he was already three steps ahead of everyone when it came to entrepreneurship," Panteleymonov said. "He could earn money from nothing. A soldier's monthly stipend was seven rubles at the time. That was not enough if you have a toothache or you want to go and enjoy on your day off. Roma came up with a plan: He was able to persuade the military drivers to siphon a bit of fuel from their vehicles. The containers filled with fuel would be deposited at a predetermined location. Of course, he didn't actually siphon the gas off himself, he just got others to do it.
"A liter of benzene then cost 40 kopecks," Panteleymonov continued. "Roma sold the stolen benzene to the officers of our unit and charged them only 20 kopecks a liter. Our clients knew very well where the fuel was coming from but they didn't report it to anyone. All the sides involved were satisfied: The officers could buy fuel for their vehicles at half price, while the soldiers were able to earn a bit of cash. Abramovich kept a bit for himself too. And he also bought ice cream or pastries for those who helped him, to keep everyone happy."
Soon after he was released from the army, Abramovich, together with his first wife (he was married and divorced three times and has seven children from those marriages), created a business selling rubber toys from their home in Moscow. Then he opened a company selling automobile replacement parts, and then moved into enterprises in wood, sugar, food products, and as the Soviet Union fell, the petrochemical and oil industries. Later, this would be the source of his fabulous wealth.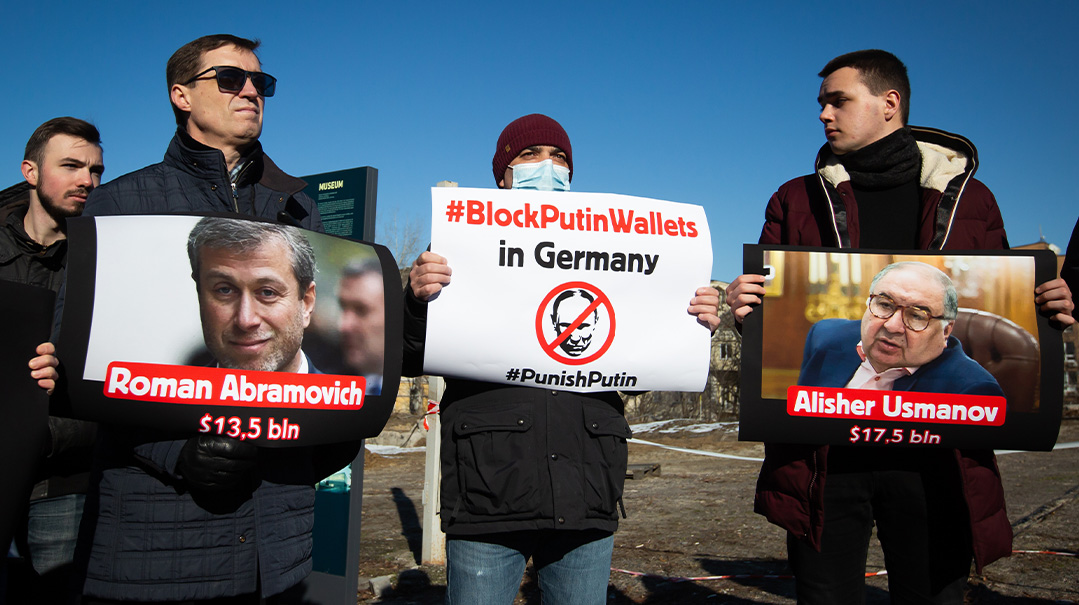 Activists hold portraits of oligarchs Alisher Usmanov and Roman Abramovich during a rally demanding sanctions against them
THE OLIGARCH
Whatever's At Hand
In 1995, Boris Yeltsin decided to privatize the assets of the Russian government. Some 130,000 Russian factories were privatized in a short time.
This was ostensibly to prevent Communism from retaking control over the state's assets and distributing them to the public. The public was given coupons called "loan for shares" that made it possible for them to buy a part — meaning shares — in all those companies. But most of the public, poor as they were, didn't understand what was unfolding in front of their eyes, and sold their vouchers to others.
There was a group of Russian businessmen willing to purchase any of those vouchers, among them, some of the very architects of the "loans for shares" program. Those same businessmen took control over entire industries in the Russian economy, and became wealthy from their country's resources. They also became the controlling entities in the country, known as the oligarchs. And Roman Abramovich was naturally there to take part in the bonanza.
But he didn't do it alone. The state's oil assets became the Sibneft company, which merged the oil-drilling and refinery businesses into one big conglomerate privatized by the state, and Abramovich purchased it, together with Boris Berezovsky, whom Abramovich viewed as his business mentor and partner. Later, Berezovsky became a rival, and in 2011, even sued him in the High Court of Justice in London, accusing Abramovich of blackmail, breach of trust, and breach of contract. (The Court dismissed the lawsuit, after the judge determined that Berezovsky was an unreliable witness "who regarded truth as a transitory, flexible concept.")
According to Abramovich's testimony, he first met Berezovsky in the early 1990s on a yacht in the Caribbean Sea. Berezovsky was the owner of the Russian vehicle manufacturer, Lada, while Abramovich was pretty much a no-name at the time, but he was interested in the security services that Berezovsky operated for his own business. The two cooperated on some oil deals and registered the offshore Romikom company in Gibraltar, with five subsidiaries in Europe. (A third partner in their business was a flamboyant Jewish-Georgian businessman named Arkady 'Badri' Patarkatsishvili, who was behind some of Russia's most successful companies and was one of the country's largest philanthropists. His sudden death in 2008 at age 52 led to suspicions of a political assassination.)
Back in the mid-'90s, Berezovsky, with his connections, was able to persuade Yeltsin to add the oil refinery and oil drilling companies as a unified corporation to the list of privatized companies. A number of groups bid for Sibneft, and Berezovsky and Abramovich worked on what Abramovich called the "Russian method" to make sure to remove all competition from their path. Persuasions, disappearances, bribery — anything was acceptable to make sure that their bid would be the highest. And that's what happened.
Berezovsky and Abramovich purchased Sibneft for $200 million, each of them paying half the sum. It was claimed then that the value of the company was $150 million, but in actuality, it emerged that its real value was much higher. Either way, just five years after its purchase, it produced oil valued at $3 billion.
Abramovich, who despite the acquisition was still not well-known publicly, became part of a group of influential magnates who were closely connected to Boris Yeltsin. Yeltsin, who was perceived with the fall of the Iron Curtain as Russia's great promise, was already ill at the time. Some say that the ones who actually managed his affairs were his daughter, Tatyana, and her husband, Valentin. Abramovich became a close friend of the couple, and as such, had a great influence on the goings on in Russia. To quote him, he found "the right way to do business in Russia."
Abramovich's name first made headlines in 1998, when he was accused of defrauding the Russian government in the Sibneft deal. But his friendship with Yeltsin paid off: The president himself got involved and prevented an indictment from being filed against his friend.
In fact, this was not Abramovich's first clash with Russian law enforcement. Documents presented at his trial in London showed that in the summer of 1992, when he was just 25 years old, he was arrested for fraudulent oil deals. He was imprisoned and not released on bail for fear he would flee. During the trial, Abramovich claimed that it was a "problem in the banking system" that led to the refineries with whom he worked not receiving their money, but as soon as the money was paid, he was released and the "problem disappeared on its own."
THE BUYER
A Team, a Yacht, and a Plane
When Vladimir Putin came to power, he made it clear that he would lead and navigate, unlike his predecessor, and demanded obedience from the oligarchs. Some of them refused to cooperate, and they were distanced very quickly — Berezovsky among them. Within a short time, Berezovsky's share was transferred to Abramovich, and Berezovsky himself moved to England. (In 2013, a year after the suit against Abramovich was dismissed, he was found dead in his home.)
Meanwhile, Abramovich managed to get involved in another business: aluminum. It was a dangerous field, controlled by members of the underworld. While on trial, Abramovich described at length his deliberations about whether to get involved in this dangerous business, where murder was commonplace (about 100 people involved in the industry mysteriously died during those power wars). Nevertheless, he related, he decided to exercise his connections and bring peace and profit to the aluminum industry.
In 2000, when Putin was already in power, Abramovich's fortune was estimated at $1.4 billion. The orphan boy who grew up in his uncle's house became a billionaire who could allow himself all of life's pleasures — and indeed, he made every effort to enjoy them.
He purchases several luxury homes in England, including a castle that had belonged to the Duke of Windsor, Edward VIII. As his wealth grew, Abramovich became more secretive about the sources of his income. He began to manage his money through holding companies (which manage his money to this day), and he keeps a careful distance from any media exposure.
"I never aspired to be a public figure. I was always interested in real businesses and developing business  strategies," Abramovich said at his trial, which took place in London as both he and Berezovsky were legal residents of Britain. During the trial — which spanned nine days of testimony and was closely monitored by the financial world — it also emerged that Abramovich's path to success was paved, as can be guessed knowing how things work in Russia, by bribery payments. In the 53-page defense brief that he submitted, Abramovich set out his claims in which he described, among other things, that Berezovsky and Patarkatsishvili demanded huge sums in order to facilitate his business success. He paid Patarkatsishvili a sum of $500 million, and that's how the Georgian oligarch helped him calm the wars in the aluminum industry, thus guaranteeing his success there. Berezovsky as well demanded huge sums from him to use his influence on Yeltsin to help Abramovich succeed in his oil dealings.
In 2003, Abramovich sold his shares in his aluminum company, Rusal, for $1 billion. He used most of the profits to purchase the Chelsea soccer club, which turned him into a British celebrity. Abramovich continued pouring money into Chelsea, and to date has invested some $1.5 billion in it.
Today, due to the sanctions, Abramovich transferred management of this corporation to his trustees, and even sought ways to sell it. Over the years, it was claimed that Chelsea was used to acquire global influence, and perhaps to gain influence for Russia, and for the person he is said to be friends with, Vladimir Putin.
In 2005, he sold Sibneft for $13 billion, and rose to the highest rankings among the rich men of Russia.
In keeping with his hobby of purchasing expensive playthings, Abramovich purchased a huge yacht 12 years ago, which he named Eclipse. It was the largest in the world at the time, and cost him nearly $400 million. The yacht, 162.5 meters long, has two helipads, nine decks, a swimming pool, and even a missile defense system. The yacht is currently docked in Turkey, where there is no chance that it will be detained and confiscated under the sanctions against him. Abramovich owns another yacht, Solaris, which is also keeping its distance from Europe's territorial waters at this time.
Abramovich also owns a Boeing 767 aircraft, a model that, when not used as a private jet, can carry up to 350 passengers.
THE POLITICIAN
Beyond the Bank
Abramovich always claimed he never wanted to be a public figure, and perhaps he really did want to remain in the shadows, but his ties to the political world didn't end with his connection to Boris Yeltsin and his family. Analysts of Russian politics have indicated that not only does Abramovich have a strong and well-known connection with Putin, he is the one who recommended to Yeltsin that Putin be his successor, and personally lobbied the government selection committee.
But while many of his activities take place in smoke-filled rooms behind closed doors, Abramovich has also found himself on the front lines. In 2000, he was chosen as a member of the Duma, the lower house of the Russian parliament, as a representative of Chukotka, the easternmost federal subject of Russia. A federal subject of Russia (there are 83) is an autonomous region managed as part of a federal nation — the Russian Federation, or more simply, Russia.
Chukotka was and is still a remote region, and its edge is not far from the United States (70 kilometers from Alaska at its closest point), and half of it is in the north polar region. After representing the region as a member of parliament for almost a year, Abramovich was elected governor of the region.
What was Abramovich looking for in this remote location? Some claim that he wanted influence in a place rich with natural resources. But Abramovich, in an act that can only be perceived as tremendous generosity by someone who was raised as an orphan and wanted to give back to disadvantaged people, began to share his personal wealth to develop the region. He built homes, hotels, supermarkets, and leisure areas. In 2005, he continued on to a second term as governor, this time, as an appointee of the Kremlin.
Although at the time his primary residence was in Britain, the improvement of the lives of the residents of Chukotka speaks for itself: During the years when Abramovich was governor, until 2008, when he resigned, the average monthly salaries jumped from 100 euros to 500 euros.
Even after he resigned as governor, Abramovich continued to invest in Chukotka, pumping over $2.5 billion of his personal wealth into the area.
THE PHILANTHROPIST
For all the Money in the World
Abramovich didn't only spend his money in Chukotka; he is known as a generous philanthropist who has contributed millions of dollars to various causes in Israel and around the world.
Before he officially made aliyah in 2018 (he holds both Israeli and Portuguese citizenship), he gave $30 million to build a new nanotechnology center at the University of Tel Aviv. Four years before that, he began investing in Israeli high tech, and has invested a total of $120 million in 20 start-up companies.
Last year, a hateful and distorted expose on the British BBC channel revealed that the Elad (El Ir David) organization, which manages the archeological excavations at Ir David and the Jewish settlement in the area, received donations totaling $100 million from four companies registered in the British Virgin Islands.
The leaked bank documents from those companies reached the BBC, and showed that the owner of three of those companies was Roman Abramovich, who also had a controlling share in the fourth. Thus it was revealed that Abramovich was the biggest donor ever to the Jewish settlement enterprise in Israel, and he chose to give those donations anonymously.
The Elad organization preferred at the time to preserve his anonymity and issued a pareve statement affirming that Abramovich was indeed the donor. Abramovich's spokesperson said in a statement that "Abramovich is a committed and generous donor of Israel's civilian and Jewish society. Over the last 20 years, he has donated more than $500 million to support health, science, education, and Jewish communities in Israel and around the world."
Abramovich is also behind an advanced nuclear medicine and radio-pharmacy institute at Sheba Medical Center, for which he contributed NIS 70 million. And during the first wave of corona, Abramovich donated hundreds of intensive care unit stations for national emergencies to Sheba's new ICU.
Abramovich has given generously to organizations assisting Holocaust survivors, has donated tens of millions of dollars to Yad Vashem, and is also a big donor when it comes to the war against anti-Semitism. He even launched a campaign through his Chelsea sports club to raise awareness to combat anti-Semitism.
Did Abramovich ever dream that he would find himself needing the benevolence of the very organizations he so generously donated to? Upon the publication that Abramovich, as an oligarch known to be close to Putin, was going to be put under sanctions by the United States and Britain, Yad Vashem signed a special appeal to the US ambassador to Israel, Tom Nides, to try and prevent the sanctions. Other organizations signed the appeal as well, emphasizing his contribution to the Jewish People.
Yet even those who have been on the receiving end of Abramovich's largesse prefer, for now, at least officially, to keep their distance. Yad Vashem announced that they were suspending further partnership with Abramovich, after the UK announced a full asset freeze on him and several other oligarchs.
CITIZEN OF THE WORLD
But No Place to Hide
Abramovich is first and foremost a citizen of Russia. But over the years, he has managed to obtain other citizenships. In 1993, he inquired about obtaining British citizenship, and although he never became a British citizen, he did receive a residency visa and lived in Britain until 2018.
At the time, his reputation in Britain took a beating, much for the same reason he is being shunned by the world today: his ties with Putin. The Putin regime was suspected of several poisoning episodes, including one incident that took place on British soil, and the country was trying to get rid of anyone connected to Putin. Abramovich's residency visa was not renewed. Around the same time, he officially made aliyah and became an Israeli citizen.
By that time, he already had assets in Israel, including a house in the Neve Tzedek neighborhood of Tel Aviv, which he had purchased for NIS 100 million, and a property in Herzliya Pituach.
But Abramovich prepared another alternative as well: Portuguese citizenship. Today, anyone who can prove they are descendants of those who were expelled from Portugal is granted citizenship. Abramovich, it turned out, has ancestors who came from Portugal, and thus he obtained citizenship. Yet none of his additional citizenships are proving useful these days. Even Israel, where he came to visit for a few days, asked that he not remain as long as he is sanctioned by the UK and the EU. Foreign Minister Yair Lapid made it clear that Israel would not become a refuge for people fleeing from sanctions.
Today, as the price of disappointing an embattled Putin grows ever higher, is there a safe haven left for Roman Abramovich?
(Originally featured in Mishpacha, Issue 909)
Oops! We could not locate your form.
>