| Rocking Horse |
Rocking Horse: Chapter 26 | June 3, 2020
"I remember thinking, Let this not be imprinted on his mind. Let not my child see his father burn"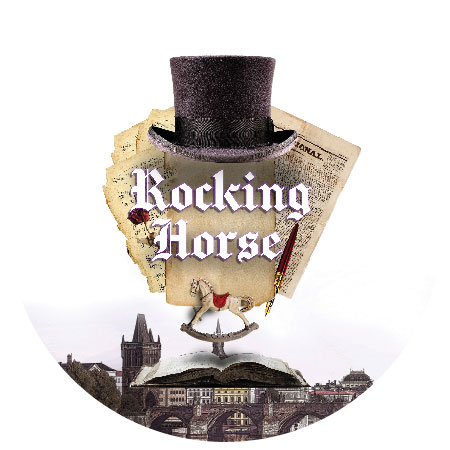 Details will make the story come to life, Felix thinks as he writes down Chasya's words. Sooner or later, she will reach the meat of the story. Although there is no guarantee.
She talked about the little shul, how the furnace was built into the women's section and on Shabbos and Yom Tov the men would freeze as the women huddled around for warmth, leaving no gap for the heat to pass over to the men. He smirks, amused.
Little town worries, everyday arguments — the cock that crows in the middle of the night instead of at dawn, and how they kept the bird up for hours, walking it through the town with a string around its neck even as midnight struck, so it would sleep for longer and wake only at dawn.
Mama listens, hands clasped on her lap, an affectionate smile on her face, and he suddenly thinks, It's such a long time since she shared her stories. Despite his deadline, despite the nerves — will this all sputter to a stop before it reaches the climax? — he is fascinated. Chasya is a good storyteller. Her face is animated. She slips into different voices for each character, without even realizing it.
Eventually, it comes.
"My youngest brother was born…" She hesitates. He tries to guess at what her words will be, see into the crystal ball that is his immediate future but her unspeakable past. Something tells him that they are all connected; future and past and present.

A slow feel of dread rises from his middle, and climbs into his arms.
"He was born… a simpleton."
Simpleton. He scribbles down the word. Simpletons are everywhere, whether they were born that way or lost their sense — an accident in the cotton factory or a fallen piece of timber. His mother always says, each day I daven for your health, and that the gifts you were given at birth remain intact.
Emmy usually answered — she always has an answer — intact? Not cultivated? Improved?
"Yes, that, too," Mama had answered. But looking into Mama's eyes he had understood: Life is uncertain. It's greedy to ask for more than our share.
Chasya continues before he is quite ready, and he has to scribble to catch up as she talks, blue ink dancing across the page. "The thing about simpletons," she says, "is that they can be very good at some things. Zundel was excellent with a sling. He roamed the fields all day, coming home with arms full of firewood and zvereboy"—he shakes his head, she explains—"little yellow flowers. We dry them and make them into tea. Sometimes he even hit a rabbit."
She lifts the curtains at the window and gestures toward the street. "You are a city man. In the country, rabbits are so fast they're just a streak of gray. You have to be a good shot to hit a rabbit. Zundel would come home, holding a rabbit by its two ears.
"That was a good day for us, it meant fur for a pair of slippers for him, or a hat, or a pair of warm gloves. When it was ready, Zundel would knock on every door in the village, showing them his new gloves or hat." She laughs. "Even in the middle of the summer."
He imagines a moon face, slanting eyes, cheeks red from the heat, showing off his rabbit-skin hat. It makes him smile.
Chasya threads her fingers together and abruptly sits down. "Zundel had one enemy in the town and that was the dogs of the peasants."
He nods.
"Great big dogs, white, pointed teeth, slobbering tongues. Tall." She holds her hand at a distance from the floor. "Taller than Leib'le. He hated them. When he saw one, he would take my mother's hand and try to hide behind her, even as Mama told him not to be foolish."
He writes: Mama admonished, don't be a foolish fool.
"One day, Zundel was coming in from the woods. He had his sling with him, and a pocketful of pebbles. He saw one of the dogs, asleep in the sun." She stops, weighing something in her mind. "I think this is so, this is the story I have constructed in my head, because how else would he have had the courage? He pulled back his sling, the pebble flew. It hit the dog's eye."
He sees it. The dog, roused from its rest. It stands, whines in pain, barks wildly, starts running, hits a tree trunk. The farmer runs out to greet the confusion. Sees the blood, the dog, wild with pain, rolling desperately on the ground as if that will numb it all.
She shrugs, as if to say, what other ending could there be to the story? Her gray eyes are wide, with pain and bitterness and a little cynicism, too: I have seen the world and found it wanting. They offer him a pact: I have told you what matters, now write your article.
He wants, more than anything else, to stop her. To say, this is enough. You have ventured into the past. This is the bones of the story. A simpleton blinds a dog. A peasant takes up his ax. What more?
But there is more. There's the part that led her, a woman with a little child, pregnant, to make a long journey and end up here, in Prague. Alone. He doesn't want to hear it.
"You know, those maskilim say, we're miserable creatures. We're filthy. Dirty. Malnourished and uneducated." She speaks with energy and anger. She, too, avoids her story.
"Some of what they say is true. We do not know German, and our Yiddish is not the Yiddish of their freethinking poetry and stories. We eat a mouthful of chicken on Shabbos, so we do not grow up strong and broad like the children who live here, in the city. Why, the food your mother sends us for Shabbos, for me and Leib'le, would have sufficed for my whole family at home, my father, my older brothers, all of us. Leib'le is going to be pudgy like a rich boy, and I am glad of it and grateful."
He nods. His pen is suspended in the air, waiting for the outburst to burn itself out.
"But we are not miserable. Those maskilim, they wait for some goy to pat them on the head and say, clever boy, good boy, ah… then they are worth something. We don't need that. We are proud not to be like the goyim. We are proud that we do not share in their ways and their brutality. Some may call us stubborn, but I call us proud."
"I understand."
But it is a simplistic view. Russian peasants cannot be compared to Prague musicians and philosophers. People who, by means of learning and cultivation, raise themselves out of the mud that is human nature.
But he does not voice his thoughts. Mama stands and throws another log on the fire. Leib'le wanders in, holding a paper bag with a warm challah.
Mama looks at Chasya. "I don't know how far in you are," she says, "but I'd say that this is enough for one day. Chasya is tired out, you see."
He blinks, looks. Chasya rests her head on the back of the chair. She looks wan. Drained. And he feels guilty, a woman in her condition — and he has put a strain on her.
Mama disappears and quickly returns with a glass of tea. Chasya wraps her long fingers around the glass — does she not feel the heat? Or is she so chilled that she is used to it? She sips, looks up, and smiles. Relief. He has not emptied her out.
A pensive look appears on her face, and then clears. "I feel fine," she says. "My father always says it is good for people to tell their stories."
Mama nods. "Yes," she says, "talking is helpful. To take what is trapped inside here" — she bangs her chest lightly — "and release it into the open. But it is enough for one day."
The deadline. The gaping hole on page five where the article is supposed to appear. His reputation with Paschele: a journalist who fails to get the story is not a journalist.
He looks at her pale face, the eyes slightly rimmed with red, and guilt climbs inside him. "Go home and rest," he says, placing a gift of gentleness into his voice. "Thank you—" for her time? For the pain she endured just so that he could get a scoop?
But she refuses. "I have begun, so I will finish." Part of him is relieved — the deadline, Wolf's disapproval, but part of him is disappointed that she did not accept his solicitude.
"My husband… he was a man. Before the farmer picked up a pitchfork, called his friends, went on a rampage through the neighborhood, he knocked on the farmer's door. He said, I will explain man to man, one human being to another. There are simpletons among the goyim, too, after all. He will have to understand.
"He thought he was talking to a fellow man. Or at least, there was a fellow man somewhere inside, who would listen. He was wrong."
She swallows.
"The dogs, a whole pack of them, were loosed on him, and all he could do was run. Run. Until he could run no more and he climbed up onto the hay — it was all piled up, then, drying out over the summer. Bales stacked on bales and my husband on top of all of them. And on the ground, the dogs, barking, waiting, ready to rip into his flesh."
She is talking now very quickly and very quietly. He is afraid to write, the scratch of his pen will drown out her words.
"I will never forget that scene. My husband, standing aloft a stack of hay — it was summer, it was a dry summer if you recall — and when one of the peasants threw a burning bough at the haystack, it went up instantly. There was a second to decide: jump or burn. Only a second, because any moment the haystack would collapse into itself and he'd fall straight into the flames.
"But I knew he was afraid, not only for himself, but also for the whole village. Because if he ran, burning, toward the river, then he would set the fields alight, and then maybe the farmhouse, and another farmhouse. And if anything were left after all that, they would seek vengeance from the Jews. The community destroyed. Everyone was afraid of fire. A man smoking a pipe outside had to pay a fine. Not that he paid it, of course, none of us had money to pay for anything."
Her hands tremble. Her cheeks are flushed. She stares into the fire, although the light must pierce her eyes. She keeps them trained there.
"What were you thinking?" he asks gently.
"Two things. One, run. Run to the river. It wasn't far away. Even if his clothing caught alight as he jumped off that burning stack, the river would extinguish the flames. I didn't think about the fields or the village burning, only of my husband. And I thought of Leib'le.
"I snatched him up and put my hands over his eyes. He struggled and tried to free himself. Maybe I didn't pray enough for my husband, I was distracted by Leib'le. I remember thinking, Let this not be imprinted on his mind. Let not my child see his father burn."
Horror chokes in his throat. She lapses into silence, and he cannot prompt her. He cannot ask a single question. He can only look on at this woman who is the same age, more or less, as Emmy, and whose thought was of her son's future.
He doesn't want to know the end. He doesn't want to know whether the haystack collapsed and her husband was burned on the spot, or whether, at the last second, he ran to the river, but was still not saved. It is enough.
There will be questions he will need to ask before he can write the article, of course. Like, where is her family? Had they known pogroms before this — are they all caused by a blinded dog, a failed harvest, a bout of illness that spreads through the village and leaves the Jews open to suspicion and accusation?
But for now, the only words he can choke out of his mouth are those simple, utterly inadequate words, "I am so very sorry for your loss."
Later than night, a message comes to the Schwebels' home. A woman, dressed in an old-fashioned dress and shawl, asks for a coin in return for her service. Felix reaches into his purse, and hands the woman two.
What was the message? Would the mistress of the house please come? She knows where. She needs to be attended to, for she is feeling poorly.
Felix nods, alarmed. "Of course. My mother will come immediately."
The messenger turns to leave, then looks around again and shrugs. "If you ask me what it's about, I'd say there is a baby on the way."
to be continued…
(Originally featured in Family First, Issue 695)
Oops! We could not locate your form.
>