| Cooks Compete |
Roasted Potatoes
| March 28, 2023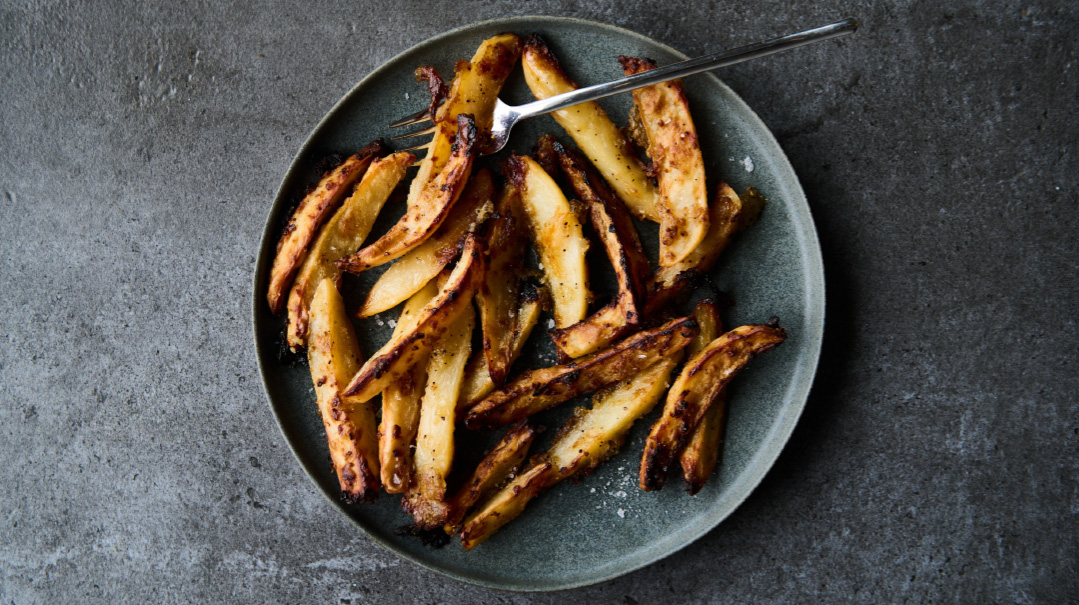 Potatoes. The manna of side dishes. Fried, battered, boiled, mashed — everyone has their preferences. But just like a box of chocolate is appreciated by all, roasting a potato is a sure bet to make everyone at the table happy.
Here are the best recipes out there, guaranteed to provide your family with a Yom Tov-worthy side.
Crispy Onion-Coated Potatoes
Submitted by Rochel Klein, Boro Park
Recipe by Miriam (Pascal) Cohen, published in Family Table
These are the crispiest potatoes you'll ever taste! The smooth onion mixture really coats each potato, and none of the kids complain because they don't know it's actual onion! We love these!
SERVES 6
1 small onion
2 cloves garlic or 2 cubes frozen garlic (optional)
1 Tbsp salt
½ tsp pepper
2 tsp sugar
⅓ cup oil
5 Idaho potatoes, peeled and cut in wedges
3 Tbsp potato starch
Preheat oven to 400°F (200°C). Line two baking sheets with parchment paper and set aside.
In the bowl of a food processor fitted with an S blade, process the onion, garlic (if using), salt, pepper, sugar, and oil until pureed and smooth. Set aside.
Dry potato wedges well, then toss together with potato starch in a bowl until completely coated. Add onion mixture and toss until all the potatoes are coated.
Place potatoes on prepared baking sheets in a single layer. (Use two sheets to avoid overcrowding.)
Bake for about 60 minutes, stirring halfway through, until crispy and browned.
Mini Red Potatoes
Submitted by Michal F., Passaic, NJ
Recipe by the Nitra Ladies Auxiliary, courtesy of Kosher.com
These potatoes are a favorite in my house. The mini red potatoes get soft and delicious, and they have so much flavor in every bite! This recipe makes a lot, but you'll need it because they disappear very quickly! Hope you enjoy them as much as we do.
SERVES 20
5½ lbs (2½ kg) mini red or white potatoes (walnut sized, or see note)
1½ Tbsp salt
Spiced Oil
⅔ cup oil
1 Tbsp + 1 tsp salt
¼–⅓ tsp pepper
2 tsp paprika
2 tsp garlic powder
2 tsp parsley flakes
Preheat oven to 400°F (200°C).
Scrub potatoes with a vegetable brush. Place into a 12-quart pot. Cover with water and add salt. Bring potatoes to a boil and cook, covered, for 15 minutes. (Do not overcook, as the potatoes fall apart easily.) Drain well and transfer to a 9×13-inch (23×33-cm) pan.
Mix oil with spices. Drizzle spiced oil onto potatoes.
Bake, uncovered, for 30–45 minutes.
Note: This recipe can be made with regular potatoes if they're cut into even-sized pieces for thorough cooking. For advance preparation, cook and drain potatoes the day before and bake just prior to serving.
Potato Duo with Herbs and Garlic
Submitted by Leah K., Detroit, MI
Recipe by Brynie Greisman, published in Family Table
These potatoes are seriously awesome for Yom Tov but also simple enough to pull together for a weeknight supper. My family loves them, and we almost never have leftovers. Feel free to sub oil for the butter for a pareve version, but the taste will be slightly altered.
SERVES 6
1 lb (450 g) potatoes, scrubbed and cut into chunks or spears
1 lb (450 g) sweet potatoes, scrubbed and cut into chunks or spears
2 Tbsp olive oil
kosher salt, to taste
freshly ground pepper, to taste
4 cloves garlic, minced
1½ Tbsp fresh thyme
1½ Tbsp chopped fresh oregano
1½ Tbsp chopped fresh parsley (leaves only)
1 Tbsp chopped fresh cilantro (leaves only)
2 Tbsp butter, or more, to taste
Preheat oven to 400°F (200°C).
In a small bowl, mix olive oil, seasonings, garlic, and all herbs. Place cut potatoes and sweet potatoes into a large bowl. Pour oil mixture over it and mix well.
Place onto a parchment-lined baking pan in a single layer. Dot with small pieces of butter.
Bake for one hour, removing the pan from the oven every 15 minutes to flip over the potatoes.
Remove from oven and cover baking pan with foil. This allows the potatoes to steam and get buttery soft.
Tip: For a real treat, when potatoes are finished baking, sprinkle with Parmesan cheese before covering.
Thank you to The Office @ Ramat Eshkol for hosting this tasting party.
(Originally featured in Family Table, Issue 837)
Oops! We could not locate your form.
>